---
WW95BB944DGBSP 9.5KG BESPOKE AI FRONT LOAD WASHER
2 years warranty by Samsung
We try our best to provide accurate product information from the manufacturer's or agent's website. However, the information on this page may change without notice, and it may not be accurate if there are specification changes. We recommend checking the manufacturer's site for the latest specs and information.

-

While all items available for online purchase can be added to your cart, we cannot guarantee their availability at the time of order processing.

In case we are unable to fulfill your order, we will get in touch with you to provide an alternative option or arrange a full refund.

-

If your product is eligible for warranty, you can find its registration link here.
Intelligent wash. Efficient clean.


Minimalist and sleek look
BESPOKE Design
Enhance your home a sleek, premium look. The simple and flat design paired with chrome trimming around the tempered glass door, allows it to blend harmoniously with a variety of laundry aesthetics.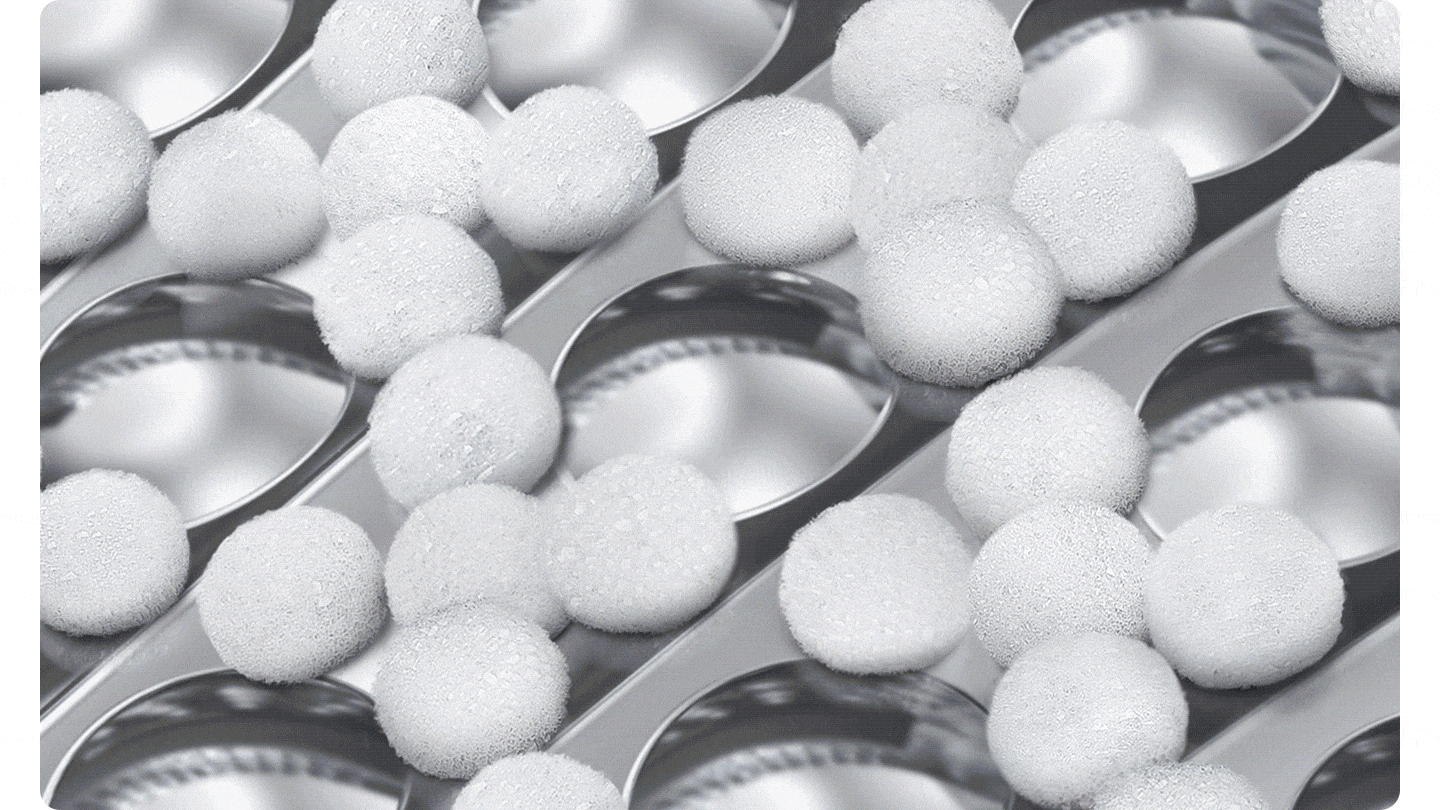 Smart, gentle washing
AI Ecobubble™+
Enjoy more effective washing with AI Ecobubble™+*. It creates bubbles that remove 24%** more soil even at low temperatures, saving 70% energy*** and ensuring 45.5% better fabric care****. It also detects the fabric type and optimises the amount of bubbles, washing time, temperature and spin speed.
*AI Ecobubble is only activated when specific courses are selected, including Cotton, Synthetics and AI Wash with loads less than 2kg. **Based on Performance Lab Test report by Springboard Engineering on EMPA strips, comparing a normal detergent solution and bubble technology without mechanical action. Individual results may vary. ***Tested in accordance with IEC 60456-2010/4kg Wash Load/Super Eco Wash cold (WF80F5E5U4W) vs. Cotton 40°C without Ecobubble (WF0702WKU). Individual results may vary. ****Based on EMPA test of 9kg model (WF906U4SAGD, Synthetics), with or without Bubble. Individual results may vary.
Smart energy savings
SmartThings AI Energy Mode
Monitor and reduce your washer's energy use. AI Energy mode* lets you easily check power consumption and estimates your electricity bill. For courses that operate in AI Energy mode** it reduces energy use by up to 70%*** using Ecobubble™ to wash using cool water instead of warm and extra cycle time.
* Available on Android and iOS devices. A Wi-Fi connection and a Samsung account are required. ** Can be applied when the selected washing temperature is 20 ~ 40°C. *** Based on internal testing on the WW11BB944AGB model in normal usage conditions. Results: Power consumption without AI Energy Mode = 0.539 KWh. Power consumption with AI Energy Mode = 0.145 KWh. Results may vary depending on the actual usage conditions.
Half the wash time
QuickDrive™
Spend much less time washing. When activated, QuickDrive™ reduces the washing time by 50%*. Unique Q-Bubble™ technology combines dynamic drum rotation with additional water shots to create more abundant and powerful bubbles. So detergent penetrates faster and washes quickly and gently.
* Tested in accordance with IEC 60456-2010 / Cotton (40℃, Half load) with Quick drive. vs. Individual results may vary. Image is for illustration purpose only.
Optimised cleaning
AI Wash
Wash clothes thoroughly*, but gently with less water and detergent**. AI Wash uses advanced sensing to detect the weight and softness of the fabric and continually monitor the level of soiling. It then intelligently optimises the water and detergent and the soaking, rinsing and spinning times.
* Based on an AI-created algorithm. Actual results may vary depending on individual use. ** AI Wash holds detergent for up to 1 month's washing, based on the average of 4 loads per week. May vary depending on the washing load and settings. Image is for illustration purpose only.
Optimised detergent
Auto Dispense
Get the best washing results* with less waste and effort. Auto Dispense automatically dispenses the right amount of detergent and fabric softener for each load. It has separate compartments for each, although both can be used for detergent, so there is no need to refill it after every wash**.
* Actual results may vary depending on individual use. ** Auto Dispense holds detergent for up to 1 month's washing, based on 2~3 washes per week (5kg load/standard usage). May vary depending on the washing load and settings.
Microplastic reducing washing machine
Less Microfiber cycle
Samsung, Ocean Wise Plastics Lab and Patagonia are together finding solutions to the microfiber shedding problem. Samsung's specially designed laundry cycle reduces up to 54%* of the microfleece release. This is just the first step toward healthier oceans.
* Tested with 2kg load of 100% polyester hoodies, comparing Synthetics cycle on Samsung Conventional model WW4000T and the Less Microfiber cycle on WW7000B. The results may be different depending on the clothes and environment. Tested by the Ocean Wise Plastics Lab.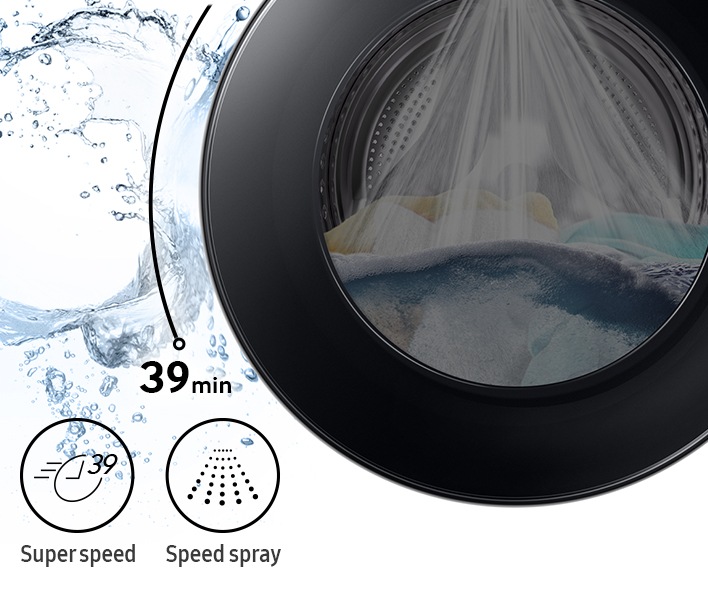 Wash in 39 minutes
Super Speed
Cut your daily laundry time and get clothes thoroughly clean. Super Speed washes a load in just 39 minutes*. QuickDrive™ saves time by moving clothes dynamically, while Ecobubble™ ensures powerful cleaning. The rinsing time is shortened using Speed Spray and it accelerates the spin speed.
* Based on using Super Speed at the default settings with a 5kg load. For best results, loading the washing machine up to half of the maximum washing capacity is recommended.
Sanitise clothes
Hygiene Steam
Give clothes a deep and hygienic clean. Hygiene Steam releases steam from the bottom of the drum. It removes ingrained grime and 99.9% of bacteria* and inactivate allergens derived from house dust mites*. Hygiene Steam cycle reduces exposure to house dust mite, cat, dog, grass pollen and fungi**.
*Based on Intertek test report for Hygiene steam cycle. Removes 99.9% of Staphylococcus aureus and Escherichia coli. Individual results may vary. **Based on The British Allergy Foundation test report for Hygiene Steam cycle, will reduce exposure to house dust mite, cat, dog, grass pollen and fungi.
Durable & efficient
Digital Inverter Technology
Enjoy efficiency and long-lasting performance with Digital Inverter Technology. It utilises strong magnets for a quiet and powerful performance with enhanced energy efficiency. It also provides exceptional durability, backed-up by the industry's longest warranty* of 20 years on the motor.
*The 20 year parts warranty is only applicable to the inverter motor.
Look good for longer
Tempered Glass Door
Make sure your washing machine stays looking good for longer, even if its Tempered Glass Door is frequently opened and touched. The strong and durable tempered glass is less likely to break or scratch compared to a plastic door. It also provides an elegant look and makes it easy to see inside.
Do the SmartThings
SmartThings Home
Enjoy personalised, efficient and hassle-free washing using the SmartThings App*. By analysing your washing patterns**, 'Clothing Care' offers tailored cycle recommendations*** and tips. 'Energy' helps manage your energy use holistically. 'Home Care' keeps the washer in the optimal condition
* Available on Android and iOS devices. A Wi-Fi connection and a Samsung account are required. ** Stores user data, preferences and usage patterns to suggest the most useful options. *** The user will be solely responsible for any consequence(s) that may result, including but not limited to any damage or harm caused by incorrect information provided by the user. Image is for illustration purpose only.
Drum Clean+
Keep the door and inside of your washer hygienically clean. Drum Clean+ removes dirt and 99.9% of odour-causing bacteria* from the drum, without using detergent. A powerful water jet and fast spinning also remove grime from around the door gasket. And it notifies you when it needs cleaning**.
* Eliminates 99.9% of bacteria (Pseudomonas Aeruginosa) from the inside of the washer and removes dirt from the rubber gasket. Based on testing witnessed by Intertek of the Drum Clean + cycle. ** Provides a notification after every 40 cycles.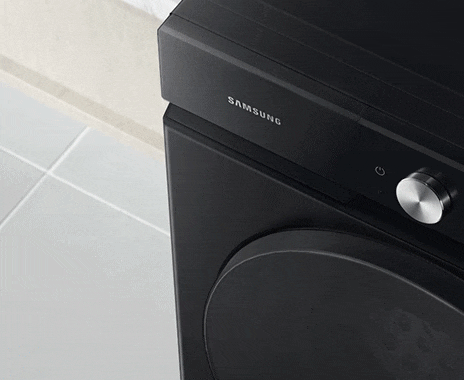 StayClean Drawer
Stop wasting detergent and avoid the tedious task of cleaning the detergent drawer. The StayClean Drawer ensures that more of the detergent is washed away with a specially designed water flushing system. So there is less unsightly soap residue and the tray stays cleaner and more hygienic.
Bubble Soak
Get clothes spotlessly clean, even if they are really dirty. The Bubble Soak function helps remove a wide variety of stubborn stains, like blood, tea, wine, make-up and grass. Clothes are thoroughly soaked in active bubbles, so dirt and stains are loosened and can be removed more effectively*.
* Tested in accordance with IEC 60456 5th edition / 8kg Wash Load / Bubble Soak Wash vs. Cotton 40/60°C, Synthetic 60°C, and Denim 40°C without Bubble Soak.
How to measure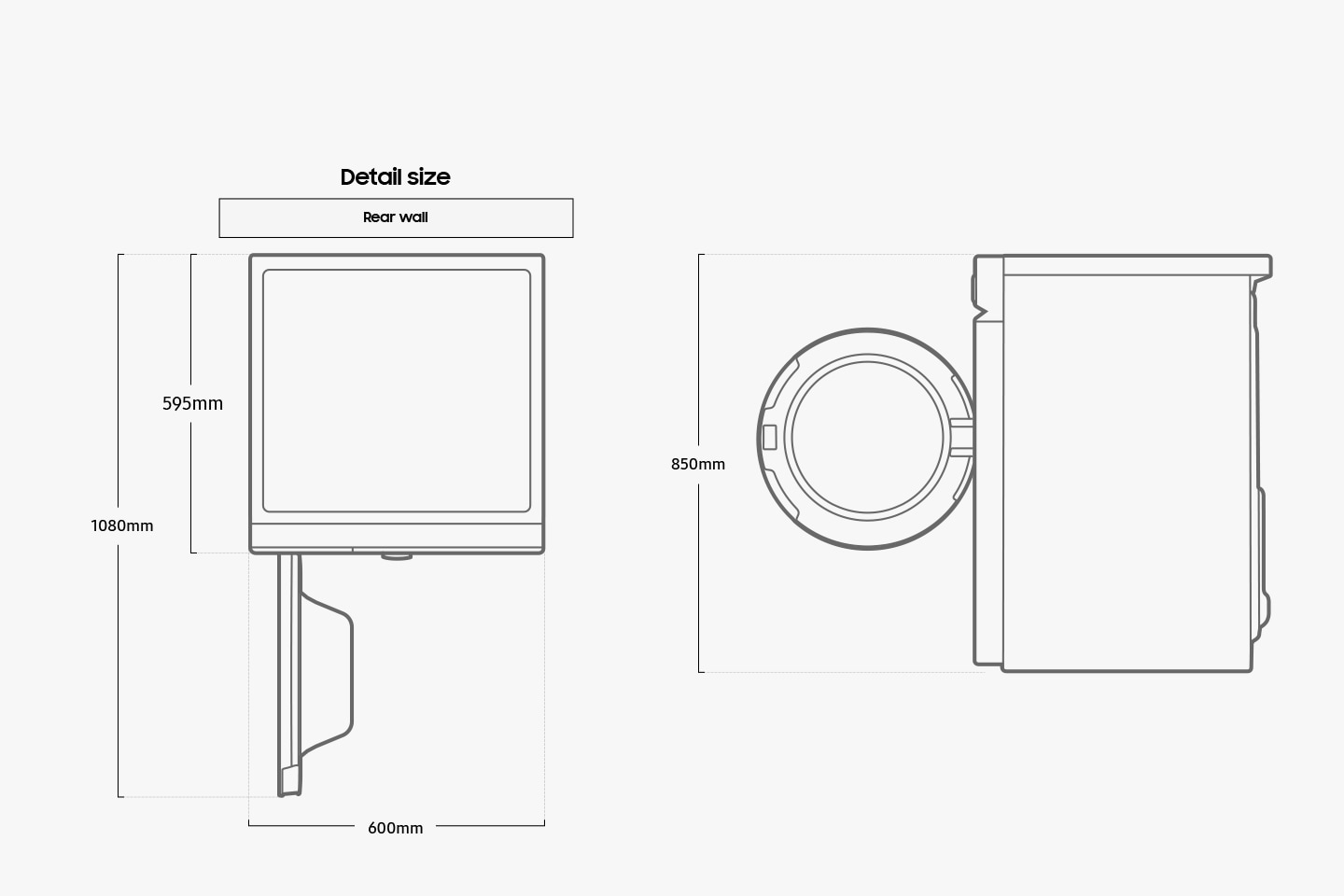 SPECIFICATIONS
Capacity
9.5 kg
Body Colour
Black 
Door
Tempered Glass Door
App Connectivity
SmartThings App Support
Features
AI Control
AI Wash
AI EcoBubble
QuickDrive
Auto Dispense
Bubble Soak
Bubble technology
Child Lock
Delay End
Drum Clean+
Drum type: Swirl
Cold Water Inlet
Intensive
Language Setting
Motor DIT
My Cycle
Pre Wash
Quick Wash
Smart Things
Spin Speed 1400 rpm
StayClean Drawer
Steam
Super Speed
VRT+
Cycle

AI Wash
Super Speed
15' Quick Wash
Active Wear
Baby Care
Bedding
Cloudy Day
Cotton
Colours
Delicates
Drain/Spin
Drum Clean+
E Cotton
Hygiene Steam
Jeans
Less Microfiber
Outdoor
Rinse + Spin
Shirts
Silent Wash
Super Eco Wash
Synthetics
Towels
Wool

Net Dimension (WxHxD)
600 x 850 x 595 mm
Gross Dimension (WxHxD)
680 x 890 x 684 mm
Net Weight
68 kg
Gross Weight
72 kg