BESPOKE REFRIGERATORS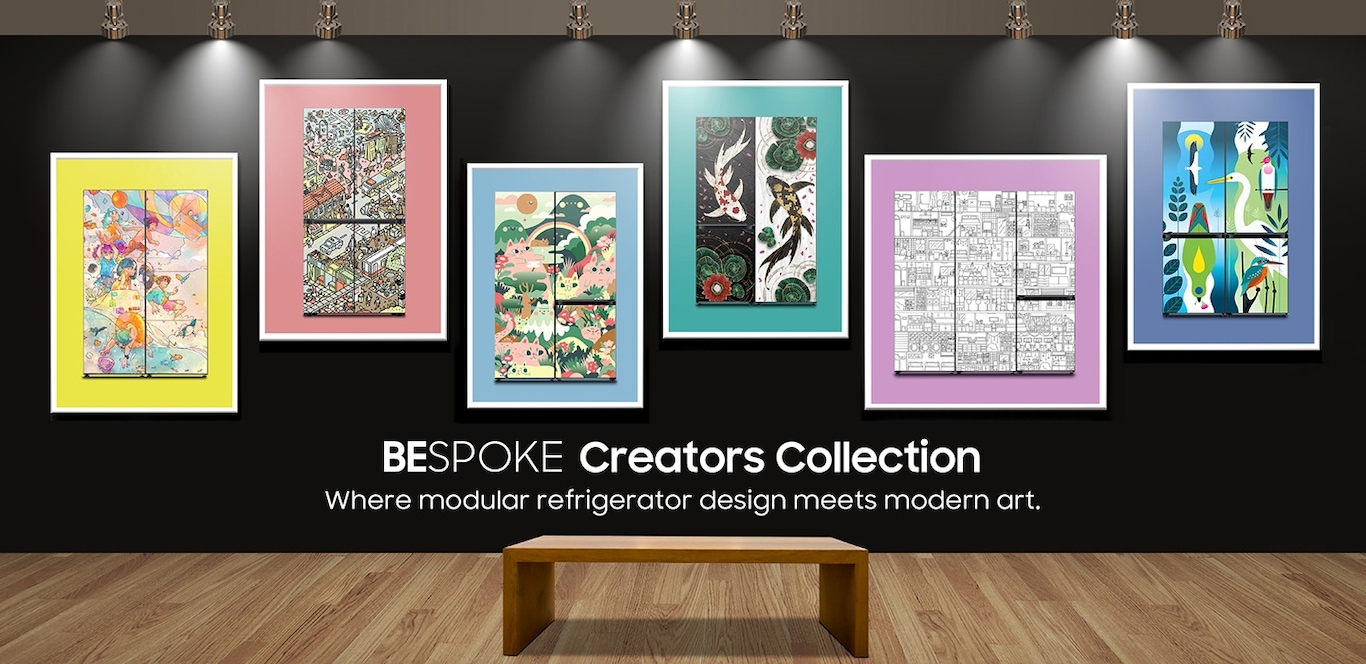 ---
Introducing the fridge designed for you, by you
Create the refrigerator you've always wanted with the new Samsung BESPOKE Refrigerators. BESPOKE's modular design concept means you can now customise your fridge according to your taste, colour and storage preferences. Choose between a classic 4-Door Refrigerator, a simple Bottom Mount Freezer, a 1-Door Flex and a Bottom Mount Freezer or combine them in any permutations as you wish. There are no rules.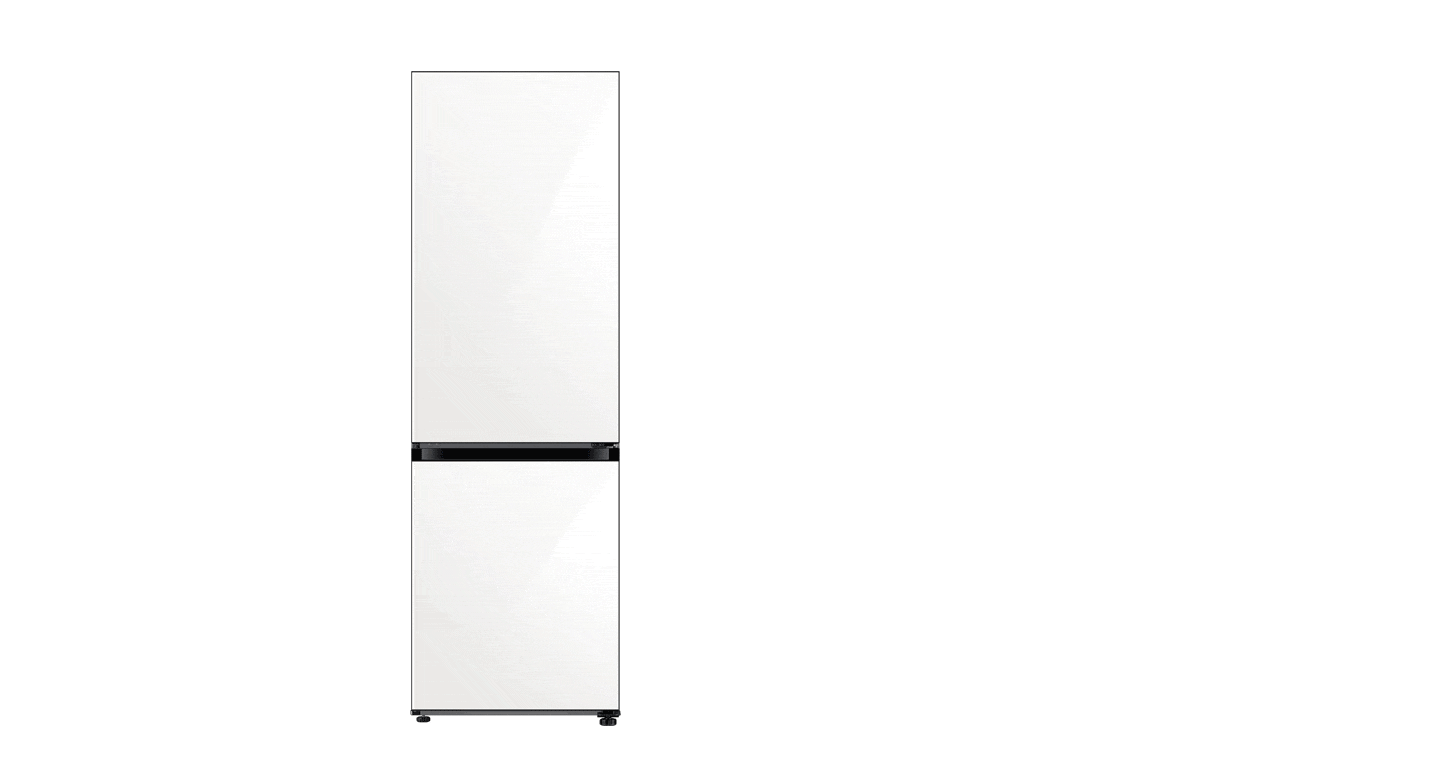 ---
Check out other customisation options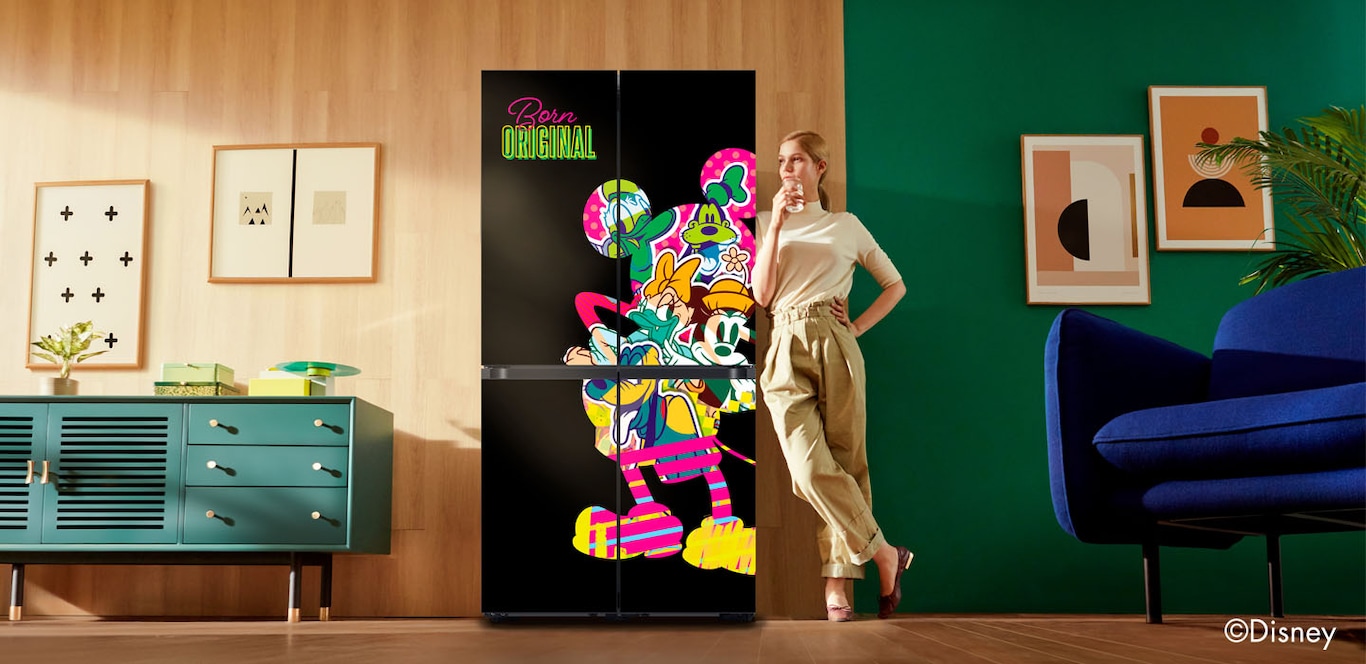 Oh, boy! Look who do we have here? Invite Mickey and friends into your home with the fun and playful Disney refrigerator designs.
Mickey & Friends bring sticker fun in this bright, retro-inspired pop-art design filled with energetic and playful cheer.
Stick Em
Mickey & Friends bring sticker fun in this bright, retro-inspired pop-art design filled with energetic and playful cheer.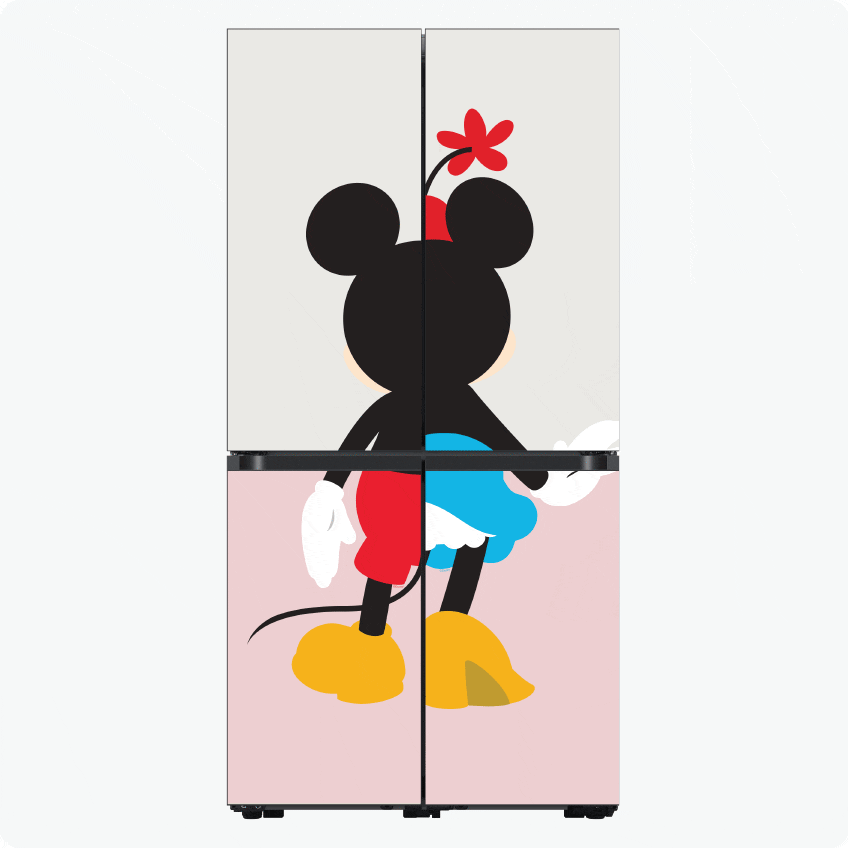 Made For Each Other
Two is better than one as long as they're together! Mix and match Mickey and Minnie up for a fun and playful piece.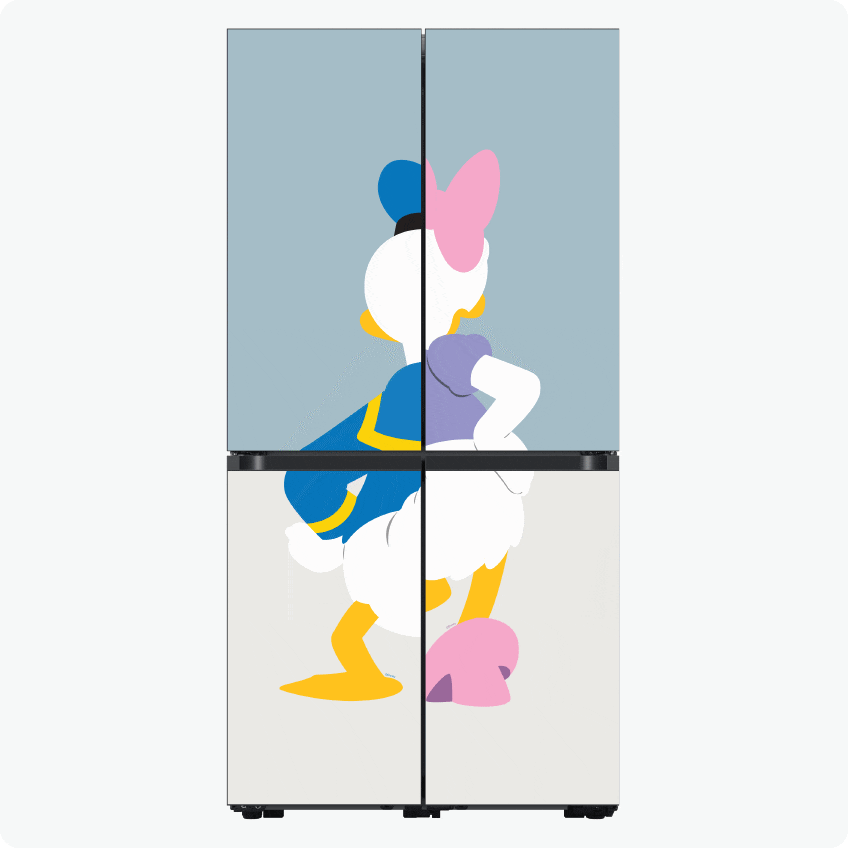 The Perfect Duo
Donald and Daisy Duck may be sassy, but they are very much in love and better together. Pair the lovable duo up for a quirky addition to any home.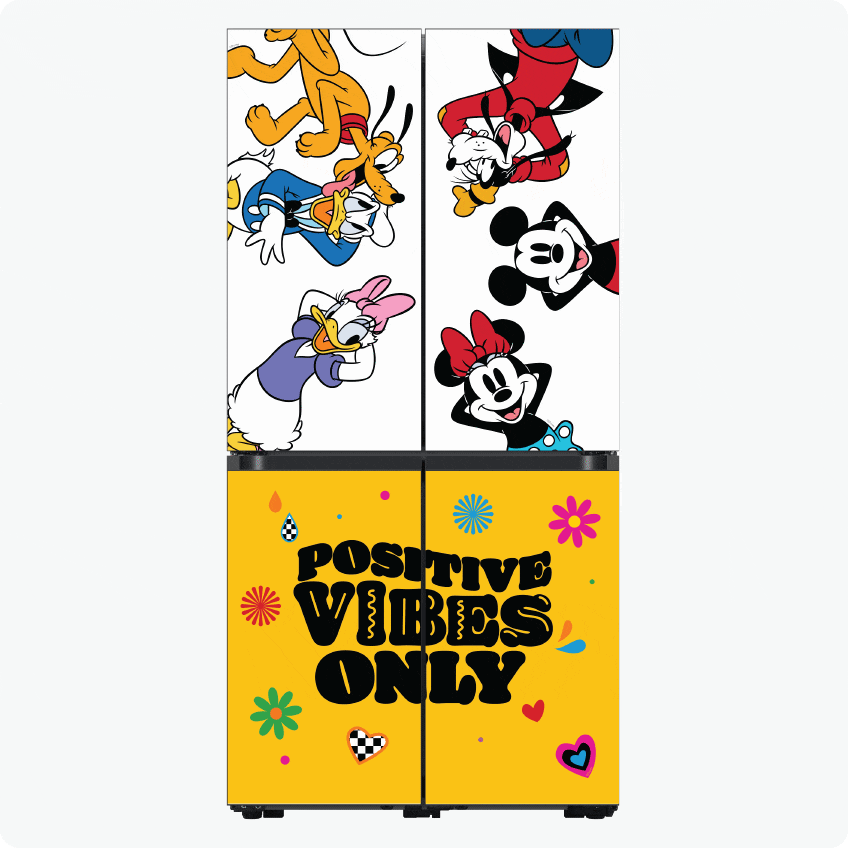 Positive Vibes Only
Mickey and pals team up, showing that life is indeed better together. Join the party and celebrate friendship and positive vibes.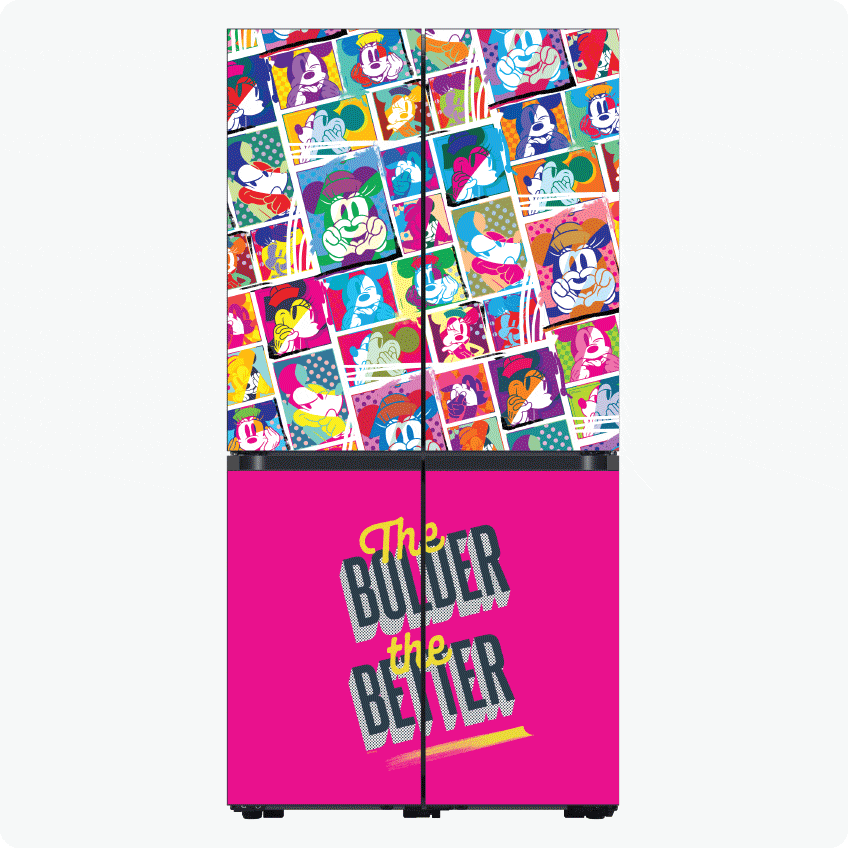 Bolder, Better
It's a psychedelic riot with Mickey and Friends. Push the boundaries of pop art with this bold and vibrant menagerie of confounding and dizzying designs colours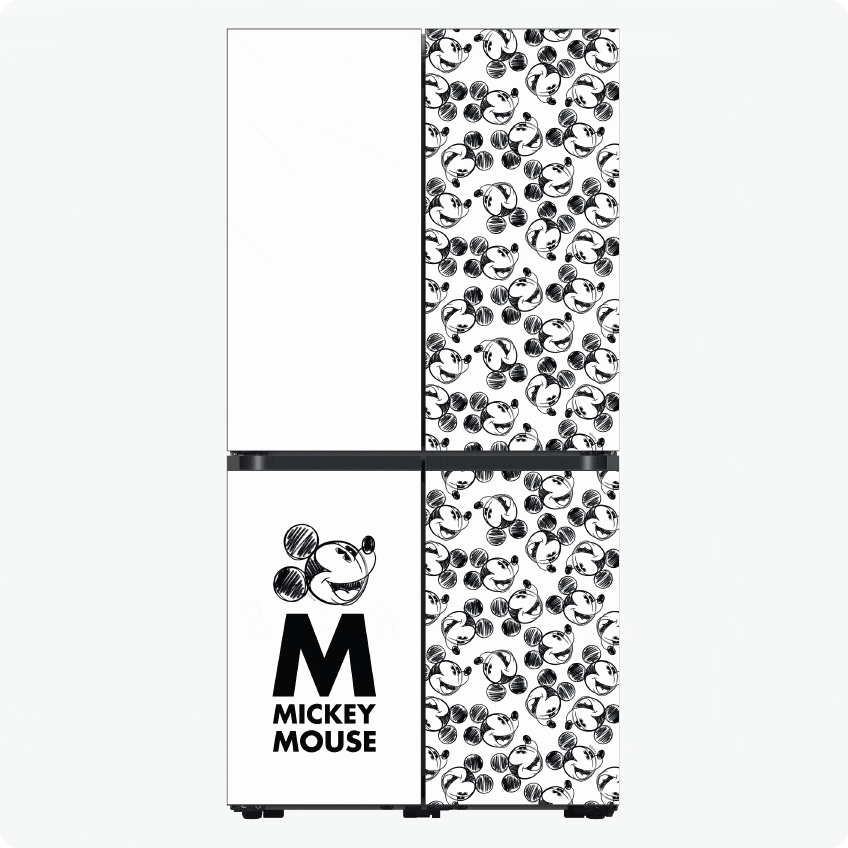 Mickey Mouse B&W
Introducing All-Time Classic Mickey Mouse in a monochrome pattern that never goes out of style.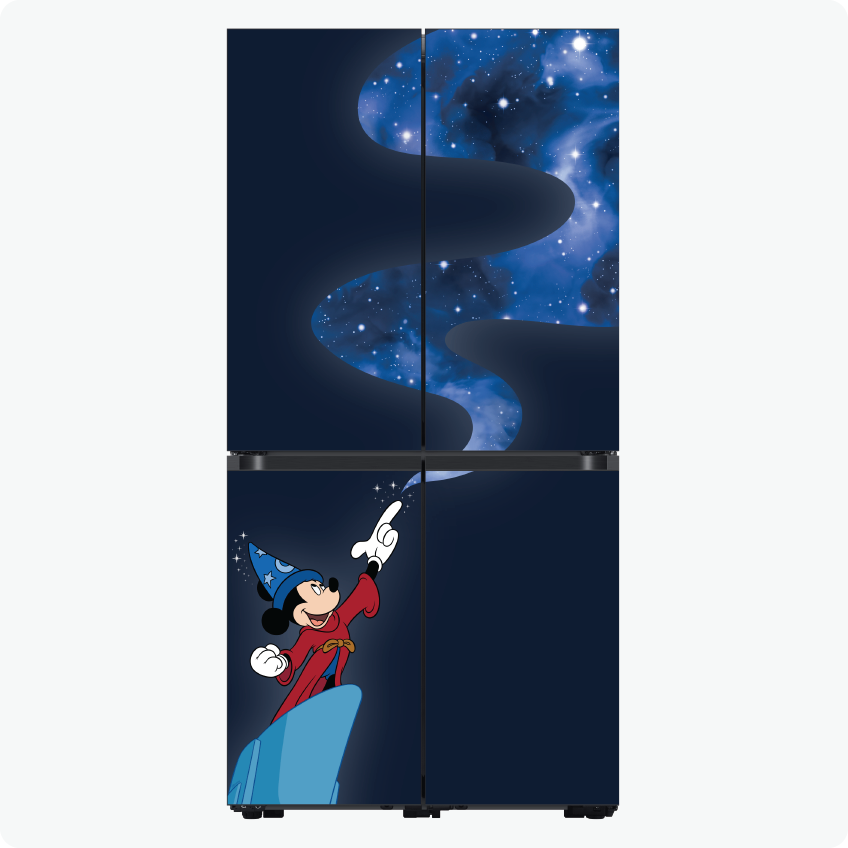 Fantasia
Immerse in the magic of Disney's feature film, Fantasia, where Mickey the Sorcerer's Apprentice summons the stars with a swish of his wand.
Fantasia design customisation is only available for the Bespoke 4-Door Flex.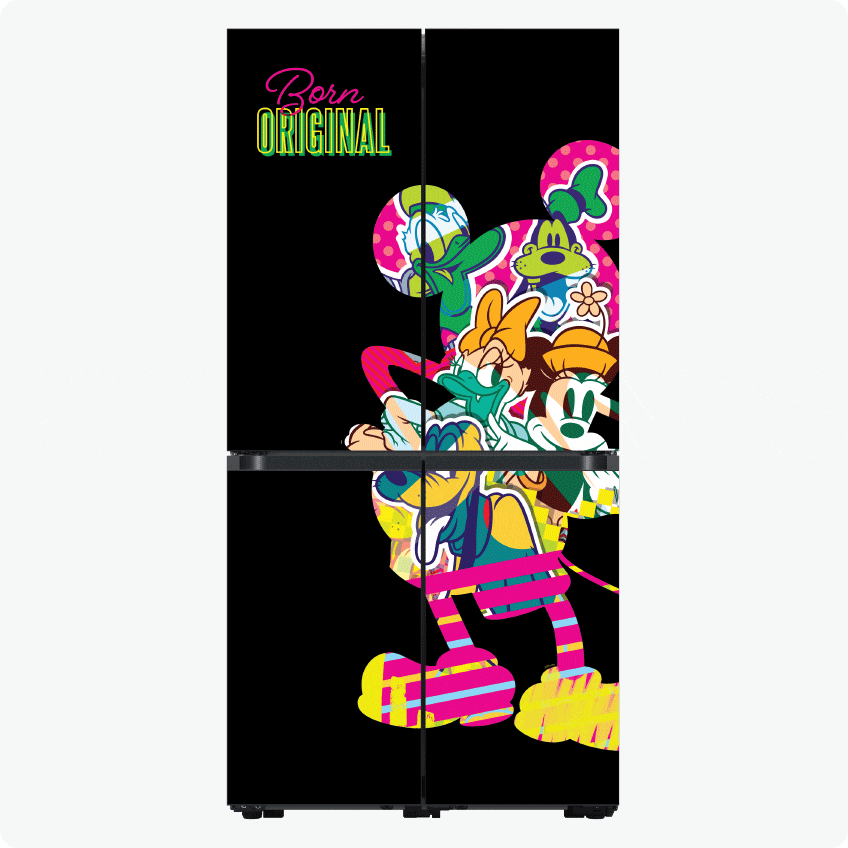 Born Original
Make a statement with this Warholesque design that features the iconic silhouette of Mickey, along with his pals forming patterns within one another. Crew love!
---
Pop Art
A bold and colourful flow of colours inspired by retro-pop, made for modern homes.
Swirl
A bold duo-tone interpretation of marbled textures, for homes that are not afraid to be expressive.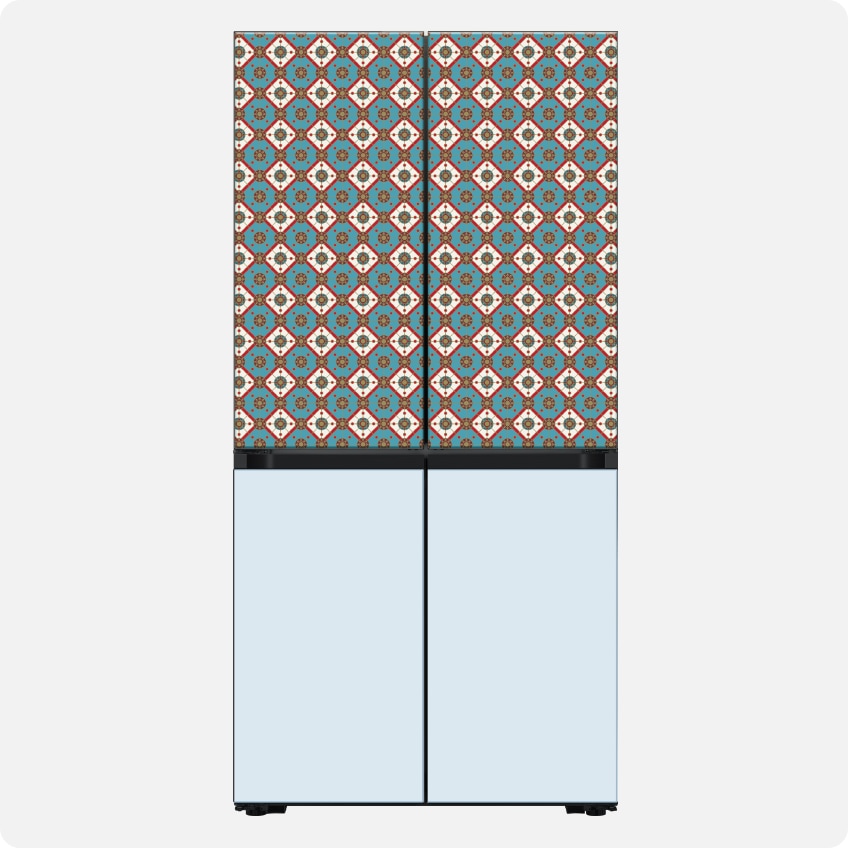 Teal
Create an iconic statement piece at home with this modern take on the Peranakan style.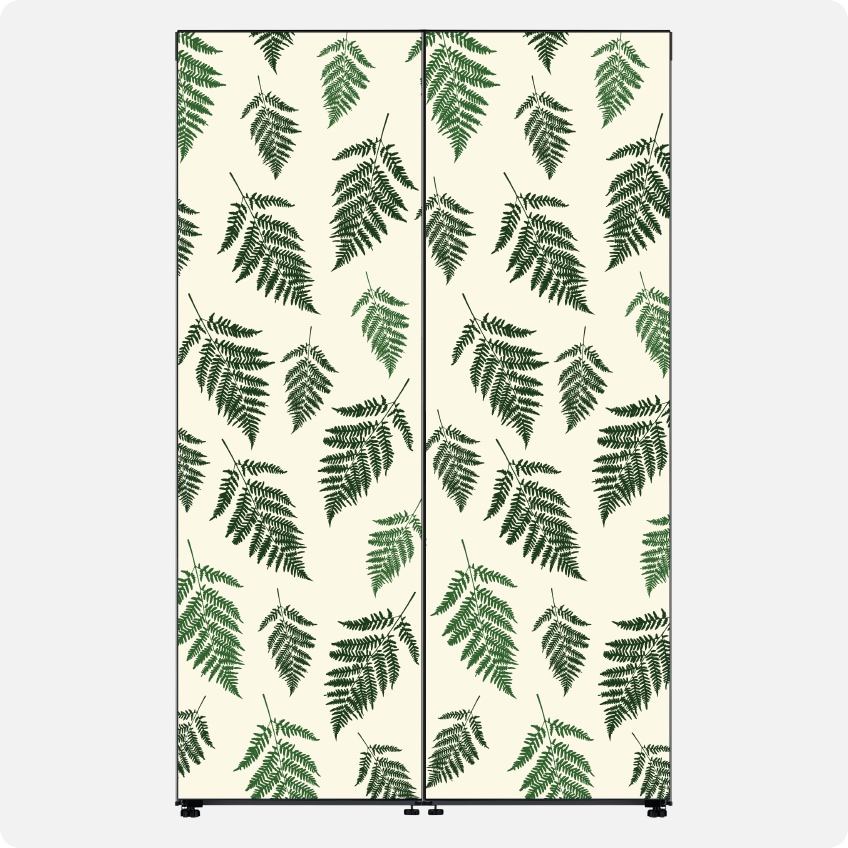 Serenity
A representation of life and growth for the modern kitchen.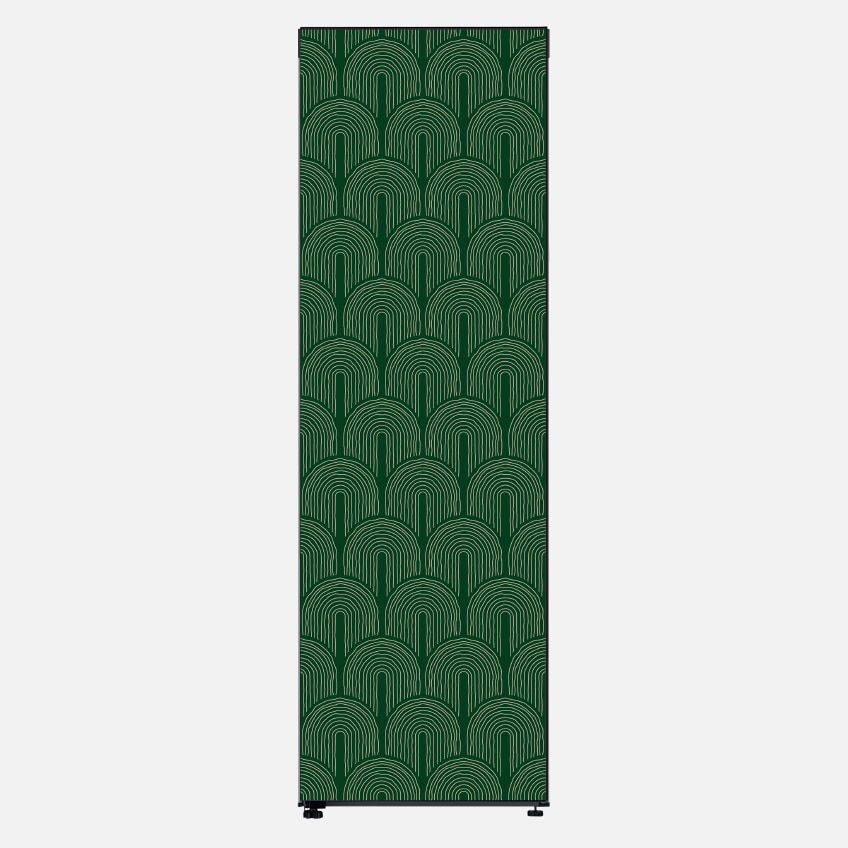 Verde
Be inspired by a lush botanical piece featuring geometric lines found in nature.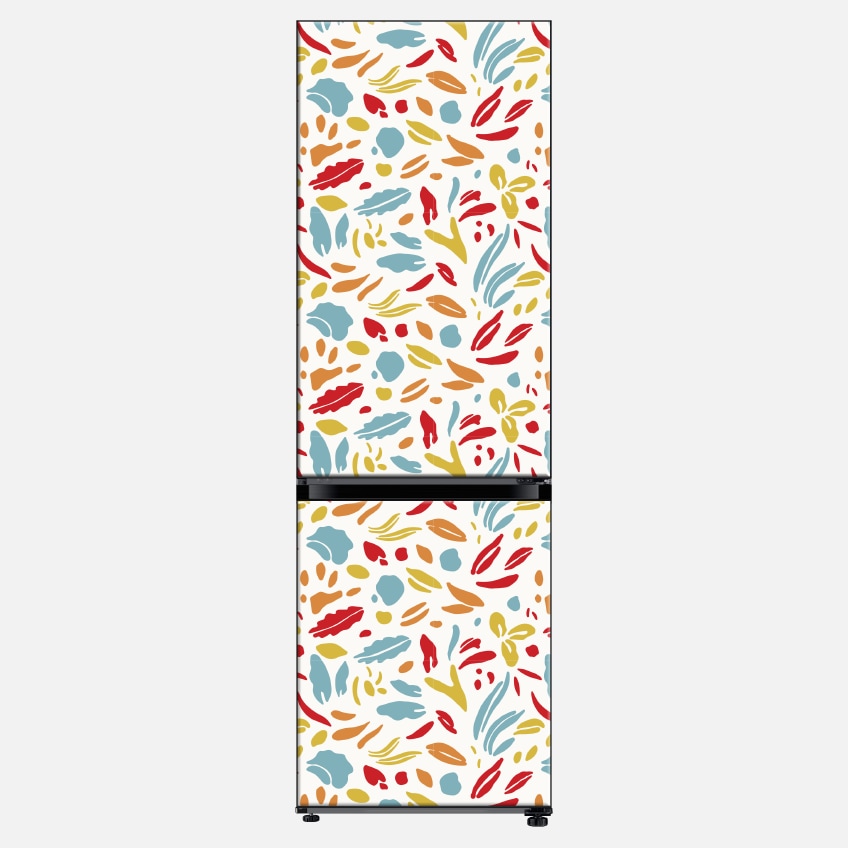 Summertime
A cheerful piece inspired by the warmth of summer.
Clover
Add charm to your kitchen with these intricate Peranakan motifs.
Lush
Incorporate elements of nature into the home to create a sense of harmony between home and the world outside.
---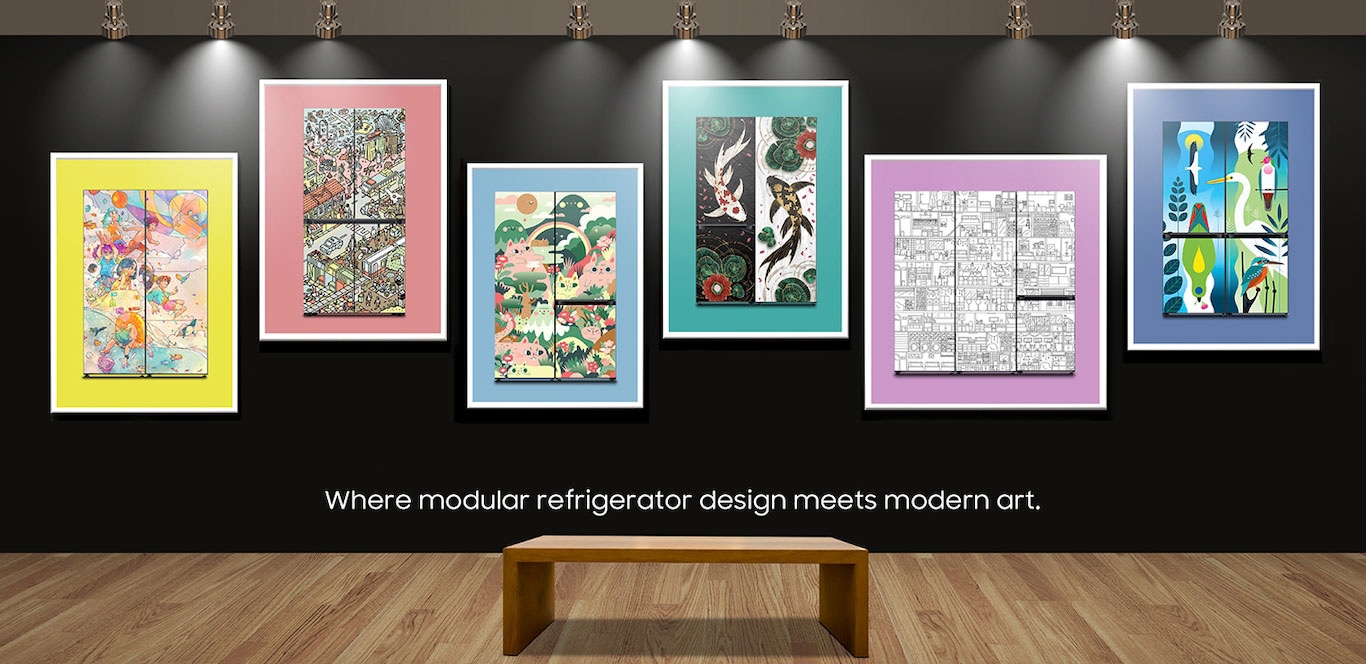 Elevate your BESPOKE experience with this exclusive collection!
Now you can choose from 6 BESPOKE refrigerators, each with its own customised panel design. Journey into the creative minds behind the collection, and discover the BESPOKE refrigerators that fits your style.
Goood Afternoon
by ROOOT Studio
Designed as a conversation starter in the heart of the kitchen, the design looks into the everyday Singaporean's life, and how interactions between people are sparked by things as simple as a greeting with a smile.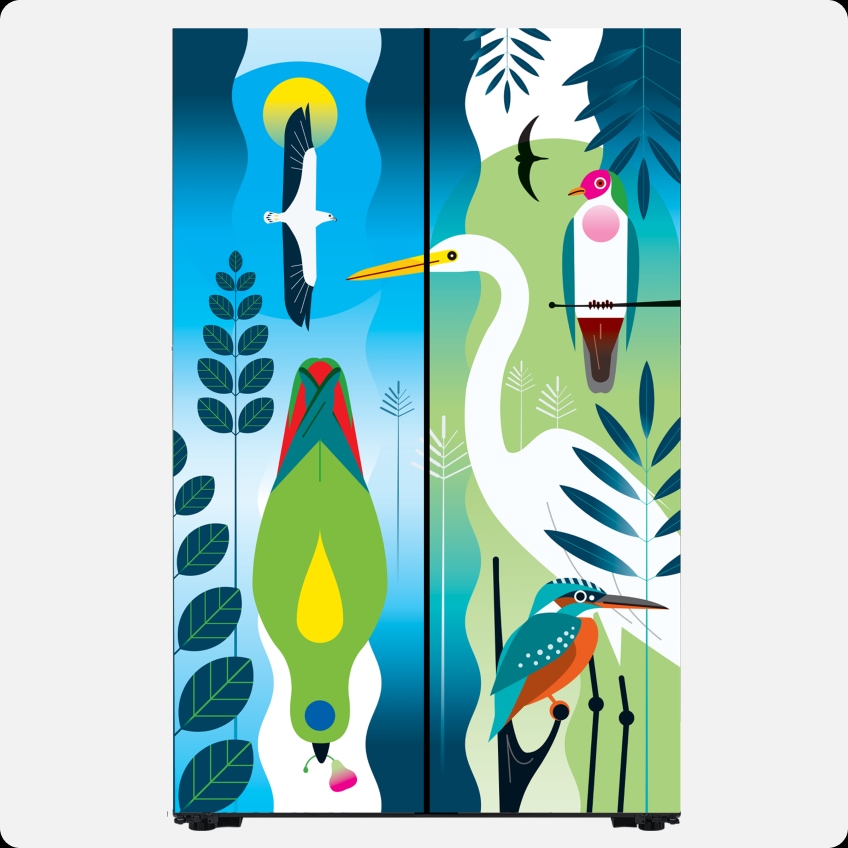 Kitchen View with Birds
by ST Leng
From the kitchen of her little flat, my friend sees a regular kingfisher which brings her joy every time. This cherished memory can now be brought to life in anyone's kitchen — the joy of experiencing the vibrance of life within nature.
Fleur Purrfect
by Puffingmuffin
An interpretation of an enchanting, whimsical and purrfect world that comes to life on the refrigerators, the artwork creates positive vibes and adds a happy touch to any home or kitchen.
Yin & Yang — the Balance of Life
by Goh Chen Lin
A portrayal of the harmony of life, a pair of koi fish arranged like the yin-yang symbol brings perfect balance to any home.
Journey
by Raymond Kong
Like how refrigerator magnets often tell a cherished story or memory for the dwellers at home, this art piece pays homage to the feelings of nostalgia with its magical dose of vibrance and life.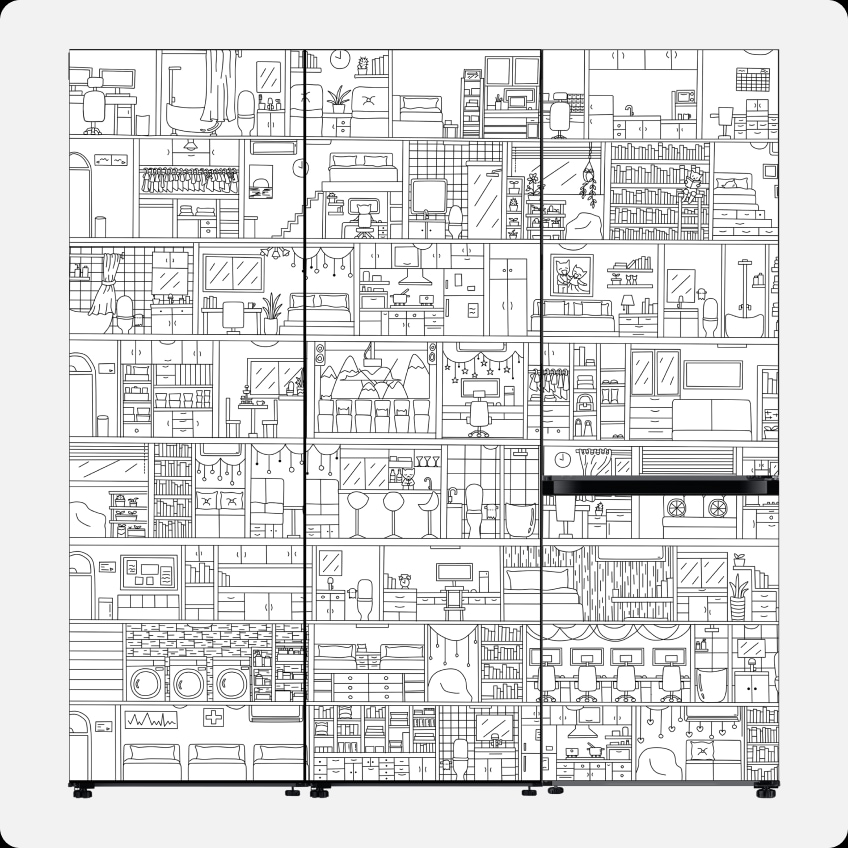 Cat's Apartment
by Liang Yi Jie
Designed with clear precise lines and a meticulous attention to detail, feel free to get a closer look—can you find the cat residents living in the apartment?
---
Personalise your refrigerator and own a refrigerator that is uniquely you.
Need some artistic inspiration to get started? Take a look at Samsung's gallery of entries from our BESPOKE Design Contest.
*Designs shown here are not for sale.