---
SPS2HKW57E 45CM FREESTANDING DISHWASHER
2 years warranty by Bosch
We try our best to provide accurate product information from the manufacturer's or agent's website. However, the information on this page may change without notice, and it may not be accurate if there are specification changes. We recommend checking the manufacturer's site for the latest specs and information.

-

While all items available for online purchase can be added to your cart, we cannot guarantee their availability at the time of order processing.

In case we are unable to fulfill your order, we will get in touch with you to provide an alternative option or arrange a full refund.

-

If your product is eligible for warranty, you can find its registration link here.
HIGHLIGHTS
EcoSilence DriveTM: powerful, durable, quiet and efficient.
To increase our cleaning efficiency we have developed the economical EcoSilence DriveTM. It is exceptionally quiet, efficient and guarantees low electricity consumption. The EcoSilence DriveTM works without brushes is ultra silent and top results are automatically guaranteed.
AquaStop with 100% lifetime guarantee against water damage.
The AquaStop system consists of a double-walled supply hose, a safety valve, as well as a floor sump with float switch, offering 100% protection against water damage. Guaranteed by Bosch for lifetime.
FEATURES
GENERAL
Capacity:   9 place settings

Dimension (WxHxD): 45 x 84.5 x 60 cm

Noise level (silence programme): 45 dB(A) re 1 pW

Energy² / Water³:   70 kWh / 8.5 litres
FEATURES
Wi-Fi

Glass Care System

Heat Exchanger

Favourite Programme

Machine Care

Silence on Demand (via app)

Dosage Assist Basket ensures the tablets are dissolving properly

BLDC Motor

2 bent spray arms in upper basket

Detergent Automation

Inner Tub: Stainless Steel

Remaining programme time indicator (mins)
PROGRAMMES
6 programmes: Intensive 70°C, Auto 45-65°C, Eco 50°C, Glass 40°C, 1h 65°C, Pre-rinse

3 special options: Remote Start, SpeedPerfect+, Extra Dry
SAFETY
Childproof Control Lock

Aqua Stop - Prevent Water Leakage
BASKET AND RACKS
3-fold corrugated filter

Low friction wheels on lower rack

Rack Stopper to prevent derailing of lower basket

Adjustable upper rack: Single

2 Foldable Plate Racks in Bottom Basket

Cutlery rack in top basket

Cutlery basket LR: variable small

Panel legend: Plain text (english)

Time Delay: 1 - 24 hours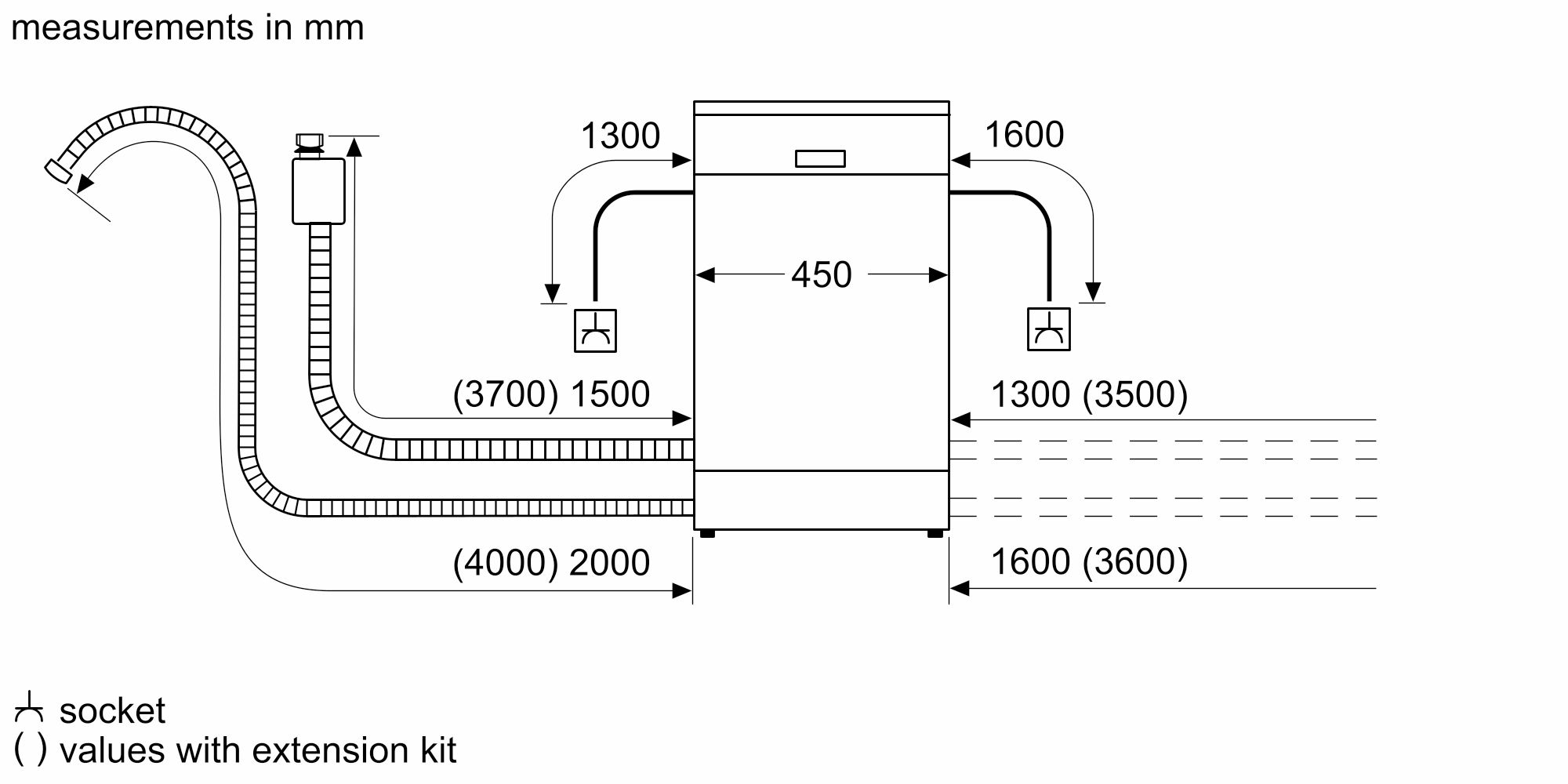 SPECIFICATION
CONNECTIVITY
Home Connect

✓

Home Connect Features
Remote Monitoring and Control
Connectivity type
Wi-Fi
CONSTRUCTION TYPE
Color / Material body
White
Color / Material panel
White
Built-in / Free-standing
Free-standing
Door panel options
Not possible
Drying system
Heat exchanger
Height of the product (mm)
845 mm
Hidden heating element

✓

Installation type
Built-under
Removable top

✓

Tub material
Stainless steel
Water softener

✓

Width of the product (mm)
450 mm
SIZE & WEIGHT
Dimensions of the product (HxWxD)
845 x 450 x 600 mm
Height of removable worktop (mm)
30 mm
Number of Options
4
Adjustable plinth
—
Net weight (kg)
42.311 kg
PROGRAMMES
Drying progress indicator
Time remaining indicator front, water inlet
List of programmes
Auto 45-65°C, Economy, Intensive, night program, Quick L
Name, programme 1
Economy
Programme duration, programme1 (min.)
220
Programme duration, programme2 (min.)
95-160
Programme duration, programme3 (min.)
115-125
Programme duration, programme4 (min.)
60
Programme duration, programme5 (min.)
240
Programme duration, programme6 (min.)
15
Reference programme
Eco
Number of different wash temperatures
4
Temperature, programme 1 (°C)
50
Temperature, programme 2 (°C)
45-65
Temperature, programme 3 (°C)
70
Temperature, programme 4 (°C)
65
Temperature, programme 5 (°C)
50
SAFETY
Glass protection techn.

✓

Surge-back protect. installed

✓

Water protection system
Total system
CONNECTION
Connection rating (W)
2,400 W
Length electrical supply cord (cm)
175 cm
Current (A)
10 A
Length inlet hose (cm)
165 cm
Length outlet hose (cm)
205 cm
Plug type
Gardy plug w/ earthing