Bosch WGG244A0SG 9KG FRONT LOAD WASHER (4 TICKS)
$2,799.00
Product Summary
i-DOS automatic dosing system dispenses the precise amount of liquid detergent for perfect cleaning

 

EcoSilence Drive™:

 

Advanced motor offering maximum efficiency, economy, durability, performance and exceptionally quiet operation

 

SpeedPerfect:

 

perfectly clean in up to 65% less time.

 

AllergyPlus:

 

specially developed for the needs of allergy sufferers and sensitive skin.

 

VarioDrum's breakthrough wave-droplet design provides a thorough yet gentle clean for fine textiles

2 years warranty [Click to Register]

HIGHLIGHTS
Outstanding washing results thanks to optimum water distribution
This drum thinks for itself: The droplet-shaped structure and the size of the paddles ensure faster and more even water distribution – producing outstanding washing results.
Never miss an item again, with Reload.
Forgot a kid's sock, your t-shirt,..? Nevermind. When was the last time, you just loaded the washing machine, started the wash cycle and then realised that you forgot a kid's sock or a t-shirt? The reload function in our washing machines lets you simply add missed out clothes or remove clothes even during a wash cycle*. Just pause the running cycle and open the door, to simply reload your forgotten items into the drum and continue the wash. (*Reloading is not possible when suds temperature is higher than 50°C or when water level is too high.)
AllergyPlus: maximum hygiene performance for sensitive skin. ECARF certified.
AllergyPlus is the ideal program for everything worn directly against the skin, especially for those with sensitive, irritable skin. A specially designed wash cycle, longer temperature stages and an additional rinse reduce allergenic residues as far as possible. This means fewer pollen particles, animal hairs and dust mites. We have been awarded the ECARF Quality Seal for this program, which is ideal for allergy-sensitive people and yet fabric-friendly.
EcoSilenceDrive: powerful, durable, quiet and efficient.
The EcoSilenceDrive motor developed by Bosch is especially powerful and durable. It is distinguished by its high energy efficiency, speed and also through its very low energy consumption - 30% more efficient (only 0.13 kWh/kg) than the qualifying limit (only 0.19 kWh/kg) for the class A energy efficiency rating.
Perfectly clean in up to 65% less time*.
"SpeedPerfect is a special fuction developed for situations when time matters. With SpeedPerfect you can reduce your washing time by up to 65%* without compromising results. It can be used in combination with most of the programmes, all loads and textiles. For example, by selecting the mix programme in combination with SpeedPerfect, you can throughly wash up to 4 kilograms of mix load in just 45 minutes. (*Difference between the duration of Easy Care Programme 40°C and the duration of Easy Care Programme 40°C in combination with SpeedPerfect option.)"
i-DOS detergent saver system: fine-tune the detergent amount with millilitre precision for optimal water use.
Save water by saving detergent: the unique intelligent i-DOS detergent saving system determines the precise amount of liquid detergent. Special sensors detect the load weight and fabric type and even the degree of soiling in the automatic programmes. Your laundry will be washed with the optimal amount of detergent. By avoiding overusage you will also prevent additional rinse cycles to remove the soap scum from washing detergents. With i-DOS you save liquid detergent and up to 7,062 litres of water (potential annual saving when using i-DOS instead of household washing with manual dosage using a conventional sensitive programme at an average of 220 washing loads per year.* (*Source: wfk (The Cleaning Technology Institute), Institute of Applied Research, research report WL 5132/10. Individual results may vary.)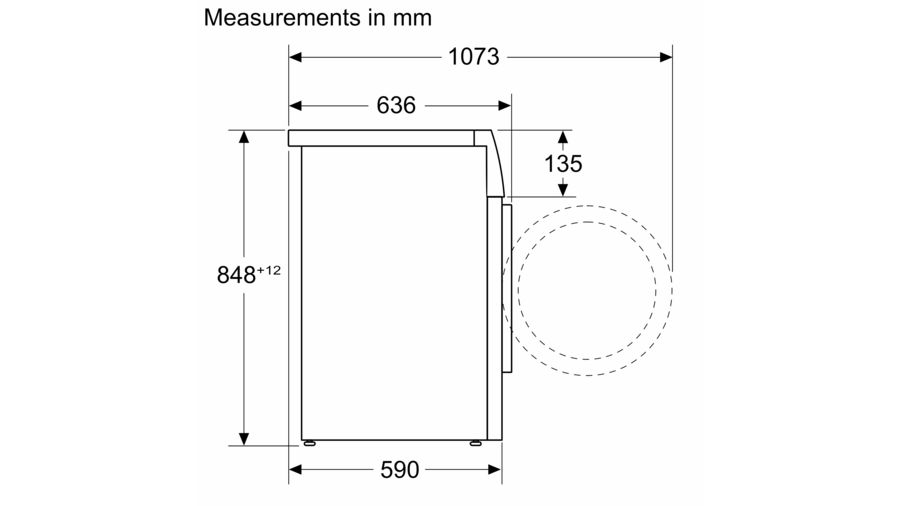 FEATURES
TECHNICAL INFORMATION
Capacity: 9kg

Maximum spin speed : 1400 rpm

Dimensions (H x W x D): 84.8 cm x 59.8 cm x 59.0 cm

32 cm porthole, 165° swing door
PROGRAMMES
Cottons, Cottons Eco, Synthetics, Daily Wash, Dellicates/Silk, Wool, Drum Clean, Rinse, Spin/Drain, Duvet, Sportswear, AllergyPlus, SuperQuick 15"/30",  Automatic 40˚C

Time delay to select end time of your wash (1 - 24 hours) and time remaining indicator

Start/Reload function to pause machine operation for adding in last minute laundry items
FEATURES
i-DOS automatic dosing system dispenses the precise amount of liquid detergent for perfect cleaning

EcoSilence Drive™ friction-free motor minimises heat and wear for long-lasting performance, quiet operation and perfect wash results.

SpeedPerfect: perfectly clean in up to 65% less time.

ActiveWater™ Plus: Pressure and water sensor that measures the washing load and adjusts water intake to 256 precise levels for more cost and water savings

VarioDrum's breakthrough wave-droplet design provides a thorough yet gentle clean for fine textiles

AntiVibration™ Side Panels reduce vibrations and ensure greater stability during the washing and spinning process.

AllergyPlus programme - suitable for allergy sufferers.
SAFETY
Multiple water protection with magnetic valve to minimise risk of leakage

Child-proof lock
DISPLAY SCREEN & ALERTS
Large LED display screen to indicate: Programme status, Temperature and Spin Speed Selection, Remaining Time and 24 Hour End Time Delay, Load Recommendation and Consumption

Buzzer at the end of the wash programme
SPECIFICATION
GENERAL
Dimensions of the product (mm)
848 x 598 x 590 mm
Installation type
Free-standing
Loading capacity
9.0 kg
Max. spin speed
1,400 rpm
List of programmes
Delicates programme, Easy-care programme, Programm Wolle, Whites and coloureds programme, Woollens hand wash programme
Cottons programme
Economy, Standard cold - 90°C
Easy-care programme
Standard cold - 60°C
Wash optimization
AllergyPlus / Hygiene, Automatic, Drain / Spin, Duvet, Easy iron, mixture, Prewash, Ready, Single Rinse, SpeedPerfect, Spin speed reduction, sports, Start / Reload, Super 15 min / Super 30 min, Temperature selection
Digital countdown indicator

✓



Start delay options
Continuous
Noise level washing (dB(A) re 1 pW)
45
Noise level spinning (dB(A) re 1 pW)
69
Door hinge
Left
Water protection system
Multiple water protection
Hot & cold water intake
—
Interior light
—
Removable top
—
Length electrical supply cord (cm)
210 cm
Available languages display
Symbols
Drum material
Stainless steel
CONNECTION
Length electrical supply cord (cm)
210 cm
Frequency (Hz)
50 Hz
Hot & cold water intake

—

Plug type
GB plug
SIZE & WEIGHT
Depth with open door 90 degree (mm)
1,080 mm
Dimensions of the product (mm)
848 x 598 x 590 mm
Drum volume (l)
65 l
Height-adjustable by
1.20 cm
Net weight (kg)
74.931 kg
COMFORT
Programme end indication
Acoustic, LED-display
Loading sensor

✓

Degree of dirtiness recognition

✓

Digital countdown indicator

✓

Drying progress indicator
LED-display
Noise level spinning (dB(A) re 1 pW)
69
Noise level washing (dB(A) re 1 pW)
45
Turbidity sensor

✓

Start delay options
Continuous
Self adjusting water level to load

✓
PROGRAMMES
Cold wash option

✓



Electronic After-sales Service

✓

List of programmes
Delicates programme, Easy-care programme, Programm Wolle, Whites and coloureds programme, Woollens hand wash programme
Cottons programme
Economy, Standard cold - 90°C
Easy-care programme
Standard cold - 60°C
Separate temperature control options
Steps
Temperature selection
Button
Wash optimization
AllergyPlus / Hygiene, Automatic, Drain / Spin, Duvet, Easy iron, mixture, Prewash, Ready, Single Rinse, SpeedPerfect, Spin speed reduction, sports, Start / Reload, Super 15 min / Super 30 min, Temperature selection
Water plus

—
SPINNING
Max. spin speed
1,400 rpm
Spin speed options
Variable
Skip spin

✓
SAFETY
Balance control

✓

Foam control

✓

Water protection system
Multiple water protection
---
CUSTOMER REVIEWS