---
R-HWS480KS 364L MULTI-DOOR FRIDGE + FREE HITACHI RICE COOKER
2 years warranty by Hitachi (2nd year excludes transport)
We try our best to provide accurate product information from the manufacturer's or agent's website. However, the information on this page may change without notice, and it may not be accurate if there are specification changes. We recommend checking the manufacturer's site for the latest specs and information.

-

While all items available for online purchase can be added to your cart, we cannot guarantee their availability at the time of order processing.

In case we are unable to fulfill your order, we will get in touch with you to provide an alternative option or arrange a full refund.

-

If your product is eligible for warranty, you can find its registration link here.
FEATURES
Vacuum-sealed for Freshness
Platinum Catalyst with Ruthenium Vacuum Compartment
The secret to longer-lasting freshness is reduced oxygen levels. Hitachi's original preservation extracts air to maintain approx. 0.8 atm of vacuum preservation. With unique Platinum Catalyst, chilled meat, fish and dairy products are kept fresh and nutritious, and ready to cook.
Refreshing Technology Maintains 0.8 atm Vacuum*
Hitachi innovation at its finest and most consistent : the sealed pressure-resistant vacuum realises and maintains the vacuumed environment. A vacuum pump extracts air and reduces oxygen to achieve approx. 0.8 atm (atmospheric pressure) throughout usage.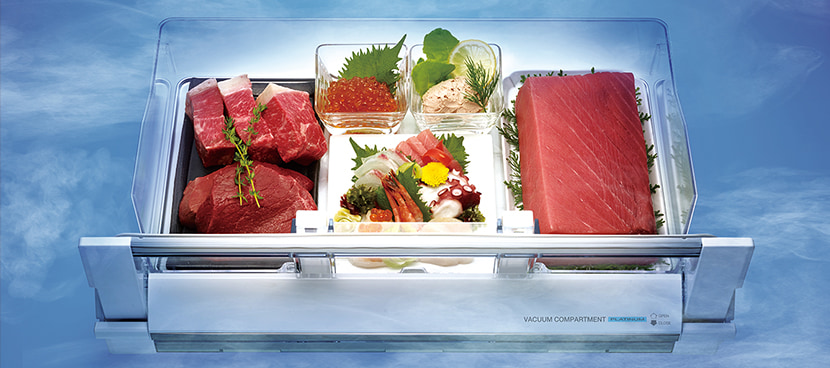 * Vacuum means the space where the pressure is lower than the atmospheric pressure. The pressure in the Vacuum Compartment is about 0.8 atm, which is lower than the atmospheric pressure, hence, Hitachi considers this a vacuum.
Big Chilled Room Keeps Food Fresh
Moisture Cooling
Now the whole refrigerator room is available as a chilled room to keep your food fresh! Approx. 2°C*2 of chilled temperature and high humidity retains flavours and freshness.
Cooling Technology for Moisture Cooling
Dedicated Evaporator
By suppressing dehydration of the air to the refrigerator compartment, the fully-moistured air suppresses the temperature drop and the dehydration of the food.

Dedicated Large-Volumed Fan for Refrigerator Compartment
By controlling the rotational speed of the cooling fan dedicated for refrigerator compartment, it controls the whole shelves of the refrigerator compartment at approx. 2°C.
The Power of Platinum for Fruits & Vegetables
Aero-care Vege Compartment with Platinum Catalyst
The uniquely-designed lower compartment sustains freshness and nutrients of the vegetables and fruits with Platinum Catalyst. In addition, odour components and ethylene gas that come into contact with the catalyst are broken down into carbon dioxide and water.
Big Capacity Freezer with Easy Organising
Triple Layers Freezer Compartment
With triple layers storage, you can now organise according to your storage needs. Quick freeze your food with the top shelf, store your smaller items on the second shelf and bigger items at the bottom.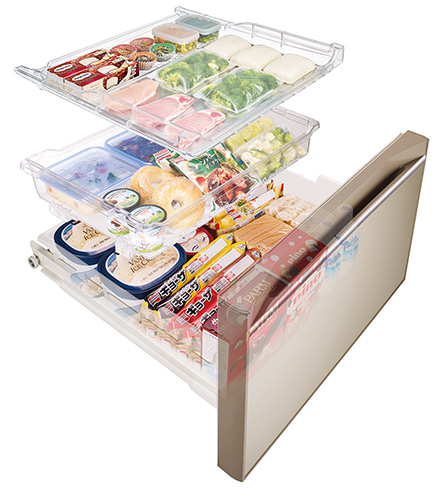 Retains the Natural Goodness of Your Food
Quick Freezing
Quick Freezing seals in the original textures, flavours and nutritional value of fresh and cooked products. This is achieved by freezing food very quickly past the maximum ice crystal formation zone on a big aluminium tray.
Breakthrough Energy, Saving Technology
Slim Heat Insulating Material
VIP is a thin vacuum-insulated panel with extremely high heat insulation performance. Combining the good liquidity Urethane and VIP enables a high energy saving performance and achieving sleek slim sides of the refrigerator. Enjoy a bigger capacity with stylish slim design.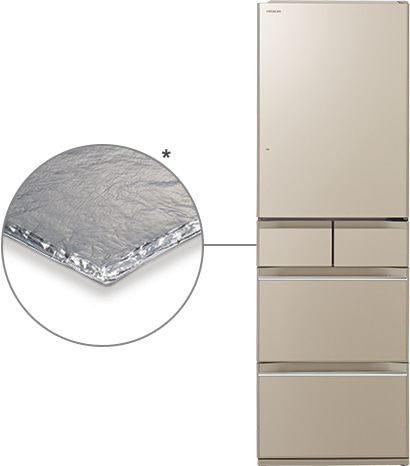 Flexible Design
Shelves and Pockets with Adjustable Height
The shelves and the door pockets can be adjusted to match the size of the food items and your needs.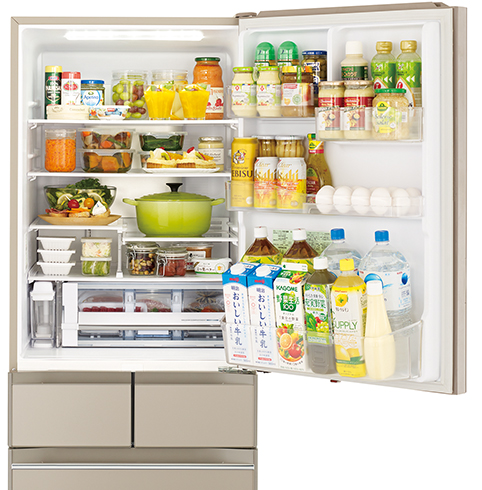 SPECIFICATIONS
Gross Capacity (L)
Total : 500
Refrigerator Compartment : 225
Vacuum Compartment : 32
Freezer Compartment (Upper + Lower + Ice) : 157
Vegetable Compartment : 86
Storage Capacity (L)
Total : 364
Refrigerator Compartment : 214
Vacuum Compartment : 10
Freezer Compartment(Upper + Lower + Ice) : 82
Vegetable Compartment : 58
Cooling System
Independent Cooling System
Inverter Compressor
Eco Intelligent Control
Refrigerant : R600a
Vacuum Insulation Material
Refrigerator Compartment
Vacuum Compartment(-1℃) : Platinum Catalyst with Ruthenium
Moisture Cooling
LED Lighting
Tempered Glass Shelf
Height Adjustable Pockets
Height Adjustable Shelves
Automatic Ice Making Compartment
Independent Ice Storage
Quick Ice Making
Automatic Cleaning Function
Water Filter
Stop Ice Making
Signal for Water Supply
Lower Freezer Compartment
Aluminum Tray (Top)
Delicious Freezing (Top)
3-layer Freezer Case
Vegetable Compartment
Aero-care Vege Compartment (lower case)
2-layer Vegetable Case
Other Features
Triple Deodorization Filter
Lifestyle Memory Control
Flat Back (No clearance required on the back side)
Energy Saving Mode
Control Panel (Touch Screen Controller)
Door-Opened Alarm
Refrigerator Compartment
Ice Making Compartment
Lower Freezer Compartment
Weight (kg)
105

Dimensions (WxHxD) (mm)
600x1833x699

Body Colour

Crystal Mirror (X), Crystal Champagne (XN)