SAMSUNG RB34T6054B1 325L 2-DOOR FRIDGE (4 TICKS)
$1,349.00
Product Summary
Maximise internal capacity with SpaceMax™ Technology
Digital Inverter Technology
All-Around Cooling System
FEATURES
More space inside - same depth outside
SpaceMax™ Technology
Store more food with a spacious interior that holds up to 325 liters. Its unique SpaceMax™ Technology enables the walls to be much thinner whilst still ensuring optimal insulation. There is more storage space created without increasing the external dimensions or compromising energy efficiency.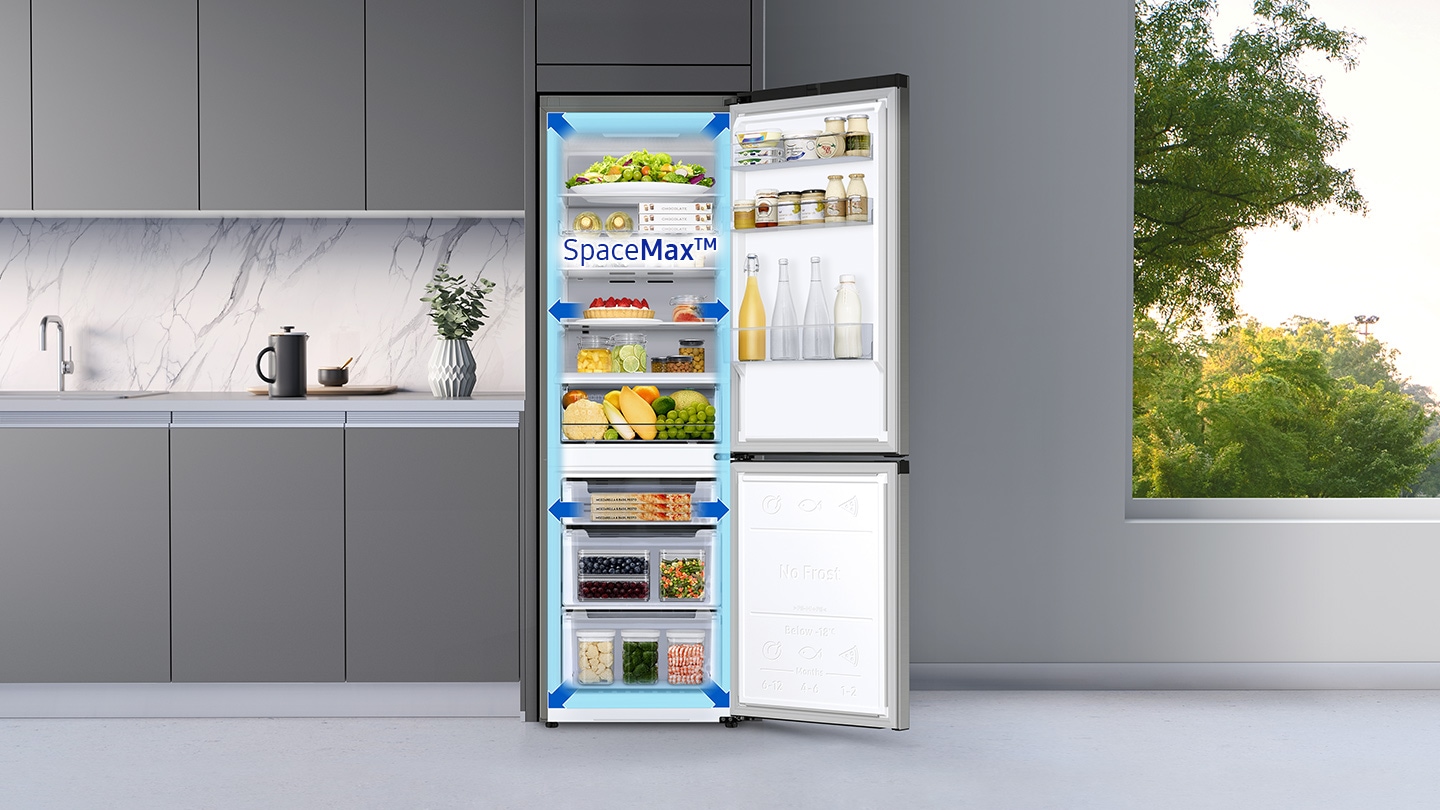 Cools every corner evenly
All-Around Cooling
The All-Around Cooling system continually monitors any temperature fluctuation and cools the fridge evenly from corner to corner. Cold air is emitted through multiple vents on every shelf level to create a multi-directional airflow, so that a constant temperature is maintained and food stays fresh longer.
No More Frost & Ice Build-Up
No Frost
The No Frost technology enhances the circulation of air to maintain a constant temperature in every corner of the refrigerator, preventing the build-up of frost and ice. It also reaches the target temperature much faster, increases the cooling system's durability, and avoids wasting power on defrosting.
Preserves original freshness 2x longer
Optimal Fresh +
Enjoy the ultimate in storage flexibility. The Optimal Fresh + box can be used as one drawer or split into two zones with different temperatures. The left side is cooler, so meat and fish stay fresh for twice as long*. The right is great for protecting the freshness of fruit and vegetables.
Single Temp
Dual Temp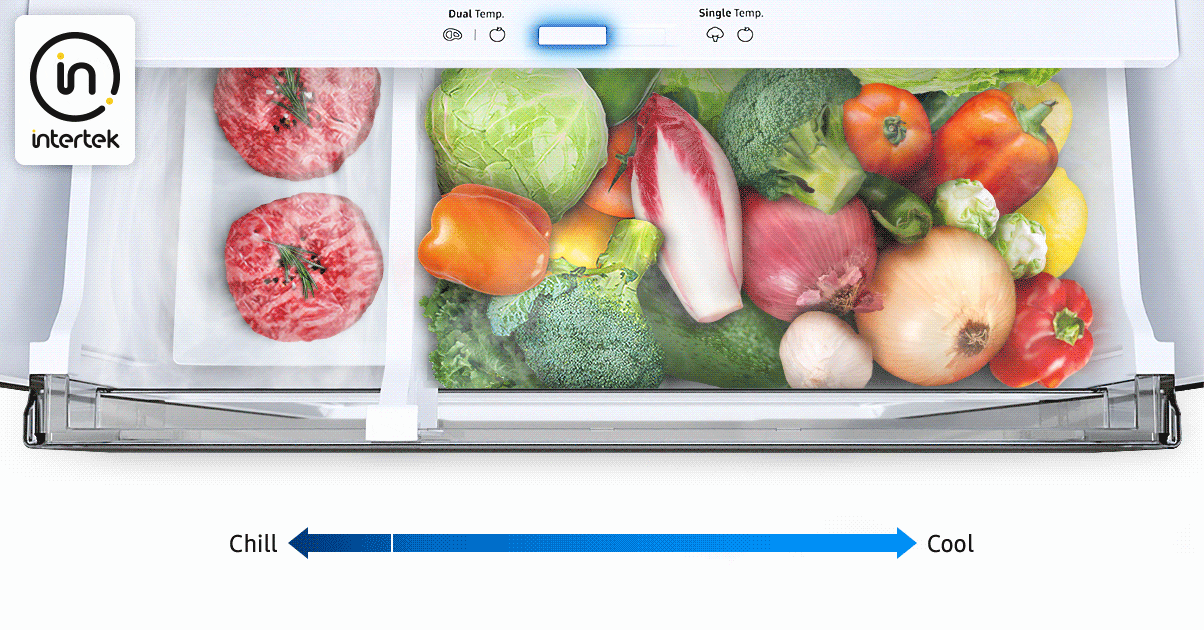 * Tested by Intertek with RL38T775CSR and RB34K6252SS. Applies when set as MAX mode. Results may vary upon degree of freshness before storage, usage circumstances, etc. Results based on analyzing APC (aerobic plate count) of sample foods after storage in test units.

Optimal humidity for lasting freshness
Humidity Fresh +
Keep fruits and vegetables fresh for longer in an ideal storage environment by adjusting the humidity in the Humidity Fresh + drawer. Simply spin the control knob and it will continually adjust the moisture level to maintain the optimal humidity by automatically opening and closing a vent to hold in or release moisture
Fast cooling and freezing on demand
Power Cool / Power Freeze
Freeze or chill your food rapidly with the Power Freeze and Power Cool options, all done with a simple push of a button. Ideal for chilling your favorite drinks or firming up ice cream in a flash.
Seamlessly harmonious and stylish design
Seamless & Sleek Design
Give your home a seamless and sleek appearance that will fully align with your cabinets, along with its stylish flat door, Clean Back, and an interior Hidden Display.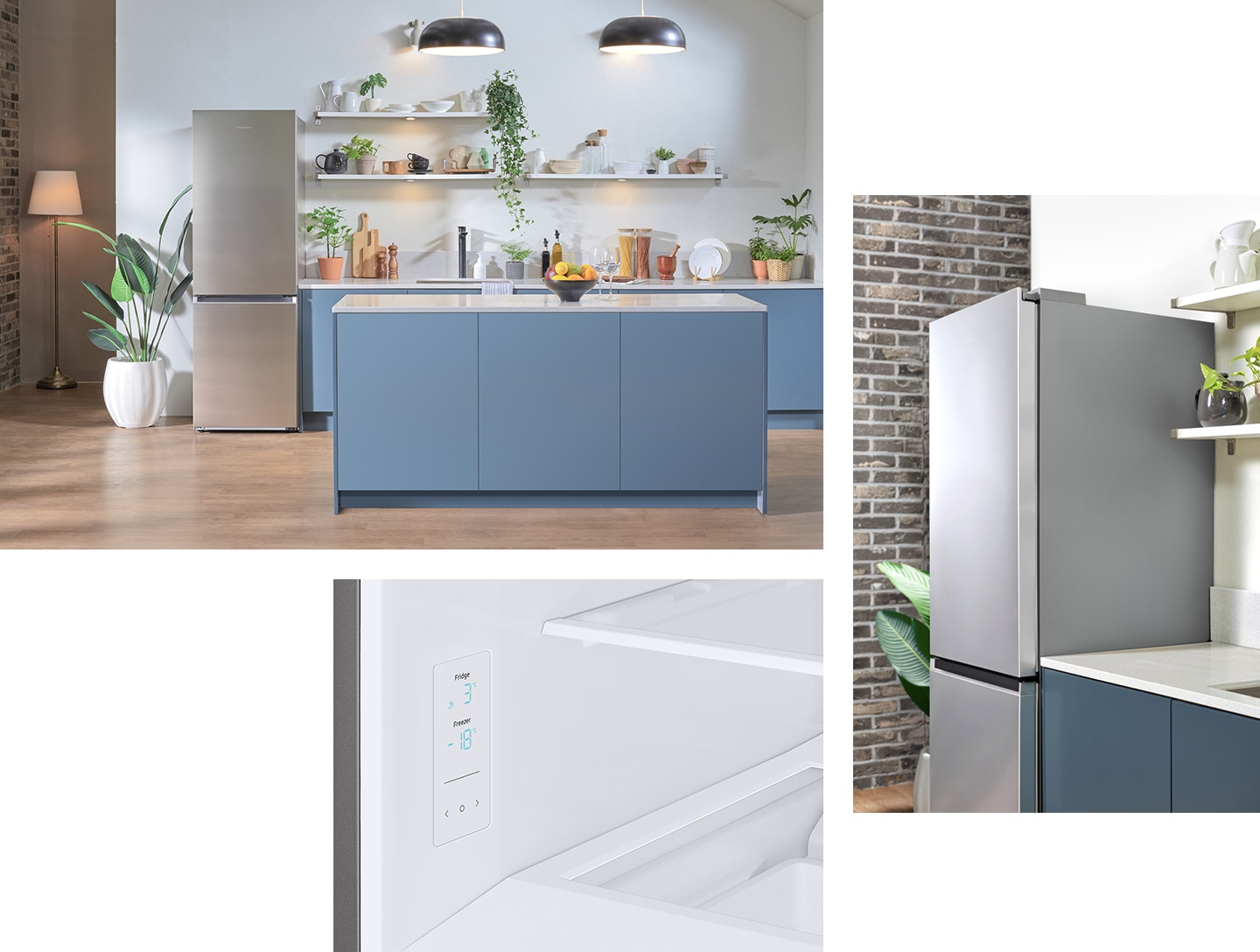 Much more flexible wine & food storage
Rack & Shelf
Make better use of your fridge space with a multi-functional Wine Shelf. Its wider design allows storage of standard sized wine bottles and even thicker champagne bottles, while its flatter shape makes it also versatile enough to hold other food such as pizzas or egg cartons.
Fit more in the door
Big Door Bin
Keep larger bottles of up to 4 pints in size in the door, so you don't waste shelf space. A wider and deeper Big Door Bin helps you safely store big bottles, bulky cartons and more beverage items. So it's great if you want to easily access chilled drinks and your favorite beverages at any time.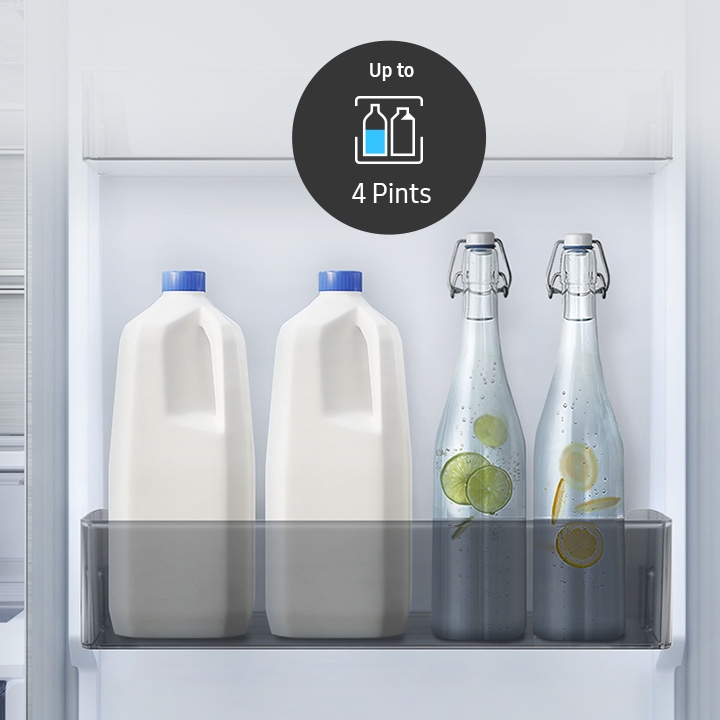 Works Quietly and Efficiently
Digital Inverter Technology
Enjoy less noise and greater energy efficiency. Digital Inverter Technology automatically adjusts the compressor speed in response to cooling demand, thus using less energy, while minimising noise. Samsung also guarantees the durability of its Digital Inverter Compressor with a 10-year warranty*.
*10 year warranty is limited to the compressor only.
Easy to clean, durable & protective back
Clean Back
With the Clean Back feature, vital coils and cables are neatly and safely covered in a smooth and neat finishing which provides added durability, stops dirt from collecting around components, and can be easily wiped clean.

SPECIFICATIONS
CAPACITY
Net total

325 ℓ

Net for refrigerator

228 ℓ

Gross total

355 ℓ

Gross for freezer

124 ℓ

Gross for refrigerator

231 ℓ
PHYSICAL SPECIFICATION
Net width

595 mm

Net case height with hinge

1853 mm

Net depth without door handle

658 mm

Net depth without door

595 mm

Net weight

68 kg
COOLING FEATURE
No frost
Yes
Cooling type 

All Around Cooling
REFRIGERATOR FEATURE
Number of shelf (total)
3 EA
Number of vegetables&fruit drawer
2 EA
Number of door pocket
3 EA
Egg container (Egg tray)
Yes
Interior LED Light

Top LED

Shelf Material

Tempered Glass

Power Cool Function

Yes

Wine Rack

Yes
FREEZER FEATURE
Number of Drawer

3 EA

Power Freeze Function

Yes

Ice Tray

Yes
GENERAL 

FEATURE
Door Reversible

Yes

Door Alarm

Yes

Refrigerant

R600a

Autonomy Hour (Temp rising)

9 h
EXTERIOR FEATURE
Door handle
Recess
Color

Black DOI

Display Type

Internal
---
CUSTOMER REVIEWS