---
PXE675DC1E 60CM 4-ZONE FLEX INDUCTION HOB
2 years warranty by Bosch
We try our best to provide accurate product information from the manufacturer's or agent's website. However, the information on this page may change without notice, and it may not be accurate if there are specification changes. We recommend checking the manufacturer's site for the latest specs and information.

-

While all items available for online purchase can be added to your cart, we cannot guarantee their availability at the time of order processing.

In case we are unable to fulfill your order, we will get in touch with you to provide an alternative option or arrange a full refund.

-

If your product is eligible for warranty, you can find its registration link here.
PerfectFry: achieve perfect frying results thanks to automatic temperature control.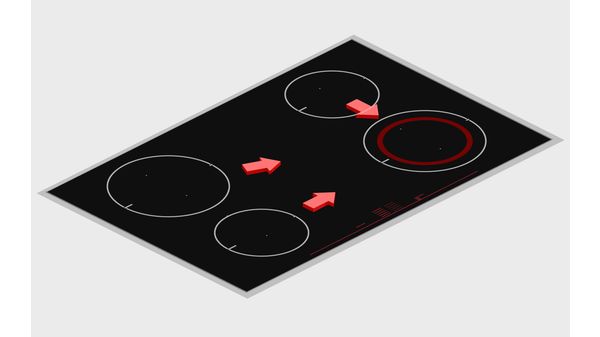 Speed up your cooking.
When you want to get quick and easy meals on the table even faster, Power Boost can help. This practical feature adds a boost of power for ultra-quick heating. Use it on your induction hob to boil large quantities of water – and heat up to 35% faster compared to the highest power level.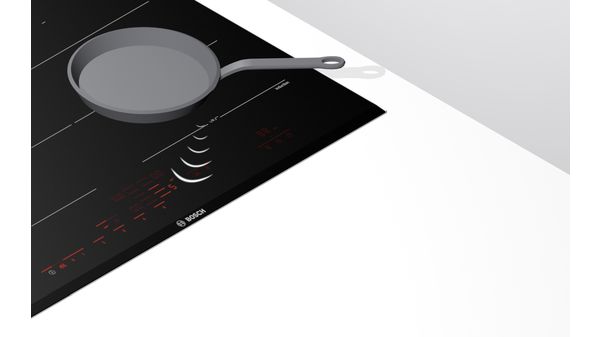 No more scorching.
The right temperature is crucial for frying. Too high will make even the best steak fry too quickly or scorch it. The PerfectFry sensor continuously monitors the pan's temperature to prevent scorching. Choose from five predefined temperature levels, for perfect results every time.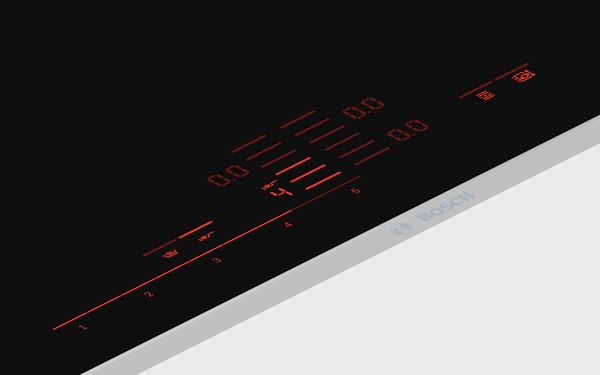 Usability on a bigger scale.
Do you sometimes lose track of the settings of your hob? DirectSelect Premium offers premium usability during cooking with a full length of 30cm. For an intuitively simple selection of power levels and additional functionalities. Our user interface only shows the functions which you actually require. The user interface is not visible when turned off and makes for a clean and elegant design of the hob.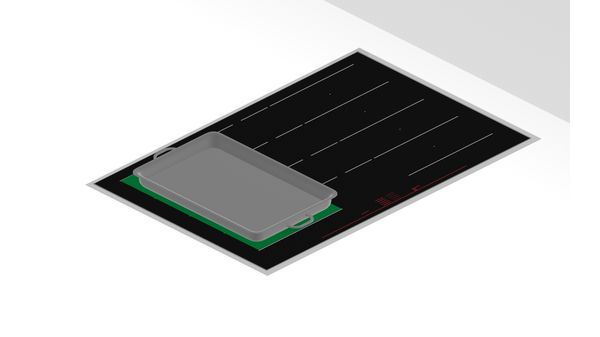 More freedom for your pots with FlexInduction.
Whether you are using one pot or several, you can place one behind the other or have them side by side. Thanks to FlexInduction by Bosch, you have the freedom of choice. As induction heats the pot base and not the hob itself, you can cook on any area of the hob surface you like. You can use your cooker like a conventional induction hob with separate cooking zones or connect it up at the touch of a button. This is how you gain additional space, for example in order to position large cookware, e. g. a roasting pan, wherever you like.
SPECIFICATIONS
Cooking zones
1 x Ø 380 mmx240 mm, 3.3 KW (max. Power levels 3.7 KW) Induction or 2 x Ø 240 mm, 2.2 KW (max. Powerlevels 3.7 KW) Induction;
1 x Ø 145 mm, 1.4 KW (max. Power levels 2.2 KW) Induction;
1 x Ø 210 mm, 2.2 KW (max. Power levels 3.7 KW) Induction
Variable 17-stage power settings for each zone
Design
Comfort profile (ceramic front facette with stainless steel side trim)

Can be installed with other Bosch hob

FullTouch TFT Display
Key Functions
PerfectFry sensor with 5 temperature settings

Automatic pan recognition sensor
PowerManagement Function
Safety switch-off
Childproof lock
Wipe protection function

2 stage residual heat indicator

Boost function for all zones

Automatic safety switch-off

QuickStart Function

ReStart Function
Dimensions
Dimensions of the product (HxWxD mm) : 51 x 606 x 527

Length of main cable: 110 cm

Electrical connection rating: 7400 W

Required niche size for installation (HxWxD mm) : 51 x 560 x 490-500
TECHNICAL DIAGRAM