---
CDG634AS0 BUILT-IN STEAM OVEN
2 years warranty by Bosch
We try our best to provide accurate product information from the manufacturer's or agent's website. However, the information on this page may change without notice, and it may not be accurate if there are specification changes. We recommend checking the manufacturer's site for the latest specs and information.

-

While all items available for online purchase can be added to your cart, we cannot guarantee their availability at the time of order processing.

In case we are unable to fulfill your order, we will get in touch with you to provide an alternative option or arrange a full refund.

-

If your product is eligible for warranty, you can find its registration link here.
Healthier enjoyment with our steam cookers.
Food cooked in hot steam not only tastes wonderfully tender and juicy, it's also healthier. Flavours, vitamins and minerals are retained. And the best thing is that you can cook at three levels at the same time without the odours from the various dishes mixing. And another plus point: Because Bosch steam cookers have integrated water tanks, no direct water connection is needed.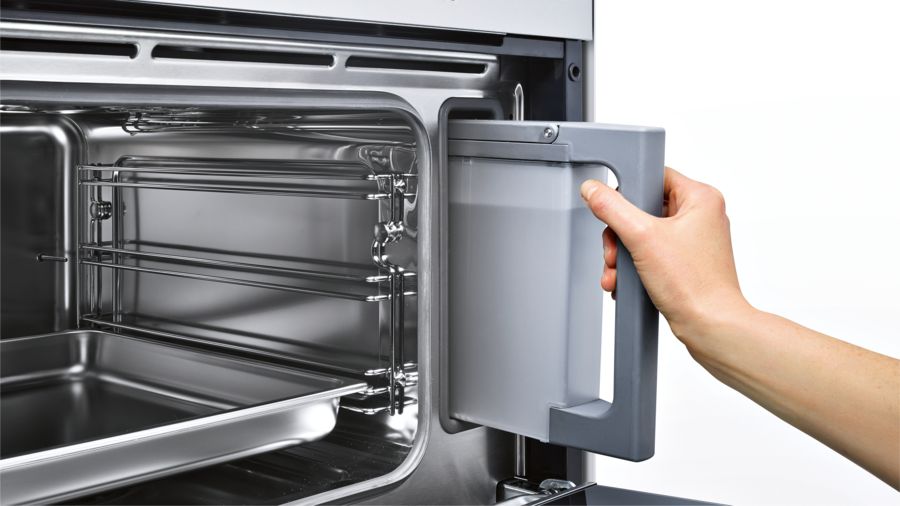 SPECIFICATIONS

GENERAL
Width of the product (mm)
594 mm
Height of the product (mm)
455 mm
Volume of watertank
1.3L
Cooking method
Defrost, fermentation, Regeneration, Steam 100%
Adjustable temperatures (°C)
30 - 100 °C
DESIGN
Cavity material
Stainless steel
Color/ Material front
Stainless steel
Construction type
Built-in
Control panel material 
Stainless steel
Type of control setting and signalling devices

Door contact switch, Main on/off switch

Door material
Glass
Location steam generator
Inside cavity
Cooking method
Defrost, fermentation, Regeneration, Steam 100%
SIZE AND WEIGHT

Cavity capacity

38 l

Required niche size for installation

450-455 x 560-568 x 550 mm

Volume of watertank
1.3L
Net weight (kg)

24.523 kg
COMFORT
Included accessories

1 x steam container, punched, size L, 1 x steam container, unpunched, size L, 1 x sponge

Cooking levels

4

Grids

0

Number of programmes

20

Adjustable temperatures

30 - 100 °C

Time-stetting options

Start and stop

Trays

2 

Water intake

Removable water tank
TECHNICAL DRAWINGS