---
XW9383 CORDLESS WET & DRY STICK VACUUM CLEANER
2 years warranty by Philips
We try our best to provide accurate product information from the manufacturer's or agent's website. However, the information on this page may change without notice, and it may not be accurate if there are specification changes. We recommend checking the manufacturer's site for the latest specs and information.

-

While all items available for online purchase can be added to your cart, we cannot guarantee their availability at the time of order processing.

In case we are unable to fulfill your order, we will get in touch with you to provide an alternative option or arrange a full refund.

-

If your product is eligible for warranty, you can find its registration link here.
FEATURES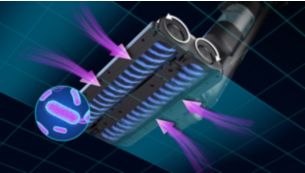 AquaSpin technology to vacuum and mop your floor in one go
The unique AquaSpin nozzle vacuums and mops your hard floors at the same time, picking up dirt at both the front and back of the nozzle to make every stroke count. You'll no longer have to mop after vacuuming, giving you time back in your busy day and reducing physical effort. AquaSpin technology is designed to remove dust, dirt, stains, spills and up to 99.9% of bacteria****, all in one go, on your hard floors.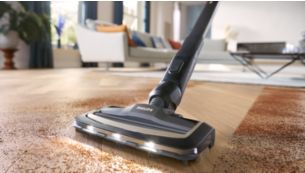 Dedicated vacuum for precise and powerful dirt pick-up
For vacuuming without water easily change the system to the advanced vacuum only set-up by attaching the 3-in-1 Handheld to the dry vacuum stick. It's designed to deliver precise and powerful pick-up on all your floors, capturing up to 98% of dust and dirt, in each stroke******. LED lights on the nozzle highlight hard to detect or previously hidden dirt, making things like fine dust, fluff, hair and crumbs easy to spot, especially under furniture or anywhere you need extra light.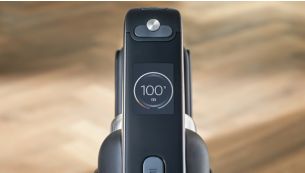 Digital LCD smart screen for in- and after use guidance
Digital LCD smart screen guides you with all information you need during and after the clean. Turn to the LCD screen to get live information on battery power status, cleaning modes, maintenance support and much more.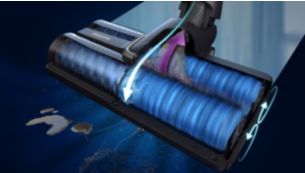 Self-cleaning Power Brushes with patented technology
The two ultra-soft microfiber Power Brushes counter-rotate at 4500 RPM. At this high speed, dirt is picked up from the floor and directly swept into the appliance, leaving the Power Brushes constantly cleaned, so you never need to rinse and wring out a dirty mop to clean with again! For optimal cleaning performance, it is recommended to replace the Power Brushes every 6 months.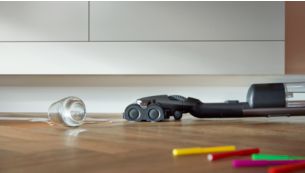 Deep reach under low objects
Enjoy exceptional maneuverability on all types of floors, with deep reach, even under low furniture.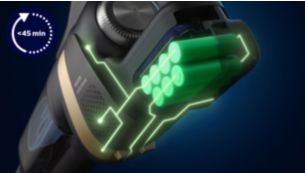 Up to 45 minutes runtime
Powerful lithium-ion battery provides long-lasting power to clean for up to 25 minutes in one go using regular mode in the vacuum & mop set-up. In the vacuum only set-up, you can clean for 45 minutes in regular mode and 25 minutes in Turbo mode.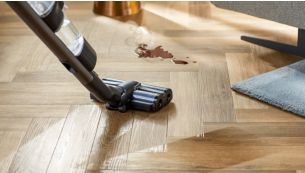 Always clean mopping water from dedicated water tank
A constant flow of clean water from a dedicated clean water tank is released onto the floor, and immediately picked up again by the two Power Brushes. This ensures that each part of your floor is only cleaned with clean water and helps it to quickly dry up, up to 50% faster*****. You'll never need to drag around a heavy mop bucket or use dirty mopping water again! When using detergent, recommended is to use the Philips Floor Cleaner (10 ml per use).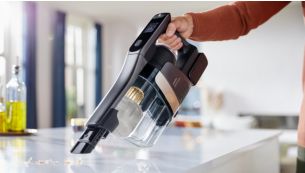 Detachable handheld for added convenience
The vacuum only set-up can easily be transformed from a cordless vacuum stick to a convenient handheld. Clean upholstery, shelves and table surfaces with ease, while also perfect for quick touch-ups or car cleaning.

Aqua Diffusion System immediately locks in dirty water
All the picked-up wet & dry dirt is sucked into the Aqua Diffusion System and locked into the dirty water tank. The system immediately separates dirty water from air and contains it securely. You can remove the dirty water tank to empty the contents at any point, without having to touch the dirty mopping water.

3 cleaning modes to adjust to different cleaning needs
The appliance has 3 cleaning modes. Normal wet mode intended for regular wet cleaning. The intense wet mode is for cleaning stubborn stains. Water absorption mode to pick up remaining moisture from the floor. Use the Digital LCD smart screen to switch power settings.

Automated self-cleaning of the appliance and Power Brushes
Once your cleaning session is complete, simply place the appliance on the After-Clean & Storage station for an automated self-cleaning cycle that fully rinses the appliance and the Power Brushes. Once done, you can keep the whole system including the Power Brushes stored together so that it is all clean and ready for the next use.
SPECIFICATIONS
PERFORMANCE
Battery type

Lithium-ion battery

Battery voltage
25.2 V

Exchangeable batteries

Charging time

4 hours

Runtime vac & mop regular mode

25 minutes

Runtime vac only regular mode

45 minutes

Runtime vac only turbo mode

25 minutes

Motor

Hybrid Power Motor (HPM)

Cyclone

PowerCyclone 12

Airflow (max)

840 l/min
FILTRATION & USABILITY
Filter system

3-stage cyclonic action

Clean water tank capacity

450 ml

Dirty water tank capacity

400 ml

Usable detergents

Philips Floor Cleaner XV1792

Dirt water tank full indicator

Yes

Surface coverage per battery

Up to 185 m2
OTHERS
Nozzles and accessories

After-clean & storage station

Packaging

> 90% recycled materials

Dimensions in vac & mop set-up

L25xW27xH114 cm

Dimensions in vac only set-up

L30xW26xH118 cm

Weight in vac & mop set-up

4.2 kg

Weight in vac only set-up

3.0 kg

Dimensions After-clean & Storage station

L48xW34.5xH52 cm