---
WSB2360BFP 60CM 4-ZONE INDUCTION HOB
2 years warranty by Whirlpool
We try our best to provide accurate product information from the manufacturer's or agent's website. However, the information on this page may change without notice, and it may not be accurate if there are specification changes. We recommend checking the manufacturer's site for the latest specs and information.

-

While all items available for online purchase can be added to your cart, we cannot guarantee their availability at the time of order processing.

In case we are unable to fulfill your order, we will get in touch with you to provide an alternative option or arrange a full refund.

-

If your product is eligible for warranty, you can find its registration link here.


FEATURES
Keep Warm, Melting, Simmering, Boiling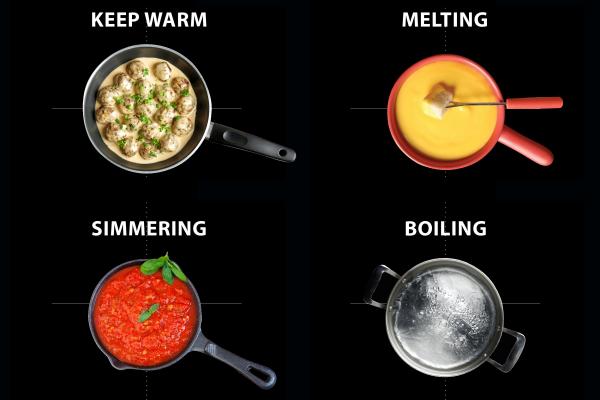 Easily achieve perfect cooking results with 6TH SENSE Functions that offers 4 unique pre-set heat level functions. With 'Keep Warm' to maintain ideal temperatures for dishes, 'Melting' to easily combine ingredients together in the pan, 'Simmering' for a slow cook without worry, and 'Boiling' to heat up liquids without spills - preparing the ideal meal has never been so effortless.
Design & Intuitive Control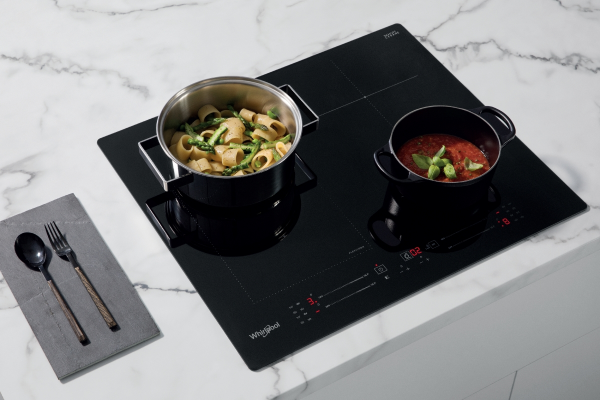 The new user interface with dedicated sliders provides a more intuitive interaction that clearly maps out cooking zones to their corresponding positions on the hob surface for easier usage of their controls.
Its stylish, minimalist aesthetic design compliments any kitchen flawlessly. Engineered with Schott Ceran® glass treatment, the hob's incredibly durable, heat and scratch-resistant surface provides the user with a worry-free cooking experience.
Easy Installation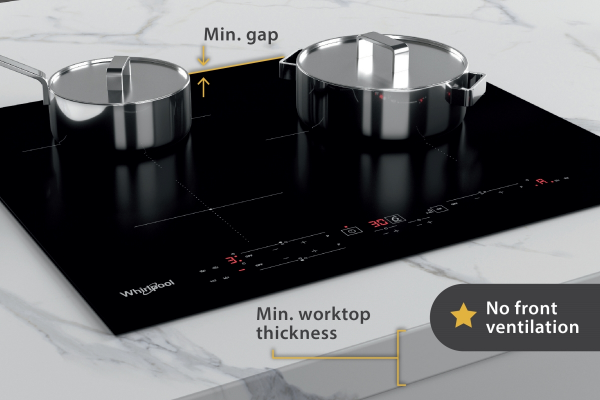 Hob installations have never been easier with Whirlpool's latest design. Worry less about aesthetic or spatial constraints as it fits smoothly and perfectly flushed onto any kitchen top with its minimal gap structure. The hobs do not require any extra space for frontal ventilation, including a minimum worktop thickness of 12mm to fit into the slimmest worktops.
Power Management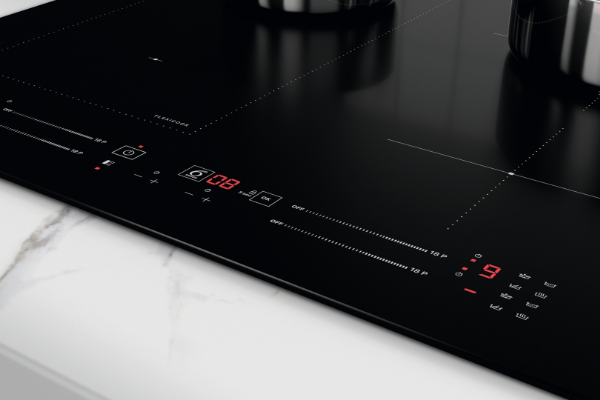 The new Whirlpool induction hob allows for an adjustable power level depending on one's cooking needs through its default maximum power of 7.2kW to lower levels* (2.5kW, 4kW and 6kW).
*Power levels between Hob models may differ according to country specific power requirements.
SPECIFICATIONS

Cooking Zones: 3

Color/Finish: Black Schott Glass
Control: Touch Control
Location of Control Panel: Front
Energy Input: Electric
Power: 7200W (9 levels + booster)
Front Left Heating Element: 145mm, 1200W (1600W)  
Rear Left Heating Element: 210mm, 2100W (3000W)
Right Heating Element: 280mm, 2100W (3600W)
Power Voltage: 220-240V, 50/60Hz
Current: 31.3A
Length of Power Cord: 120cm
Packaging Dimensions: W 670mm x H 120mm x D 600mm
Product Dimension (WxHxD): 590 x 54 x 510mm
Gross Weight: 9.8kg
Product Weight: 8.8kg
Country of Origin: Italy 
FUCNTIONS
6TH

 

SENSE with 4 automatic functions (Keep Warm/Melting/Simmering/Boiling)
3 Induction Cooking Zones
DIAGRAM