HITACHI R-WB700VMS2 645L FRENCH FRIDGE, BOTTOM FREEZER
$3,499.00
FEATURES
Vacuum-sealed for Food Freshness
Vacuum Compartment
The secret to longer-lasting freshness is reduced oxygen levels. Hitachi's original vacuum preservation extracts air to maintain approx. 0.8 atm (atmospheric pressure). The meat, fish and dairy products are kept fresh and nutritious, and ready to cook without defrosting.
Quick Seasoning
Quick seasoning is made possible because the compartment removes air from stored food, enabling seasoning to be absorbed at a faster rate. So, with less time required for seasoning and cooking, such as for marinated seasoning or dehydrating the dried items, there's more time for eating!
*Tested by Hitachi. Tested Model : R-S38JV. The effect may differ depending on types or freshness of food stored.
Freshness Preservation
Excellent freshness preservation with Hitachi technology for keeping food fresh.
Tested by Hitachi. Tested Model : R-WB64VGD0. K-value is an indication of freshness. The lower the value, the fresher the item. K-value of 60% or higher is not suitable for consumption. The effect may differ depending on types or freshness of food stored, and does not extend to best-before and expiration dates.
Nutrition Retention
Stay healthy. A vacuumed environment prevents oxidisation and retains nutrients inside the food.
*Tested Model : R-M80VAGGD9X. The effect may differ depending on types or freshness of food stored. This effect does not extend to best-before and expiration dates, and does not guarantee the indicated shelf life.
*Tested by The Center for Scientific and Technological Equipment, Suranaree University of Technology under the rules, conditions and test results at the time of testing and analysis. Graph data calculated by Hitachi.
Flavour Preservation
Excellent preservation of original flavour and texture, by minimising the drips while keeping them fresh without getting frozen and hydrated without the need for troublesome wrapping.
Tested by Hitachi. Tested Model : R-WB64VGD0. The effect may differ depending on types or freshness of food stored, and does not extend to best-before and expiration dates.
Refreshing Technology Maintains 0.8 atm Vacuum*
Hitachi innovation at its finest and most consistent: the sealed pressure-resistant vacuum realises and maintains the vacuumed environment. A vacuum pump extracts air and reduces oxygen to achieve approx. 0.8 atm (atmospheric pressure) throughout usage.
* Vacuum means the space where the pressure is lower than the atmospheric pressure. The pressure in the Vacuum Compartment is about 0.8 atm, which is lower than the atmospheric pressure, hence, Hitachi considers this a vacuum.
A Tale of 2 Temperature Zones
Now, you can truly chill. Store your food without freezing by selecting a suitable temperature for the stored items, and help prevent deterioration of flavours and texture.
IoT Connected
Convenience at your fingertips. When connected to your smartphone, you can check the condition of your refrigerator whenever, wherever.*
* Requires an internet connection and a wireless LAN router. Use a wireless LAN router that can set WPA2 or WPA (both of them are TKIP or AES) as the encryption method. The communication standards need to correspond to any of IEEE 802.11b / g / n (2.4 GHz only). The application is free, but a communication cost is charged when downloading and using the application. Communication costs will be borne by the customer who has contracted for the used smartphone. Please use if after agreeing to the terms of use and the privacy policy of dedicated application. The contents of services, screen design, functions, etc. of the application may change without notice. Also, the service provided may be terminated without notice.
Notification
Sends a text to your smartphone notifying you if a door has been left open. It also provides other useful information like when the water tank has ran out of water and how many times the door has been opened and closed.
Remote Setting
Change or view the mode setting or adjust the temperature for each compartments of your refrigerator.
Food Management
Organise and record the contents of your refrigerator by purchase date and expiry date, making it easier when you go shopping.
Support
Easy Instruction manuals and maintenance access anytime, anywhere.
Premium Design
Sleek refined flat Auto Doors with illuminated door handles that seamlessly blends into your home while offering a touch of elegance.
Flexible Storage
Selectable Zone
The Selectable Zone feature allows you to customise mode settings based on your storage and lifestyle needs.
Fresh Vegetables with Organised Storage
Separate Vegetable Compartment
For long-lasting freshness, each of the cases maintains the moisture of the food at the optimum level of approx. 90%* with indirect cooling. And the completely separate compartments are always full of clean air with no transferred odours thanks to the Triple Power Filter.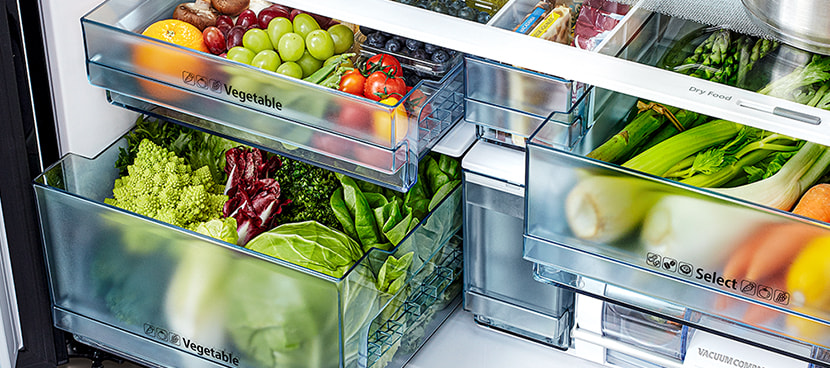 Optimal Storage
Select Case (Dry Food - Vegetable)
Select based on your storage needs. Ideal for preserving dry food or vegetables.
Powerful Deodorisation
Triple Power Filter
Triple Power Filter removes odour components*1 and removes bacteria 99%.*2
Onions and Garlic

Methyl Mercaptan

Raw Fish

Ammonia

Vinegar

Acetaldehyde
 *1 Triple Power Filter that catches and removes 7 odour components (Tested by Hitachi. The type of odours : Methyl Mercaptan, Ammonia, Acetaldehyde, Trimethylamine, Propanal, Hexanal and Acetic Acid).
Energy Saving
Provides optimum cooling in both the freezer and refrigerator compartments, something a single fan cannot do.
Improved Dual Fan Cooling with dedicated fans for each compartment ensures energy saving and powerful cooling.
This is supported by the Eco Thermo-Sensor in each compartment that detects any temperature change separately to enable the ideal temperature change to be maintained in each of the compartments at all times.
Clean Ice Automatically Made for You
Ice cubes can be made automatically and continuously simple by filling the tank with water. When you want to make your ice quickly, switch the Quick Freezing mode ON which can make the ice approx. 24%* faster.
Quick Cooling
When you want to cool quickly and powerfully, switch the Quick Cooling mode ON which cools approx. 29%* faster.
* Tested by Hitachi. Comparison between Quick Cooling mode ON and OFF.
Big yet Easy to Use
The often-used refrigerator compartment is positioned at the top for easy use and offers a wide field of vision. Even with a lot of food stored, with the neat storage compartment, a glance is all you need to see everything, so it's easy to put in and take out items.
SPECIFICATIONS
Type
French Bottom Freezer
Door
4 Door
Grade
Deluxe
Net Capacity (L) *1
Total:645
Refrigerator :433
Freezer:212
Selectable Zone (Soft Freeze, Freezer):104
Dimensions (mm)
Width:900
Height:1,840
Depth with Handle:740
Depth without Handle:740
Refrigerator Compartment
Chilled Case
Select Case (Dry⇔Vegetable)
Utility Case
Tempered Glass Shelves
Door Pockets
Egg Tray (28 eggs)
LED Light
Quick Cooling
Vegetable Compartment
Separate Vegetable Compartment
Freezer Compartment
Automatic Ice Maker
Drawers (4)
Slide Tray (2)
Quick Freezing
Selectable Zone
Soft Freeze, Freezer
Drawers (2)
Slide Tray (1)
General Features
Water Tank with Filter
LED Control Panel
Mouldproof Door Gasket
Energy Saving Mode
Door Alarm
Triple Power Filter
Cooling Features
INVERTER × Dual Fan Cooling
Dual Sensing Control (with Eco Thermo-Sensor)
No Frost
Refrigerant R-600a
Door Material
Glass
Colour
Glass Black (GBK)
* Based on IEC 62552-3:2015 Standard Volume
◎ Specifications and designs are subject to change without notice.
◎ Colour tone of actual products may differ from those shown on the websıte.
---
CUSTOMER REVIEWS