---
RW33B99C5TF 101 BOTTLES BESPOKE INFINITE LINE WINE CHILLER
2 years warranty by Samsung
We try our best to provide accurate product information from the manufacturer's or agent's website. However, the information on this page may change without notice, and it may not be accurate if there are specification changes. We recommend checking the manufacturer's site for the latest specs and information.

-

While all items available for online purchase can be added to your cart, we cannot guarantee their availability at the time of order processing.

In case we are unable to fulfill your order, we will get in touch with you to provide an alternative option or arrange a full refund.

-

If your product is eligible for warranty, you can find its registration link here.
BESPOKE Infinite Line
Timeless value perfected by ultimate performance
Timeless contemporary design
Infinite Design
Elegant style and sophistication for your kitchen. The Infinite Design comes in a Timeless Greige colour with a high-gloss metallic finish. Made from durable aluminum, it is scratch and dent resistant. Plus it is easy to wipe clean. For the ultimate in kitchen style, choose the Bespoke Infinite Line.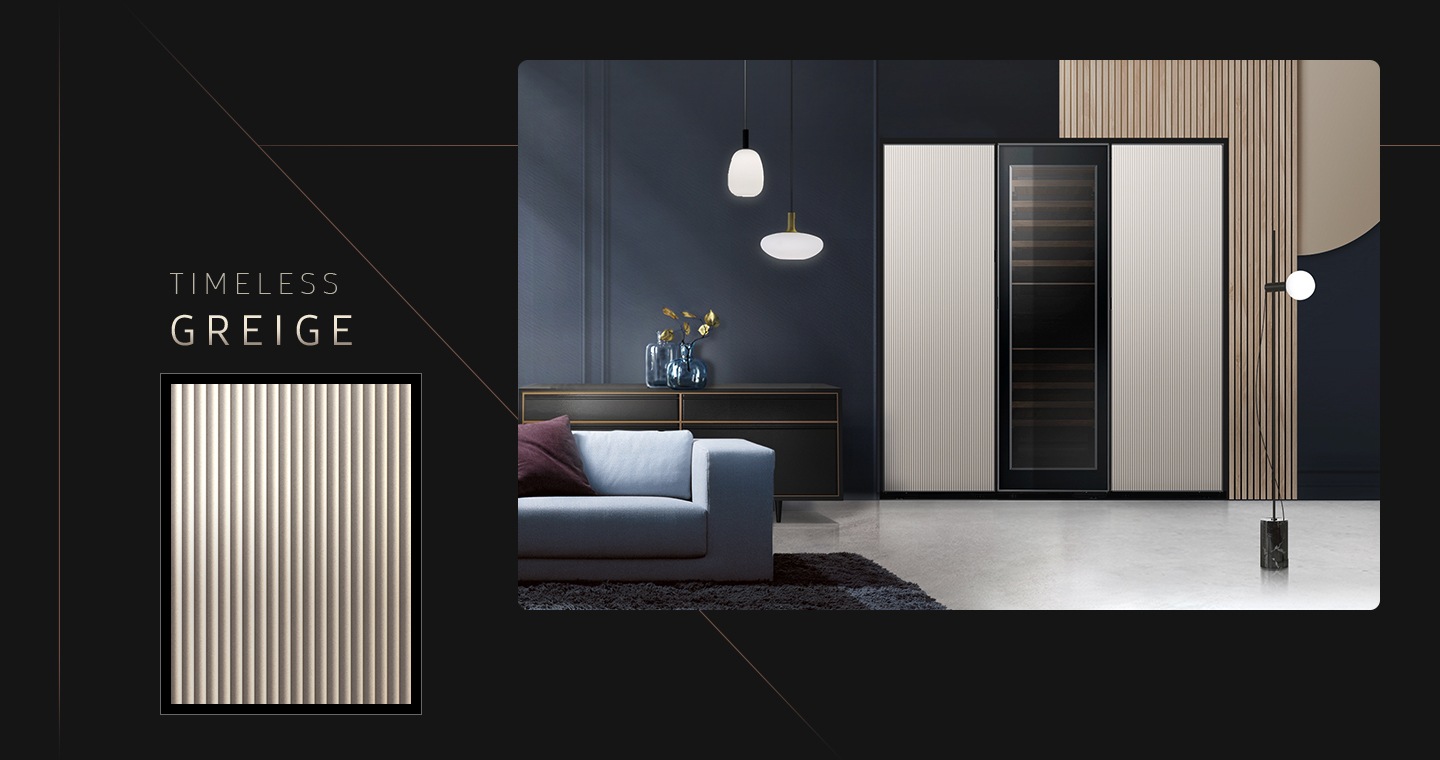 Beautifully blends into any kitchen interior
Edge frame
Satisfy your own unique taste in kitchen styling with a timelessly elegant edge frame. The design is further accentuated by an elegant gold copper edge frame with architectural line to add a new level of flair and finesse.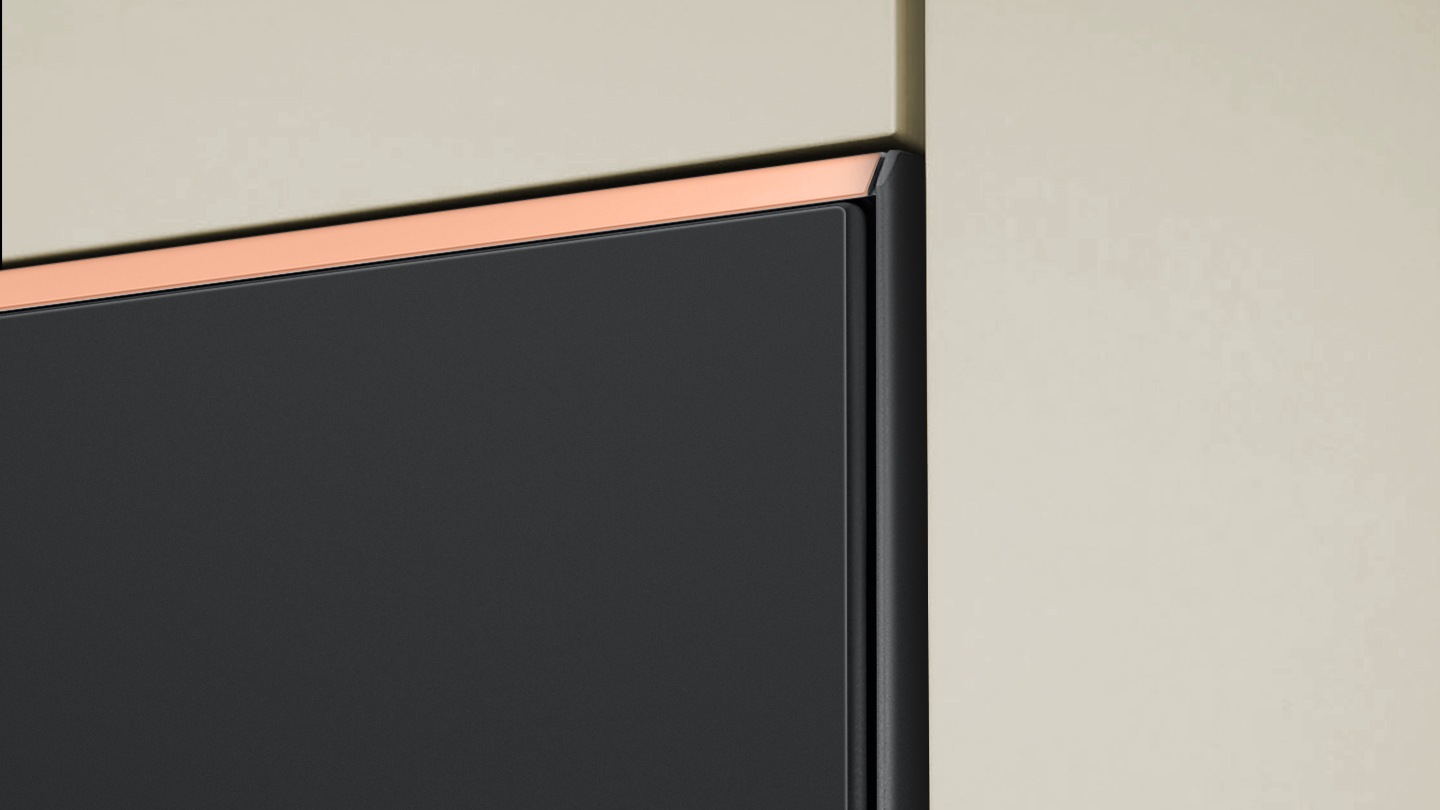 Opens with a simple touch
Auto Open Door
Open the Wine Cellar's door effortlessly! The door opens automatically by activating the sensor on the side of the door. What makes it better is that the door closes back automatically if sensor is accidentally activated*. If the door is left wide open after accessing, it will make a sound to alert you.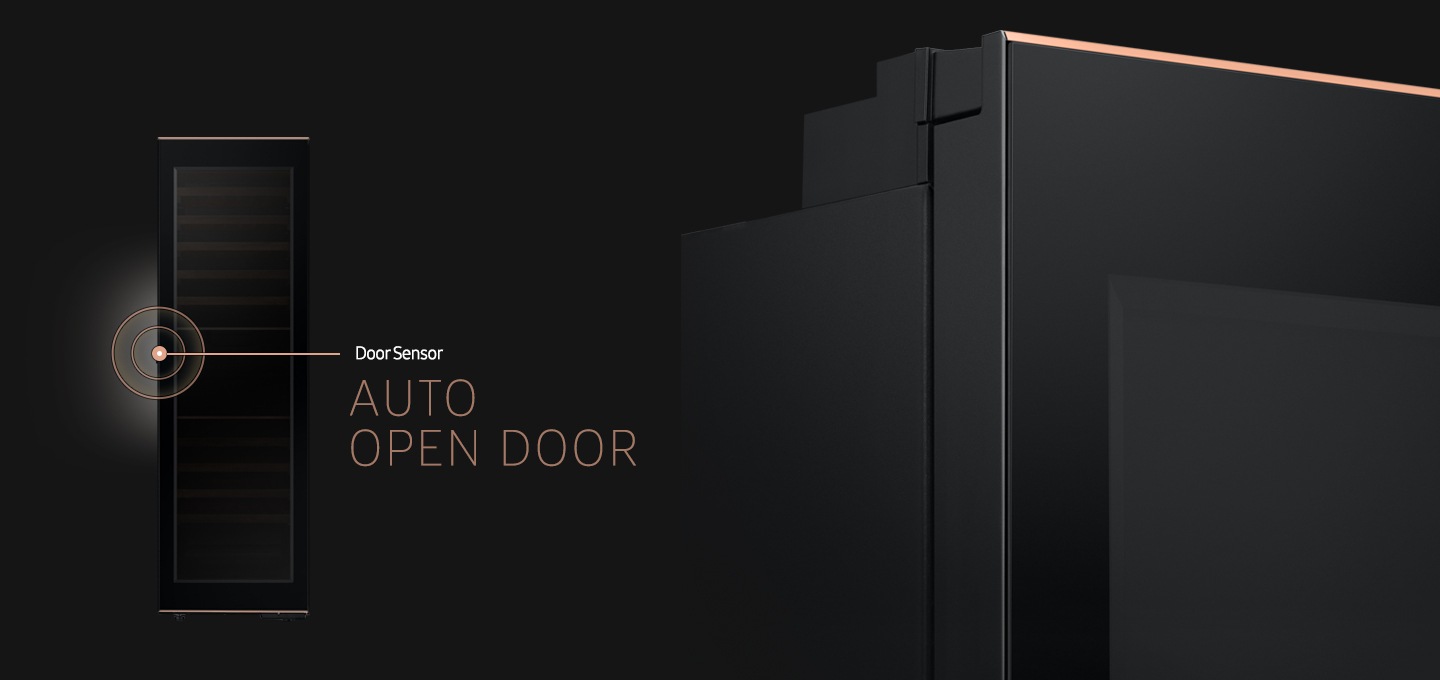 * The door automatically opens about 50mm. If you do not open the door further, it will close automatically after 2 seconds (automatic closing may not be possible in certain environments).
Cooler & brighter with premium look
Black Metal Cooling and Tunnel Lighting
Keep wine properly chilled and easily find what you need. Black Metal Cooling inside the Wine Cellar retains the cold and helps restore any heat loss quickly, while adding a premium look. Tunnel Lighting on the frame and shelves projects light in every direction, so you can see into every corner.
Flexible control
Triple Temperature Zone
Make sure your wine is always stored in the right conditions. The Triple Temperature Zone ensures precise and optimal preservation of your wine collection in three climate zones with different temperature settings.
A personal sommelier
SmartThings Smart Wine Storage
Take care of your wine – and enjoy a richer dining experience! SmartThings Smart Wine Storage, part of the SmartThings App*, lets you take a picture of a bottle's label and manage your inventory efficiently. Using the SmartThings Cooking service, it also recommends food to pair with your wine**.
* Available on Android and iOS devices. A Wi-Fi connection and a Samsung account are required.** Food pairing service is available in certain countries. SmartThings Cooking"" / ""Food Pairing"" feature will be applied in 2023
Long-lasting and efficient compressor
Digital Inverter Compressor with 20 year warranty*
Enjoy great energy efficiency, little noise and long-lasting performance. The Digital Inverter Compressor automatically adjusts its speed in response to cooling demand. It uses less energy, minimises noise and tear for longer-lasting performance that is backed-up by a 20 year warranty*.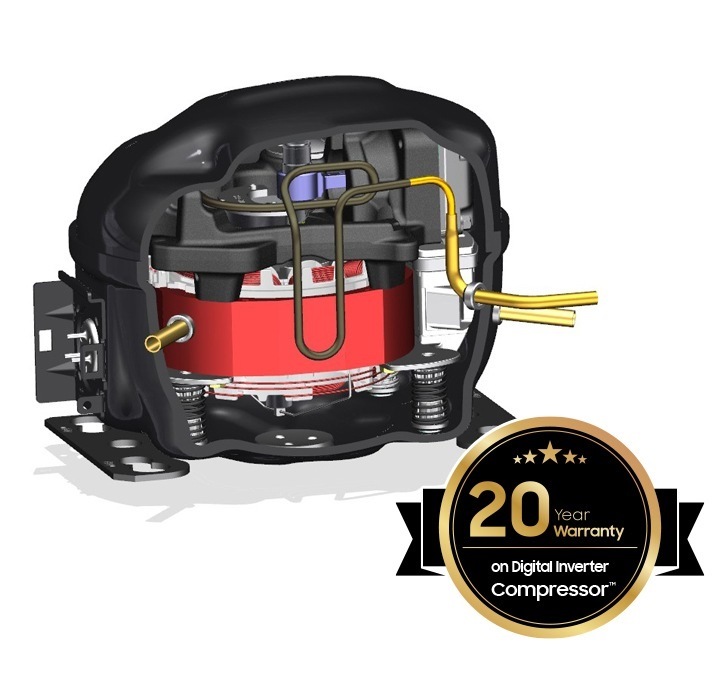 * 20 year warranty is limited to the compressor only.
Fits in seamlessly
Built-in Hinge
The multiple-joint built-in door hinge design minimises the distance between Wine Cellar and the kitchen furniture when installed side by side to allow a seamless fit into kitchen cabinetry. Additionally, with the doors opening out wider to 115°, you can easily view and access your wine.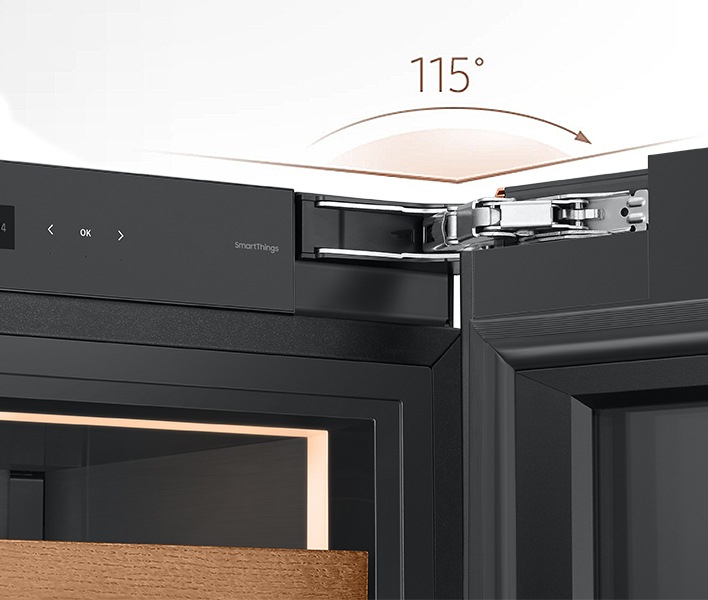 Looks & stores better
Natural Wood Rack
The wine cellar is equipped with storage racks made of natural oak wood for long-term wine storage solution. The natural wood racks are not only visually appealing, but also more durable and studier compared to metal racks, and better at reducing vibrations.
Preserves your wine
Low Noise and Vibration
Ensure that you and your wine are not disturbed, so that you can maximise your enjoyment. The wine cellar's Digital Inverter Compressor has a low vibration level of 1.7mg and only generates a sound level of 35dB*. This helps to create the best conditions to preserve the original taste of your wine.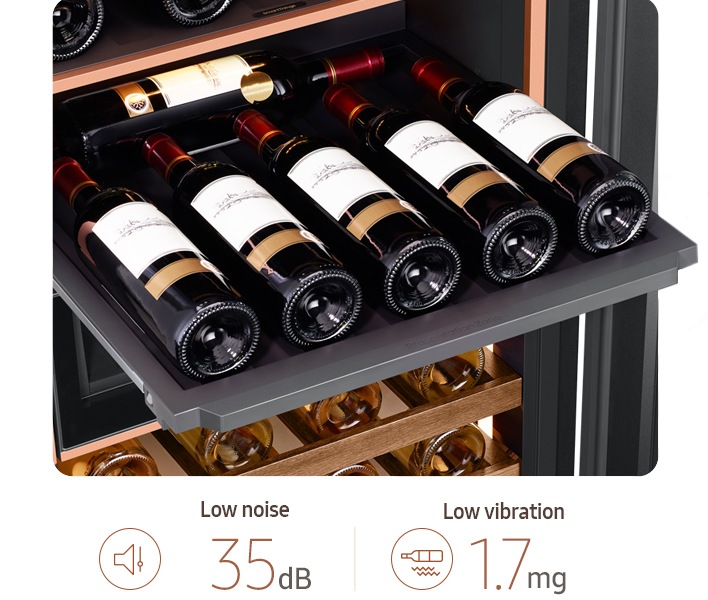 Humidity Maintenance
Maintain the optimal humidity in the wine cellar, so your wine does not go off flavour or turn bad. The Humidity Control keeps the humidity level within the optimum range. If it is too low, the corks dry and crack, allowing oxidation of the wine. If it is too high, mold and mildew will grow or condensation can form.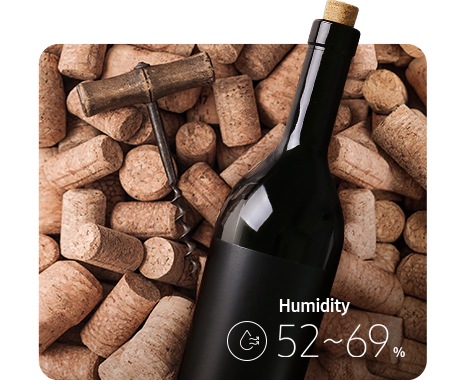 UV Protect Glass Door
Protect your wine from external factors, so it remains in the best condition. The UV Protect Glass Door has triple-glazed glass with UV ray protection. It safeguards it from changes in the outside temperature, so the internal temperature remains stable, and shields it from harmful UV rays*.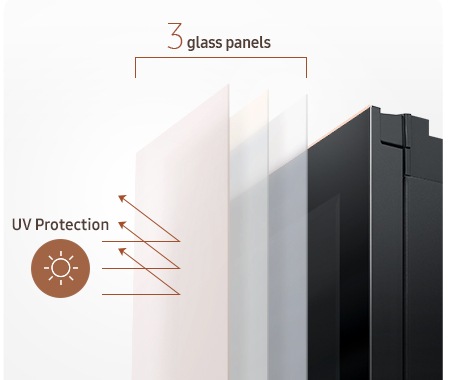 * Based on internal testing.
Deodorising Filter
Keep the inside of the wine cellar deodorised and preserve the flavour and aroma of your wine. A built-in natural fiber Deodorising Filter eliminates strong smells as the air is continually passed though activated carbon filters. No more unpleasant smells to taint the taste of the wine!