---
R-S42RS 319L MULTI-DOOR FRIDGE
2 years warranty by Hitachi (2nd year excludes transport)
We try our best to provide accurate product information from the manufacturer's or agent's website. However, the information on this page may change without notice, and it may not be accurate if there are specification changes. We recommend checking the manufacturer's site for the latest specs and information.

-

While all items available for online purchase can be added to your cart, we cannot guarantee their availability at the time of order processing.

In case we are unable to fulfill your order, we will get in touch with you to provide an alternative option or arrange a full refund.

-

If your product is eligible for warranty, you can find its registration link here.
FEATURES

Chilled with Approx. -1°C Freshness Preservation*
Chill Room
Store your food without freezing at approx. -1°C.
* Tested by Hitachi. Performance may differs depending on the type, freshness and amount of food stored.
Flexible Design Breakthrough Energy Saving
VIP – Vacuum Insulation Panel Technology
VIP is a thin vacuum-insulated panel with extremely high heat insulation performance. It achieves super energy saving compared to conventional urethane, by preventing external heat entry or internal cold air escape.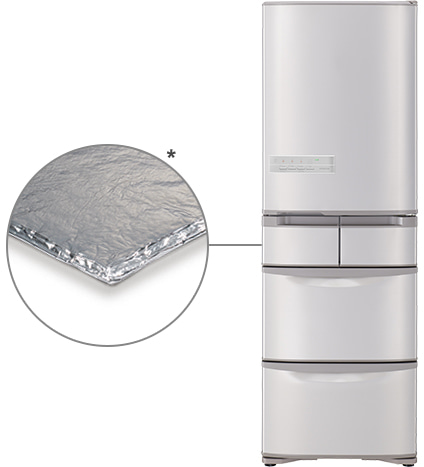 * The VIP installed area, shape and the number of VIP used on the product may differ depending on the model.
Flexible Design
Shelves and Pockets with Adjustable Height
The shelves and the door pockets can be adjusted to match the size of the food items and your needs.
SPECIFICATIONS
Gross Capacity(L)
Total:425
Refrigerator Compartment:192
Chill Room:24
Freezer Compartment (Upper+Lowerr+Ice):137
Vegetable Compartment:72
Storage Capacity(L)
Total:319
Refrigerator Compartment:192
Chill Room:14
Freezer Compartment(Upper+Lowerr+Ice):61
Vegetable Compartment:52
Cooling System
Frost Recycling Cooling
Inverter Compressor
Eco Intelligent Control
Refrigerant : R600a
Vacuum Insulation Material
Refrigerator Compartment
Chill Room
Quick Cooling
LED Lighting
Height Adjustable Pockets
Height Adjustable Shelves
Automatic Ice Making Compartment
Independent Ice Storage
Quick Ice Making
Automatic Cleaning Function
Water Filter
Stop Ice Making
Signal for Water Supply
Detouchable & Washable Ice Tray
Upper Freezer Compartment
Aluminum Tray
Quick Freezing
Lower Freezer Compartment
3-layer Freezer Case
Vegetable Compartment
2-layer Vegetable Case
Other Features
Triple Deodorisation Filter
Lifestyle Memory Control
Eco Intelligent Control
Energy Saving Mode
Door-Opened Alarm
Refrigerator Compartment
Ice Making Compartment
Lower Freezer Compartment
Weight (kg)
80
Dimensions WxHxD) (mm)
600 x 1,798 x 672
Body Colour
Stainless Champagne (SN)