---
RF59C7662B1 550L 4-DOOR FRIDGE / FREE GIFT REDEEM FROM SAMSUNG
2 years warranty by Samsung
We try our best to provide accurate product information from the manufacturer's or agent's website. However, the information on this page may change without notice, and it may not be accurate if there are specification changes. We recommend checking the manufacturer's site for the latest specs and information.

-

While all items available for online purchase can be added to your cart, we cannot guarantee their availability at the time of order processing.

In case we are unable to fulfill your order, we will get in touch with you to provide an alternative option or arrange a full refund.

-

If your product is eligible for warranty, you can find its registration link here.
Redefining refrigeration
Water your way
Beverage Centre™
Enjoy fast and easy access to refreshingly cold and flavoured water. The Beverage Centre™ has a Water Dispenser as well as a BPA free* Autofill Water Pitcher full of filtered water, which can be infused with fruits and herbs.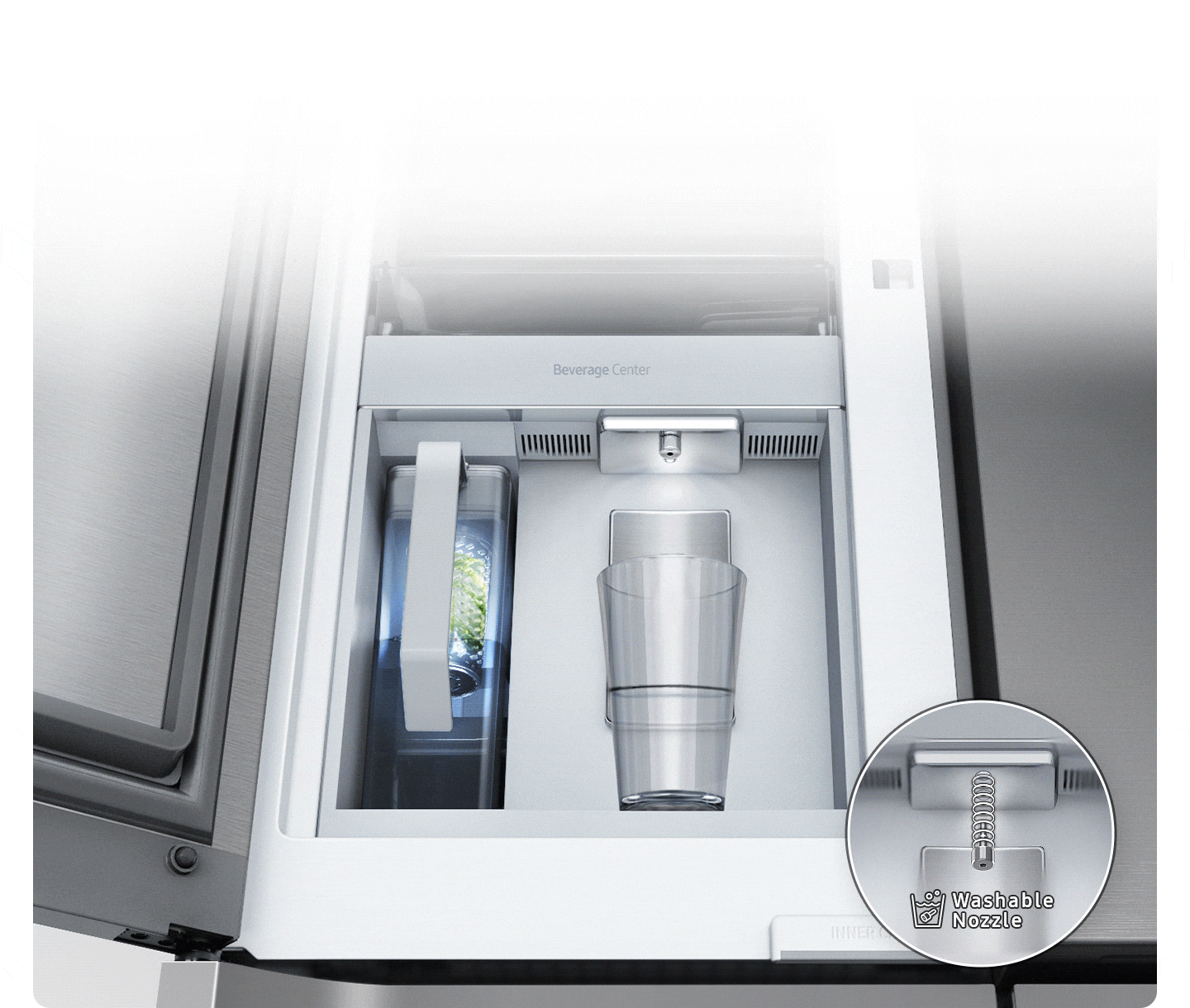 Store and enjoy ice at your convenience
Auto Ice Maker
The Auto Ice Maker creates ice automatically so you can enjoy your favourite drinks at home.
SmartThings at Home
SmartThings Cooking
Smart cooking, Tasty food
Manage, prepare and buy food more effectively. SmartThings Cooking* lets you create a list of the food in your refrigerator and manage expiry dates, so you can check what you have anytime, anywhere. It also recommends personalised recipes based on your preferences and existing ingredients.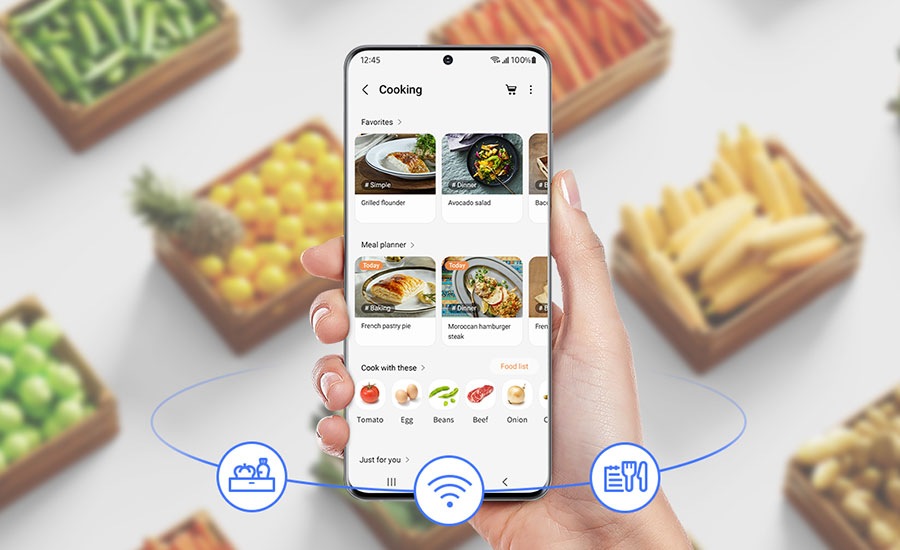 * Available on Android and iOS devices. A Wi-Fi connection and a Samsung account are required. **The screen is intended to help a customer understand and may be different from the actual screen.
SmartThings Energy
Efficient energy use, Smart savings
Manage your energy usage to reduce your carbon footprint and save money. SmartThings Energy* provides energy efficiency tips. It also monitors the energy consumption of appliances** in real-time and compares it to the previous month. And it alerts you if your monthly targets might be exceeded.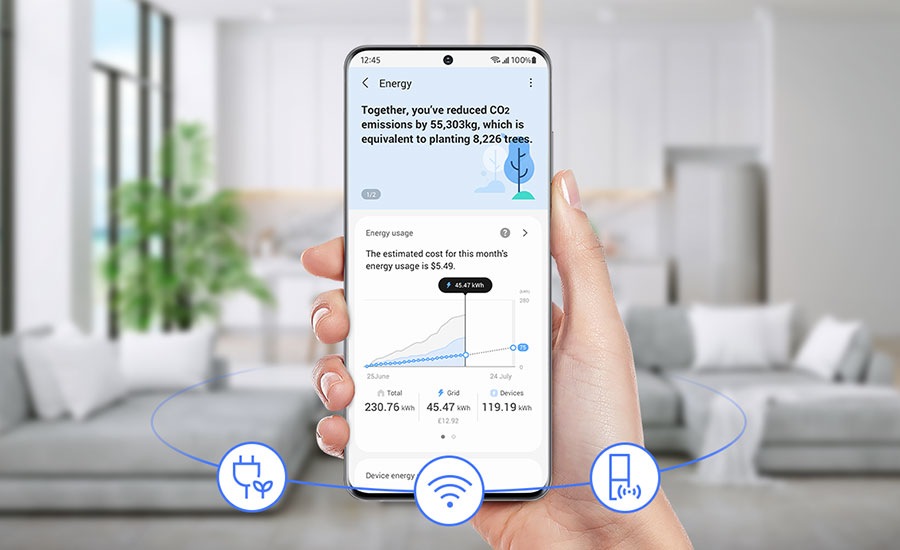 *Available on Android and iOS devices. A Wi-Fi connection and a Samsung account are required.** SmartThings Energy currently works with around 40 Samsung home appliances that are SmartThings enabled. These include refrigerators, washing machines, clothes dryers, dish washers, air conditioners, air purifiers, vacuum cleaners, ovens, hoods, cooktops, microwave ovens, TVs (from June 2022) and energy meters.
SmartThings Home Care
Smart maintenance, Easy upkeep
Take care of your refrigerator more easily. SmartThings Home Care* provides real-time monitoring and alerts. You can check on its status, including the condition of the water filter. It also automatically notifies you if parts need replacing or problems are detected, and suggests a solution.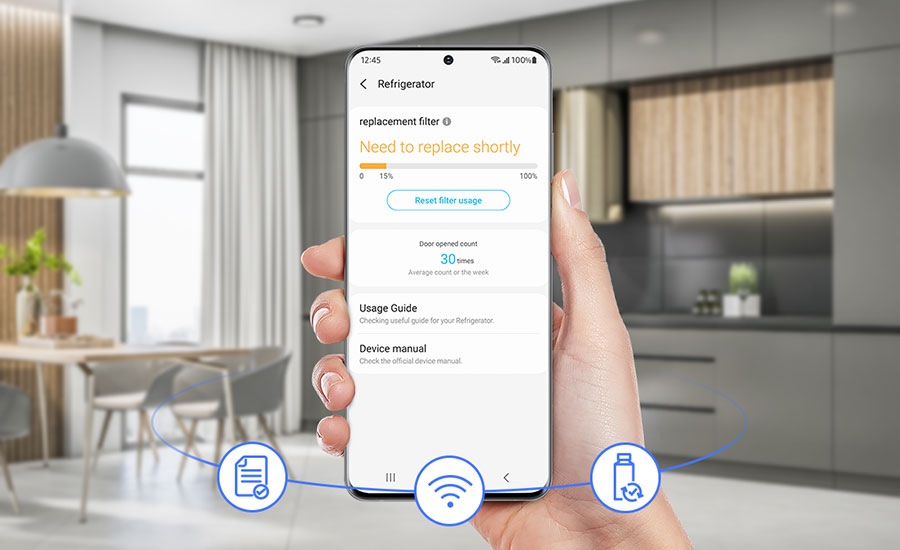 *Available on Android and iOS devices. A Wi-Fi connection and a Samsung account are required.
Save energy intelligently
SmartThings AI Energy Mode
Monitor and proactively save energy. AI Energy Mode* analyses your refrigerator usage patterns and estimates power consumption, based on AI technology. If the estimated electricity bill exceeds your pre-set target, it recommends you activate the Saving mode to reduce energy use**.
* Available on Android and iOS devices. A Wi-Fi connection and a Samsung account are required.** Available for specific models through wifi update. Test result is based on internal test. Results may vary depending on the usage condition and pattern.
Cools every corner evenly
All-Around Cooling
The All-Around Cooling system continually monitors any temperature fluctuation and cools the fridge evenly from corner to corner. Cold air is blown out through strategically placed vents so that a constant temperature is maintained and food stays fresh longer.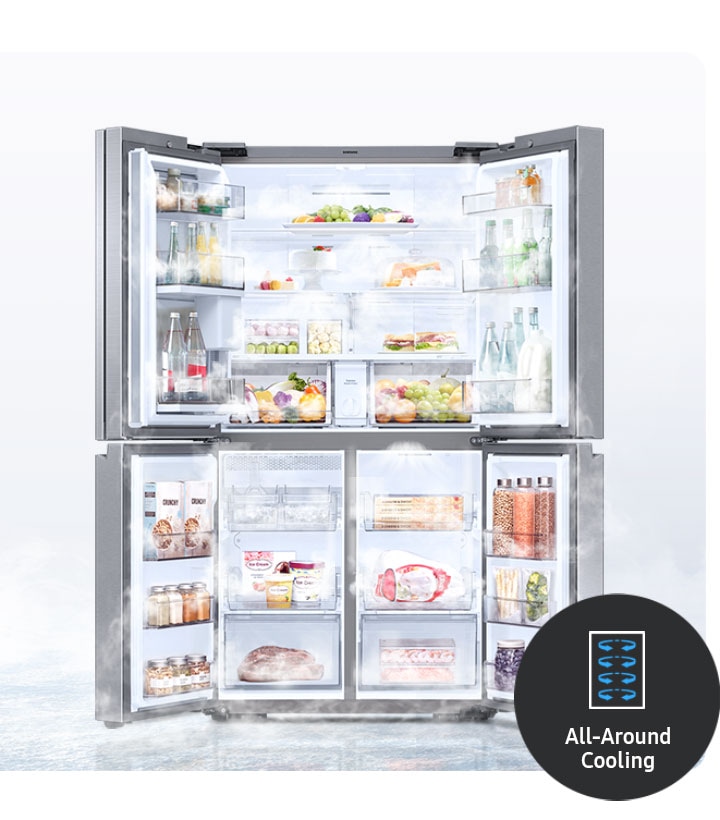 Timelessly simple and stylish design
Design
Elevate the look of your kitchen with clean and clutter-free styling. It has a timelessly minimalist exterior, with strikingly beautiful flat doors, recessed handles and no external water dispenser.
Lasting Freshness
Metal Cooling Door
Maintain the optimal temperature inside the fridge, so food stays fresh, even if you frequently open and close the door. The Metal Cooling guard retains cold air and helps to restore any heat loss when the door is shut again. It adds a premium look and is easy to clean.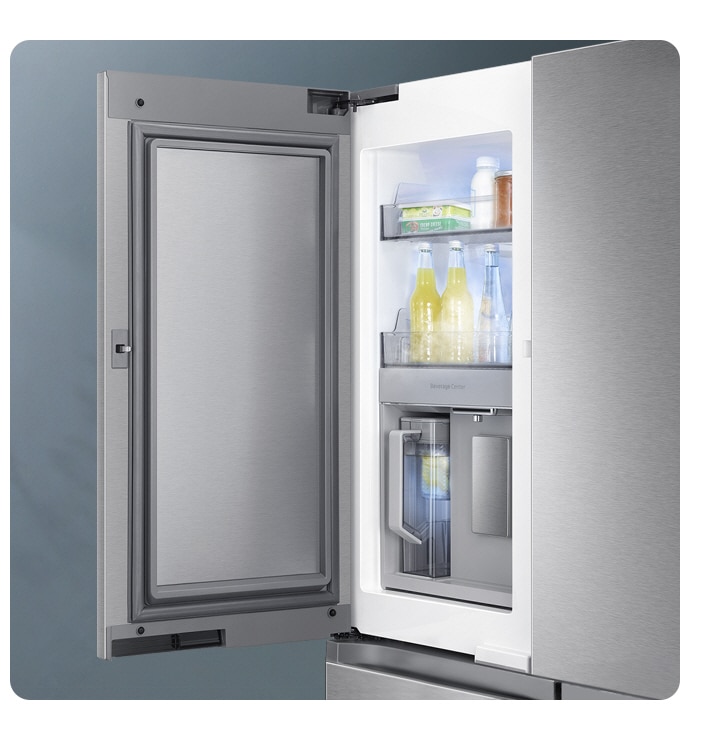 Fast cooling and freezing on demand
Power Cool / Power Freeze
Enjoy a rapid cooling performance. At the touch of a button, Power Cool blows intensely cold air into the fridge to quickly cool your groceries or favourite drinks. Power Freeze delivers a fast blast of cold air into the freezer. It's great for freezing or firming up frozen food and making ice.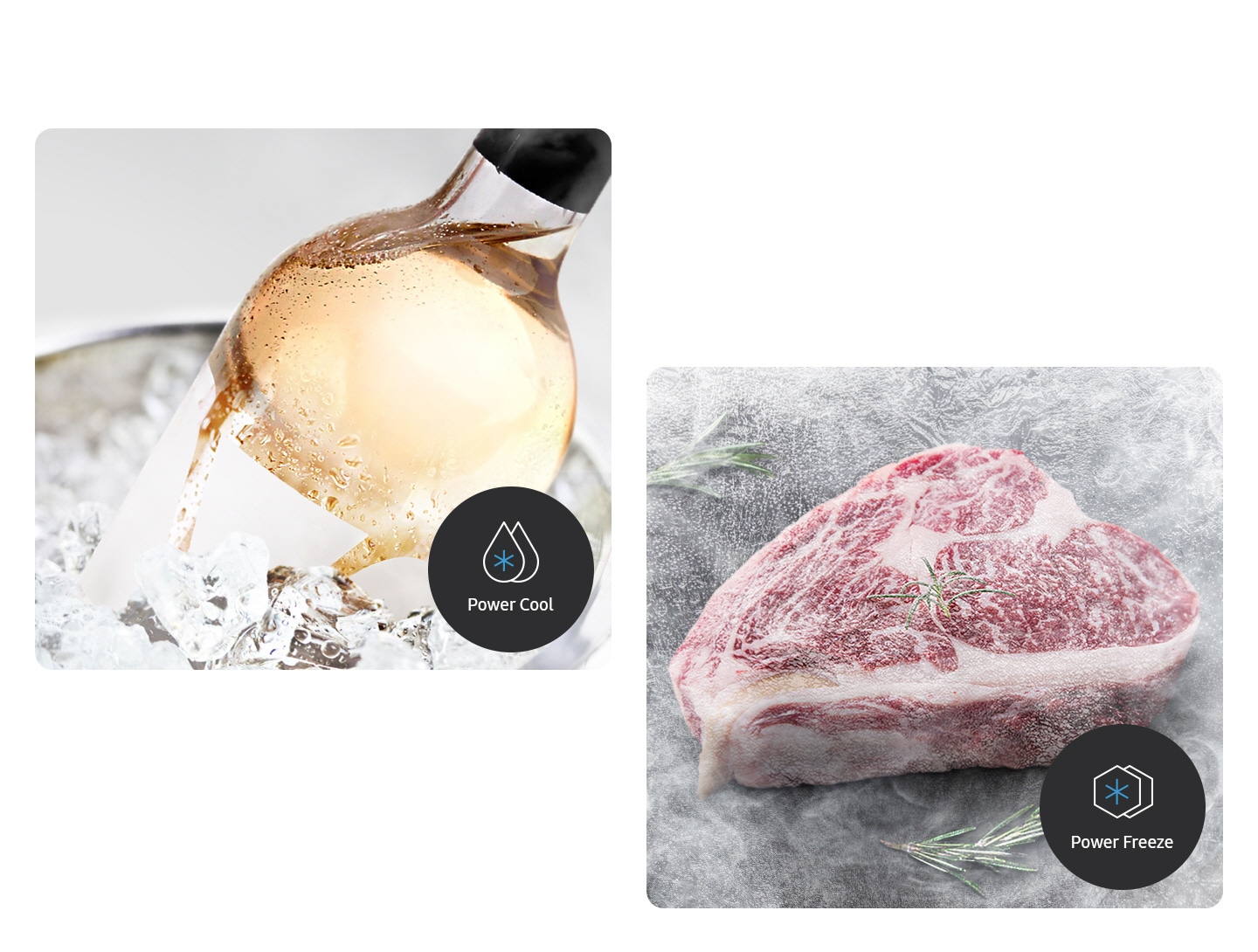 Stylish, easy access controls
Simple LED Display
Enjoy a stylish and easy way to access the refrigerator's controls. The simple LED display enhances the minimalist design as it is discretely hidden inside.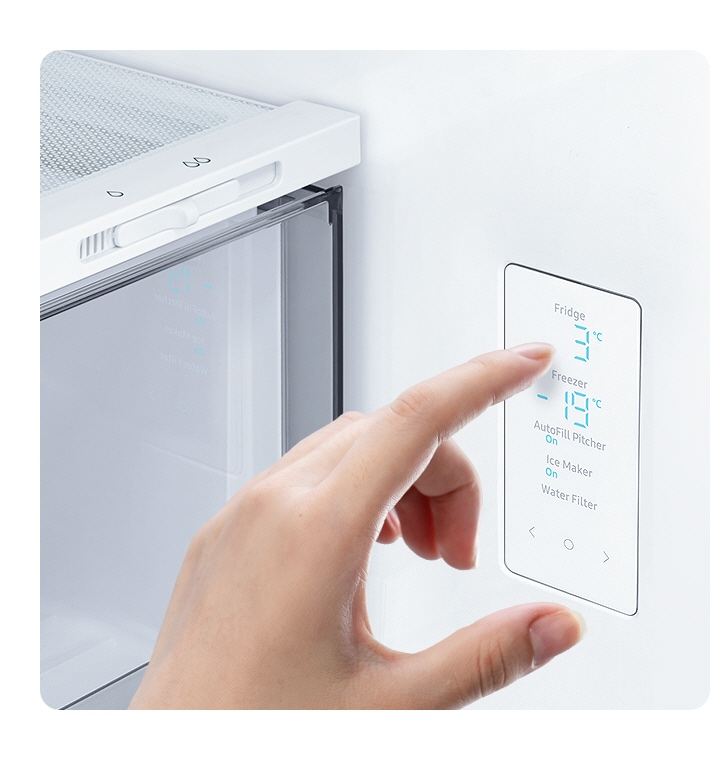 CAPACITY
Net total
550 L

Net for Freezer
190 L

Net for Fridge
360 L

PHYSICAL SPECIFICATION
Net Width
912 mm
Net Case Height with Hinge
1779 mm

Net Case Height without Hinge
1748 mm

Net Depth with Door Handle
723 mm

Net Depth without Door Handle
723 mm
Net Depth without Door
610 mm
Net Weight
128 kg
Packing Weight
137 kg
COOLING FEATURE
Cooling Type
Mono Cooling
REFRIGERATOR FEATURE
Deodorizer
Yes

Number of shelf (total)
4 EA

Shelf material
Tempered glass
Humidity Control (Vegetable&Fruit Drawer)

Yes

Number of vegetables&fruit drawer
2 EA
Number of door pocket
6 EA
Egg container
Yes
Interior Light
Top LED

Power Cool Function
Yes

Beverage Center
Yes
Autofill Water Pitcher
Yes
BOTTOM LEFT
Ice maker
Single I/M

Shelf
2 EA

Box
1 EA

LED Interior Light
Yes

BOTTOM RIGHT
Shelf
2 EA

Box
1 EA
Wine Rack
No
LED Interior Light
Yes
GENERAL FEATURE
Refrigerant
R-600a
Door Alarm

Yes

WiFi Embedded
Yes
EXTERIOR FEATURE
Door handle
Recess (Horizontal)
Colour

Black DOI
Display Type
Internal
Dispenser Type
Autofill Pitcher + Water Dispenser(Non Plumbing)