---
RC-10IRPS 1.0L LOW GI RICE COOKER
2 years warranty by Toshiba
We try our best to provide accurate product information from the manufacturer's or agent's website. However, the information on this page may change without notice, and it may not be accurate if there are specification changes. We recommend checking the manufacturer's site for the latest specs and information.

-

While all items available for online purchase can be added to your cart, we cannot guarantee their availability at the time of order processing.

In case we are unable to fulfill your order, we will get in touch with you to provide an alternative option or arrange a full refund.

-

If your product is eligible for warranty, you can find its registration link here.
Sugar-removing Basket
Thanks to the innovative healthy sugar-removing basket, the unhealthy digestive starch is isolated from rice into the water at the precise temperature while still retaining nutrients.
Optimum simmering to increase health benefits
The optimal simmering process provides the precise temperature and time under 300 pa micro-pressure to cook the rice just right. Rice is properly cooked to increase the amount of resistant starch (RS), which is not digestible in our bodies so it is not converted into fat or sugar.
Other Features Matter
Deliver the healthy rice without compromising the taste.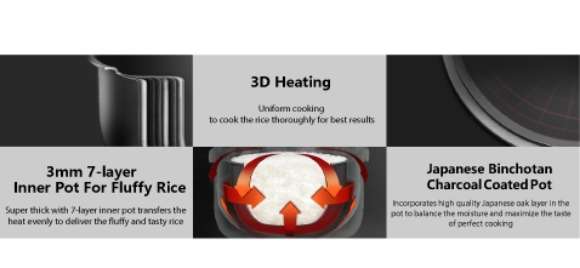 17 Pre-programmed Menu For Versatility
Enjoy the nutrients of rice in a healthier way to balance your daily diet.