---
PV-XL2K CORDLESS VACUUM CLEANER
We try our best to provide accurate product information from the manufacturer's or agent's website. However, the information on this page may change without notice, and it may not be accurate if there are specification changes. We recommend checking the manufacturer's site for the latest specs and information.

-

While all items available for online purchase can be added to your cart, we cannot guarantee their availability at the time of order processing.

In case we are unable to fulfill your order, we will get in touch with you to provide an alternative option or arrange a full refund.

-

If your product is eligible for warranty, you can find its registration link here.
***
FEATURES
1.5kg*1 Lightweight for Effortless Cleaning
With a compact design and lightweight at only 1.5kg*1 (1.05kg*2 for handheld), the light body lets you clean wide areas quickly and easily.
Easy Cleaning Anywhere
The lightweight design makes it easy to start cleaning and to reach the hard-to-reach areas you desire to clean.
Powerful Cyclone Suction and Lightweight
High-Power 3D Fan Motor
In order to achieve a lightweight, compact unit with high power, a 3D fan with a diagonal streamed shape and fixed wing were adopted to efficiently control the air flow, and an extremely anisotropic 4-pole magnet and aluminum are used for the motor.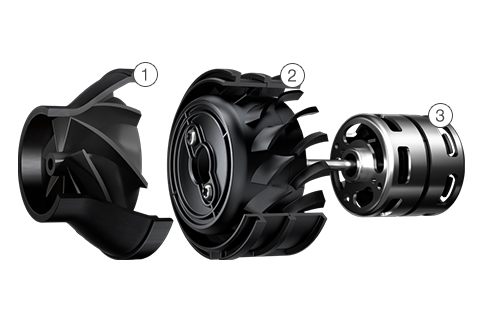 1. 3D Fan with Diagonal Streamed Shape | 2. Fixed Wing | 3. Aluminum Used
Dust is Highly Visible at a Glance
Green LED Technology
White and green LED lights let you see where you are cleaning and find fine dust. Green light is close to the wavelength at which it feels brightest, and creates brightness contrast between the dust and floor to make it even easier to see dust. In addition, a newly designed lens that efficiently collects
7 lights illuminates the front. This makes hard-to-see dust stand out not only in dark places, but also in bright places.
Powerful Smart Head
Auto Drive
With Hitachi's original Auto Drive with Tangle-free Brush and Green LED technology, you experience powerful yet effortless cleaning more than ever before.
Easy to Clean the Dust Case as Hair Does Not Get Tangled Easily
Dust Press Structure
Uses the flow of air to firmly compress the dust collected at the bottom of the dust case. Hair and even fine dust are less likely to get tangled in the inner cylinder, which is the centre of centrifugation in the dust case. Thanks to the inner cylinder assist function, dust will be pushed out when you push the button.
SPECIFICATIONS
Model
PV-XL2K
Colour
Champagne Gold
Size (LxWxH, mm)
〈Stick〉240 × 230 × 1,180
〈HandHeld〉171 × 90 × 430
Weight (Stick*1/Handheld*2, kg)
1.5 / 1.05
Head
Powerful Smart Head(with Green LED Technology and Tangle-Free Brush)
Battery
Li-ion DC18.0V
Charging Time (hrs)
Approx. 3.5
Operationg Time*3 (with powerful smart head / without powerful smart head, min)
<Standard>Approx. 30 / 45
<High>Approx. 8
Dust Capacity (Max.line, L)
0.25
Dust Bin Capacity (L)
0.35
Dust Case
Washable
LED Light
Head
Self Stand
-
Accessories
Powerful Smart Head, Extension Pipe, AC adapter*4
Mini Bed Nozzle, Multi Angle Nozzle(with Brush), Handy Brush, 2way Crevice Nozzle, Wall Bracket
*1The weight of body, extension pipe and power head.*2The body weight only.*3Full charge, new battery, ambient temperature 20℃ running time may differ depending on ambient temperature.*4PVA-T02-BS : BS type plug shape, PVA-T02-VDE : VDE type plug shape◎Specifications and designs are subject to change without notice.◎Colour tone of actual products may differ from those shown in this website.