SAMSUNG MG30T5018CN 30L GRILL MICROWAVE OVEN
$319.00
Product Summary
Stylish Design

Grill Fry

Full Glass Touch Panel
FEATURES
Crispy & Crunchy Food
Grill Fry with Crusty Plate
Enjoy healthier fried food without compromising on flavour or texture with the new Grill Fry function. Food is cooked to a crisp using a combination of microwave and sheath heater technologies based on an optimal algorithm. The microwave ovens also include an easy-to-clean Teflon-coated Crusty Plate that can be heated up to 200°C, ensuring heat is channelled evenly for thoroughly crispy food. Plus, it saves you the hassle of cleaning up any grease or oil splatters from conventional deep frying!
Sleek and Easy-to-clean
Full Glass Control Panel
The Full Glass Control Panel comes with 6 buttons that are intuitive to use and stylish. Not to mention, cleaning is a breeze with the smooth glass surface.
Fast Defrosting
Power Defrost
Save time defrosting frozen food while preserving its nutrients. With Power Defrost mode, you can prepare these 4 popular ingredients in no time: meat, poultry, fish and bread/cake. Simply enter the type and weight of food and it automatically calculates the optimal defrosting time and power.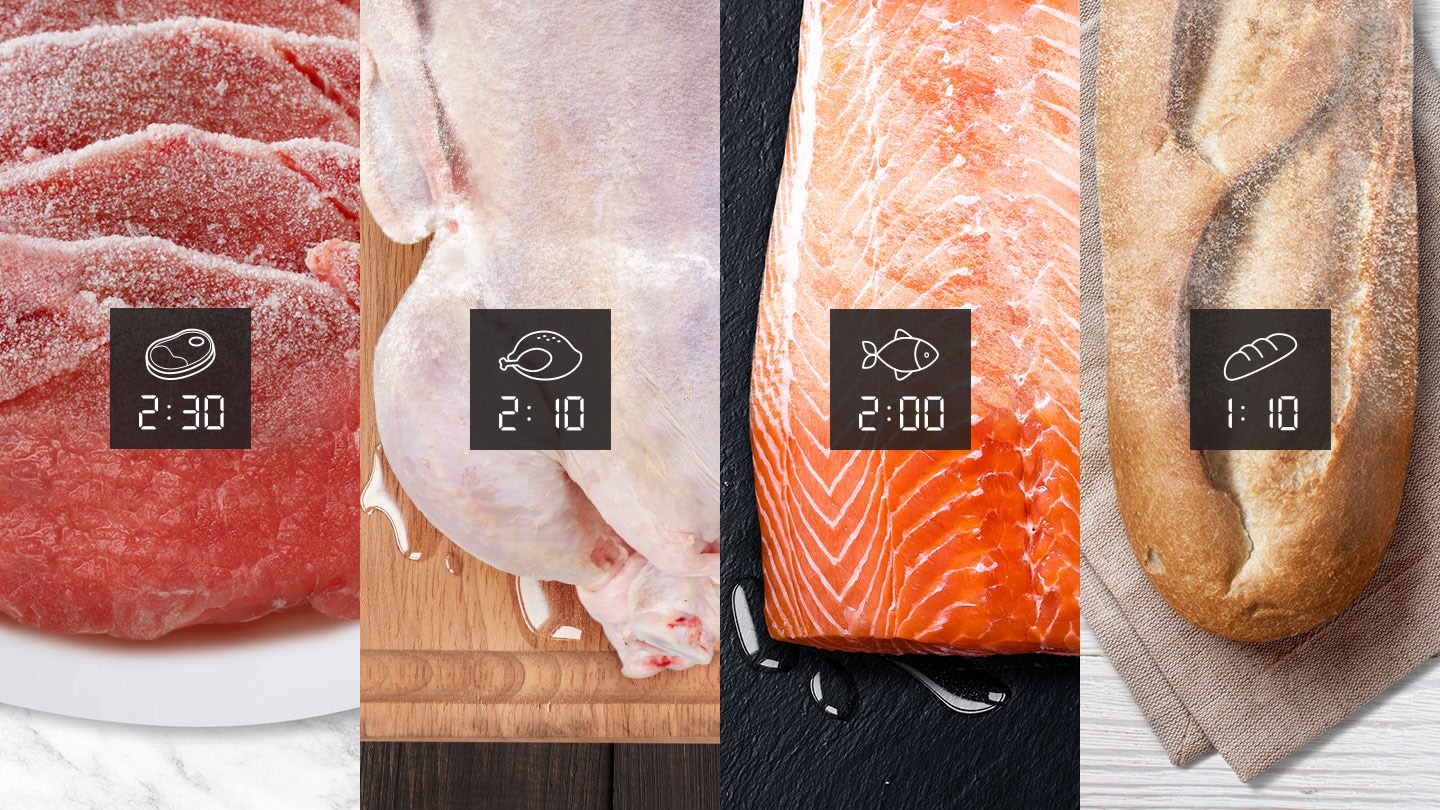 Defrost Your Bread In No Time
Bread Defrost
Enjoy the taste of fresh bread and pastries anytime. Unlike conventional microwave ovens that leave defrosted breads hard and chewy, the Bread Defrost function first determines the optimal time and temperature for defrost by weight and uses grill technology combined with the use of Crusty Plate to let you can enjoy the taste of perfectly baked and browned bread.
Easy to Clean
CERAMIC INSIDE™
The durable CERAMIC INSIDETM is easy to keep clean and scratch-free. Its smooth surface can be cleaned without scrubbing and won't discolour over time. Plus, it is certified to be up to 99.9% anti-bacterial* and more scratch and rust resistant than conventional interiors.
*Based on testing carried out by Hohenstein Laboratories GmbH & Co. KG, there was strong antibacterial activity with the test strains Staphylococcus aureus ATCC 6538 and Klebsiella pneumoniae ATCC 4352 under given test conditions for the tested samples, calculated with the control material (non treated PES). The value of germ growth of the tested samples was more than 99.9% less than that of the control material.
Cook Even Better
Triple Distribution System
Ensure everything you cook is perfectly prepared and delicious. The unique Triple Distribution System distributes microwaves in 3 directions so they reach every corner and penetrate food in multiple directions, ensuring that your food is cooked thoroughly and evenly.
Convenient Pre-set Cooking Modes
Auto Cook
Prepare delicious homemade meals easily at your fingertips. Simply choose from a range of pre-set cooking modes to prepare perfectly cooked dishes that are healthy, moist and flavourful – from green beans to brown rice, and boneless chicken to salmon fillets.
Saves on Energy Bills
ECO Mode
The ECO Mode setting offers a low standby power consumption by turning the display off when not in use. When you're not cooking, the power used to maintain essential functions is minimal, saving you money on electricity bills.
SPECIFICATIONS
TYPE
Product type
Grill
Type
Freestanding
CAPACITY
Oven capacity
30L

MATERIALS/FINISHES
Color(Door)

White

Color(Cabinet)

Black

Control method
Touch

Door type

Side Swing with Handle

Cavity material
Ceramic enamel
Turntable size
318mm

Display Type

LED (White)

Grill Heater

Sheath
POWER/RATINGS
Power source
230V/50Hz
Output power (Microwave)
900W

Power consumption (Microwave)
1400W

Power Consumption (Max)
3050W

Power Consumption (Grill)
1650W
FEATURES
Various Cooking Modes

Yes

Clock

Yes

30 sec. Plus

Yes

Eco Mode
Yes

Defrost (Auto/ Power/ Sensor)

Power

Sensor Cook

No

Steam Cook

No

Auto Programs

Yes

Auto Cook

Yes

Grill Fryer

Yes

Home Dessert

Yes

Bread Defrost

Yes

Keep Warm

No

Steam Clean

No

Turntable on/off

No

Deodorization
No

Child Safety Lock
Yes

Kitchen Timer
No

Memory
No

Sound on/off
Yes

Language Option
No
Others 
Healthy Cooking
Accessories
Included

Quick guide label
Wire Rack
Crusty Plate
WEIGHTS/DIMENSION
Cavity 

357 X 255 X 357mm 

(WHD)
Outside

517 x 297.3 x 425.3mm

(WHD)
Shipping

573 x 365 x 469 mm (WHD)

Weight (Net)

15.9 kg

Weight (Shipping)

17.7 kg
---
CUSTOMER REVIEWS