SAMSUNG HW-K651/XS 3.1CH FLAT SOUNDBAR
$599.00
Product Summary
Ultra clear sound
Excellent dialogue clarity
Wireless music experience
FEATURES
Clearer voices with the center speaker
Experience crystal clear dialogue with a dedicated center speaker on the Soundbar. It provides balanced sound from one end of the bar to the other, and angles sound such that voices seem to emanate directly from the screen.
Powerful sound from 6 built-in speakers
The Soundbar is designed with 6 separate speakers, each with its own dedicated amplifier. Speaker configuration and alignment has been engineered and tuned by the Samsung Audio Lab in California to provide clear and accurate sound.
Create true surround sound without wires
Expand your surround sound system any time you want with ease. To create a complete system, simply connect the Soundbar with two Wireless Audio 360 Speaker units in the rear for the richest audio experience. No extra wires* required.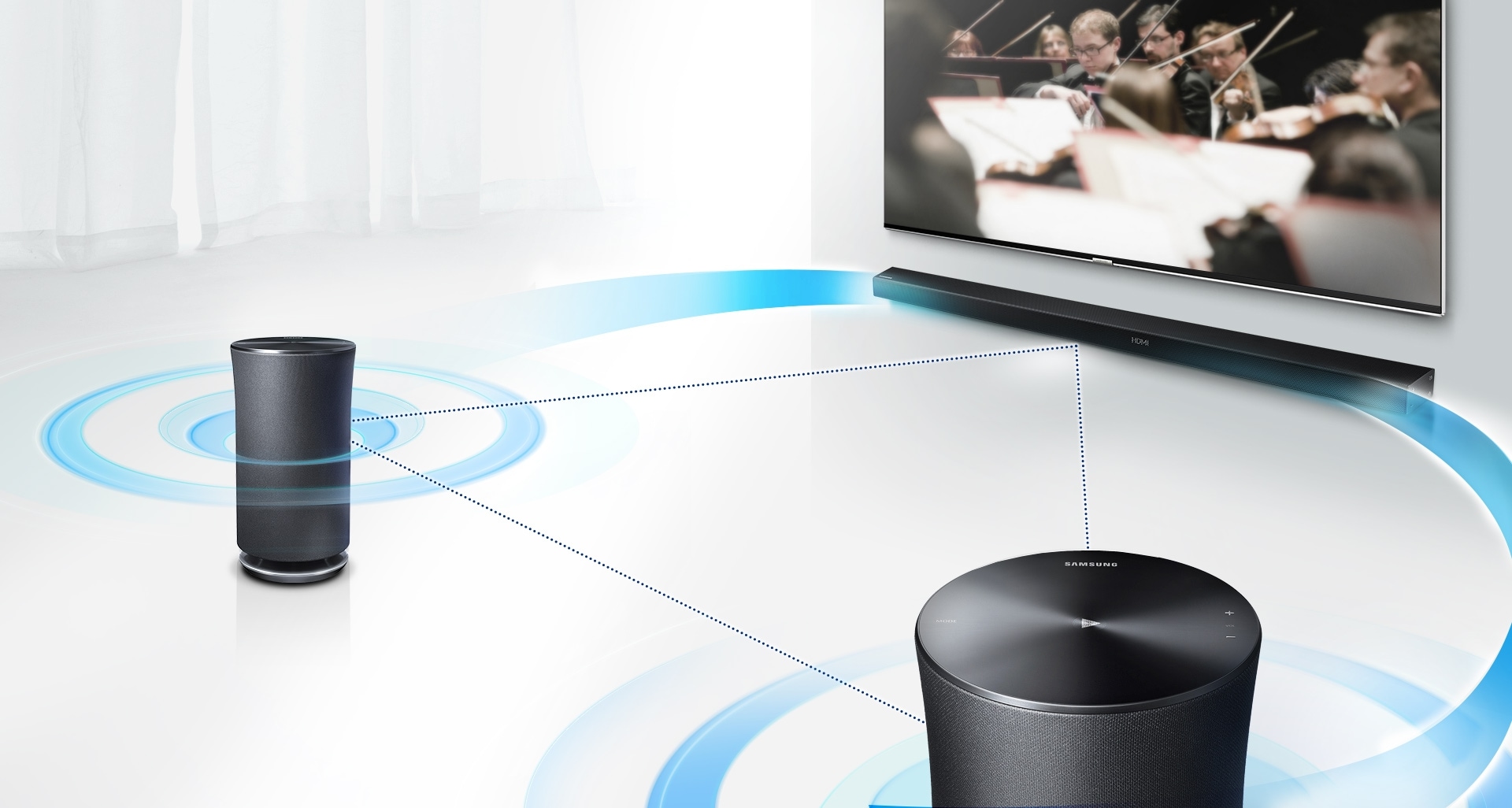 * The Wireless Audio 360 Speaker requires a power cable.
Use TV SoundConnect to link components
TV SoundConnect bring your home entertainment system together with your Samsung TV* with ease and without the clutter of wires. You'll be able to enjoy all your content instantly with clearer, more impactful sound.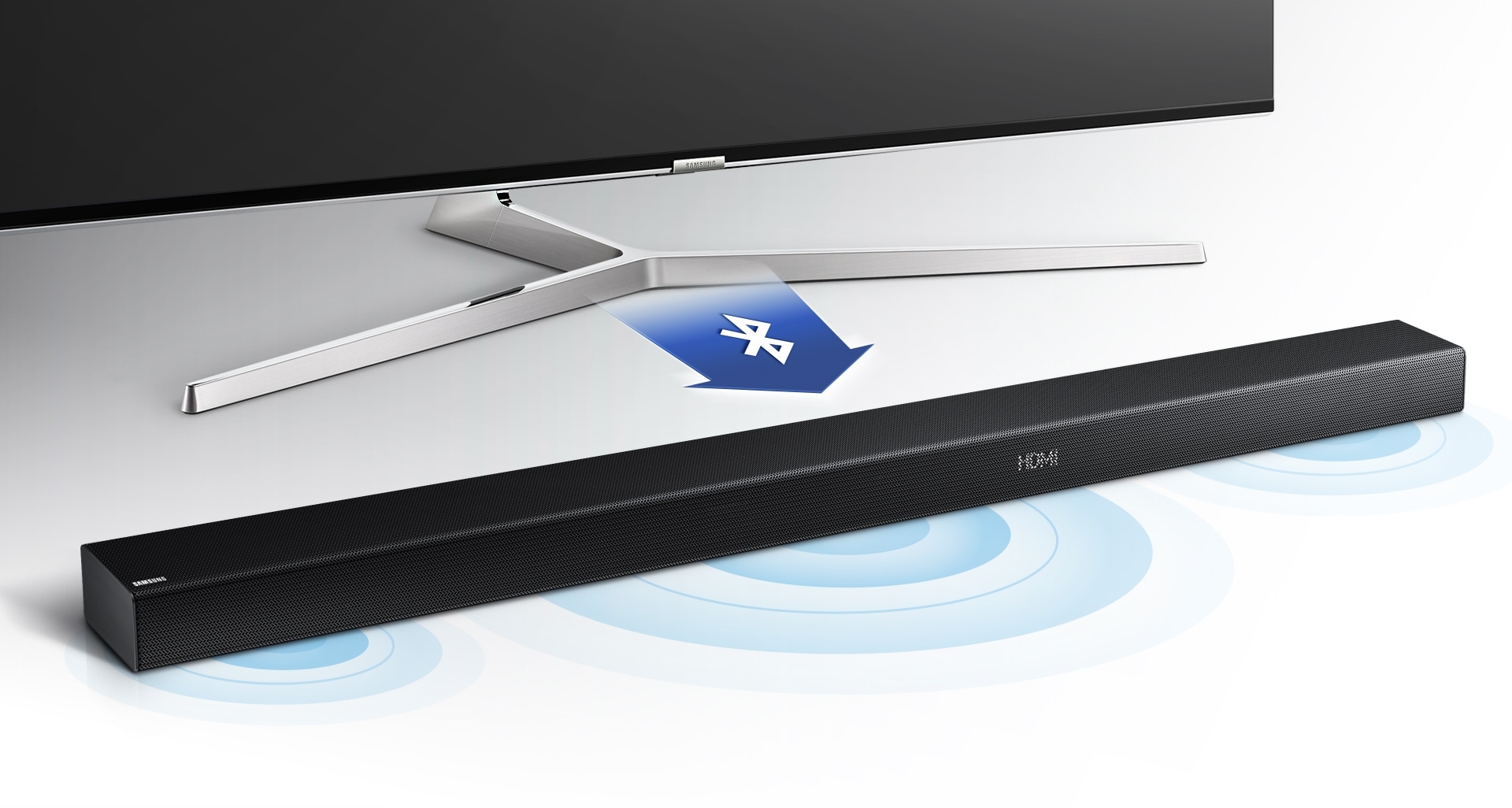 * Compatible with selected Samsung UHD TVs. Please check in-store for more details.
Enhanced surround sound
Surround Sound Expansion expands the listening area both sideways and up to emanate even and high quality sound. Now you can enjoy great sound with truly immersive surround effects.
Have fun with your music
Make the most of your Multiroom audio setup with the beautifully designed Multiroom App* for your mobile and smartwatch. The intuitive touch wheel makes it fun and easy to access and control your music. Enjoy your music from multiple Multiroom-enabled** devices to experience a truly surround sound home entertainment system
* Samsung Multiroom App is available for download on Google Play™ and the App Store™. Samsung Multiroom App for PC is expected to be available in the second quarter of 2016.
** Available only on selected Samsung TV and Audio devices. Please check in-store for more details.
Google Play is a registered trademark of Google Inc. App Store is a registered trademark of Apple Inc.
Bluetooth™ Power On
Now you can power on your audio system and control it from your smartphone with Bluetooth™. After the initial pairing, you can quickly find the devices you want, wake them up, and stream your music instantly.
Bluetooth is a registered trademark of Bluetooth SIG Inc.
Get real, with HD Audio
Feel the sound and get into the action with stunningly realistic HD Audio. It preserves the quality and richness of the original sound using 192 kHz/24-bit sampling.
Mobile sound with BluetoothTM connection
The soundbar uses BluetoothTM for easy wireless connections to other devices. Enjoy music from your mobile device or PC in top audio quality anywhere, no cables attached.
---
CUSTOMER REVIEWS