---
HR3760 2L HIGH SPEED BLENDER
2 years warranty by Philips
We try our best to provide accurate product information from the manufacturer's or agent's website. However, the information on this page may change without notice, and it may not be accurate if there are specification changes. We recommend checking the manufacturer's site for the latest specs and information.

-

While all items available for online purchase can be added to your cart, we cannot guarantee their availability at the time of order processing.

In case we are unable to fulfill your order, we will get in touch with you to provide an alternative option or arrange a full refund.

-

If your product is eligible for warranty, you can find its registration link here.
FEATURES
ProBlend Ultra Technology
ProBlend Ultra technology combines 3 features custom-designed to work perfectly together for ultimate variety of taste and texture just as you like it every time.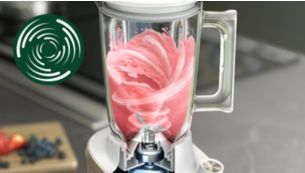 Instant selection with Quick Select Programs
Quick select programs on digital display are defined with time and speed setting so that your favorite recipes are at your fingertips. They include; smoothie, nut-butter, dessert, soup, sauce as well as ice-crushing and cleaning functions.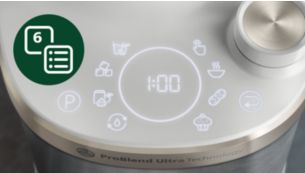 Large jar capacity for the family
2L glass jar with 1.8L effective capacity: so theres enough for all the family.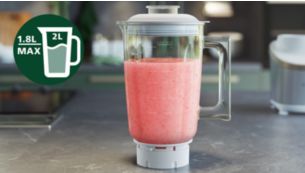 Effortless cleaning with Quick Cleaning Function
Activate cleaning function with a small amount of water and dish soap, enjoy hassle-free cleaning in just 2 minutes. Cleaning function removes even the stubborn residue like cake batters and nut butters.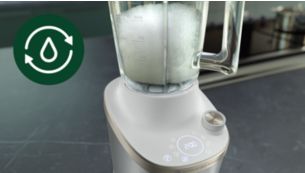 Expand your recipe repertoire with NutriU app
Download and discover the NutriU app with +200 ideas on how to make your favorite drinks, meals and snacks with the help of your new blender. Healthy cooking should be simple and leave your family wanting more. That is why the NutriU app offers a variety of healthy alternatives of your favorite dishes. From healthy chocolate desserts to nutrient-packed main meals, we create our recipes healthy but without compromising on delicious taste.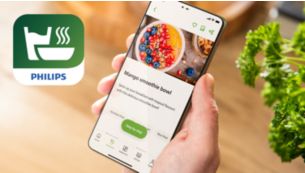 Dishwasher safe parts
All detachable parts are dishwasher safe. ProBlend Ultra Blade is specially designed to prevent food particles getting trapped underneath the blades.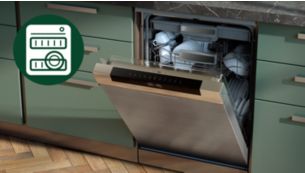 ProBlend Ultra Jar
The ProBlend Ultra jar is designed with one-of-a-kind ribs to continuously guide ingredients back into the blending flow.
ProBlend Ultra Motor
The ProBlend Ultra motor delivers strong 1500W power to drive the blending flow and evenly circulate all ingredients.
ProBlend Ultra Blades
The ProBlend Ultra blades are uniquely designed with a combination of a serrated blade, for crushing hard ingredients into smaller pieces, and sharp blades for slicing them into the finest texture.
SPECIFICATIONS
Capacity jar
2  L

Working capacity jar

1.8  L

Power

Product features

Non-slip feet
Dishwasher safe
12 Number of speed settings
Pulse
6 Quick Select Programs
Quick Cleaning function

Finishing

Material of main body: Metal
Jar material: Glass

Weight & Dimensions

Dimensions of product (LxWxH): 216 x 167 x 442  mm
Weight of product: 4.91  kg