Sharp FP-JM30E 21m² AIR PURIFIER W/ MOSQUITO CATCHER FREE FILTER FZ-F30HFE
$599.00
Product Summary
High density plasmacluster ion technology powerfully and quickly removes airborne particles
2 steps dust collection system with plasmacluster technology for everyday use
Auto restart
Dust monitor
Sleep mode
Capture and protect from mosquitoes with 100% harmless 5 effective steps of mosquito catcher
21m² Air Purifier with Mosquito Catcher
Model no.: FP-JM30E
FEATURES
Providing You with Fresh Air and a Healthy Environment
High-Density Plasmacluster Ions Remove Airborne Mold and Viruses.
Efficient Airflow Control and Rear Suction, Plus High-Performance HEPA Filter Capable of Trapping Microscopic Particles.
Capture and Protects from Mosquitoes without Any Chemicals.
100% harmless Safe and Sound protection.
Safe and Sound Mosquito Capture System
By using non toxic mechanisms which are harmless to people and furniture, the air purifier safely captures mosquitoes even for households with small children. Also, because the mosquitoes are captured on a glue sheet, the floor remains free of mosquitoes, and so cleaning is easier.
Glue Sheet
Insecticide-Free Glue Sheet.
Strong Catching Power.
Easy Disposal without Dirtying Your Hands.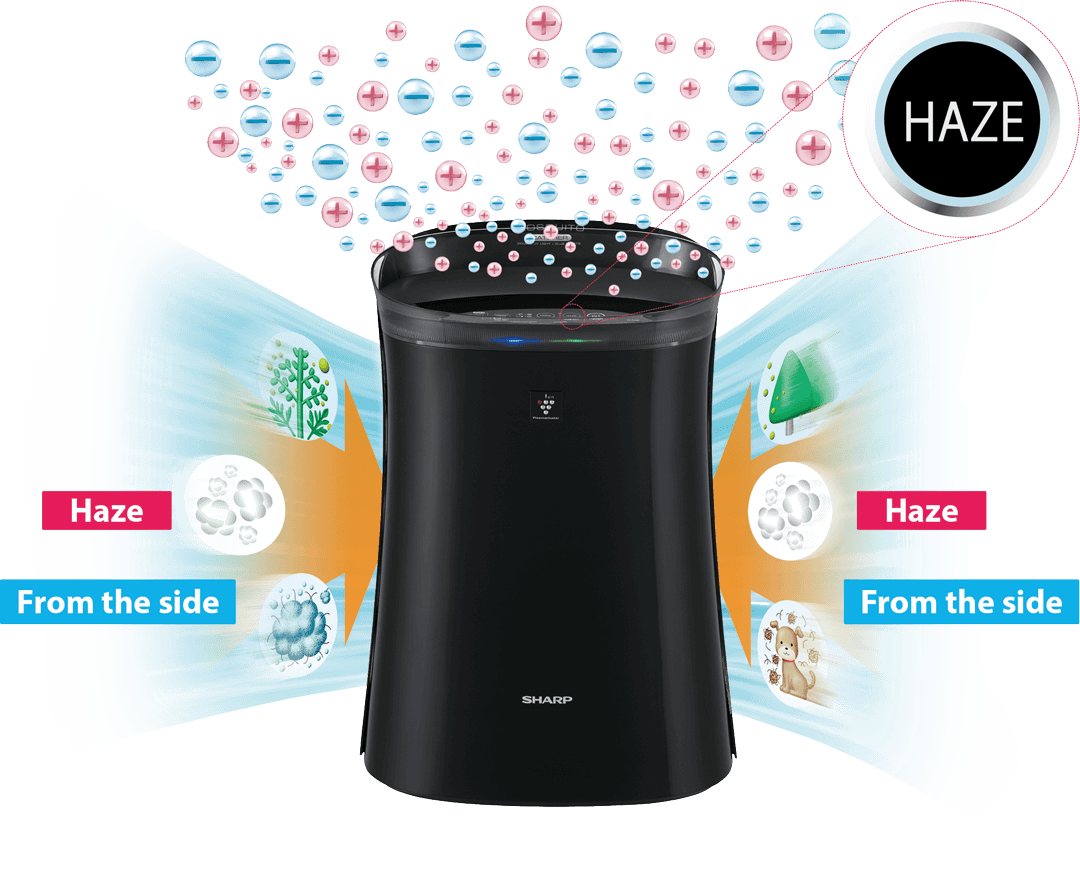 Haze Particles and Keeps the Room Air Clean
The air purifier has a Haze Mode. When the air purifier starts in Haze Mode, operation is at maximum airflow for the first 10 minutes, and then switches to a higher airflow for the next 50 minutes. After that, operation repeatedly alternates between lower and higher airflow every 20 minutes. With stronger airflow for the first 60 minutes, a high density of Plasmacluster ions is dispersed into the entire room, which reduces static electricity, making it easy to capture haze particles.
SPECIFICATIONS
| | |
| --- | --- |
| Color | Black |
| Plasmacluster Ion Density | 7000 |
| Humidifying - Tank Capacity | - |
| Humidifying - Humidifying Capacity | - |
| Recommended area - Air Purifying | 21m² |
| Recommended area - Humidifying | - |
| Recommended area for high-density Plasmacluster ions | 16m² |
| Operation Modes | Max / Med / Sleep |
| Voltage/frequency (V, Hz) | 220-240, 50-60 |
| Power input (W) (Max/Med/Low) - Without Humidifying | 51/33/19 |
| Power input (W) (Max/Med/Low) - With Humidifying | - |
| Inverter Operation | - |
| Child Lock | - |
| Timer | - |
| Filter Type - Dust Collection | HEPA |
| Filter Type - Deodorization | - |
| Filter Type - Pre-filter | Yes |
| Filter Type - Humidifying | - |
| Filter Life - Dust Collection | Up to 2 years |
| Filter Life - Deodorization | - |
| Filter Life - Humidifying | - |
| Sensor - Odor | - |
| Sensor - Dust | - |
| Sensor - Temperature & Humidity | - |
| Sensor - Light | - |
| Sensor - Motion | - |
| Clean sign indicator | - |
| Mosquito trap function | Yes |
| Light Control Button | Yes (On/ Off) |
| Dimension (WxHxD) mm | 409 x 466 x 259 |
| Net Weight (kg) | 5 |
| Replacement filter - HEPA filter | FZ-F30HFE |
| Replacement filter - Deodorizing Filter | - |
| Replacement filter - Humidifying Filter | - |
| Replacement filter - Active Carbon Deodorizing Filter | - |
| Replacement glue sheet | FZ-STS2M |
| Replacement Unit | - |
| Plasmacluster ion purification - Airborne microbes | Airborne mold, Airborne microbes, Airborne viruses, Dust mite remain allergens, Dust mite faces allergens, Ammona odor |
| Plasmacluster ion purification - Clinging odors | Cigarette odor, Body odor |
| Filter purification - Capture & reduction of growth | Airborne microbes, Viruses, Tree pollen, Dust mite remains, Dust mite faces |
| Filter purification - Deodorizing | Cigarette odor, Pet odor, Body odor, Mould odor, Ammonia odor, Cooking odor, Kitchen garbage odor, Toilet odor, VOC |
| Filter purification - Capture | Airborne mould, Plant pollen, Tree pollen, Pet dander, Pet hair, Dust, Cigarette smoke, Mite dust, Diesel exhaust |