---
DW60CB750FAPSP BESPOKE FREESTANDING DISHWASHER
2 years warranty by Samsung
We try our best to provide accurate product information from the manufacturer's or agent's website. However, the information on this page may change without notice, and it may not be accurate if there are specification changes. We recommend checking the manufacturer's site for the latest specs and information.

-

While all items available for online purchase can be added to your cart, we cannot guarantee their availability at the time of order processing.

In case we are unable to fulfill your order, we will get in touch with you to provide an alternative option or arrange a full refund.

-

If your product is eligible for warranty, you can find its registration link here.
Exceptional performance
Design your dream kitchen with BESPOKE Design
Create a beautifully stylish and unique kitchen space with a customisable design. Its interchangeable panels are available in a choice of 3 stylish colours* in glass finishing — Satin Beige, Clean White and Clean Black. The Glass material panel makes it easy to clean for a fuss-free maintenance. You can easily personalise the colour to suit your home aesthetics and style preferences, even if they change over time**.
 * The interchangeable panels are available in 3 colours: 3 glass finishes - Clean White, Clean Black and Satin Beige. The choice of textures and colours may differ by country.** Available for the DW60CB750FAPSP model. You can replace the panels after the initial purchase by purchasing a separate panel.
Better and more efficient cleaning
WaterJet Clean™
Get better washing results using the new WaterJet Clean™ system. With rotating dual wash arms, it delivers more intensive cleaning from every angle. Its two spray arms have separate water jets and rotate in opposite directions simultaneously. This helps to clean heavily soiled pots, pans and dishes rapidly and thoroughly by removing stubborn food remains at difficult-to-reach spots.
Automatically releases steam & dries faster
Auto Open Door
Get sparkling clean dishes every time with the Auto Open Door feature. When the rinse and dry process is complete, the door automatically opens 10cm to allow steam to escape. It gives you faster and better drying results than conventional methods.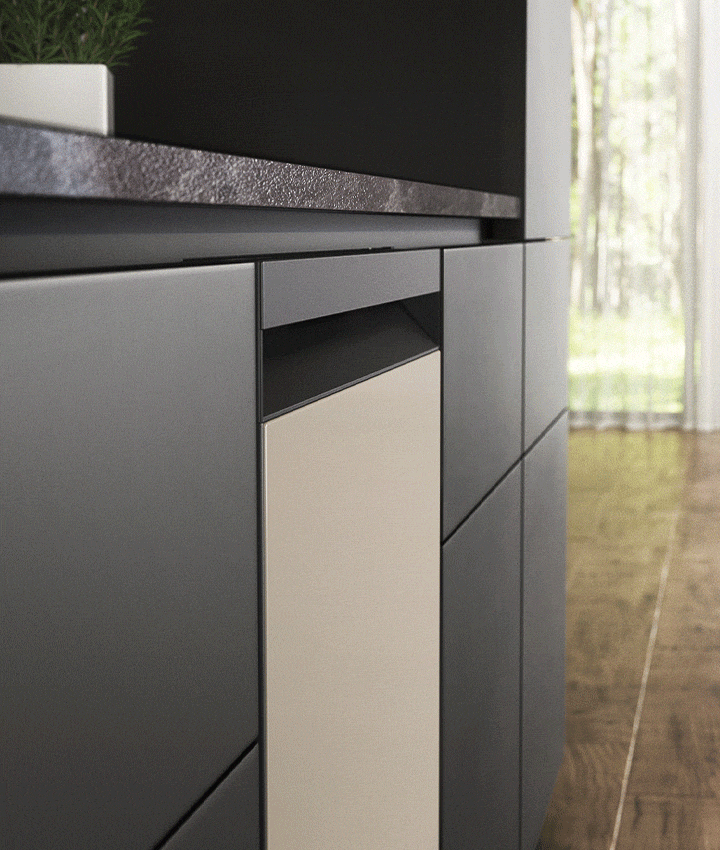 A smarter way to clean your dishes
SmartThings App
Clean dishes more intelligently via SmartThings™ App*. Enjoy a smarter way to control and customise your dishwasher. No matter where you are, you can remotely monitor and control the dishwasher using a smartphone. Personalise your cleaning experience by downloading any one of 3 specialist programs to remotely monitor and control your dishwasher or to even receive diagnostic information.
* Requires a wireless network, a Samsung account and the Samsung SmartThings App. The Samsung SmartThings App supports Android OS 8.0 (Oreo) or later, which is optimized for Samsung smartphones. This App also supports iOS 13 or later for iPhone models. The SmartThings App is available in the App Store and Play Store. Available in certain languages, including English, French, German, Italian and Spanish.
Personalised Cleaning
Download Program
Customise your cleaning experience whenever you want. The Download Program option lets you choose from 3 additional specialist programs and instantly download the one you want using the SmartThings App* on a smartphone. Simply select the "Pots and Pans", "Plastic" or "Baby Care" program to get things started. The "Pots and Pans" program cleans heavily soiled cookware without pre-rinsing, while the "Plastic" program minimises the risk of plastic ware warping. Lastly the "Baby Care" Program keeps baby bottles, cutlery and dishes hygienically clean.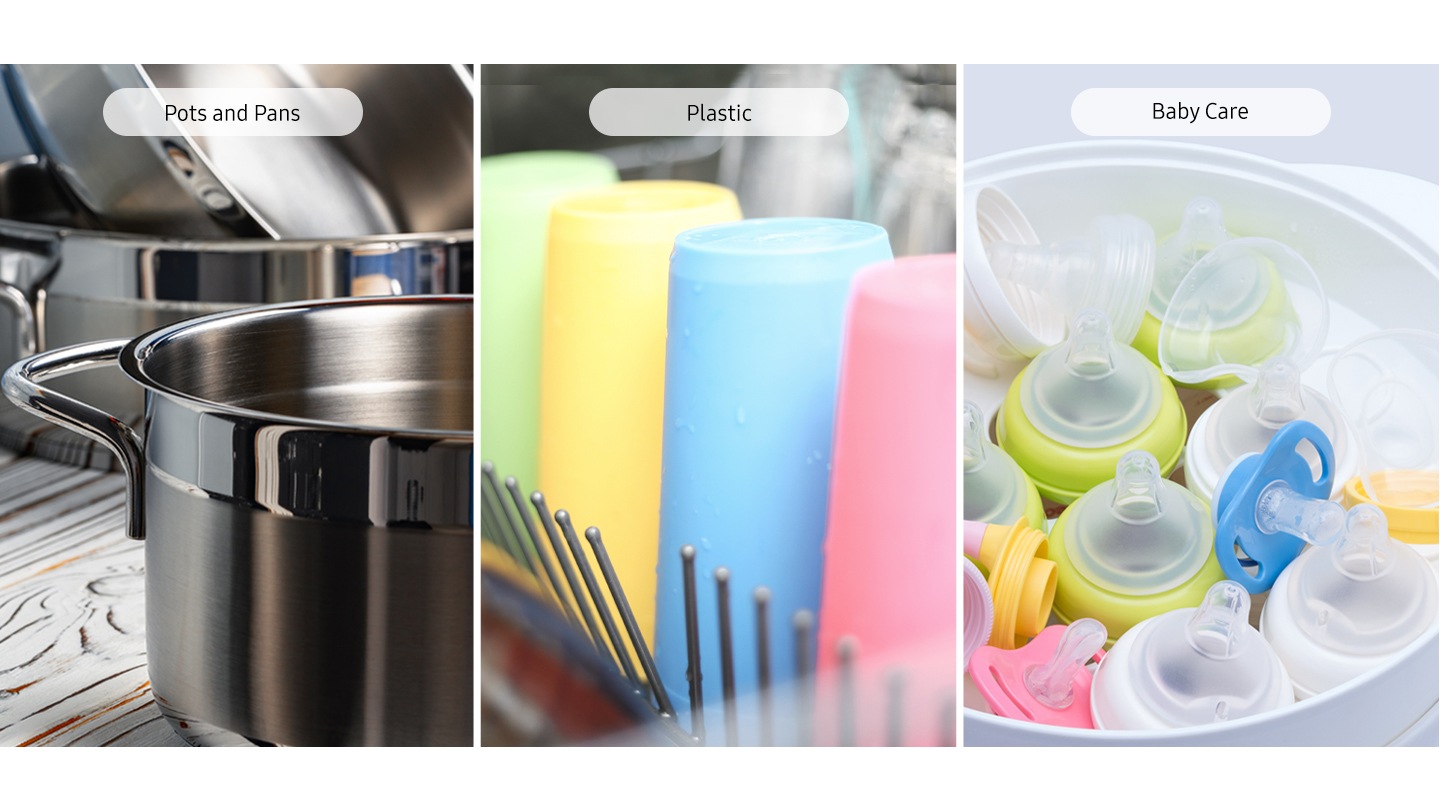 * Available on Android and iOS devices. A Wi-Fi connection and a Samsung account are required.
For a quiet, tranquil home
Extra Silence program
Operating with an inverter motor, minimise noise in your home with a dishwasher that works smoothly and quietly. It also has an Extra Silence program that washes for a slightly longer duration than a normal wash cycle, but creates 2 decibels less noise than the ECO program*. The amount of noise it makes is even quieter than a library.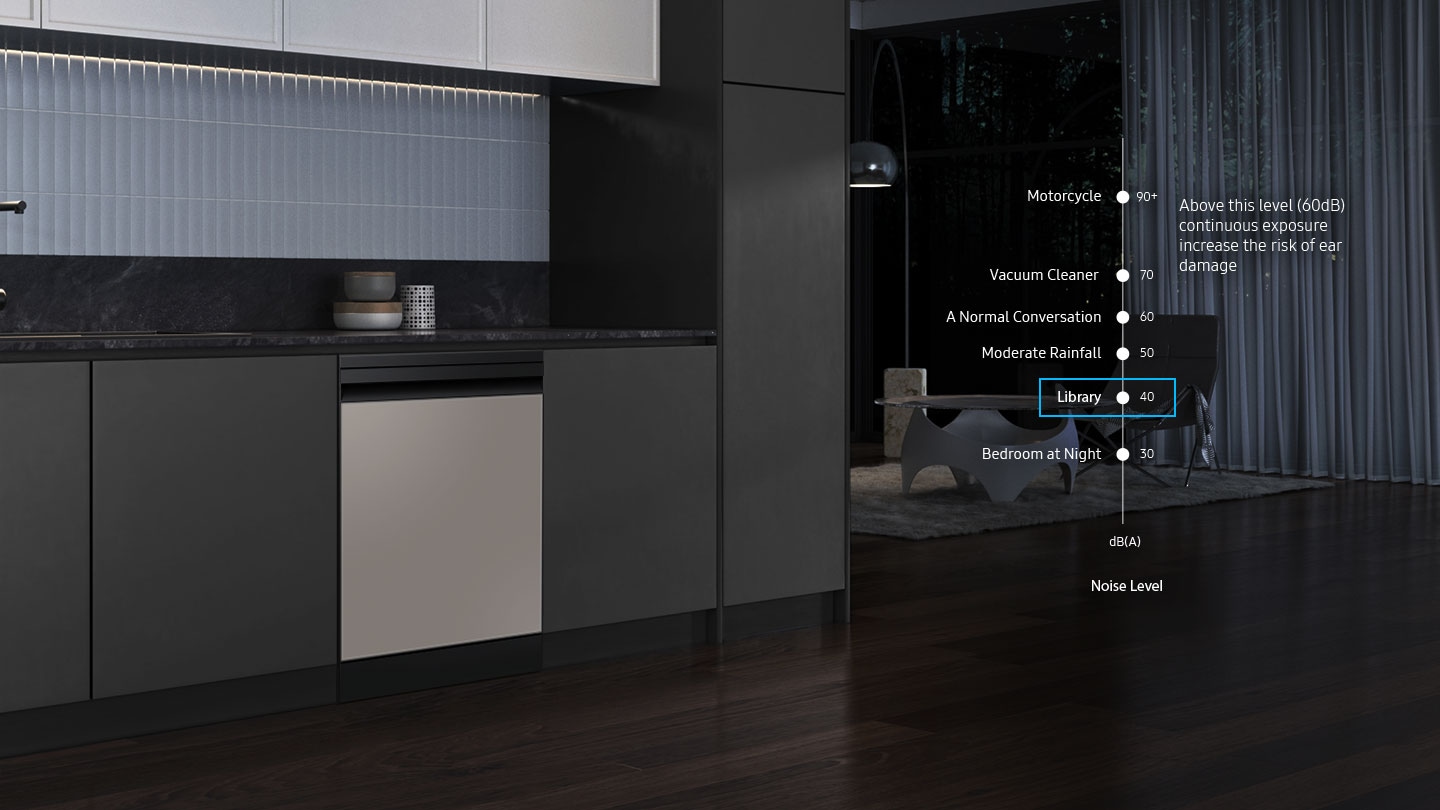 * Noise Level for the DW60BG7******* model. Extra Silence program: 40dB, ECO program: 42dB. Based on testing conducted in an internal laboratory.
Hygienic rinsing to eliminate 99.999% of bacteria
Hygiene Care option
Rinse hygienically to eliminate germs and bacteria. A Hygiene Care option* extends the final rinse and increases the water temperature to 70˚C. This enables deeper cleaning and kills off 99.999% of bacteria**. Your dishes, cutlery and utensils are now completely clean and safe to use.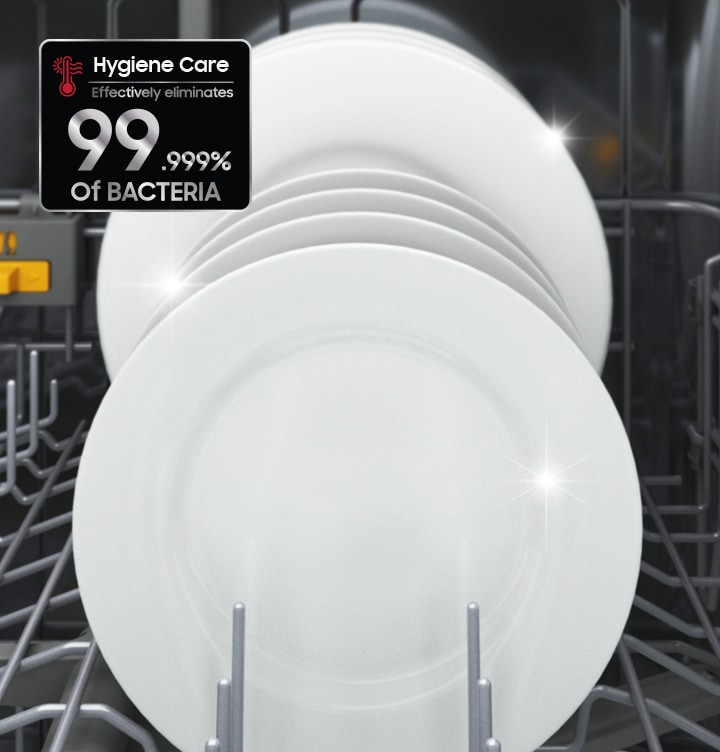 * Not available with the Delicate, Express, Machine Care, Plastic and Baby Care programs.** Based on testing by Intertek. Removes 99.999% of certain bacteria, including Escherichia coli, Salmonella enteritidis, Listeria monocytogenes, Staphylococcus aureus, Pseudomonas aeruginosa and Klebsiella pneumonice with the ECO + Hygiene Plus course. Individual results may vary.
Sanitise the inside without detergent
Machine Care
Keep the inside of the dishwasher hygienic, while being eco-friendly. Using Machine Care you can clean the cavity with a touch of the button. It removes dirt and odour-causing bacteria using only water, so you don't need harsh detergent. It will also automatically notify you when it needs cleaning.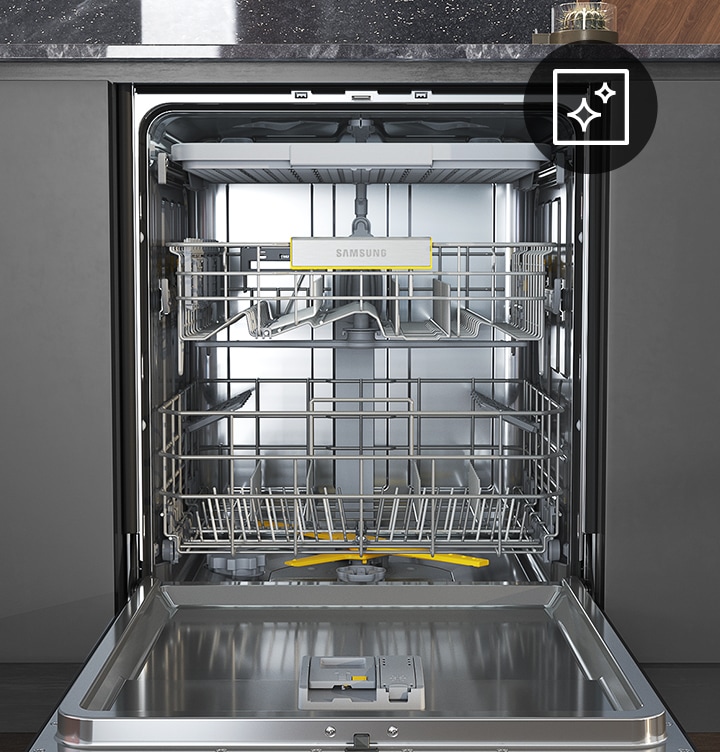 Interior specifications may vary by model
Safeguards against hazardous water damage
Aqua Stop
Stay safe from unexpected water damage with the Aqua Stop safety function. It shuts off the water supply and the electrical connection to stop the operation of the dishwasher if it detects small traces of water. This protects you from electrical shocks and potentially expensive water damage.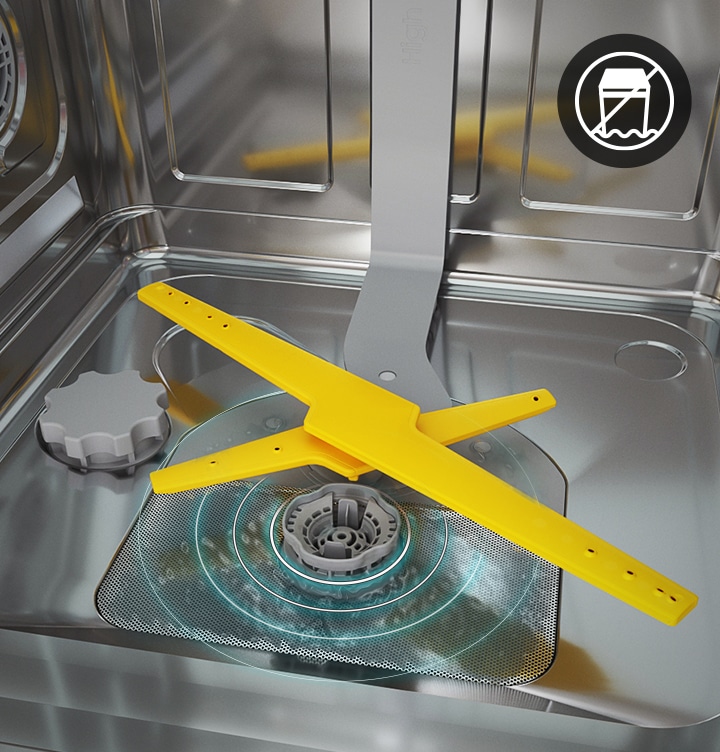 How to measure
SPECIFICATIONS

Control Type
Hidden touch
Display Light Color
White
Washing Type
WaterJet Clean™
Capacity (Place Setting)
14 P/S
Dry System
Auto Door Open Dry
Noise level (dBA)
42 dBA
Noise @ Extra Silence Cycle (dBA)
40 dBA
9 Programs
Intensive, Auto, Delicate, Eco, Express, Pre Wash, Extra Silence, Download, Machine Care

6 Options
Delay Start
Half load
Hygiene Plus
Speed Booster
Smart Control
AI Energy Saving

Upper Rack
Basket handle, Adjustable Height,  Adjustable Tines, Fold down tines, Cup support clip

Lower Rack
Fold down tines, Glass Rack
General Feature
Aqua stop
Tub Material: STSS
Leakage Sensor
Number of Wash Arm: Upper/Mid/Low
Cancel&Drain Button
Water Softner
WiFi Embedded
SmartThings App Support

Net Dimension
598 x 600 x 845 mm (WDH)
Gross Dimension
670 x 660 x 886 mm (WDH)