---
DV90BB9440GBSP 9KG HEAT-PUMP BESPOKE DRYER
2 years warranty by Samsung
We try our best to provide accurate product information from the manufacturer's or agent's website. However, the information on this page may change without notice, and it may not be accurate if there are specification changes. We recommend checking the manufacturer's site for the latest specs and information.

-

While all items available for online purchase can be added to your cart, we cannot guarantee their availability at the time of order processing.

In case we are unable to fulfill your order, we will get in touch with you to provide an alternative option or arrange a full refund.

-

If your product is eligible for warranty, you can find its registration link here.
Dry efficiently & gently

FEATURES
Sensor intelligence
AI Dry
Enjoy faster and more precise* drying that is gentler on clothes and reduces energy use by 10%**. AI Dry's multi-sensing technology monitors the humidity of the clothes in real time and intelligently generates the optimal amount of heat to suit the weight and moisture content of each load.
* Based on an AI-created algorithm. Actual results may vary depending on individual use. ** Based on internal testing (Mixed 2kg load) of the DV9400B using AI Dry compared to a conventional Samsung model, DV5000T. Result: Energy consumption reduced by 10%. Results may vary depending on the actual usage conditions.
Less time, more care
QuickDrive™
Spend much less time drying and take good care of your clothes. When activated, QuickDrive™ reduces the drying time by up to 35%* and saves energy. Unlike conventional dryers, its inverter compressor technology automatically adjusts its speed based on the internal temperature and care purposes.
* Based on internal testing (IEC cotton 9kg load) of the DV9400B using QuickDrive compared to a conventional Samsung model, DV5000T. Result: Drying time reduced by 35%. Results may vary depending on the actual usage conditions. Image is for illustration purpose only.
5 Ticks Energy Efficiency
Heat Pump Technology
Boasting 5 Ticks Energy Efficiency*, its special HeatPump technology harnesses the use of a 'refrigerant' instead of electricity to heat the air. It also recycles the air to avoid energy wastage, offering an energy-efficient, cost-effective and gentle way to dry your clothes.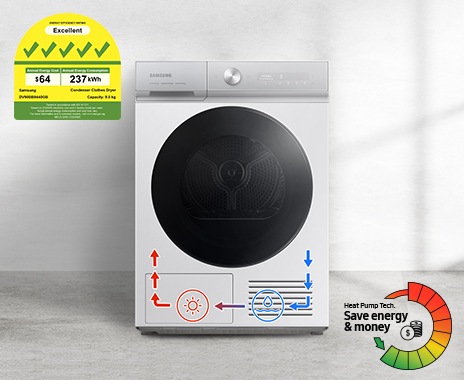 * Tested in accordance with IEC 61121:2013/8kg Wash load/Cotton Cupboard with Heatpump (DV80F5E4HGW) vs. without Heatpump (DV80H4100CW). Individual results may vary.* Tested in accordance with IEC 61121:2013/8kg Wash load/Cotton Cupboard with Heatpump (DV80F5E4HGW) vs. without Heatpump (DV80H4100CW). Individual results may vary.
Intelligent Drying
AI Control
Dry laundry easily and effectively with AI Control. It personalizes drying by remembering your habits, suggesting cycles* and displaying timely information. The SmartThings App** offers advice on cycles, planning and troubleshooting. And it selects the ideal drying course for a wash cycle***.
* Messages with cycle suggestions are displayed on a smartphone App. ** Available on Android and iOS devices. A Wi-Fi connection and a Samsung account are required. *** Auto Cycle Link is only available when both the washer and dryer have AI Control and Wi-Fi connected.
Smart energy savings
SmartThings AI Energy Mode
Monitor and reduce your dryer's energy use. AI Energy Mode* lets you easily check power consumption and estimates your electricity bill. For courses that operate in AI Energy Mode** it reduces energy use by up to 20%*** by optimising the speed of the Inverter compressor and the cycle time.
Super Speed
Get clothes clean and ready to wear in just 2 hours, while saving energy. The Super Speed course can dry a mixed load of cotton and synthetics in 81 minutes*. And with a Super Speed washing machine you can wash and spin-dry clothes in 39 minutes**. So garments can be washed and dried in 2 hours.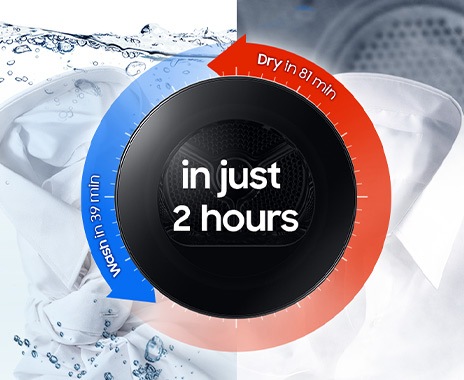 * Tested on the Samsung DV9400B with an IEC standard load of 5kg. ** Tested on the Samsung QuickDrive™ WW9400B with an IEC standard load of 5kg.
Silent Dry
Do your laundry without disturbing neighbours or waking children at night. The Silent Dry design has an integrated noise reduction system. It includes sound absorbing materials and an algorithm that optimises the spinning speed to minimise noise. As a result, it has a low noise level of 59dB*.
* Tested on the Samsung DV9400B, cotton 9kg.
Hygiene Care
Prevent the build-up of bacteria on clothes and other items, like linen and children's soft toys. The Hygiene Care cycle sanitises both dry and wet items* without affecting the drying performance. By infusing them with high temperature heat while drying it eliminates 99% of bacteria**.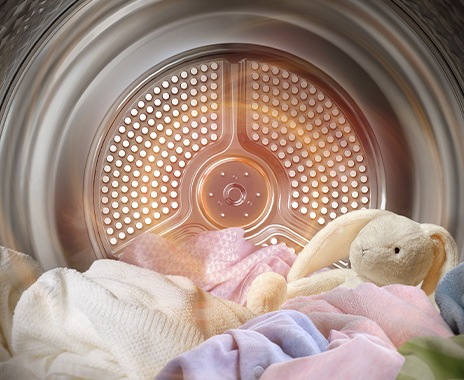 * 2kg dried laundry or 2kg wet laundry. ** Based on testing witnessed by Intertek. Individual results may vary.
Wrinkle-free clothes
Wrinkle Prevent
Keep dried clothes wrinkle-free without ironing. Simply select Wrinkle Prevent and, once the drying cycle ends, it will intermittently turn the drum with no heat for up to 180 minutes. It prevents clothes from resting in one place for too long while hot, so creases don't form in the fabric.
Look good for longer
Tempered Glass Door
Make sure your clothes dryer stays looking good for longer, even if its Tempered Glass Door is frequently opened and touched. The strong and durable tempered glass is less likely to break or scratch compared to a plastic door. It also provides an elegant look and makes it easy to see inside.
Do the SmartThings
SmartThings Home
Enjoy personalised, efficient and hassle-free washing using the SmartThings App*. By analysing your washing patterns**, 'Clothing Care' offers tailored cycle recommendations*** and tips. 'Energy' helps manage your energy use holistically. 'Home Care' keeps the washer in the optimal condition.
Intelligently dries
OptimalDry
Optimise your drying performance effortlessly! OptimalDry uses 3 sensors to achieve the best results. It monitors the humidity and adjusts the drying time, so laundry is ready quickly and using minimal energy. It also stops clothes from being damaged and reminds you to clean the Heat Exchanger.
Easy maintenance
2-in-1 Filter
Maintain your dryer more easily and optimise the drying performance and safety. An innovative 2-in-1 Filter has a two-layered mesh filter. So there is no need for a Heat Exchanger filter, making it easier to maintain. Two alarms also remind you when the Filter and Heat Exchanger need cleaning.
Deodorise with air
Air Refresh
Refresh your clothes without washing, boiling, scrubbing or using detergent. Air Refresh technology deodorises your garments and bedding, so they always smell fresh. Unpleasant odours are removed using just super-hot air. Your clothes will seem like they have been dry-cleaned and will last longer.
Dry in 35 minutes
Quick Dry 35'
Get any clothes you need dried fast, like a work shirt or school top. The Quick Dry 35' cycle gets a small 1kg load of clothing dry and ready to wear in 35 minutes*. Using high heat it can safely dry a few items, so there is much less waiting – just dry the clothes you need, when you need them.
* May vary depending on the type of fabric.
How to measure
SPECIFICATIONS
Capacity
9 kg

Body Colour
Black 
Door
Tempered Glass Door
App Connectivity
SmartThings App Support
Features
AI Control
Interior Drum Light
AI Dry
QuickDrive
Motor: DIT
Compressor Inverter
Smart Control
Reversible Door
Child Lock
Drum type: Diamond
Dry Level: 4 Levels
Drying Rack
Drying Time selector
Mixed Load Bell / Damp Alert
Progress Indicator
Wrinkle Prevent
OptimalDry System
Smart Things

Cycle

AI Dry
Cool Air
Iron Dry
Outdoor
Self Tub Dry
Time Dry
Towels
Warm Air
Wool
Option List: QuickDrive, Wrinkle Prevent, Dry Level, Dry Time, Damp Alert, Smart Control, Drum Light, Child Lock, Sound Off, Calibration
Air Refresh
Bedding
Quick Dry 35'
Cotton
Delicates
Shirts
Synthetics
Silent Dry
Super Speed
Hygiene Care+

Net Dimension (WxHxD)
600 x 850 x 600 mm
Gross Dimension (WxHxD)
680 x 895 x 700 mm
Net Weight
53 kg
Gross Weight
59 kg