SAMSUNG DF60A8500CG/SP AIRDRESSER
$2,599.00
Product Summary
JetSteam: Eliminates 99.9% of bacteria and allergens1
JetAir & AirHanger: Effectively removes dust and odours
Deodorising Filter: Removes odours
Intelligently refresh & sanitise, everyday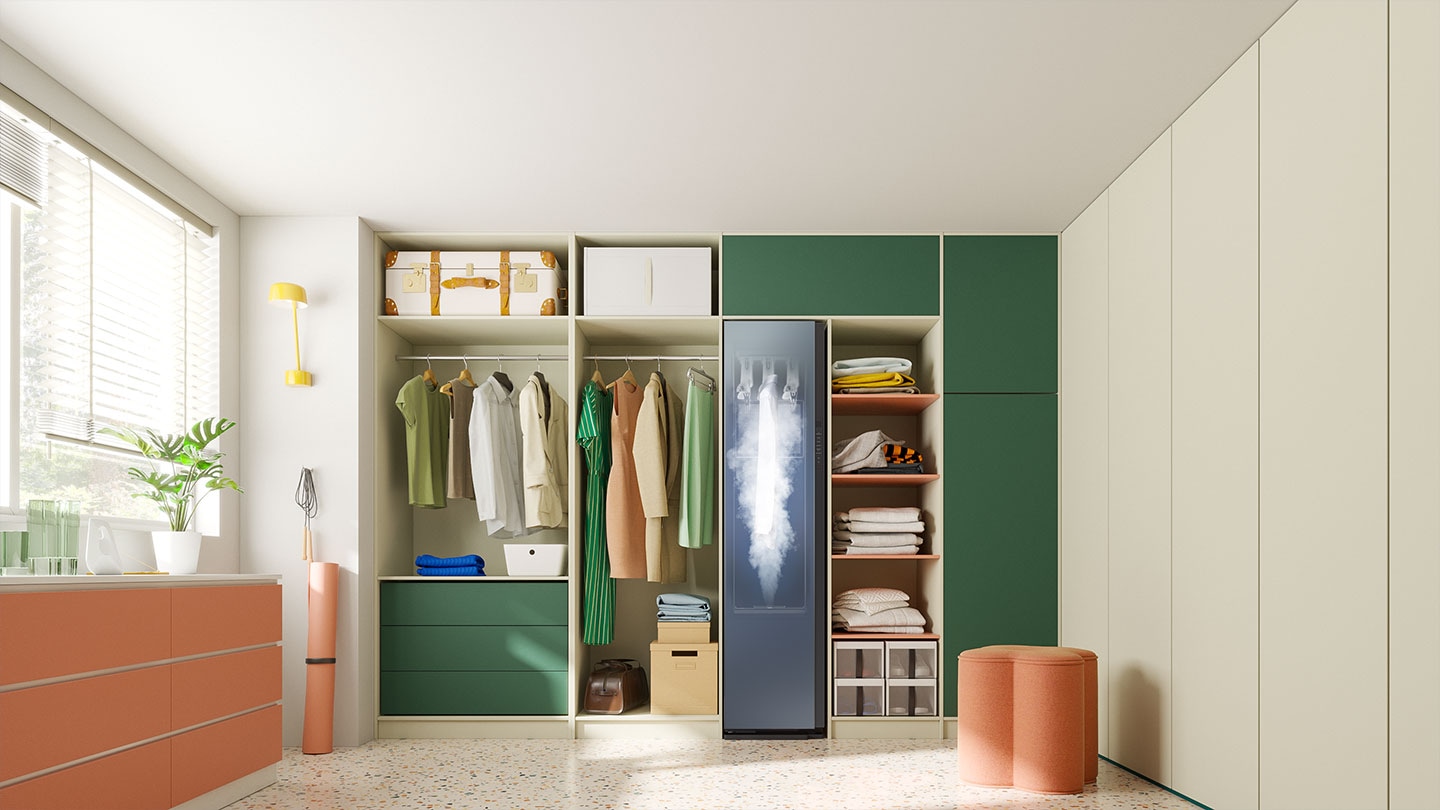 FEATURES
Eliminates bacteria, viruses and allergens1 with the power of steam
JetSteam and JetAir
Sanitise and refresh your clothes with the powerful JetSteam and JetAir system. The Sanitise cycle effectively eliminates 99.9% of bacteria, viruses, allergens, and 100% of house dust mites1. Steam penetrates deep into the fabric of clothes, sanitising and smoothening light wrinkles from the inside and out. Additionally, JetSteam freshens up clothing by removing odour-causing gases and harmful substances2.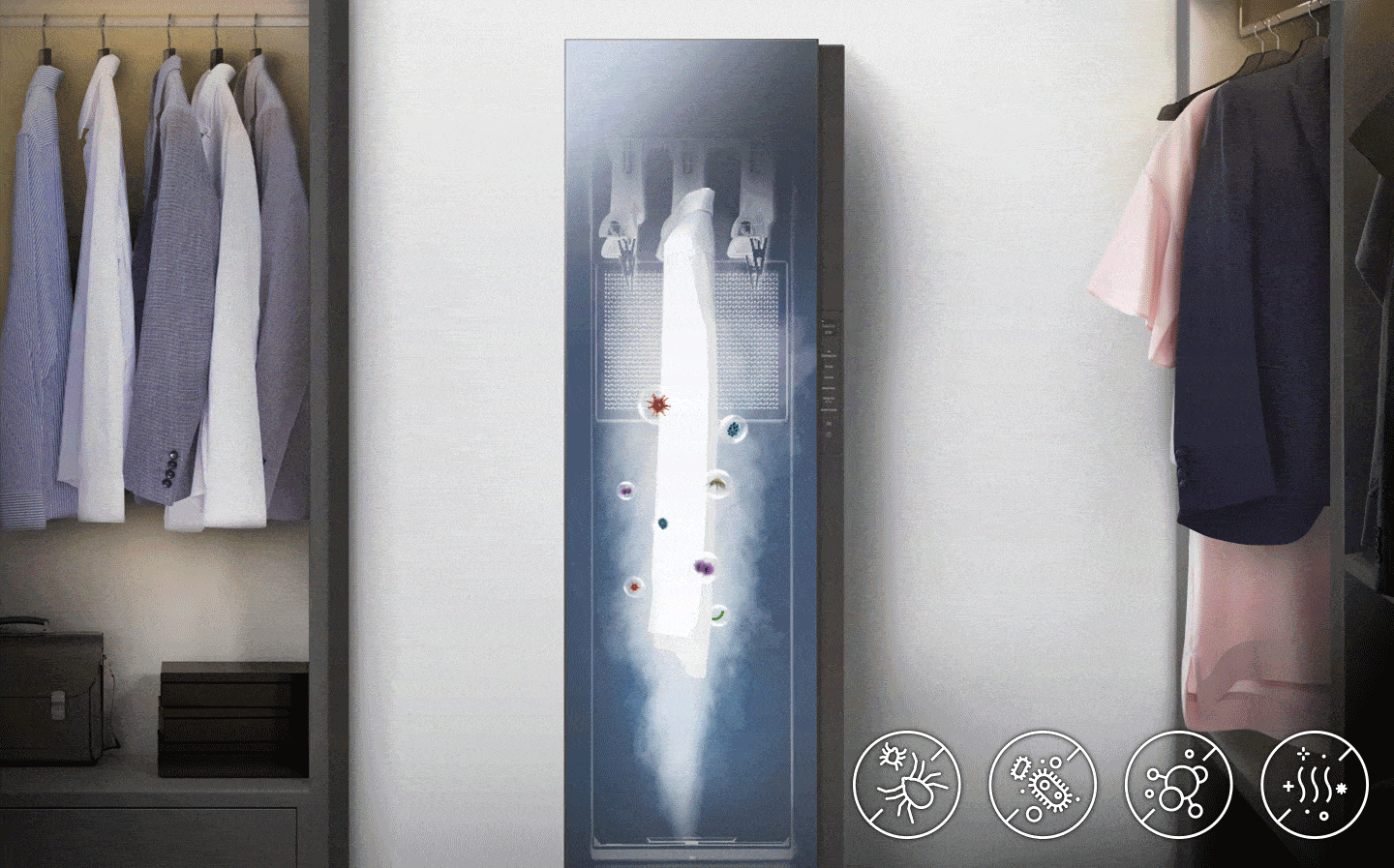 1Based on testing by Intertek: 1) Eliminates 99.9% of viruses, including Influenza B, Norovirus (Murine Norovirus), Rhinovirus (Human Rhinovirus), Hepatitis A (Human hepatitis A), Rotavirus (Porcine Rotavirus) and enterovirus (Porcine enterovirus). 2) Eliminates 99.9% of bacteria such as Staphylococcus aureus, E. coli, MRSA, Streptococcus pneumoniae, Legionella pneumophilia, Pseudomonas aeruginosa, klebsiella pneumoniae, Corynebacterium diphtheriae, and Enterococcus faecalis. 3) Kills 100% of house dust mites. Based on testing by Korea University, College of Pharmacy: Eliminates 99.9% of viruses, including Influenza A, Coronavirus (Porcine epidemic diarrhea virus (PEDV)), Adenovirus (Infectious canine hepatitis), and Herpes (Infectious Bovine Rhinotracheitis).
2Based on testing by Intertek using a Normal Course: 1) Removes 99% of odour-causing gases (Iso-Valeric acid: sweat, 4-Ethenyl pyridine: tobacco, Valeraldehyde: roasting meat, and Tetrachloroethylene: dry cleaning), 2) Removes 99% of harmful substances (Perchloroethylene).
Remove dust and odours from inside and outside your clothes
JetAir and AirHanger
Refresh your clothes between washes from the comfort of home. The AirHanger is uniquely designed with a hollow center to allow powerful jets of air to pass through both the inside and outside of your clothes.
This enhanced circulation allows engrained dust and dirt to be loosened and effectively removed, with less vibration and noise*.

*Based on internal testing, with a Noise Rating of 42.8 dB in normal mode and 37.8 dB in Silent mode, using the max LEQ sound level from the front, lateral and rear sides. Testing was conducted in an anechoic room at a distance of 1.0m from the product. Results may vary depending on the actual usage situation.
Eliminate odours and keep clothes fresh
Deodorising Filter
The built-in deodorising filter eliminates 99% of common odours that linger on clothes, preventing them from building up. Common odours include those caused by sweat, smoke, tobacco, food, roasting meat and other musty odours*.
*Based on testing by Intertek: Eliminates 99% of Iso-Valeric acid: sweat, 4-Ethenyl pyridine: tobacco, Valeraldehyde: roasting meat, and Tetrachloroethylene: dry cleaning. Testing for Iso-Valeric acid and 4-Ethenyl pyridine based on KS K0891 Standard. Results may vary depending on the actual usage conditions
Refresh your clothes with your favourite scent
Fresh Finish™
Freshen up your clothes by inserting your preferred scented sheet into the built-in Fresh Finish™ compartment*.

*Dryer Sheets not provided. Scent strength may differ based on dryer sheet used. Scent may remain inside AirDresser after cycle is complete. Discard dryer sheets after each cycle to prevent mould growth.
Stylish and Slim Design
Elegant Mirror Finish
Its simple interface, slim design and mirror finish can easily fit and complete the modern and minimalist design of any room in your home.
Self Clean
Maintain the AirDresser and keep it hygienic and at its best performance via the Self Clean function. Using heat, air and steam, Self Clean dehumidifies, sanitises, and deodorises within, without the need for harsh or costly detergent. Be notified when cleaning is required after 40 cycles.
Dehumidify
Convert the versatile AirDresser into a Dehumidifier and keep your living space refreshed with less humidity too. With the door open, Dehumidification function draws air from the room and removes excess moisture from it.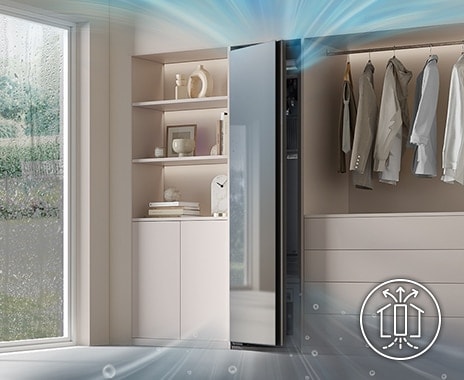 Descale
Maintenance is simple as the AirDresser will notify you when descaling is required. Add a descaling agent* into the Refill tank and start descaling to prevent limestone accumulation within the internal water circulation system.
*Descaling agent not provided. Refer to manual for further care instructions.
INTELLIGENT CARE
AI Control
Caring for your clothes is hassle-free and personalised with the intelligent AI Control. AI Pattern learns and memorises your frequently used cycles1, and suggests these courses and settings first to save you the hassle of reselection. Additionally, with Auto Cycle Link2 enabled, the AirDresser would recommend the most appropriate drying course once a wash cycle from your compatible washing machine ends.
1Stores user data, preferences and usage patterns to suggest the most useful options.
2Auto Cycle Link is only available when both the AirDresser and Washing Machine have Wi-Fi connected and are registered on the SmartThings App. A Wi-Fi connection is required at all times.
Gentle and optimised drying
Heatpump Technology and AI Dry
With Heatpump Technology, enjoy gentle, low-heat drying which prevents clothes from damage and shrinkage. Together with JetAir, internal circulation is optimised and clothes can be dried evenly. Additionally, enjoy faster drying with AI Dry technology. A Humidity Sensor continuously senses the humidity of clothes and intelligently reduces drying time accordingly.

Control from anywhere, anytime
Wi-Fi® Smart Control*
With the SmartThings App, remotely start, pause, receive notifications and get cycle recommendations right on your phone so you can care for your clothes from anywhere
*Requires installation of SmartThings App on compatible Android or iOS device, with Android 6.0 and higher or iOS 10.0 and higher, and Wi-Fi® connectivity to the mobile device. SmartThings App is available on Android and iOS devices. A Wi-Fi® connection and a Samsung account are required.
How to measure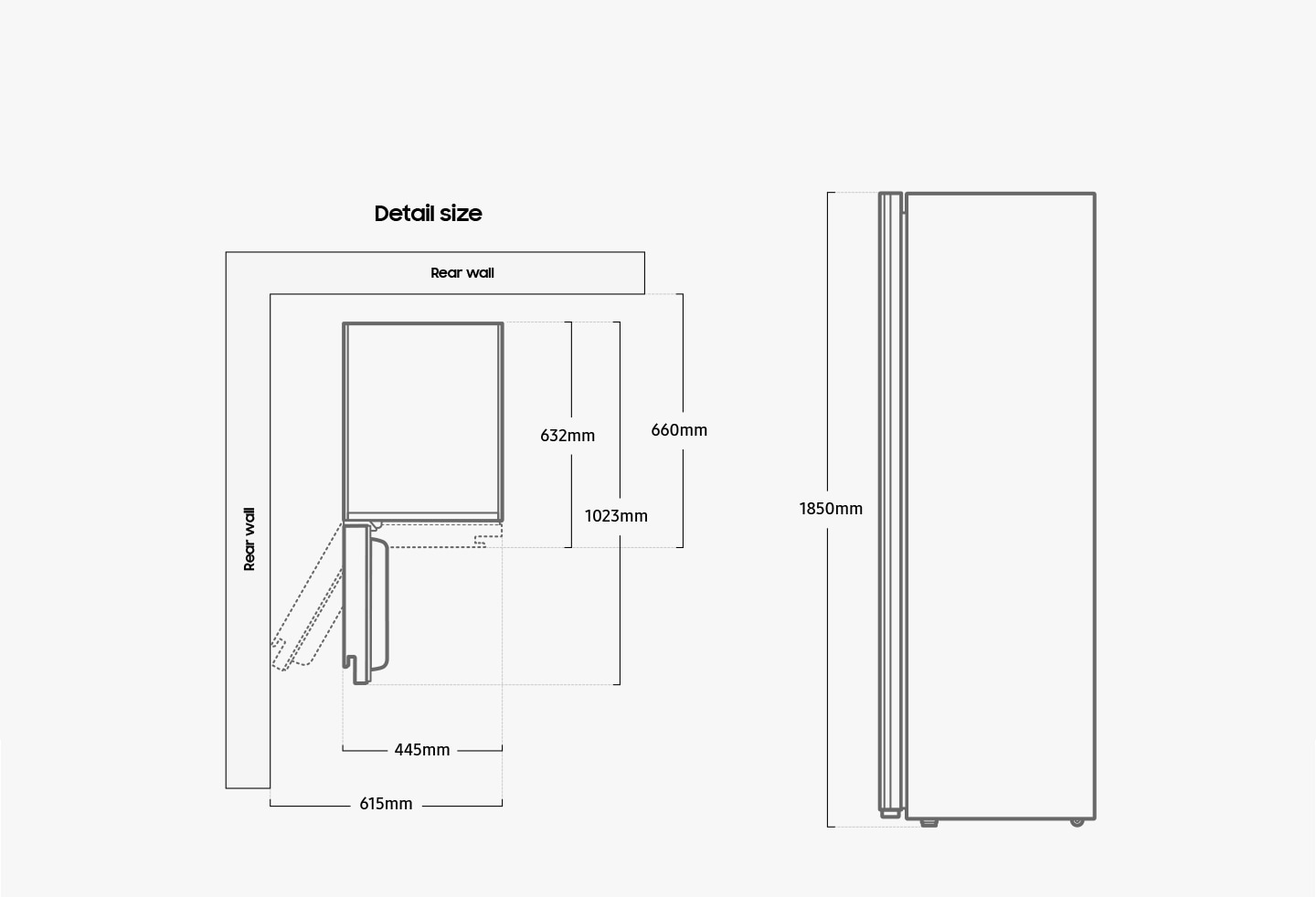 SPECIFICATIONS
Drying Capacity
Jacket 3 + Pants 3
Door
Crystal Mirror
Panel Display
Touch + LCD
Motor Spec (HP)
Digital Inverter Motor
Compressor
Digital Inverter Compressor
Features

AI Pattern 
Auto Cycle Link 
JetSteam 
Deodorizing Filter 
Heatpump Drying 
AI Dry 
Humidity Sensor
Descaling
Keep Fresh 
Wrinkle Care 
Smart Control 
Child Lock 
Delay End 
AirHanger: 3 
Pant Clipper: 3 
Shelf  
Fresh Finish 
Smart Things 
My Closet 

Cycle

Outdoor
Option List: Sanitize, Delay End, Child Lock
Sanitise Cycle:  Babywear, Bedding, Toys, Mask Sanitise, School Wear, Denim
Clothing Care: Daily Care, Quick, Wool/ Knit, Down Jackets, Winter Coat, Blouses, Fur/ Leather
Drying Cycle: AI Dry, Quick, Delicates, Blouses, Down Jackets, Time Dry, Room Care
Accessories
Self Clean

Net Dimension (WxHxD)
445 x 1850 x 632 mm
Gross Dimension (WxHxD)
529 x 1940 x 775 mm
Net Weight
85 kg
Gross Weight
92 kg
---
CUSTOMER REVIEWS