---
BW-DX105FJ 10.5/5.5KG TOP LOAD WASHER DRYER
2 years warranty by Hitachi (2nd year excludes transport)
We try our best to provide accurate product information from the manufacturer's or agent's website. However, the information on this page may change without notice, and it may not be accurate if there are specification changes. We recommend checking the manufacturer's site for the latest specs and information.

-

While all items available for online purchase can be added to your cart, we cannot guarantee their availability at the time of order processing.

In case we are unable to fulfill your order, we will get in touch with you to provide an alternative option or arrange a full refund.

-

If your product is eligible for warranty, you can find its registration link here.
FEATURES
Our Washing Machines are Made in Japan
And Stocked with Innovative Features
Laundry Automated, is Laundry Simplified
Harnessing the best of Hitachi technology, Hitachi's washing machines are equipped with perpetually innovative features that ensure an effortless washing experience. From its Auto Dosing System that measures the proper amount of detergent and fabric softener needed, to its AI Wash sensing that smartly adjust wash methods and operating time based on the laundry conditions.
With Hitachi, you've got it made.
Optimal Washing with 8 Smart Sensing
AI Wash
Efficient washing and clean results without the need for troublesome setting. The washing method and operating time are automatically determined according to various washing conditions such as the type of detergent, the textile of the laundry items, etc.
Automatically extends the washing time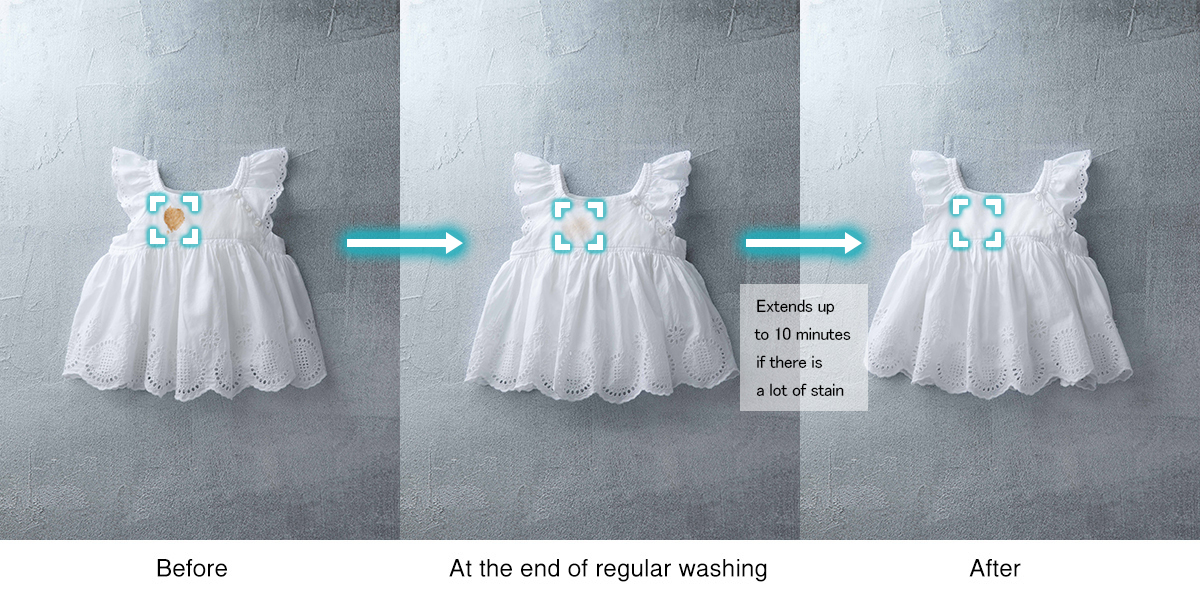 * Stain: Ketchup / Cotton 100%. Tested by Hitachi. Test Model : BW-DV100E (equivalent model to BW-DX105FJ) / Washing 6.0 kg (60% load). Compare clothes after spinning. The effect depends on the type and amount of stain.
AI Wash Sensing for Smarter Laundry Days
AI Wash automatically determines the washing method and time depending on various washing conditions.
You can do your laundry smartly and cleanly without detailed settings required.

Amount of Clothes: Set the appropriate water level according to the amount of clothes.*1
Water Hardness / Water Temperature: Display the reduced the amount of detergent when the water hardness is low and the water temperature is high.*2 The washing time is shortened, too.
Detergent: Change washing control suitable for liquid detergent or powder detergent.*1,3
Stain Level: Extend the washing time when there are a lot of stain. (Maximum 10 minutes.)*4
Textile: Reduce the amount of water by sensing synthetics.
Rinse Condition: Reduce rinsing time by sensing the rinsed condition.
Spin Condition: Reduce spinning time according to the remaining amount of water.
Gentle Care for Your Favourite Clothes
Gentle Program
Clothes are washed gently using centrifugal force and spin at a low speed.

Recommended for the marks below:
Quickly Wash and Dry the Clothes You Need within the Day
Speedy Program
When you're short of time, wash and dry laundry quickly and easily within the day - even just for one person - such as activewear and daily towels.
Approx. 10 minutes: Wash / 1.5kg*1
Approx. 98 minute: Wash & Dry / 1.5kg*2
*1 The upper limit of washing capacity and its operating time are: 5kg, approx.24 minutes.
*2 The upper limit of washing and drying capacity and its operating time are: 2.5kg, approx.128 minutes.
Low Temperature Drying Suppresses Shrinkage
Low Temp Dry Program

Gently dries clothes, suppressing shrinkage and deformation due to the heat.
Clothes Temperature: Approx. 65℃*1
* Clothes 3kg or less.
* Compared to the Normal program, the amount of water used, and operating time will increase.
* Tested by Hitachi. Test Model: BW-DV100E (equivalent model to BW-DX105FJ)Wash & Dry 3kg. The finish depends on the amount, material of the clothes and the type of things that are dried together.
*1 Tested by Hitachi. Wash and dry. Measure by attaching a temperature sensor to the test cloth specified in
The Japan Electrical Manufacturers' Association. The clothes temperature when drying may change depends on the materials of clothes.
Hygienic Washing Tub for Your Precious Clothes
Auto Self Clean
Every time you do your laundry, the washing machine automatically cleans itself. So you can always enjoy washing in clean tub.
* Required additional water use of 6L and time approx. 4 minutes.
Translucent Sliding Lint Filter
Easily check the amount of lint accumulated from the washing tub and dispose them without touching by sliding the lint filter.
The lint filter can also be easily cleaned with water.

* The effect may differ depending on the lint sticking condition of the filter.
*1 The images are illustrative purposes only.
SPECIFICATIONS
Colour
Champagne
Capacity (Dry Clothes Weight, kg)
Washing
10.5
Drying
5.5
Standard Water Consumption (L)
Washing
103 (Normal Program)
Washing & Drying
126 (Normal Program)
Auto Dosing System
Liquid Detergent & Fabric Softener
Normal / Speedy / Favorite / Delicate / Blanket / Low Temp Dry /
Mites Removal / Gentle (Fabric Softener only)
Program
Wash
Normal / Eco / Speedy / Favorite / Delicate / Gentle / Blanket /
Mites Removal / Tub Wash
Wash Dry
Normal / Speedy / Favorite / Blanket / Low Temp Dry
Dry
Normal / Gentle / Low Temp Dry / Hygiene / Tub Dry
Technologies & Features
Washing
AI Wash
Auto Dosing System
Ultra-Stream Wash
Hot Mist
Spinning
Warm Air (Tangle-Free Finish)
Rinsing
Ultra-Stream Rinse
Drying
Water Cooling Dehumidification
Hygiene
Auto Self Clean
Filter
Translucent Sliding Lint Filter
Washing Tub
Stainless Steel
Main Motor
DD Inverter
Max. Spin Speed (rpm)
850 (1,000 Washing & Drying)
Rated Power Consumption (W)
Washing
450
Drying
1,010
Rated Voltage (V) & Frequency (Hz)
AC220-240 & 50
Dimensions (WxDxH, mm)
610 x 660 x 1,105
Weight (Net / Gross, kg)
55 / 60
◎Specifications and designs are subject to change without notice.
◎Colour tone of actual products may differ from those shown in this website.