---
BES920 THE DUAL BOILER ESPRESSO COFFEE MACHINE
1 year warranty by Breville
We try our best to provide accurate product information from the manufacturer's or agent's website. However, the information on this page may change without notice, and it may not be accurate if there are specification changes. We recommend checking the manufacturer's site for the latest specs and information.

-

While all items available for online purchase can be added to your cart, we cannot guarantee their availability at the time of order processing.

In case we are unable to fulfill your order, we will get in touch with you to provide an alternative option or arrange a full refund.

-

If your product is eligible for warranty, you can find its registration link here.
The barista's choice for home espresso.
At the heart of this machine is a dual boiler heating system. The boiler, for the espresso shot, is PID temperature controlled, while a separate steam boiler offers instant and powerful steam on demand. So you can extract your shot at the right temperature, delivering optimal flavor, while simultaneously steaming your milk.
Experience third wave specialty coffee at home, made possible by the 4 keys formula
Our espresso machines are designed to use the right dose of freshly ground beans, ensure precise temperature control, optimal water pressure and create true microfoam milk essential for latte art. You're only a touch away from getting the 4 keys formula used by professional cafe machines.

The Dual Boiler heating system delivers simultaneous extraction & steam and a heated group head
The stainless steel boilers and heated group head are controlled with PID temperature control to bring water to the precise temperature to extract maximum flavor potential, shot after shot.
Professional 58 mm stainless steel portafilter holds a 22g dose with Dual & Single wall filter included
Full bodied coffee with rich and complex flavors is created using the ideal dose of 22g of freshly ground beans delivered by a professional style 58mm stainless steel portafilter.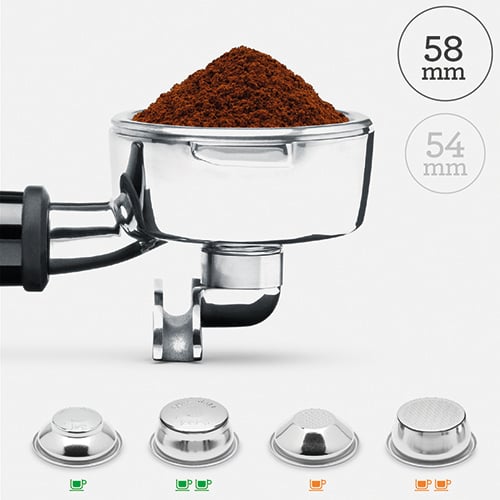 Low pressure pre-infusion followed by 9 bar extraction
An opulent, creamy and caramel colored espresso starts with low pressure pre-infusions, followed by a high pressure (9 bar) extraction process delivered via our 15 bar Italian pump.
Manual hand-crafted microfoam
Our powerful steam wands are designed to quickly turn milk into smooth microfoam with a delicious silky texture, ready for pouring latte art.
Get your perfect extraction with volumetric or timed shot control
Choose between 1 & 2 shot, or manual control over how much espresso ends up in your cup for the perfect shot every time.
Intuitive LCD screen & Pressure gauge for precise control
Displays all the information you need to deliver the perfect espresso extraction.
SPECIFICATIONS
Capacity
Water Tank Capacity - 84 oz

Brewing System

Professional dual-boiler construction
PID Temperature Control
This commercial feature limits the maximum pressure throughout the extraction, preventing bitter flavors in the shot
Dual 15 bar Italian made pumps allow simultaneous milk texturing and espresso extraction
1. Dedicated steam boiler with integrated Heat Exchange aids thermal stability
2. Dedicated espresso boiler with Digital PID control delivers precise water temperature
3. Heated group head–PID controlled embedded element maintains thermal stability
Shot Control
Espresso shot clock displays shot duration as a guide to extraction consistency
Interface
LCD Screen & Button control
Easily Customizable Settings
Portafilter
Commercial grade 58mm portafilter
Group Head
Heated Grouphead for brew temp control
Tamping
Manual removable magnetic tamper
Pressure Gauge
Extraction Feedback
Milk Texturing
Powerful manual milk texturing
Settings
Manual or Automatic
Single & Double Shot
Personalized Temperature

Accessories

58mm Razor Dosing tool. 58mm Stainless Steel Portafilter. 1cup & 2cup Single and Dual Wall Filter Baskets. Integrated Tamper. 16oz Stainless Steel Milk Jug. Cleaning Kit. Water Hardness Test Strip. Water Filter Holder and Water Filter
Power
1700 Watts
Voltage
110–120 Volts
Dimensions (WxDxH)
15.9" x 14.7" x 14.9"