---
AMF765 2-IN-1 AIR PURIFIER & FAN
2 years warranty by Philips
We try our best to provide accurate product information from the manufacturer's or agent's website. However, the information on this page may change without notice, and it may not be accurate if there are specification changes. We recommend checking the manufacturer's site for the latest specs and information.

-

While all items available for online purchase can be added to your cart, we cannot guarantee their availability at the time of order processing.

In case we are unable to fulfill your order, we will get in touch with you to provide an alternative option or arrange a full refund.

-

If your product is eligible for warranty, you can find its registration link here.
Our smartest 2-in-1 Air Purifier
Air Performer cleans the air thoroughly and cools you when needed. It removes 99.97% of all unseen particles and automatically adapts its powerful performance to your needs. Pure and fresh air all year round, adapted to you.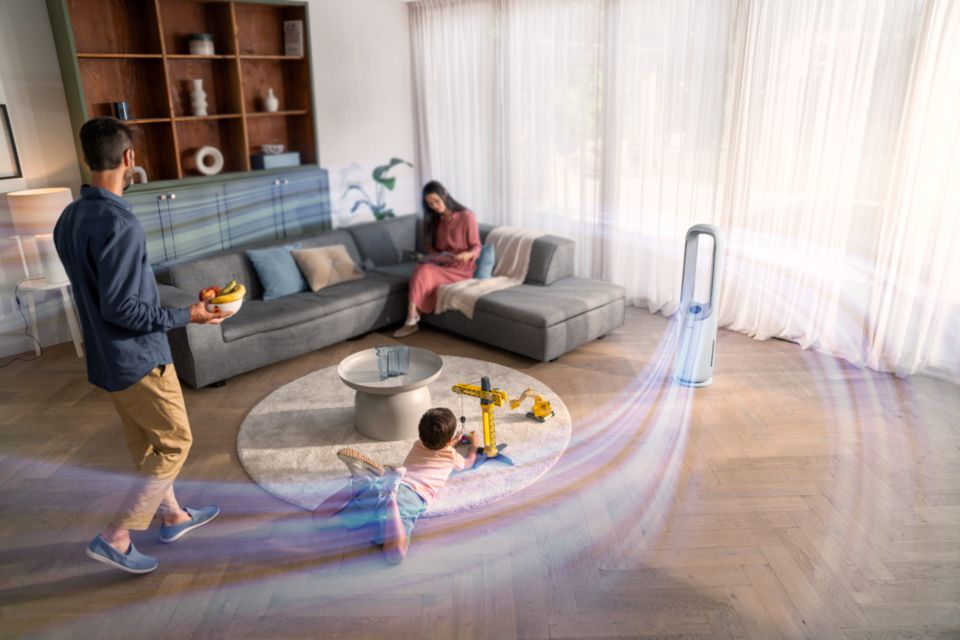 FEATURES

Thoroughly purifies large rooms up to 70 m2
It distributes powerful clean airflow to every corner of the room at a CADR (Clean Air Delivery Rate) of 270 m3/h(1), thoroughly purifying rooms up to 70 m2(2) to protect you from bacteria, virus, pollen, dust, pet dander, dust mites, mold spores, harmful gases, odors and other pollutants.
Eliminates 99.97% of all unseen particles from the air(3)
Only Philips Air Purifiers have NanoProtect HEPA filtration with active carbon and pre-filter to remove 99.97% of particles as small as 0.003 microns(3). NanoProtect HEPA technology not only traps pollutants, but also uses an electrostatic charge to attract them, cleaning up to 2X more air than traditional HEPA H13 filtration, with higher energy efficiency(4).
Cools you down with powerful clean airflow
Cools you with powerful clean airflow that feels natural and pleasant. With adjustable airflow rotation of up to 350 degrees, it will reach everywhere. Thanks to its bladeless design, it does not blow gusts of air, creating a consistent stream of fan airflow up to 1730 m3/h, fully customizable with 10 speeds to suit your comfort needs.
Automatically senses and adapts for best results
World's first Air Purifier to use Artificial Intelligence (AI) technology to automatically clean the air and cool you down when you need it. Philips Self Adaptive technology with AI does not only sense the air quality but also analyzes outdoor data, room size and usage patterns to maximize performance while minimizing noise and energy consumption. (9)
Real-time air quality feedback with smart AeraSense sensors
Smart AeraSense sensors continually scan the air and report in real-time, immediately reacting to any increase in pollution to improve your air quality. Check your purifiers digital display or app to track ultra-fine pollutants (PM2.5), temperature and humidity.
Sleep mode with ultra-quiet operation
In sleep mode, it is quieter than a whisper with only 20 dB(A)(5) of noise level. Its light sensor detects when it is dark, turning the lights off automatically. In auto mode, it keeps noise levels to a minimum as it learns when it needs to perform or when it needs to be quiet.
Energy-efficient design
Thanks to its energy-efficient design, it uses 40 W to purify the air, less than a traditional light bulb. In auto mode, the motor only runs when and for as long as needed, prolonging filter lifetime whilst saving energy.
The Philips Air+ app: your smart, clean air solution
Air+ app provides a smart experience that ensures you breathe clean and healthy air. The app tracks indoor and outdoor air quality in real-time and keeps you in control, at home or away, with a digital remote, a smart scheduler and hands-free via Alexa and Google Home(6)
Fully adjustable airflow for cooling or air circulation
Dual Flow technology lets you adjust the device to suit your comfort needs. Set it up for direct airflow projection to cool you down when you need it, or diffused airflow for optimal air circulation. Fully customizable with 10 speed levels, turbo, sleep and auto modes.
Removes up to 99.99% of viruses from the air(7)
Virtually nothing escapes VitaShield except purer, cleaner air. VitaShield technology captures aerosols, germs and particles as small as 0.003 microns, smaller than the smallest known virus. Tested independently by Airmid health-group to remove viruses from the air. Also tested to remove 99.99% of coronavirus(7).
Thoroughly tested for durability and quality.
When choosing Philips, you choose for a trusted brand with more than 80 years of experience and innovation in air care and health tech. Philips Air Purifiers go through 170 mandatory and strict inspection tests before they are released from our factory. This Air Purifier is certified by the European Centre for Allergy Research Foundation.

SPECIFICATION
CADR (Particle, GB/T)
270 m3/h(1)
Fan airflow
Up to 1730 m3/h
Room size (NRCC)
up to 70 m2(2)
Particle filtration
99.97% at 0.003 microns(3)
Allergens filtration
99.97% (8)
Virus & aerosol filtration
99.99%(7)
Filtration
Pre-filter, 

HEPA, Active Carbon

Functions
Circulation, Fan
Min. sound level (Sleep mode)
20 dB(5)
Max. sound level (Turbo mode)
47 dB(5)
Cord length
1.8m white
Usability
Timer & scheduler, Child Lock, Remote Control included
Oscillation
Up to 350°
Artificial Intelligence (AI)
Artificial Intelligence (AI)
Sensors & Display
AeraSense technology, PM2.5, Temperature, Humidity, Light sensor
Air quality feedback


Modes

Auto, Sleep, Turbo, 10 manual speed settings


Connectivity

App, connects via Wi-Fi (Air+)

iPhone and Android devices compatible

Voice control

Alexa, Google Home(6)

Voltage

220-240V

Remote battery (CR2032)

Yes

Max Fan Power Consumption

40W

Product weight

7,30 Kg

Product dimensions (L*W*H)

26,2x25,6x106,2 cm

Recommended filter change

12months(1)

Replacement filter

FYM860
(1)The recommended service life for the device is based on a theoretical calculation of the average annual regional values of harmful air particles outdoors and daily use of the air purifier for 16 hours in automatic mode.
(2)Calculated according to NRCC-54013 test standard, using cigarette smoke CADR tested according to GB/T18801-2015.
(3)From the air that passes through the filter, tested with NaCl aerosol by a 3rd party laboratory.
(4)Philips air purifiers have higher Clean Air Delivery Rate and energy efficiency with a NanoProtect HEPA filter than with a HEPA H13 filter, tested to GB/T 18801.
(5)The average sound level, based on GB/T4214.1-2017 (IEC 60704-1 - 2020, MOD). The sound level may change due to the conditions in your room and the location of the device.
(6)Alexa and Google Home availability depends on your location.
(7)From the air that passes through the filter. Microbial reduction rate test at external lab, appliance running in turbo mode for 1.5h in a test chamber contaminated with human coronavirus (HCOV-229E) aerosols.
(8)From the air that passes through the filter, tested by third party lab OFI using house dust mite, birch pollen, cat allergens and fungal spores
(9)Use of Artificial Intelligence (AI) in your appliance requires connection to the Air+ app via Wi-Fi.