---
RB33T3070AP/SS 328L 2-DOOR FRIDGE / FREE GIFT REDEEM FROM SAMSUNG
2 years warranty by Samsung
We try our best to provide accurate product information from the manufacturer's or agent's website. However, the information on this page may change without notice, and it may not be accurate if there are specification changes. We recommend checking the manufacturer's site for the latest specs and information.

-

While all items available for online purchase can be added to your cart, we cannot guarantee their availability at the time of order processing.

In case we are unable to fulfill your order, we will get in touch with you to provide an alternative option or arrange a full refund.

-

If your product is eligible for warranty, you can find its registration link here.

FEATURES
Built to suit your lifestyle
Flexibly combine & configure modules
Design your ideal refrigerator space with BESPOKE – use it as a standalone or if you want more space, you can combine it with one or more BESPOKE units. Choose between a 1-Door Fridge, Bottom Mount Freezer or even a 4-Door Flex and combine them in any permutations as you wish. Seamlessly integrate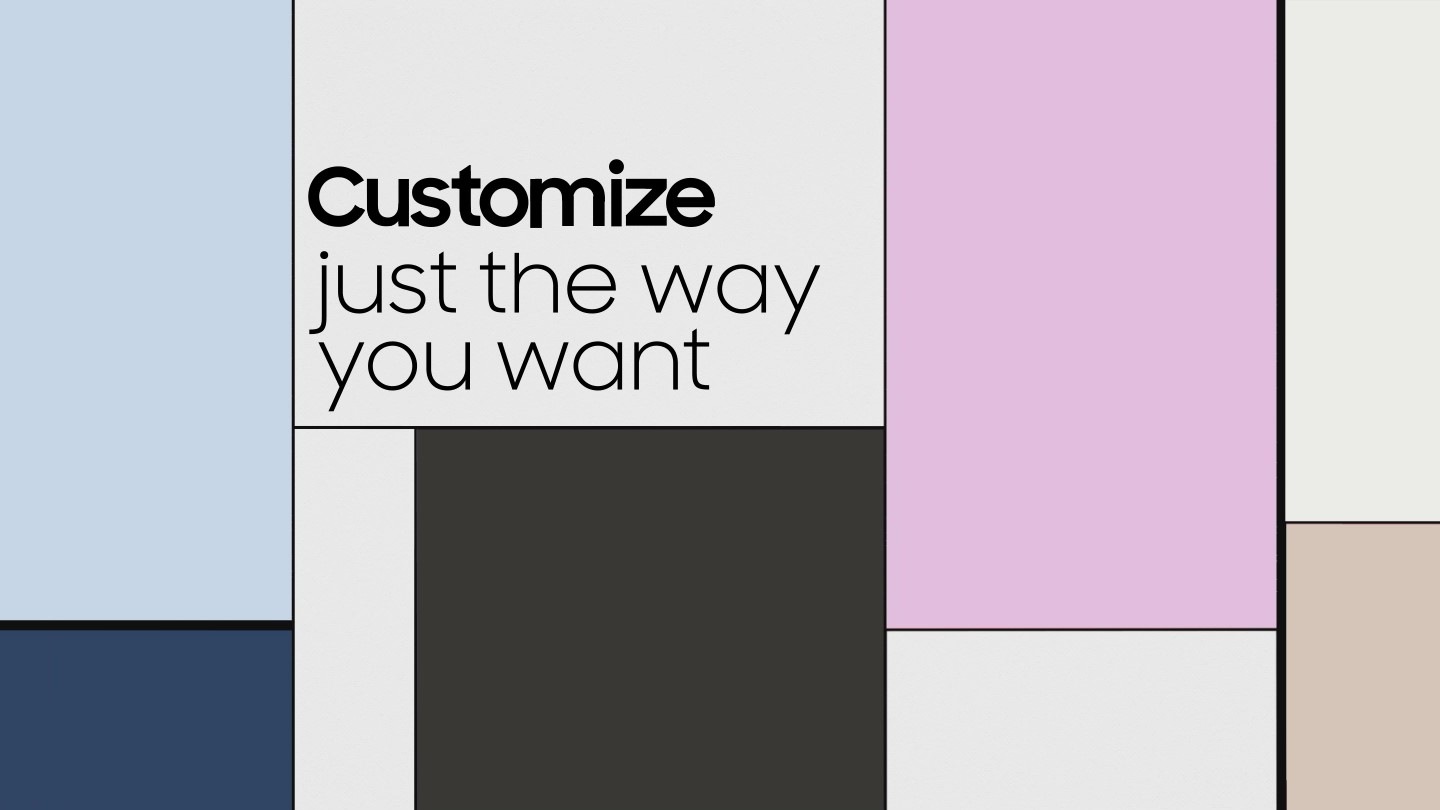 Design your own fridge your own way
Customisable Design
Make your kitchen more you. With custom coloured fridge panels and a varied choice of finishes*, it's easy to express yourself and your taste with a BESPOKE refrigerator. No longer compromise on style and see your BESPOKE fridge seamlessly blend in with your kitchen. From Glam White to Satin Sky Blue, you can now choose the perfect fridge door colour for you**. Satin – Soft & Silky glass, Glam – Glossy glass.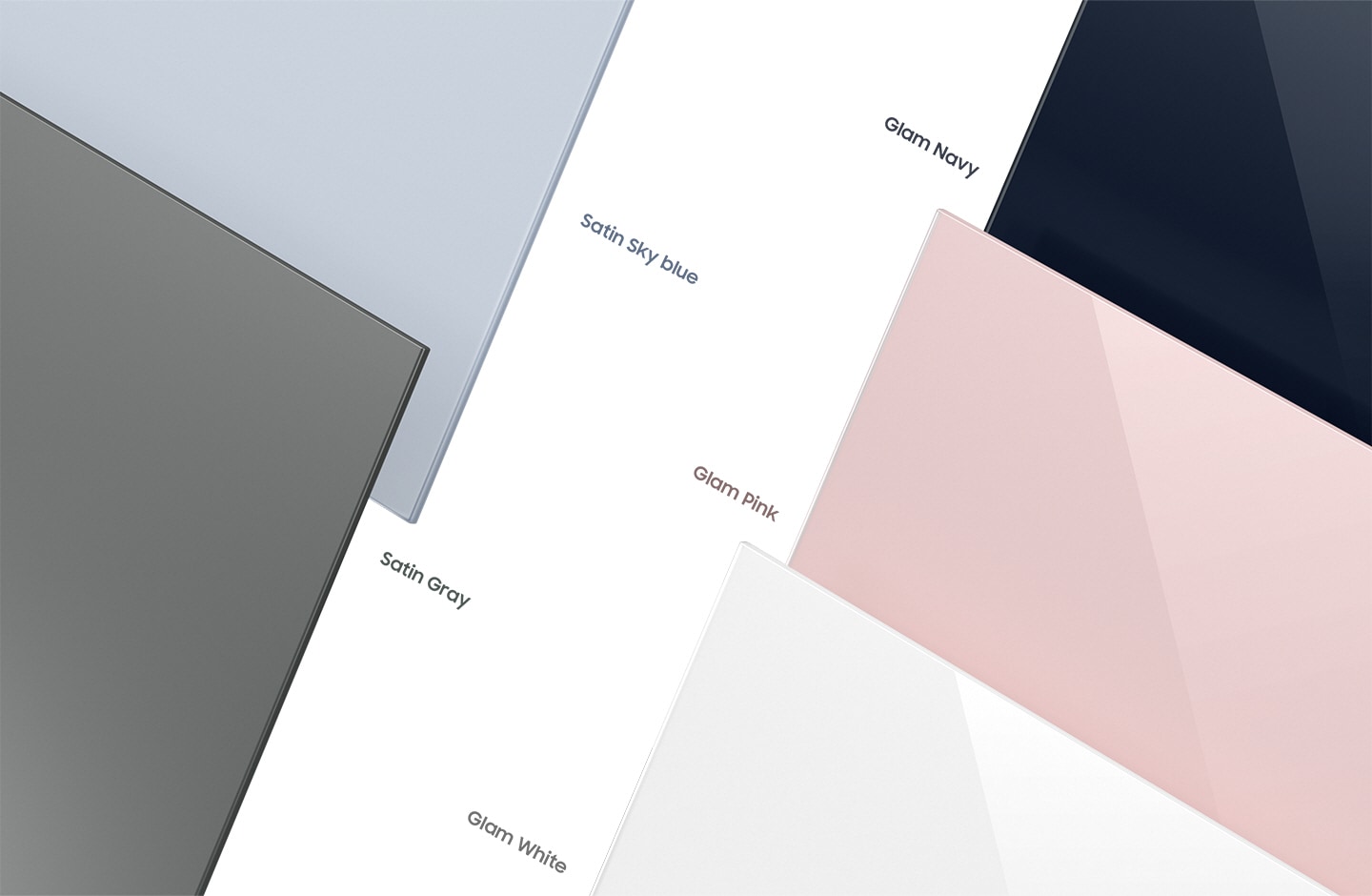 Above images are only for demonstration purposes. Pairing kit RA-C07KAAGG is required to pair two BESPOKE units. Two pairing kits will be required to combine three BESPOKE units. BESPOKE colours vary by region.
Fits perfectly into your kitchen
Customised Fit
Make sure that your refrigerator fits perfectly into your kitchen. Its standard depth will fully align with your cabinetry. This refrigerator can be installed as either a counter-depth style or a kitchen-fit style by aligning your kitchen cabinet.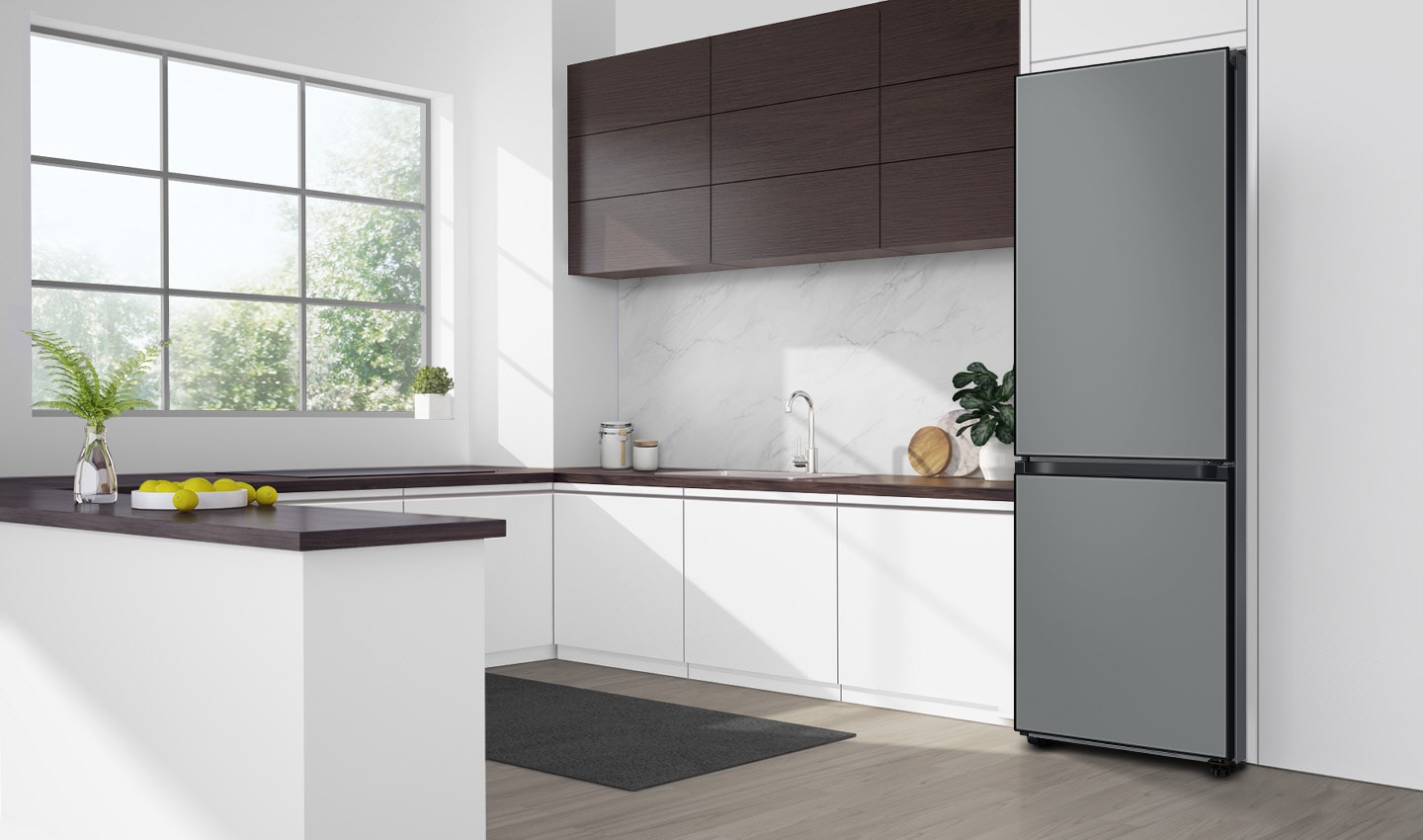 Above image is for Counter Depth demonstration purposes, there can be Kitchen fit design available in condition of over 700mm depth kitchen cabinet.
Fast cooling and freezing on demand
Power Cool / Power Freeze
Freeze or chill your food rapidly with the Power Freeze and Power Cool options. At the touch of a button, Power Cool blows intensely cold air into the fridge to quickly cool your groceries or favourite drinks. Power Freeze delivers a fast blast of cold air into the freezer, ideal for freezing or firming up frozen food and making ice.
Preserves food freshness for longer
All-Around Cooling
Make sure that all your food is properly cooled. All-Around Cooling cools each compartment evenly from corner to corner. It continually checks the temperature and circulates cool air through strategically placed vents. So food is kept at the optimum temperature and stays fresher for longer.
Metal Cooling feature is applied to specific models.
No More Frost & Ice Build-Up
No Frost Technology
Avoid wasting time defrosting the refrigerator. The No Frost Technology enhances the circulation of air to maintain a constant temperature in every corner of the refrigerator, which prevents the build-up of frost and ice. It also reaches the target temperature much faster*, increases the cooling system's durability, and avoids wasting power on defrosting.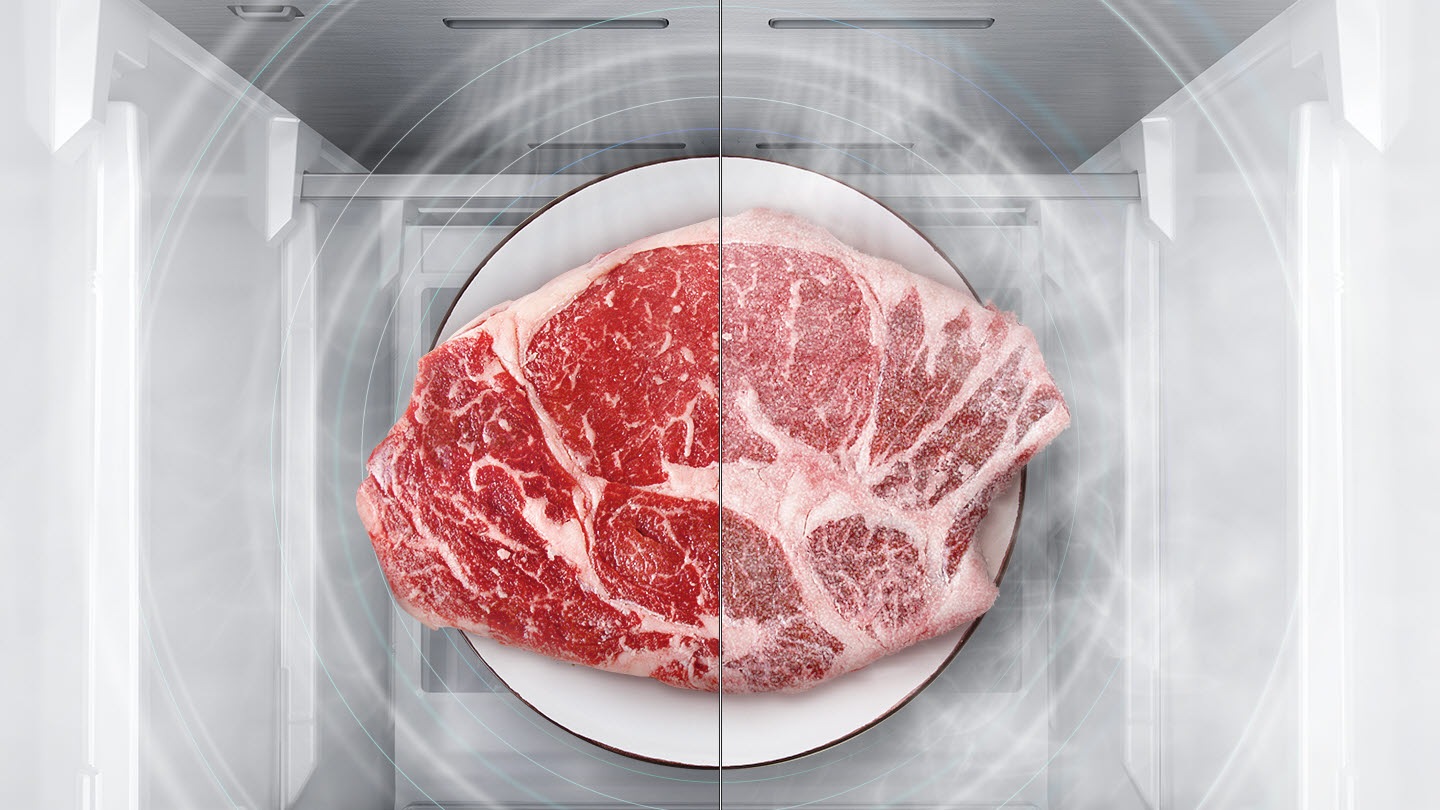 * Based on a comparison of the Samsung No frost refrigerator RB31FERNCWW and Frost refrigerator RL39THCTS. Individual results may vary depending on environmental factors and individual use.
Opens in whichever direction you want
Choose the direction that your fridge and freezer open with Reversible Doors. It means it is always ideal for your preferred kitchen layout. Each door can be reversed simply by changing the hinges over. Now you'll never have to worry about swinging the door into other cupboards or appliances.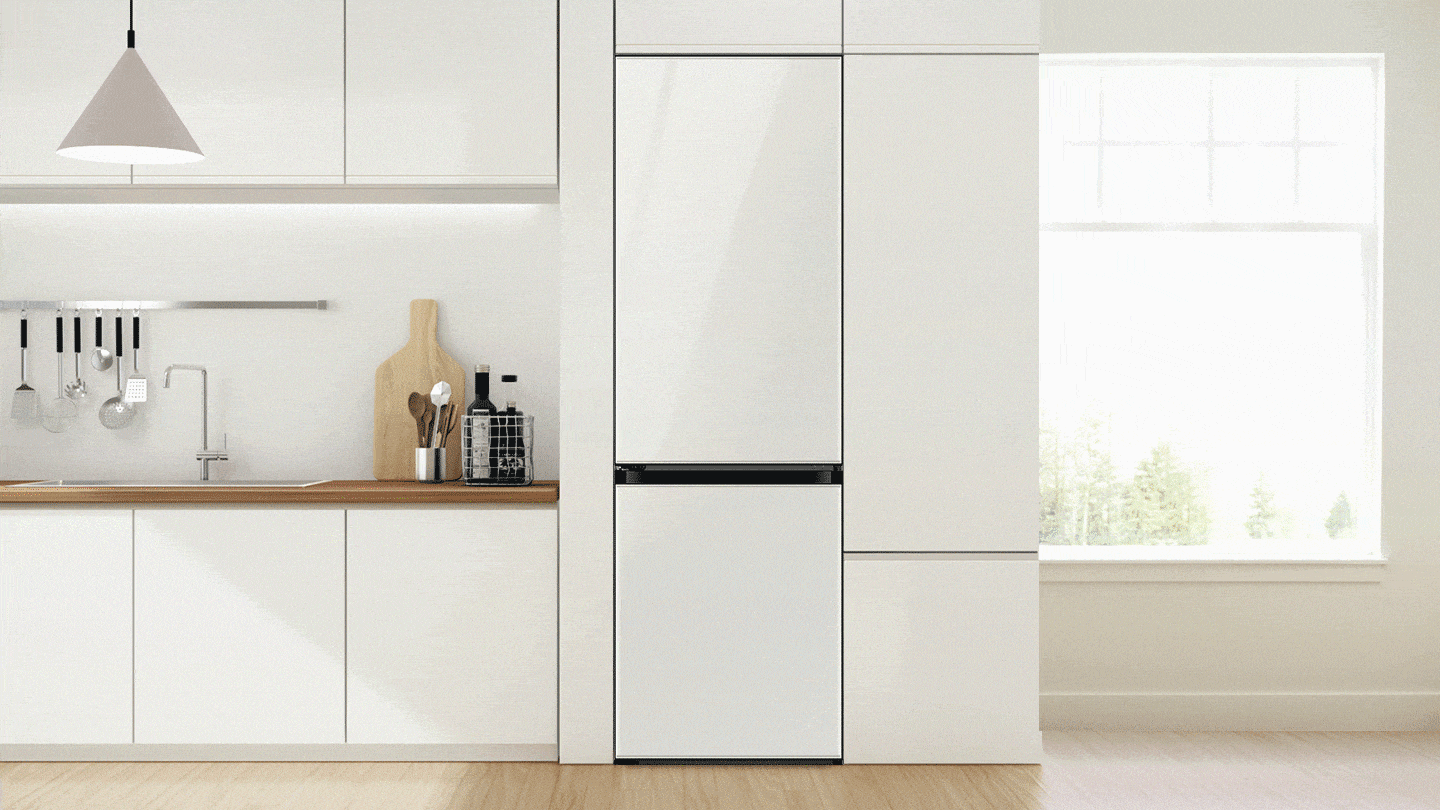 Any requirement to change the direction of door should be made prior to delivery. Additional charges may apply for subsequent door reversal request.
Locks in cold and seals in freshness
Metal Cooling
Keep food fresh, even if you often open and close the freezer door. A Metal Cooling plate in the rear wall helps to maintain consistent temperature throughout the refrigerator. It retains the cold and prevents the loss of cool air when the door is open. Plus, it quickly restores any heat loss when it's shut.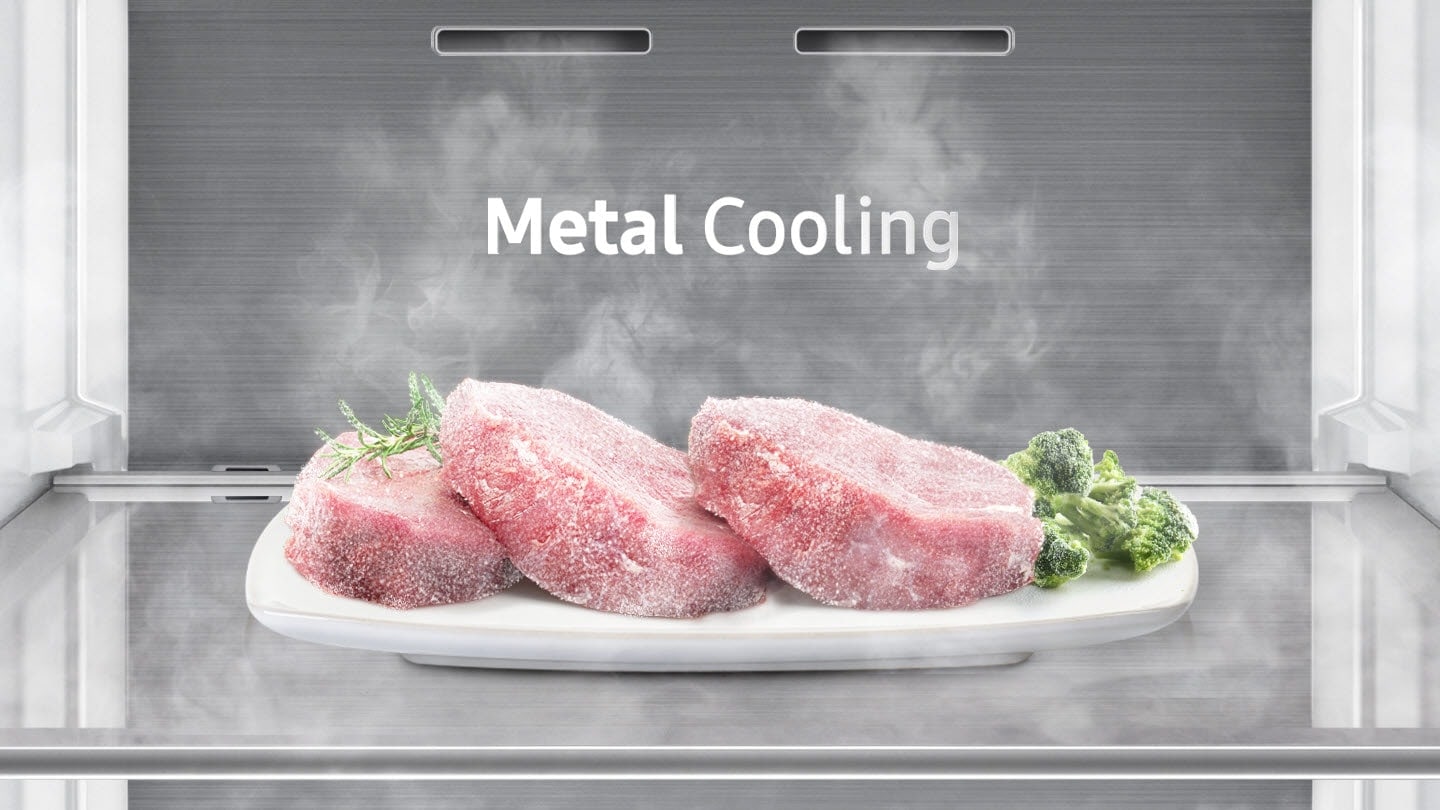 Modern and sleek to suit your style
Seamless and flat design
In need of a modern fridge? Add a touch of premium elegance that upgrades your kitchen. The minimalist flat streamlined doors will blend harmoniously with any modern kitchen interior and fit seamlessly with your existing furniture. Plus, it can be perfectly combined with other BESPOKE modules to create the appearance of one appliance.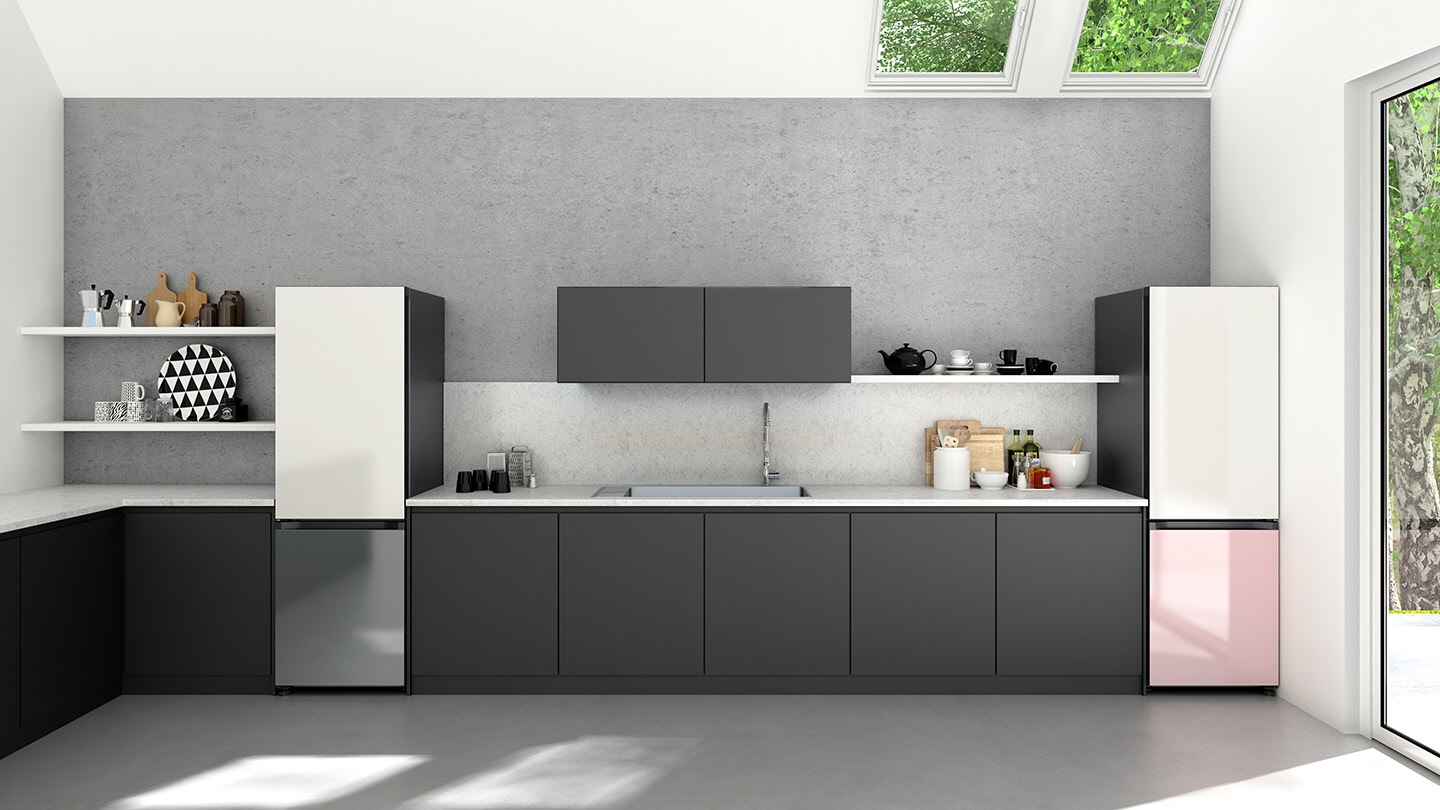 Above image is for only demonstration purposes.
Easily store & access food
Full Open Box
Store and access frozen food much more efficiently and conveniently. A spacious Full Open Box makes it easier to organise and remove a wide variety of items – even bulky foods, like a tub of ice cream. It slides out all the way for optimum use of space even if the door is only open 90 degrees.
Holds larger items and stores more
Big Guard
Keep the family happy with plenty of chilled beverages. A Big Guard shelf in the door makes it easy to store bulky containers of milk and fruit juice or big bottles, like water, soda and condiments. It also offers easy access storage for bottles up to 3 litres and two additional rows for cans.
Clearly see every corner with brighter light
LED Lighting
Find ingredients more easily, and save space and money with LED lighting. It's slimmer, brighter and more energy efficient than conventional lighting. It brilliantly illuminates every corner with a softer, more comfortable light, while creating more storage space and reducing electricity bills.
Seamlessly stylish, easy access controls
Hidden Display
Enjoy a stylish, but easy way to stay in control. The Hidden Display enhances the minimalist design of the front, so it blends into modern kitchens. The control panel is discreetly hidden inside, but easily accessible by opening the door, as the controls are at eye level and within arm's reach.
Works longer with optimised performance
Digital Inverter Technology
Enjoy greater energy efficiency and durability with a continually optimised performance. The Digital Inverter Compressor adjusts its speed in response to cooling demand. So it's much quieter, uses up to 50% less power*, backed up by a 10 year warranty**.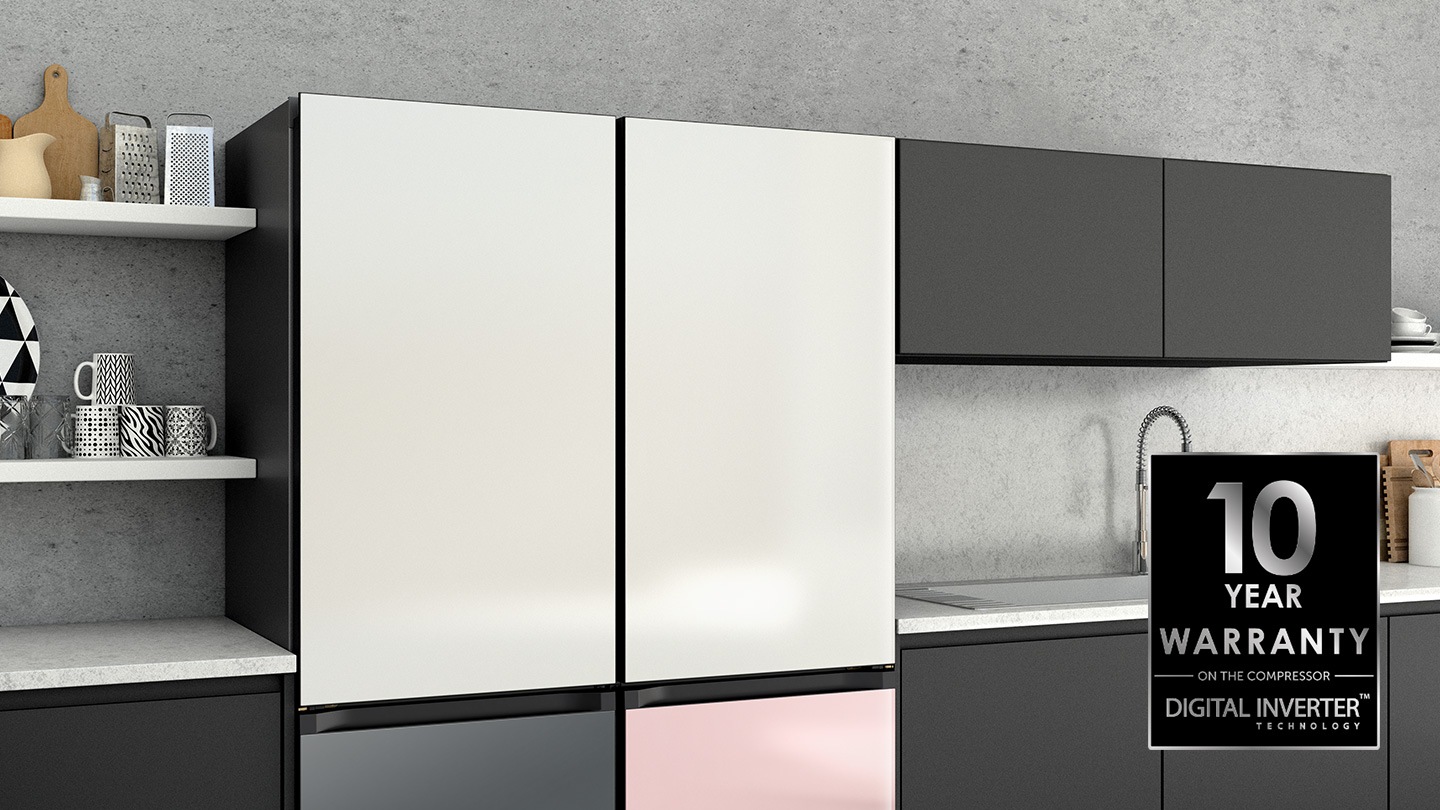 * Based on internal testing in accordance with the ISO 15502 standard.** 10 year warranty is limited to the compressor only.
All specifications provided herein may be different from the actual specifications. Images are for illustrations purposes only.
SPECIFICATIONS
CAPACITY (L)
Gross total

350 ℓ

Net for Freezer(Liter)

98 ℓ

Net for Fridge(Liter)
230 ℓ
Net total

328 ℓ
PHYSICAL SPECIFICATION
Net dimension
595*1853*669 mm
Net width

595 mm

Net case height with hinge
1853 mm

Net depth with door handle

669 mm

Packing width
654 mm
Packing height
1947 mm
Packing depth
702 mm
Net weight
74 kg
Packing weight
79 kg
COOLING FEATURE
No frost
Yes

Cooling type 
All-Around Cooling
FREEZER FEATURE
Number of Drawer
Yes
Power Freeze Function

Yes

Ice Tray

Yes
GENERAL FEATURE
Door Reversible

Yes

Door Alarm

Yes

Refrigerant
R-600a
Compressor
Digital Inverter Compressor
Cooling Cover

Metal Cooling Duct
EXTERIOR FEATURE
Display Type

Internal

Door Handle

Recess

Door Type
BESPOKE