Whirlpool WVMD1208AHG 12KG TOP LOAD WASHER (3 TICKS)
$1,299.00
Product Summary
6TH

 

SENSE Technology
6TH

 

SENSE Smart One Key
Warm Wash (Built-In Heater)
Auto Dosing System
Woolmark Apparel Care
Touch Control Panel
Soft Closing Glass Lid
2 years warranty
FEATURES
6TH SENSE
An Intelligent Wash for improved savings Whirlpool's 6TH SENSE Technology utilises intelligent sensors to automatically control resources usage for maximum efficiency every wash. These sensors also actively adjust the optimal drum speed based on the laundry load to ensure gentle but thorough cleaning.
Innovative, Intuitive and Intelligent
Weight
During spinning, intelligent sensors detect the weight of the load, ensuring clothes are evenly spread before adjusting the spin speed accordingly.
Temperature
During warm wash mode, water temperature is automatically measured and controlled for the perfect wash.
Soil Level
The sensors automatically sense soil level and degree of dirtiness to allocate the right amount of water for efficient and effective washing.
Speed
During washing and spinning, our state-of-the-art technology controls the speed of the revolving drum. The speed control is based on the load and program to maximise wash efficiency without compromising on laundry care.
Bubbles
After washing, sensors detect the amount of bubbles and allocate rinse cycles accordingly.
Water Level
Sensors allocate the amount of water to ensure optimum water level at all times.

The ZEN Direct Drive Inverter Motor
The Supreme Eco Top Load Washer's ZEN Direct Drive Inverter Motor connects directly to the tub to not only offer excellent sound management, but also deliver outstanding performance in laundry care. The tub movement and varying speed caters to various fabric types and laundry load, while ensuring efficient use of resources.
Benefits
Enjoy the Silence
With less vibration and less frictional noise, you enjoy peace, quiet and high energy savings.
Environmentally-Friendly Washing
Together with 6TH SENSE Technology, the ZEN Direct Drive Inverter Motor detects laundry load and provides an optimal control of motor speed ensuring efficient power usage. This results in minimal electricity wastage.
Reliability and Durability
With less vibration and more stability, the ZEN Direct Drive Inverter Motor is more durable and long-lasting, coming with a 10 years warranty for guaranteed reliability you can trust.
Hygiene Care
Performance you can trust, Cleanliness that will last
StainWash+
The StainWash+ feature heats water up to 45°C and removes up to 25 kinds of stubborn stains. It also effectively dissolves detergent for better wash performance. Additionally, the StainWash+ helps sterilize clothes and gets rid of allergens, making it especially suitable for sensitive skin prone to allergies or for washing baby clothes and linens.
Tub Clean
This feature ensures that dirt and stains are thoroughly removed from all corners of the washing machine, while preventing proliferation of bacterial growth.
Light on Resources Powerful
In Wash Performance
Spray Wash
Water is recirculated from the bottom of the tub to increase the utilization of water during the rinse cycle and further speeds up the detergent dissolution. This increases the washing and rinsing efficiency by 20% and provides an even wash performance while improving water conservation by 30%.
Super Soak
The ultra-sonic technology dissolves detergent quickly and thoroughly, while removing stains effortlessly. At 20,000 high-frequency vibrations per second, you can expect ultimate pre-wash efficiency and minimised water usage during the rinse cycle.
Variable Wave
With varying wash and rinse settings depending on the fabric material, the Variable Wave feature achieves a more effective wash performance with precise removal of stains and strong removal of dirt.
Style Meets Innovation and Design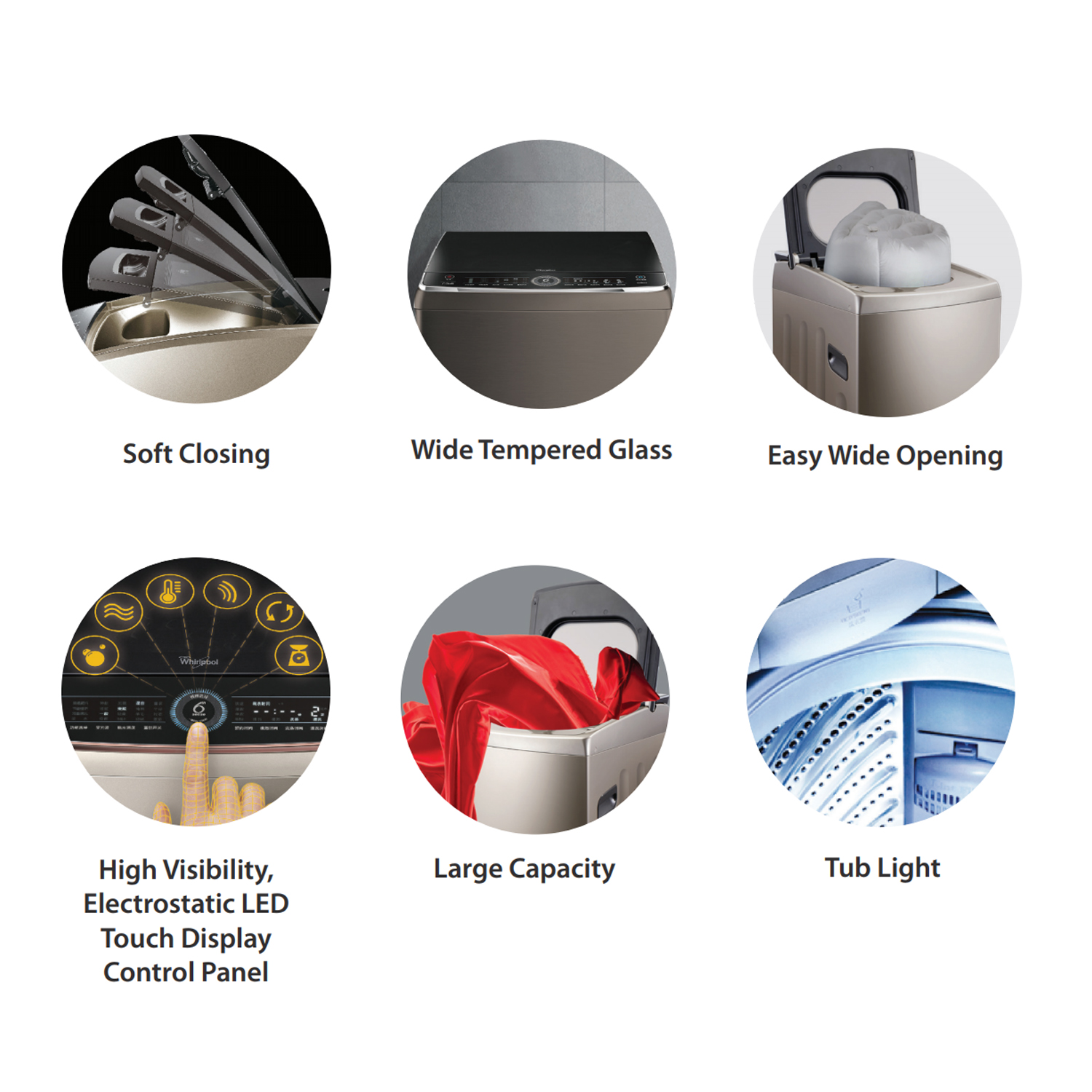 Convenience At Your Fingertips
Auto Dosing System
The machine automatically detects the optimum amount of detergent to be dispensed based on load, water level and soil level of your laundry. This prevents under or over dosing, and further protects both sensitive skin and the environment, saving up to 12 liters of detergent annually.
Eco Energy Saving Mode
This feature allows the machine to go into standby mode. All buttons are locked and the backlight automatically turns off 10 seconds after start up (excluding Child Lock and 6TH SENSE Smart slider).
SPECIFICATIONS
TECHNICAL
Product Dimension WxDxH (mm): 601 x 632 x 999
Maximum Capacity: 12 KG

ZEN Direct Drive Inverter
Water Efficiency Rating (Singapore WELS): 3 Ticks
FUNCTIONS
Super Soak
Spray Wash
Variable Wave
Extra Rinse Options
Variable Spin Speed
Eco Energy Saving Mode
Tub Clean
Child Lock
Delay Finish
Tub Light
PROGRAMS
Mix
Cotton
Wool
Down
Home Textiles
Quick Wash
Warm Wash
Rinse+Spin
Spin Dry
Tub Clean
---
CUSTOMER REVIEWS