Fisher & Paykel WH1260F2 12KG FRONT LOAD WASHER (3 TICKS)
$2,599.00
Product Summary
With 14 wash cycles including Sports, Allergy and Wool, with extra wash options such as Soak and Time Saver
ActiveIntelligence™ automatically optimises your cycle by adjusting the wash time and auto-dosing detergent to suit the level of soil
4.5 star water and energy rating
LCD display makes washing simple, guiding you when needed

2 years warranty on parts and labour / Parts only direct drive motor 10 years [

Click to Register

]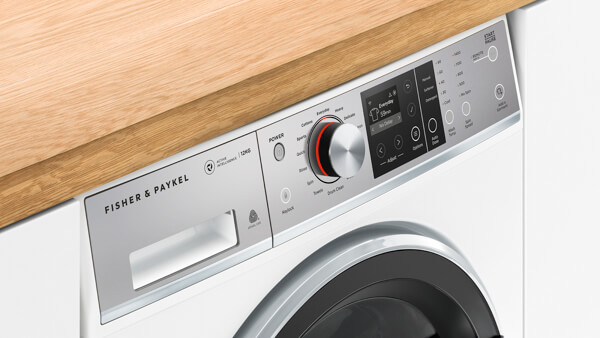 FEATURES
14 FABRIC CARE CYCLES
Intuitive controls with clever washing hints help you get the best results. Easy to use, the LCD display provides a simple interface to select from 14 wash cycles; including Wool, Allergy, and Quick 30. The specially designed cushioned drum provides a gentle, effective washing action protecting clothes while delivering an optimal wash performance.
ACTIVEINTELLIGENCE™ TECHNOLOGY
ActiveIntelligence™ Technology provides ideal wash conditions. Intelligent sensors determine load size and soil level before dispensing just the right amount of detergent and adjusting the wash time for optimal fabric care.
DETERGENT AUTO-DOSING
Auto-dose mode dispenses just the right amount of liquid detergent based on the size of your load, with the added convenience of not needing to fill the dispenser for every wash.
QUICK CYCLES
When time is short, you can select a quick 30 minute wash without compromising cleaning and fabric care. Vortex Wash allows most cycles to take less than 1 hour to complete. Water is forced from the bottom of the drum, so detergent and heat reach your clothes faster, cleaning quickly and avoiding over-washing.
WASH LARGER LOADS
The large 12kg drum can wash both small and large loads as well as bulky items like a king size feather duvet. The wide door opening makes it easy to load and unload. The benefit of a large capacity is time saving, as a full week's laundry can be done in just a few loads. Accurate water level sensing makes it highly efficient at washing different load sizes.
SEAMLESS FIT
The complete package for a beautiful laundry. The ActiveIntelligence™ washing machine and 8kg Heat Pump Condensing Dryer were designed to match. With outstanding aesthetics and complimentary wash and dry cycles, they become the perfect pair to deliver complete fabric care.
SPECIFICATIONS
Features
Add a garment (immediate door opening)
Anti-fungal door gasket
Auto out of balance correction
Automatic Water Level
Choice of cold only or hot and cold water inlets
Customise cycle
Delay start
Door and gasket flushing
Eco
Eco rinse
Extra rinse option
Flood protection
Interior light
Keylock
Pre Wash
SmartTouch™ control dial
Soak
Soil levels: 3
Spin speeds: No spin, 500, 800, 1100, 1400
Stainless steel drum bowl
Timed liquid detergent dispenser
Water temperature controls: 5
Woolmark certified
Wrinkle Free

Wash cycles
Allergy
Bulky
Cottons
Delicate
Drum Clean
Easy Iron
Everyday
Heavy
14 wash cycles
Rinse
Spin
Sports
Towels
Wool

Performance
Maximum spin speed: 1400rpm
Number of spin speeds: 4
SmartDrive™ technology
Vortex™ Wash


Consumption

Water consumption per cycle: 7.7L/kg
Water efficiency: 3 ticks

Water efficiency

3 ticks

Dimensions DHW

600mm x 1045 - 1075mm x 600mm
---
CUSTOMER REVIEWS