This drum thinks for itself: The droplet-shaped structure and the size of the paddles ensure faster and more even water distribution – producing outstanding washing results.
Perfect laundry care at the press of a button
How do you achieve perfect washing results? Just press the "Start" button. With the two automatic programmes for hard-wearing or sensitive washing, the washing machine deals with the rest all on its own. The washing process is ideally adjusted to the needs of your laundry.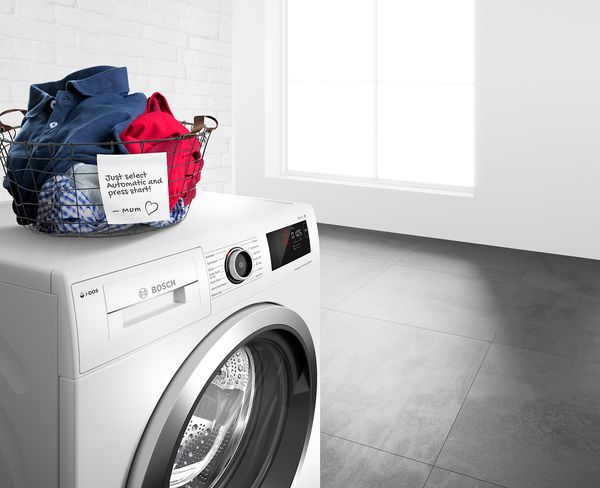 EcoSilenceDrive: powerful, durable, quiet and efficient.
The EcoSilenceDrive motor developed by Bosch is especially powerful and durable. It is distinguished by its high energy efficiency, speed and also through its very low energy consumption - 30% more efficient (only 0.13 kWh/kg) than the qualifying limit (only 0.19 kWh/kg) for the class A energy efficiency rating.
Capacity 9 kg
Energy Efficiency Class: A+++
Energy consumption 152 kWh per year, based on 220 standard washing cycles for cotton programmes at 60°C and 40°C at full and partial load, and the consumption of the low power modes. Actual energy consumption will depend on how the appliance is used.
energy consumption of the standard 60 °C cotton programme 0.92 kWh at full load and 0.6 kWh at partial load and of the standard 40 °C cotton programme 0.42 kWh at partial load
weighted power consumption off-mode / left-on mode: 0.12 W / 0.43 W
Water consumption 11220 litres per year, based on 220 standard washing cycles for cotton programmes at 60°C and 40°C at full and partial load. Actual water consumption will depend on how the appliance is used.
spin-drying efficiency class: A
Maximum Spin Speed : 1600 rpm
Indication that Cottons60°C+buttonEcoPerfect und Cottons40°C+buttonEcoPerfect are the standard washing programmes to which the information in the label and the fiche relates, that these programmes are suitable to clean normally soiled cotton laundry and that they are the most efficient programmes in terms of combined energy and water consumption.
programme time of the standard 60 °C cotton programme 285 min at full load and 285 min at partial load and of the standard 40 °C cotton programme 285 min at partial load
Duration of the left-on mode: 20 min
Noise level washing in standard 60° cotton programme at full load in dB (A) re 1 pW: 48
Noise level spinning at standard 60°C cotton programme at full loading in dB (A) re 1 pW: 74
Dimensions (H x W x D) : 85 cm x 60 cm x 59 cm