SAMSUNG VR20M7070WS CYCLONE FORCE POWERBOT ROBOT VACUUM CLEANER
$1,299.00
Product Summary
Slim Design with Powerful Suction
Comprehensive Scan with FullView Sensor™ 2.0
Edge Cleaning
PRODUCT DETAILS OF SAMSUNG VR20M7070WS CYCLONE FORCE POWERBOT ROBOT VACUUM CLEANER
FEATURES
Powerfully cleans even the most hard-to-reach areas
Slim Design with Powerful suction.
The Samsung POWERbot VR7000 robot vacuum cleaner has been designed with a slimmer body without compromising its powerful suction. Unlike conventional robot vacuums that just sweep the floor, the POWERbot VR7000 generates 40x more suction power* to suck up dirt and dust that's hidden deep inside the pile of carpets. It is only 97mm high which is 28% slimmer in size ‡compared to a conventional robot, so it can easily get into areas that are difficult to reach using normal vacuum cleaners, like underneath your furniture and beds, to ensure that your house is cleaned thoroughly.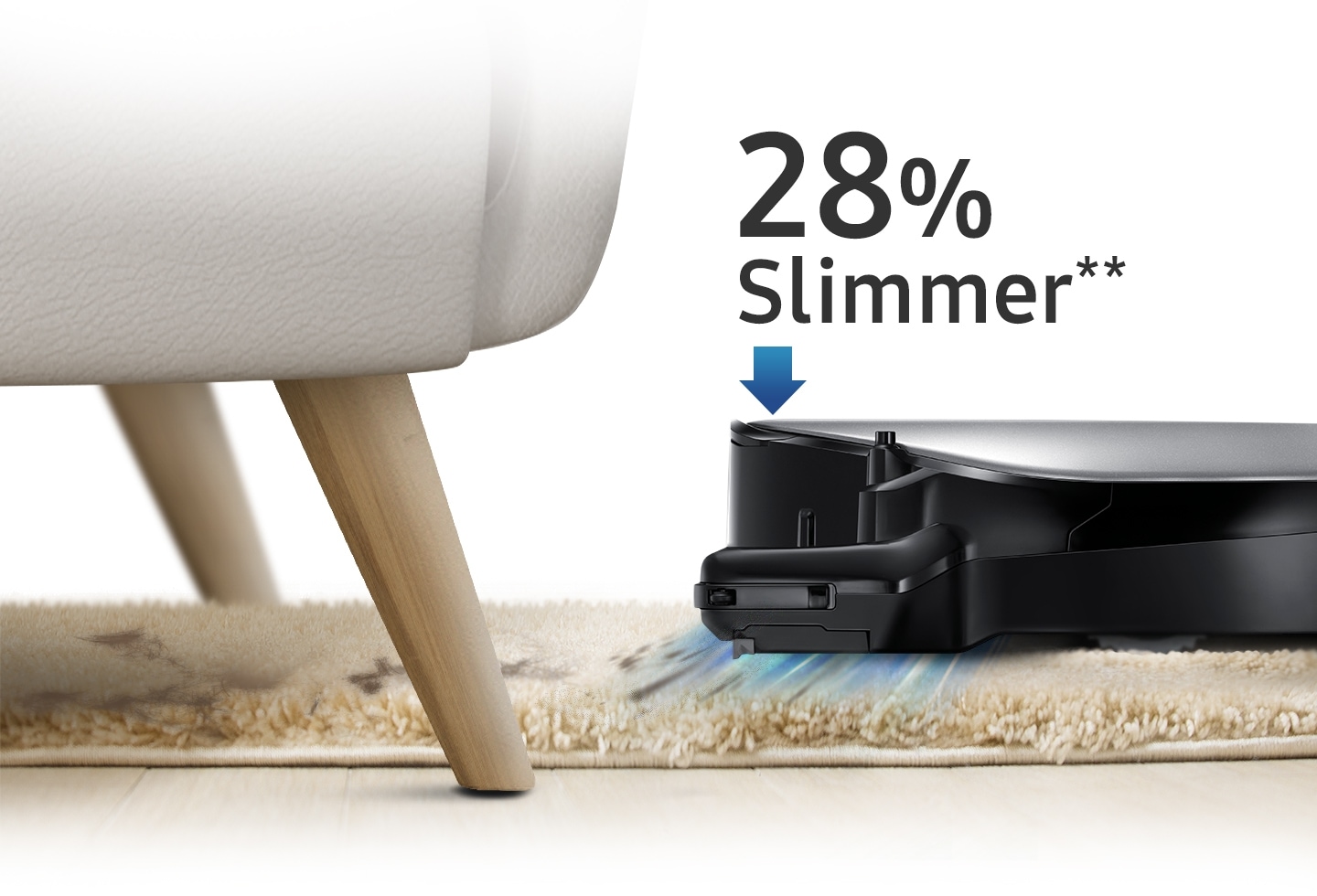 * Tested internally on Samsung POWERbot VR7000 and Samsung conventional VR10F71UCAC
‡ Compared with Samsung POWERbot VR9000.
Scans the space, cleans every corner
FullView Sensor™ 2.0
The Samsung POWERbot VR7000 robot vacuum cleaner's upgraded, high-performance FullView Sensor™ 2.0 precisely scans and avoids even very narrow or small obstacles across a wide area including areas that it can get stuck in, like the gap between chair legs. In addition, you don't need to worry about cleaning in corners. It senses room corners and cleans them three times, repeatedly going back and forth with 10% more suction power*, so they are cleaned more thoroughly.
* Generates 10% more suction than Max, Normal and Quite Mode respectively. 
Cleans well even along wall edges
Edge Clean Master
Most robot vacuums usually miss out cleaning the edges of a room. However, the Samsung POWERbot VR7000's Edge Clean Master is designed to clean those areas more thoroughly, so you don't have to waste time and effort doing it yourself. Its bristle brush is placed very close to the front of the cleaner, with just a tiny 15mm gap, so when it gets to the walls or corners it can sweep up dust and hair on the edge of the room. In addition, the Auto Shutter automatically activates and drops down to create a barrier that helps the vacuum cleaner collect more dust close to the edges.
Less dust & hair clogging up the brush
Self-cleaning Brush
Are you tired of removing hair that's left on the brush after cleaning? The Self-cleaning Brush is Samsung's unique technology that significantly reduces the amount of dirt and debris that gets tangled around the brush's bristles. It ensures that any dust and hair that gets trapped on the brush is collected in the centre, so it can easily be sucked up into the dustbin. So you don't have to worry about having the unpleasant experience of pulling it out by hand.
Optimum power on different surfaces
Intelligent Power Control
Different floor types require different suction power to ensure they are cleaned thoroughly. So the Samsung POWERbot VR7000 has an Intelligent Power Control that detects the type of surface, whether it's carpet or hard floor, and generates the most effective suction power. When the POWERbot goes onto carpets or rugs from hard floors it automatically generates more suction power to suck up any dust that is embedded deep within their fibers.
Captures dust & stops the filter clogging
CycloneForce
The Samsung POWERbot VR7000 robot vacuum cleaner's CycloneForce technology ensures extreme suction power for a long time*. It generates a strong centrifugal force that circulates dust particles through the inner chamber. Dirt and debris is then separated from the air and sieved into the outer chamber. As a result, it keeps the filter clean for longer and helps prevent clogging, so it maintains the optimum suction and cleaning performance. 
* Tested internally on Samsung POWERbot VR7000 and Samsung conventional VR10F71UCAC. 
Point and move where you want to clean
Point Cleaning™
The Samsung POWERbot VR7000 robot vacuum cleaner is extremely controllable as you can easily get it to move whenever and wherever you want with its Point Cleaning™ system. It generates a guiding light that you can use to lead it to clean specific areas or particularly dusty spots immediately. Simply point the light up to 0.5 meters in front of the machine and it will follow the beam and clean as it moves along the way. So cleaning is really easy and fun!
Cleans a wider area fast and efficiently
Wide Brush
The Samsung POWERbot VR7000 robot vacuum cleaner has a wide brush, which means it can clean larger areas faster and more efficiently. It has a width of 290mm, which is over 42% largerthan conventional 204mm brushes, so it speeds up the cleaning process by covering a greater area with less movement in less time.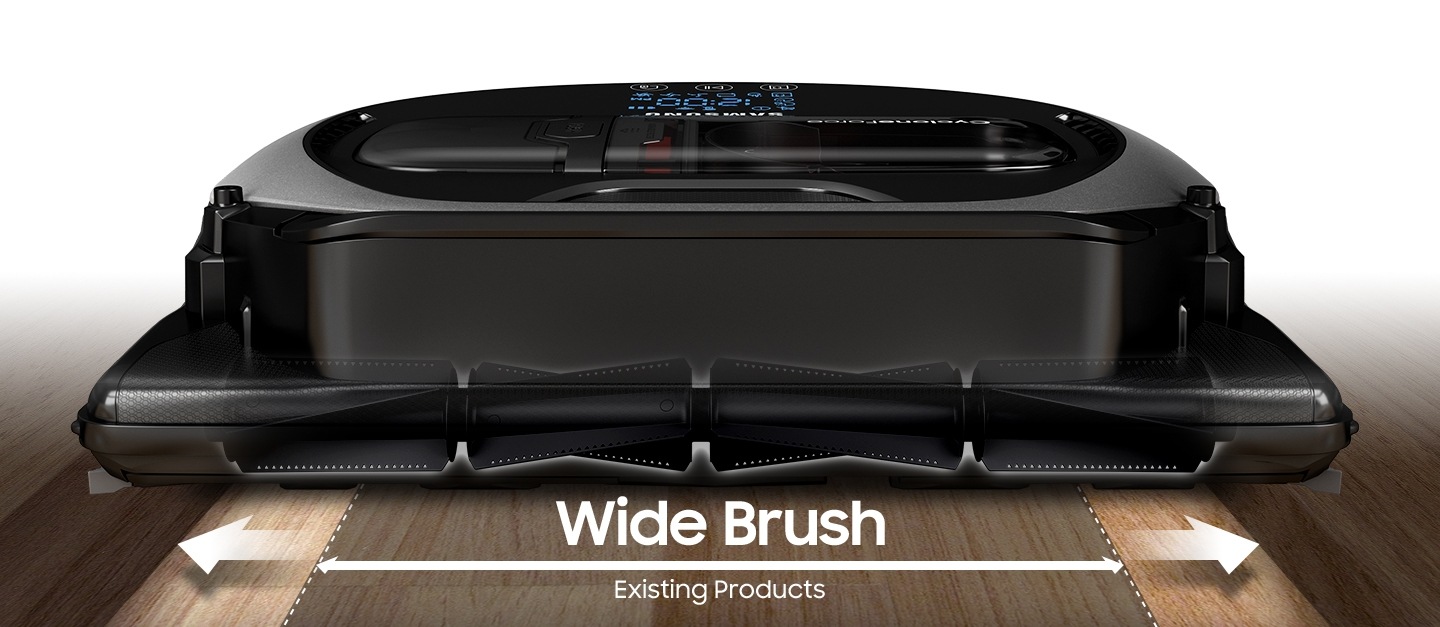 Control it with your smartphone while away from home
Wi-Fi Control
The Samsung POWERbot VR7000 robot vacuum cleaner's Wi-Fi Control lets you remotely control the machine using its integrated Wi-Fi function and an App* on your smartphone. With a simple touch you can quickly start or stop it, schedule cleaning times and even check the cleaning history to see where it has been. And you can use it from anywhere inside or outside the house where there's a wireless network. So even if you're away from home you can always be sure that everywhere is properly cleaned. 
* Available on iPhones and Android devices. A Wi-Fi connection is required.
Maps & finds the best cleaning path
Visionary Mapping™ +
A Visionary Mapping™ Plus System finds and leads it around the optimal route for fast-track cleaning. Using high performance sensors and a digital camera it maps your house and calculates the most efficient path.
SPECIFICATIONS
PERFORMANCE
Cleaning speed (m/sec)

0.32 minutes/seconds

Cleaning time

30 / 60 / 90 minutes

Recharging time

160 minutes

Max consumption power

130 W

Charger max consumption power

75 W

Noise level

77 dBA
BATTERY
Battery type

Li-ion
ROBOTIC
Sensor

FullView Sensor 2.0
GENERAL INFORMATION
Cleaning width

288 mm

Point color
Satin titanium
Button type
Touch
Auto-docking
Yes
Remote control
Yes
CLEANING MODE
Auto

Yes

Manual

Yes

Spot

Yes

Point cleaning

Yes

Turbo mode

Yes

Silence mode

Yes

Other

Repeat clean
DUST COLLECTINO
Type

Cyclone force

Dust capacity

0.3 L
CONVENIENCE FEATURE
Visionary mapping system

Yes

Scheduling

Yes

Wifi control

Yes

Edge clean master

Yes

Self-cleaning brush

Yes

Intelligent power control

Yes

Easy pass

Yes
FILTER
Exhaust

Yes

Pre-motor

Yes
OTHERS
Accessory

Magnetic tape, Extra filter

LED display

Yes
PHYSICAL SPECIFICATION
Gross Dimension (WHD)

479 x 171 x 497 mm

Set weight

4.3 kg