Bosch SMS46GW01P 60CM FREESTANDING DISHWASHER
$1,799.00
Product Summary
VarioFlex baskets:

 

enhanced flexibility in baskets which creates more space for your dishes.

7-Segment Display:

 

indicates remaining time and standard info, such as re-fill status.

AquaStop:

 

Ensures 100% protection from water damage for the entire life of the appliance

EcoSilence Drive:

 Revolutionary technology to generate a powerful, durable, quiet and efficient wash
2 years warranty [Click to Register]
Our ActiveWater 60 with HygienePlus Option: Rinses your dishes at extra high temperatures for top hygienic cleanliness.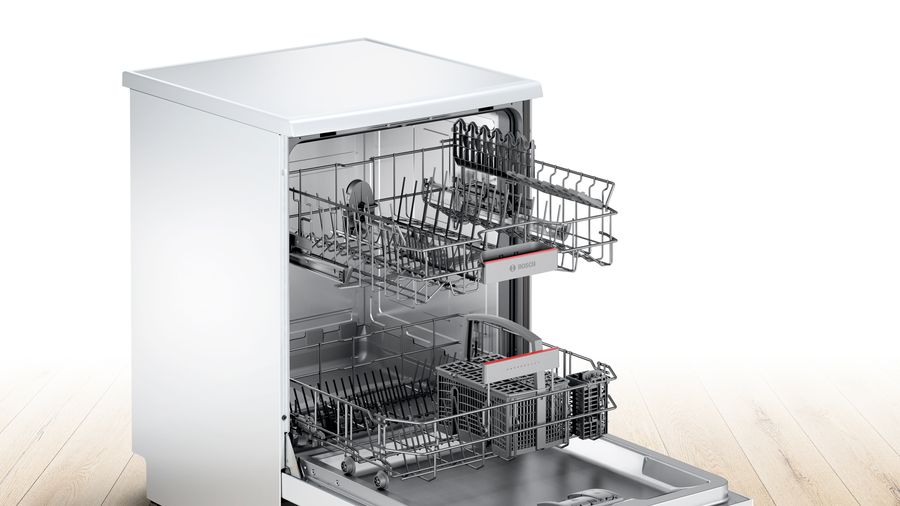 HIGHLIGHTS
AquaStop with 100% lifetime guarantee against water damage.
The AquaStop system consists of a double-walled supply hose, a safety valve, as well as a floor sump with float switch, offering 100% protection against water damage. Guaranteed by Bosch for lifetime.
EcoSilence DriveTM: powerful, durable, quiet and efficient.
To increase our cleaning efficiency we have developed the economical EcoSilence DriveTM. It is exceptionally quiet, efficient and guarantees low electricity consumption. The EcoSilence DriveTM works without brushes is ultra silent and top results are automatically guaranteed.
DosageAssist
The dosage assist ensures optimal cleaning results and a quieter wash. The detergent drops out the detergent dispenser and into a special tray on the top basket where it gets completely dissolved
24h Delay Start Timer lets you run your dishwasher at off-peak times.
Sanitize option eliminates bacteria and enhances drying results.
7-Segment Display: indicates remaining time and standard info, such as re-fill status.
FEATURES

PROGRAMMES
6 Programmes: IntensivePlus 70 °C, Auto 45-65 °C,




Eco 50 °C, Quick wash 65 °C, Quick wash 45 °C, Pre-Rinse

6 Programmes: IntensivePlus 70 °C, Auto 45-65 °C,Eco 50 °C, Express 55 min, Quick wash 45 °C, Pre-Rinse

4 cleaning temperatures

Time Delay: 1 - 24 hours
FEATURES
Dosage Assist Basket ensures the tablets are dissolving properly

BLDC Motor

Aqua Sensor, Load Sensor

Detergent Automation

Alternating spray

Easy Clean Filter System

Full Electronic Control

3-fold corrugated filter

Inner Tub: Stainless Steel/Polinox

Remaining programme time indicator (mins)

Red Light Indicator

Glass Care System

LED Salt Refill Indicator

LED Rinse Aid Refill Indicator
BASKETS & RACKS
VarioFlex basket system

Adjustable upper rack: Rackmatic 3-stage

4 foldable plate racks in top basket

Cutlery basket LR: variable
SAFETY
Aqua Stop - Prevent Water Leakage

Childproof Control Lock

Door Latch

SPECIFICATIONS

SIZE AND WEIGHT
Dimensions of the product (HxWxD)
845 x 600 x 600 mm
Height of removable worktop (mm)
30 mm
Number of Options
3
Adjustable plinth
—
Net weight (kg)
48.067 kg
PROGRAMMES
Drying progress indicator
Time remaining indicator front, water inlet
List of programmes
Auto 45-65°C, Economy, IntensivePlus, Pre-Rinse, Quick wash
Name, programme 1
IntensivePlus
Name, programme 5
Quick Wash
Programme duration, programme1 (min.)
140-150
Programme duration, programme2 (min.)
95-160
Programme duration, programme3 (min.)
210
Programme duration, programme4 (min.)
55
Programme duration, programme5 (min.)
29
Programme duration, programme6 (min.)
15
Number of different wash temperatures
4
Temperature, programme 1 (°C)
70
Temperature, programme 2 (°C)
45-65
Temperature, programme 3 (°C)
50
Temperature, programme 4 (°C)
65
Temperature, programme 5 (°C)
45
SAFETY
Glass protection techn.
✓
Surge-back protect. installed
✓
Water protection system
Total system
CONNECTION
Connection rating (W)
2,400 W
Length electrical supply cord (cm)
175 cm
Current (A)
10 A
Length inlet hose (cm)
165 cm
Length outlet hose (cm)
190 cm
Plug type
GB plug
DIMENSION DRAWING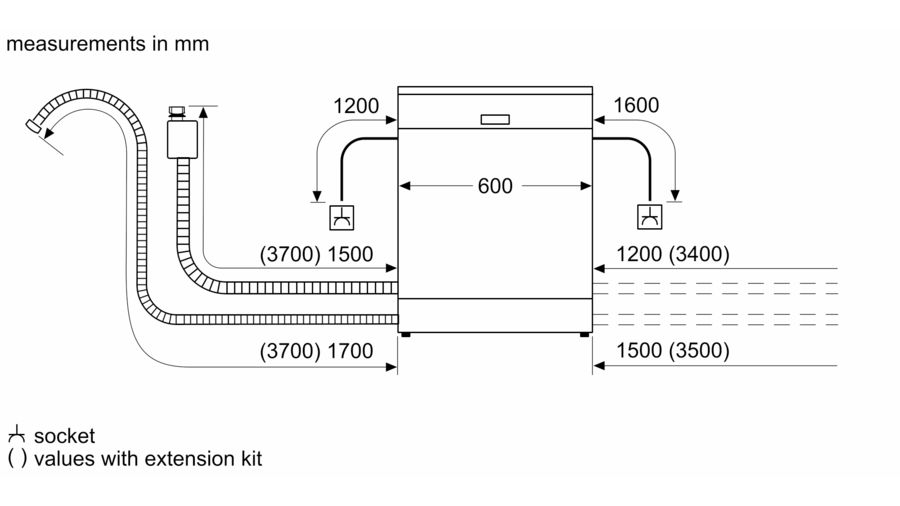 ---
CUSTOMER REVIEWS