HITACHI R-HW530NS 401L MULTI-DOOR FRIDGE + FREE GIFT BY HITACHI (3 TICKS, MADE IN JAPAN)
$4,399.00
FEATURES
Vacuum-sealed for Freshness
Platinum Catalyst with Ruthenium Vacuum Compartment
The secret to longer-lasting freshness is reduced oxygen levels. Hitachi's original preservation extracts air to maintain approx. 0.8 atm of vacuum preservation. With unique Platinum Catalyst, chilled meat, fish and dairy products are kept fresh and nutritious, and ready to cook.
Refreshing Technology Maintains 0.8 atm Vacuum*
Hitachi innovation at its finest and most consistent : the sealed pressure-resistant vacuum realises and maintains the vacuumed environment. A vacuum pump extracts air and reduces oxygen to achieve approx. 0.8 atm (atmospheric pressure) throughout usage.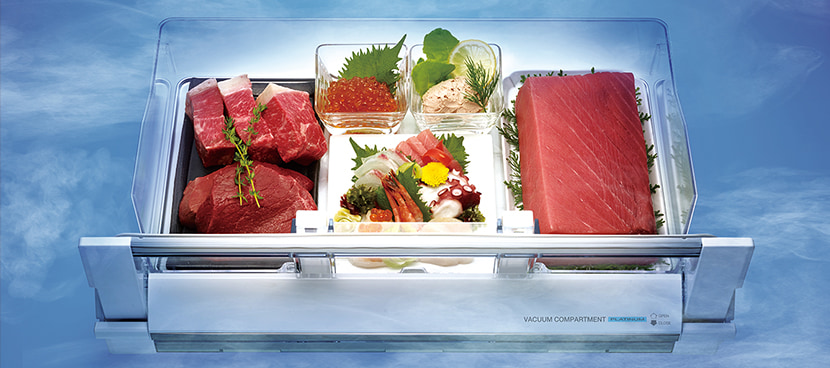 * Vacuum means the space where the pressure is lower than the atmospheric pressure. The pressure in the Vacuum Compartment is about 0.8 atm, which is lower than the atmospheric pressure, hence, Hitachi considers this a vacuum.
Approx. 2°C Moisture Air Keeps Food Fresh
Moisture Cooling
Optimum-moisture chilled air and lower temperature of approx. 2°C retains flavours and freshness.*
The Power of Platinum for Fruits & Vegetables
Aero-care Vege Compartment with Platinum Catalyst
The uniquely-designed compartment sustains freshness and nutrients of the vegetables and fruits with Platinum Catalyst. In addition, the improved airtight seal of compartment increases and controls humidity
Retains the Natural Goodness of Your Food
Delicious Freezing Technology
Delicious Freezing technology seals in the original textures, flavours and nutritional value of fresh and cooked products. This is achieved by freezing food very quickly past the maximum ice crystal formation zone on a big aluminium tray.
Breakthrough Energy, Saving Technology
VIP - Vacuum Insulation Panel
VIP is a thin vacuum-insulated panel with extremely high heat insulation performance. It achieves super energy saving compared to conventional urethane, by preventing external heat entry or internal cold air escape.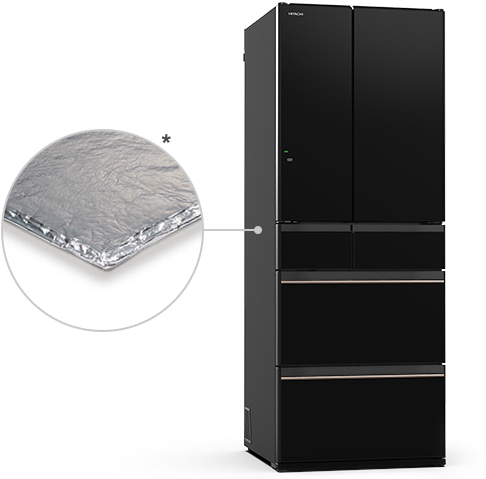 Flexible Design
Shelves and Pockets with Adjustable Height
The tempered glass shelves and the door pockets can be adjusted to match the size of the food items and your needs.
SPECIFICATIONS
Gross Capacity (L)
Total : 556
Refrigerator Compartment : 246
Vacuum Compartment : 37
Freezer Compartment (Upper + Lower + Ice) : 173
Vegetable Compartment : 100
Storage Capacity (L)
Total : 401
Refrigerator Compartment : 233
Vacuum Compartment : 11
Freezer Compartment(Upper + Lower + Ice) : 91
Vegetable Compartment : 66
Cooling System
Independent Cooling System
Inverter Compressor
Eco Intelligent Control
Refrigerant : R600a
Vacuum Insulation Material
Refrigerator Compartment
Vacuum Compartment(-1℃) : Platinum Catalyst with Ruthenium
Moisture Cooling
Quick Cooling
LED Lighting
Tempered Glass Shelf
Height Adjustable Pockets
Height Adjustable Shelves
Automatic Ice Making Compartment
Independent Ice Storage
Quick Ice Making
Automatic Cleaning Function
Water Filter
Stop Ice Making
Signal for Water Supply
Lower Freezer Compartment
Aluminum Tray (Top)
Delicious Freezing (Top)
3-layer Freezer Case
Vegetable Compartment
Aero-care Vege Compartment (lower case) : Platinum Catalyst with Ruthenium
2-layer Vegetable Case
Other Features
Triple Deodorisation Filter
Lifestyle Memory Control
Eco Intelligent Control
Energy Saving Mode
Control Panel (Touch Screen Controller)
Door-Opened Alarm
Refrigerator Compartment
Ice Making Compartment
Lower Freezer Compartment
Weight (kg)
116
Dimensions (WxHxD) (mm)
650 x 1,833 x 699
Body Colour
Crystal Black (XK) / Crystal White (XW) / Crystal Champagne (XN)
---
CUSTOMER REVIEWS