SAMSUNG RF65A9770SG 549L FAMILY HUB MULTI-DOOR FRIDGE (1 TICK) FREE GIFT FROM AGENT
$6,999.00
Product Summary
Beverage Center™
Manage your groceries efficiently with View Inside
Connect with your family through the Calendar app
Control your smart devices with the SmartThings app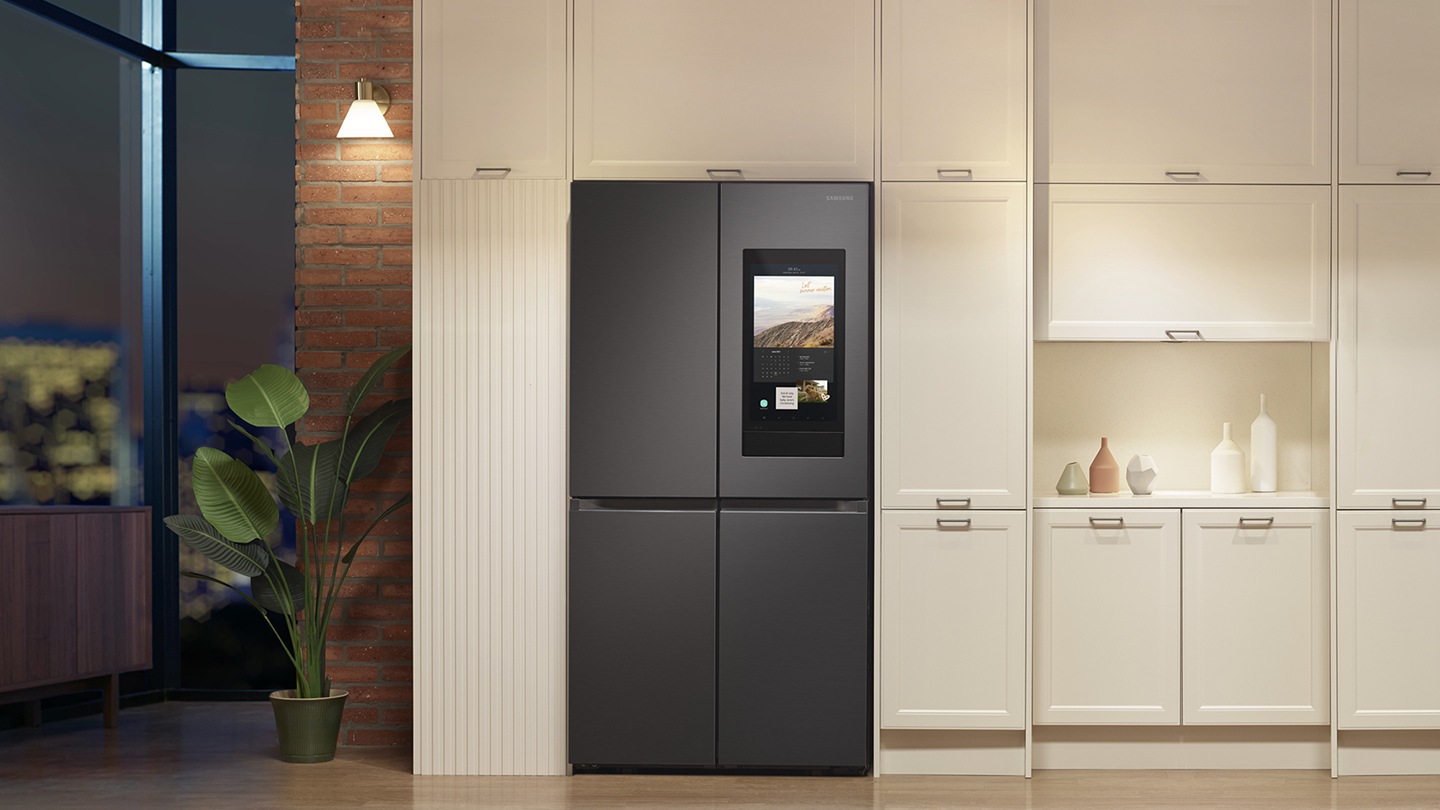 Get closer to members of your family
HIGHLIGHTS
Family
Take care of family members and bond more closely.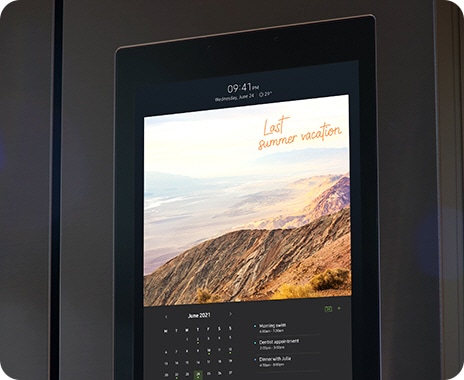 Entertainment
Enjoy seamless entertainment in the kitchen.
Food AI
Manage and prepare food more effectively.
Stay connected now, more so than ever 
Family Board 
Enrich your family life by sharing news, messages and special moments on the Family Board. Simply share photos and videos, post stickers, draw pictures, create notes and add a music player, all from the home screen. You can also edit it via your smartphone and have it synced to the Family Hub™*.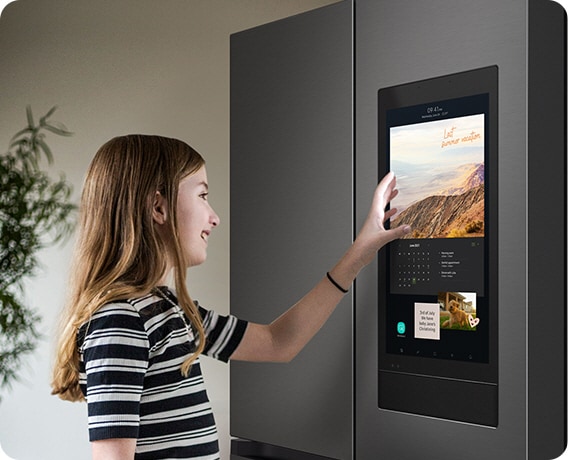 * Requires download of Family Hub™ app on your compatible smartphone.
Never miss important family events
Calendar 
Never forget important dates with the Calendar app that lets you share schedules and check calendars of your family members via the Family Hub™ or your smartphone*. Simply sync your schedule with Google or Microsoft 365 calendar and it will be updated with your personalised colour-coded entry.
* Requires download of Family Hub™ app on your compatible smartphone.
Enjoy a really fun and effective way to communicate with your family. With the Memo, To-do and Gallery apps, you can share memos, to-do lists and photos with your family members via text, voice recordings, pictures and hand-drawn sketches to create highly personalised messages.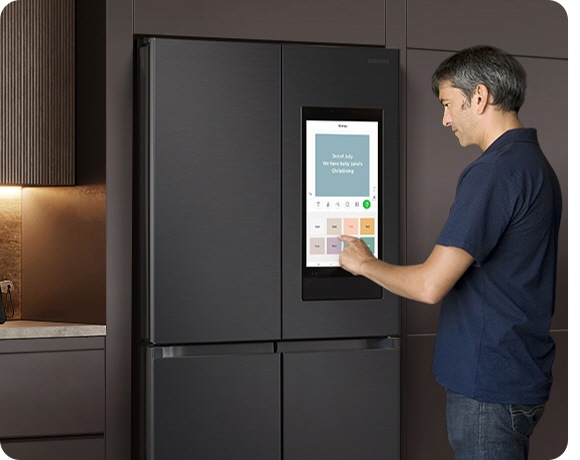 Personalise your messages
Whiteboard 
Avoid the hassle of finding pen and paper when you want to leave notes for your family members. With the White Board application, you can create messages on your Family Hub™ by drawing pictures and writing text with your finger.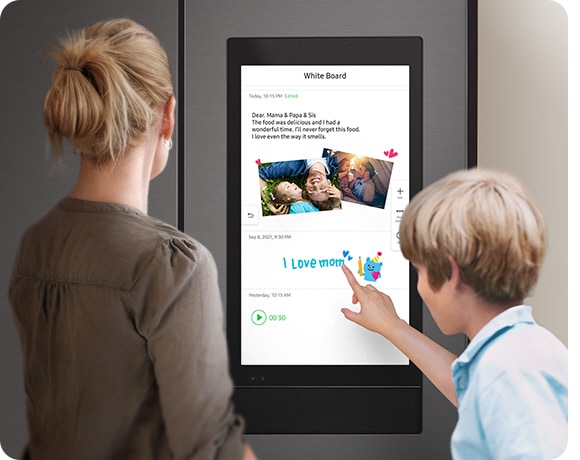 Stay connected and in the know 
Morning Brief (Weather, Food Reminders, Calendar, News) 
Take on the day with the Morning Brief app which provides daily updates including weather forecasts, personal schedules and even food expiration reminders. You can have Bixby read your personalised information out to you with its voice recognition function and keep your eyes on what matters most.
Learn something fascinating every day
Trivia 
Keep your family informed and amused with daily doses of facts and trivia. The Trivia feature displays a range of useful information. It shows you inspiring events and words, fascinating historical facts and the meaning of unusual words.
Non-stop music, radio & TV entertainment

Entertainment
Mirror your smartphone or TV, right on your fridge
SmartView (Phone/TV Mirroring)
Watch video, content while preparing your meals by mirroring your favourite shows and movies on your Samsung TV* or smartphone** right onto your Family Hub™ screen. Simply launch the SmartView app and select a compatible smartphone or TV from which to mirror the content.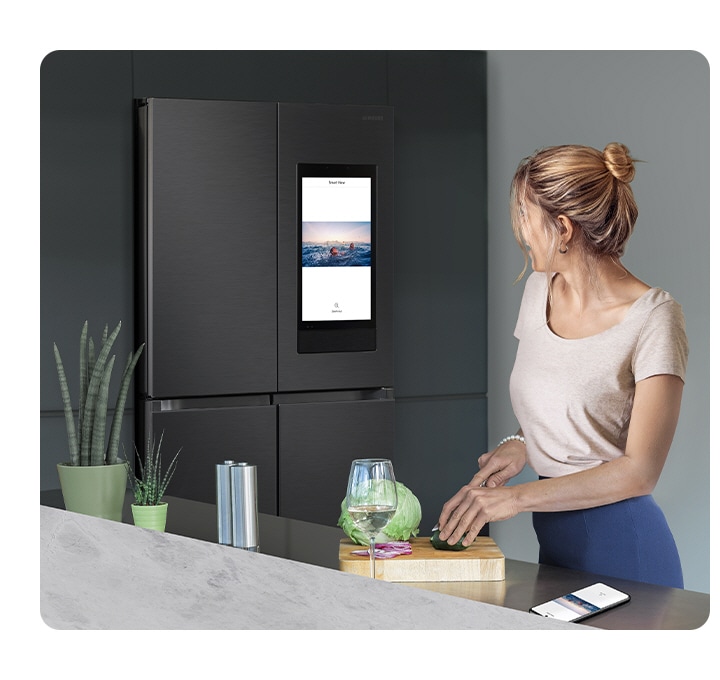 * Compatible TVs: 2015-2017 models of Smart TV: J/K/MU6400 series or higher, 2018 models of Smart TV: NU7400 series or higher, 2019 models of Smart TV: Q60R series or higher, 2020-2021 models of Smart TV: Q70 series or higher and Lifestyle TVs (The Frame, The Serif, The Sero – excluding The Frame 32"). Please check the compatibility information for new TVs on samsung.com. It may not work when the Samsung TV software is changed.** Compatible with all major apps on Samsung Galaxy S6 models or later, running Android 8.1 or higher.
Enjoy endless entertainment in the kitchen
TuneIn & Spotify*
Enjoy endless entertainment in the kitchen. Simply choose to play any song using Spotify*. Or access radio stations, news, podcasts and comedy shows on TuneIn.
*Account subscription fees may apply
Easily access websites
Internet
Access your favourite websites, right from the fridge. Using the Browser app, you can access web content such as news, weather, and so much more. You can also save links to websites that you frequent by creating shortcuts to the Home Screen.
Manage food easily, saving time & money

Food AI
View what's inside your fridge anywhere
View Inside 
Monitor what's inside your fridge with View Inside; the built-in camera lets you peek inside from your fridge's home screen or smartphone*. The improved food list feature provides you with recommended expiration dates** of tagged groceries, so you can track them and reduce food wastage.
*Requires download of Family Hub™ app on your compatible smartphone. **Expiration dates and storage location data are provided by the USDA and other sources. Adjust the expiration dates based on your food storage preference.
Tap or swipe down to view 
Tap View & QuickView 
See what's in your fridge with a quick double tap or a swipe down. Even if the home screen is off, with Tap View* you can simply tap twice on the screen to see what's on the shelves using the View Inside cameras. Or, if the screen is on, QuickView lets you view inside with a multi-finger swipe down.
* This feature will be available from Q3 2021.
Discover new recipes for your family
Smart Recipes
Discover new recipes for the family with the Smart Recipes app which gives you instant access to many delicious recipes with simple on-screen instructions.
*Requires download of Family Hub™ app on your compatible smartphone.
Easily make your family's favorite food
Meal Planner 
The Meal Planner app suggests meals to cook, based on your preferences and the food available in the fridge. Using artificial intelligence and food profiling, a Recipes app provides delicious recipes with simple instructions.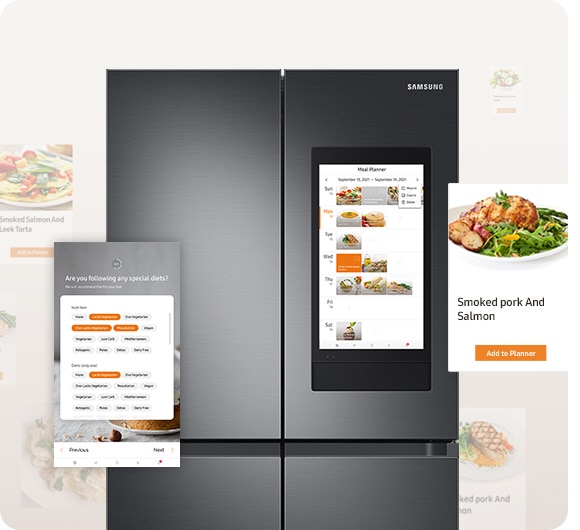 Shop more efficiently and reduce waste 
Shopping List 
Plan your groceries more efficiently with the Shopping List app. Simply add any items that you want to buy to your shopping list and have it synced right to your smartphone* so that you can view it conveniently, even at the grocery store.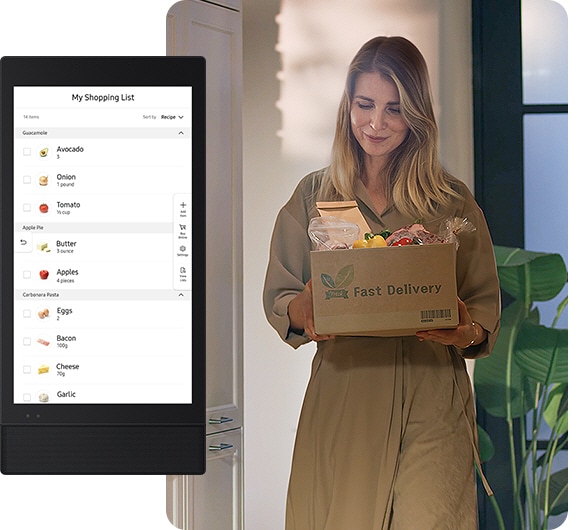 *Requires download of Family Hub™ app on your compatible smartphone.

Enjoy a smarter way to control your home
Connected Living

Simplify your life
SmartThings* 
Bring your dream smart home to life with the SmartThings app*. Manage your home's compatible smart devices at the touch of a button or via Bixby- from Samsung washing machines and TVs to third party products such as home cameras, motion sensors, smart lights and more, straight from the fridge.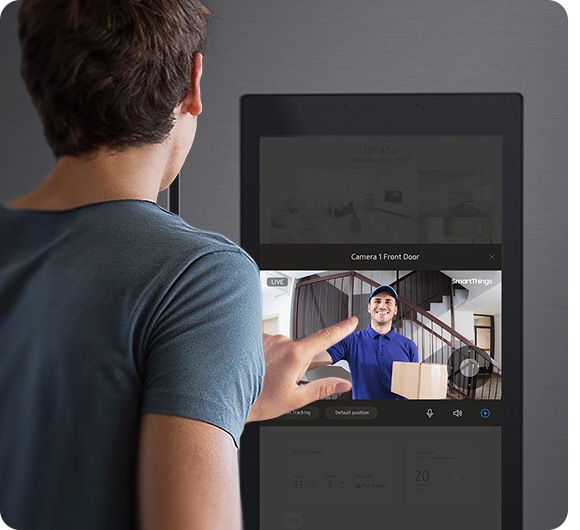 *Requires download of SmartThings app on compatible smartphones with Android 6.0 and higher or iOS 10.0 and higher. Internet connection and Samsung account login are required.
Check on what is happening in any room 
SmartThings Video 
Check what is happening around your home more easily. The SmartThings Video app links to any compatible Wi-Fi enabled video cameras*, so you can view different areas on the Home Screen. And if you have a 360 degree camera installed, you can also adjust the camera angle and view all around a room.
* Compatible video camera models can be found at https://www.smartthings.com/products-list.
Intelligent Voice Recognition
Bixby
Navigate apps with Bixby, your intelligent voice assistant, when your hands are full. Bixby artificial intelligence (AI) system lets you access a range of services and content, like recommended meals, with just your voice. It even adapts to your needs by learning your routine and preferences!
Make & receive phone calls hands-free
Bluetooth® Call
Make or receive calls when you're cooking without reaching out for your phone. Using Bluetooth® connectivity, the Family Hub™ can seamlessly connect to your smartphone* so you can easily answer it or make calls with Bixby voice commands.
* The ability to respond to calls using your voice is available with any smartphone, but making calls using your voice is only available with Samsung Galaxy smartphones.
Flexibly preserve the freshness of food
Flexible Storage
Keep different foods fresh and tasty in the optimal conditions. The FlexZone™ is an independently controlled compartment with five pre-set modes: Freeze, Soft Freeze, Meat/Fish, Fruit/Veggies and Beverage. There's also a Flex Crisper for meat or fish and a Crisper+ for fruit and vegetables.
Water your way
Beverage Center™
Enjoy fast and easy access to refreshingly cold and flavored water. The Beverage Center™ has a Water Dispenser as well as a BPA free* Autofill Pitcher full of purified water, which can be infused with fruits and herbs.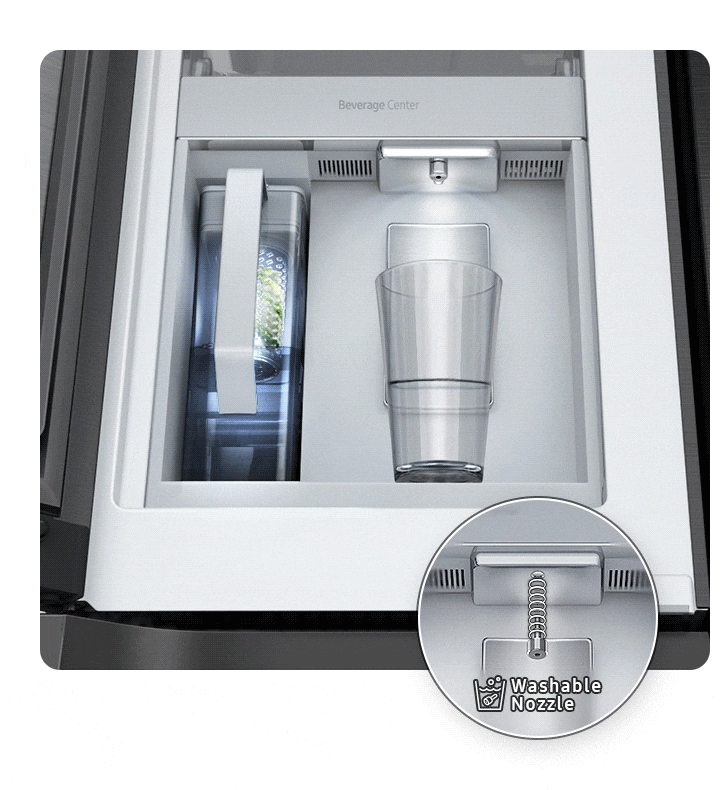 * Bisphenol A (BPA) is found in polycarbonate plastics and epoxy resins, which are often used in food and beverage containers, and has been linked with possible adverse health effects.
Produces more ice, provides more choice
Dual Auto Ice Maker
Having a party? The Dual Auto Ice Maker can make 2.8kg of ice a day and store up to 3.1kg. It also makes both Cubed Ice and Ice Bites™, which chill drinks much faster.
Timelessly simple and stylish design
Design
Elevate the look of your kitchen with clean and clutter-free styling. It has a timelessly minimalist exterior, with strikingly beautiful flat doors and no external water dispenser. It also has recessed handles, with an antimicrobial coating on the handle to protect it from degradation by microorganisms*.
*According to Intertek's report, the components of the Samsung refrigerator can remove more than 99% of the bacteria (S.aureus, E.coli, S.enteritidis, P.aeruginosa) in compliance with JIS Z 2801 & ISO 22196. The antimicrobial coating on the handle does not protect users or others against all bacteria, viruses, germs or other disease organisms.
How to measure

All specifications provided herein may be different from the actual specifications.
SPECIFICATIONS
CAPACITY
Net for freezer
189 ℓ
Net for fridge
360 ℓ
Net total
549 ℓ
Gross Total(Liter)
667 ℓ
Gross for Fridge(Liter)
396 ℓ
Gross for Freezer(Liter)
271 ℓ
PHYSICAL SPECIFICATION
Net width
912 mm
Net case height with hinge
1825 mm
Net case height without hinge
1797 mm
Net depth with door handle
723 mm
Net depth without door handle
723 mm
Net depth without door
610 mm
Net weight
145 kg
Packing weight
155 kg
Packing Dimension (WxHxD)(mm)
972X1970X776 mm
COOLING FEATURE
Cooling type 
Triple & Metal Cooling
REFRIGERATOR FEATURE
Metal Cooling Duct
Yes
Metal Cooling Plate
Yes
Number of Shelf (Total)
4 EA
Shelf Material
Tempered Glass
Number of Vegetable&Fruit Drawer
2 EA
Number of Door Pocket
6 EA
Egg Container(Egg Tray)
Yes
Power Cool Function
Yes
Interior LED Light
TOP & Side
Shelf Type
Spill Proof
BOTTOM LEFT
Icemaker
Automatic I/M
Shelf
2 EA
Box
1 EA
LED interior light
Yes
BOTTOM RIGHT
Convertible Room(℃)
-23~-15, -5, -1, 2, 4 °C
Shelf
2 EA
Box 
1 EA
Temperature Control
Yes

LED interior light
Yes
GENERAL FEATURE
Refrigerant
R-600a
Door alarm
Yes
EXTERIOR FEATURE
Door handle
Left Door Food Showcase(Fridge)
Beverage Station
Yes
Dispenser with Water Filter
Yes
Display Type
External(Family Hub)
Door Handle
Recess(Horizontal)
Colour
Black Caviar
Dispenser Type
Autofill Pitcher + Water Dispenser
ENERGY
Energy efficiency
1 Tick (NEA)
---
CUSTOMER REVIEWS