---
PXX875D67E 80CM 2-ZONE FLEX INDUCTION HOB
2 years warranty by Bosch
We try our best to provide accurate product information from the manufacturer's or agent's website. However, the information on this page may change without notice, and it may not be accurate if there are specification changes. We recommend checking the manufacturer's site for the latest specs and information.

-

While all items available for online purchase can be added to your cart, we cannot guarantee their availability at the time of order processing.

In case we are unable to fulfill your order, we will get in touch with you to provide an alternative option or arrange a full refund.

-

If your product is eligible for warranty, you can find its registration link here.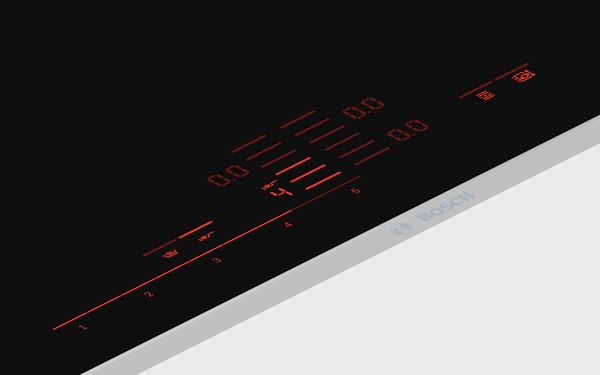 Usability on a bigger scale.
Do you sometimes lose track of the settings of your hob? DirectSelect Premium offers premium usability during cooking with a full length of 30cm. For an intuitively simple selection of power levels and additional functionalities. Our user interface only shows the functions which you actually require. The user interface is not visible when turned off and makes for a clean and elegant design of the hob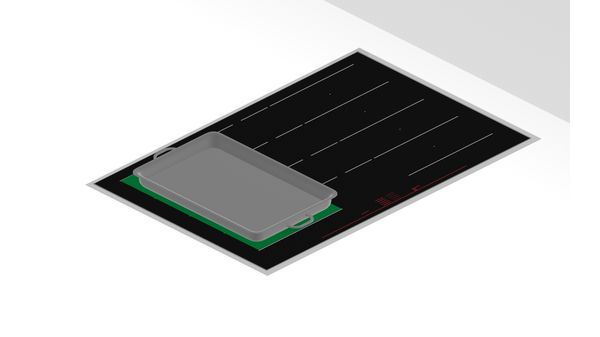 More freedom for your pots with FlexInduction.
Whether you are using one pot or several, you can place one behind the other or have them side by side. Thanks to FlexInduction by Bosch, you have the freedom of choice. As induction heats the pot base and not the hob itself, you can cook on any area of the hob surface you like. You can use your cooker like a conventional induction hob with separate cooking zones or connect it up at the touch of a button. This is how you gain additional space, for example in order to position large cookware, e. g. a roasting pan, wherever you like.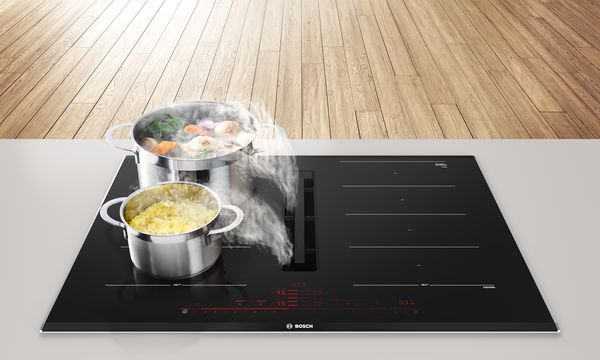 Automatically absorbs unpleasant odours.
Wouldn't you like to focus all your attention on cooking without worrying about ventilation. We have the solution: The new PerfectAir sensor constantly monitors the air and automatically adapts the power level to the vapour and odours – continuously, precisely and independently of power settings. At the same time, it reduces the noise level by activating only the minimally required extraction level. When you've finished cooking, the blower continues to run until the kitchen air is cleared of all unpleasant odours. So you can focus all your attention on cooking.
SPECIFICATIONS
Flexibility of cooking zones
2 Flex zones: use cookware of any shape or size anywhere within the 40cm long zone.
Cooking zone front left: 200 mm, 240 mm, 2.2 KW (max. power 3.7 KW)
Cooking zone rear left: 200 mm, 240 mm, 2.2 KW (max. power 3.7 KW)
Cooking zone rear right: 200 mm, 240 mm , 2.2 KW (max power 3.7 KW)
Cooking zone front right: 200 mm, 240 mm, 2.2 KW (max. power 3.7 KW)
Usage convenience
DirectSelect Premium touch control digital panel: directly control the power on the extra large illuminated touch bar (invisible when switched off).

Variable 17-stage power settings for each zone: precisely adapt the heat with 17 power levels (9 main levels and 8 intermediate levels).

Keep warm function: keep dishes warm at preset low power level.

Switch off timer for every cooking zone: switches off the cooking zone at the end of the time set (e.g. for boiled eggs).

Timer: an alarm sounds at the end of the time set (e.g. for pasta).

Count-up timer: shows how much time has passed since starting the timer (e.g. for potatoes).
Time saving & efficiency
Boost function for all zones: boil water more quickly thanks to 50% more energy than at the highest standard level.

All: heat up pans more quickly than at the highest standard level while protecting the pan coating.

3-steps: increase or decrease the power level simply by moving the pot forwards or backwards.

QuickStart Function: when switching on, the hob automatically selects the cooking zone with cookware (placed in off-mode).

ReStart Function: in case of unintentional switch-off, restore all previous settings by switching on the hob again within 4 seconds.
Cooking assistance
Cooking sensor ready (no WSP): prevents overboiling of pots with the automatic temperature regulation of the pot-attached sensor.

5 frying and 5 cooking levels: prevents scorching with the automatic temperature regulation of the integrated sensor.
Connectivity
Remote Monitoring and Control: check if the hob is switched off even when not at home, and find recipes or additional functions in the Home Connect app.
Design
Comfort profile (ceramic front facette with stainless steel side trim)
Safety
2 stage residual heat indicator: indicates which cooking zones are still hot or warm.

Childproof lock: prevent unintended activation of the hob.

Wipe protection function: wipe overboiled liquids without unintentionally changing settings (blocking all touch buttons for 30 seconds).

Main on/off switch: switch off all cooking zones at the touch of a button.

Safety switch-off: for safety reasons, heating stops after a preset time without interaction (customizable).

Installation Guide
Dimensions of the product (HxWxD mm): 223 x 816 x 527

Required niche size for installation (HxWxD mm) : 223 x 750 x (490 - 490)

Min. worktop thickness: 16 mm

Connected load: 7.4 KW

PowerManagement Function: limit the maximum power if needed (depends on fuse protection of electric installation).
Technical Specifications
Clean Air Plus odor filter, Slider for unducted recirculation included

Installation into 60 cm floor cupboard possible
Integrated ventilation downdraft system
Induction cooktop with fully integrated high-performance downdraft extractor.

Suitable for ducted or recirculated extraction configuration (incl. differentiated software modes). Installation accessories for unducted recirculation, among these four Clean Air Plus odour filters and a telescopic slider element, are included in the cooktop. Accessories for other installation options are available, details in the planning notes.

Ventilation system with 17 electronically controlled fan power levels and 2 Boost-/Intensive fan power levels (with automatic revert) via DirectSelect Premium touch control digital panel user interface. Sensor-based, smart, fully automatic mode of ventilation system:

- Automatic switch-on of ventilation system when a cooking zone is used.

- Fully-automatic based on AQS :Sensor-based and cooktop-based, fully-automatic adjustment of power levels via advanced algorithm for maximum convenience.

- 3 possible sensitivity modes of algorithm for maximum convenience (Low-noise oriented, balanced, performance-oriented).