3M P1600 Polarizing Wireless Task Light LED
Product Summary
Glare Reduction

Portable 

Brightness Levels & Illuminance 

Environmental Friendly Light Bulb

Optimal Battery Life
MODEL NUMBER:P1600
Product details of 3M™ Polarizing Wireless Task Light LED P1600 Lamp - White
Reduce the glare, protect your eyes!



Good lighting in all corners!
P1600 is the first ever 3M™ wireless LED lamp. Coupled with its light weight base, the P1600 is extremely portable, giving you the ease and convenience of having good lighting wherever you want with no messy wires!
With 5-brightness level, now you can easily adjust the lighting to suit your different needs. P1600 has a long battery lifespan of up to 5 hours*, allowing you to work long hours without disruption.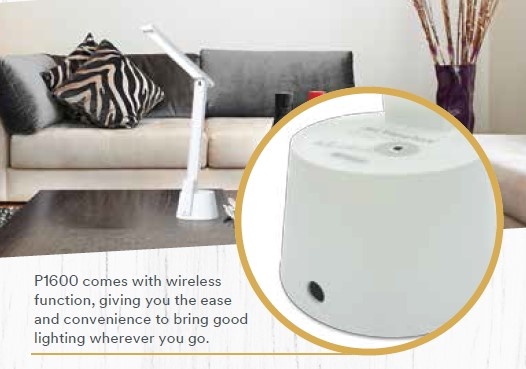 Minimalistic Style
P1600 comes in a sleek white with a unique wooden grain textured finishing that exudes style. Not only is the compact base sturdy, it also helps to save table space too. When you're done working or when your child has finished studying, you can have the choice to close the table lamp fully, so your environment stays sleek and neat.
All models of our 3M™ Polarizing Light implements our very own 3M™ Polarizing Light Filter that you cannot find in other brands, the benefits are as follow: 
Ultra glare reduction which protects the eyes
Provide even spread of light on reading material/work surfaces to make reading more comfortable
Zero UV Ray, protection from harmful rays on skin and eyes
 Our LED lights are ULTRA Energy saving as it consumes less power (around 7W) but still provides efficient lighting.
Normal Room Light is NOT Bright Enough!
Brightness levels are measured in illuminance (Lux) not Watts. The more intense or detailed the work, the higher the lux required.
Common lighting causes glare that results in eye fatigue, headaches and frequent tearing. P1600 is equipped with 3M's proprietary Polarizing Filter Technology to reduce glare and protect your eyes, giving you greater reading comfort under the table lamp.
Currently, all types of light tubes or ballasts do not solve this problem. In fact, the glare of some table lamps may worsen because of the inappropriate material used for the shading screen.
3M™ patented Polarizing Light Filter Technology is capable of solving this problem. The polarizing filter featured in the table lamps allows only comfortable light to pass through and converts all bad light into comfortable light, thereby reducing the amount of glare reflected on reading surface.
Protect Your Eyes From Glare
3M™ Polarizing Light reduces glare and provides effective illumination. In addition, with high frequency ballasts and safety features, you can be assured of optimal lighting for your reading purposes.
Buying from the official e-store gives you the assurance that our product has been tested and given the 'Safety Mark' on all our adaptors. 

 
General FAQ


1. Why do I need 3M™ Polarizing Table Lamp?
Ans: Our Polarizing lights are installed with 3M™ patented optical film that helps to filter away harmful glaring light. Through the film, what enters into our eyes are vertical lights that are optimal for your eyes. As such, preventing our eyes from being strain which would gradually weaken our eyesight.


2. I have a room light, is it not sufficient?
Ans: Often, the lighting in our room is insufficient for activities like reading. Insufficient lighting and glare from our devices causes strain to our eyes, worsening our eyesight. Strains on our eyes cause eye fatigue, itch, burning sensation, headache and more discomfort. It also cast a shadow on our reading materials, which make reading difficult, straining our eyes.


3. Where do I change or repair my lamp?
Ans: 3M™ Polarizing Table Lamp come with one year warranty, with additional three months if you register online. There is a 3M™ PTL service centre that you can contact at 68421379 . Additionally, the technical experts in the service centre are able to diagnose the issue and recommend customers accordingly.


Product Usage FAQ

1. I notice that LED5000 is similar to P1600. What is the difference?
Ans: The difference between LED5000 and P1600 is that P1600 comes with lithium ion battery. As such, it can be used without wires.

2. How do I use the product when it is wireless?
Ans: Turn on the switch at the base to use the lamp.

3. How do I tell if the product is fully charged?
Ans: At the lamp base, there is a charge indicator, if it is green means it is fully charged, red means it is not fully charged.

4.How do I charge the product?
Ans: The product is automatically charged when it is connected to the adaptor.

5. Is there a difference in brightness level when used in wireless mode?
Ans: Yes, the light is dimmer. Brightness is also affected by the battery level. Maximum brightness level when used in wireless mode is 600 lux.

6. How long does it take to charge the product?
Ans: Time to fully charge: 5 hours, you will see a green light in the charge indicator

7. How long can I use the lamp in wireless mode?
Ans: When it is fully charge, usable for 3 hours at level 5 brightness level and 5 hours at level 1 brightness level

8. When I plug in the adaptor, it is being charged automatically. Is it using the power from the lithium ion battery?
Ans: Yes, the switch should be automatic as there is a controller in the circuitry to detect the energy source, and switch accordingly. If you unplug the adaptor from the lamp, it will use the power from the battery. And if you plug it in, it will use the power from power supply (not battery).

9. Would overcharging be an issue? E.g. when it is fully charged, I continue to use the adaptor. Would that affect the battery life?
Ans: It has a protection circuit for overcharging. So it doesn't relate to battery life.
Reduce the Risk of Myopia in your Children
A new study shows that insufficient lighting may increase risk of myopia. Given that Singapore is commonly known to have one of the countries with the highest occurrence of myopia in children, good eye care is of utmost importance.


 


Source: HealthAim News


Source: healthxchange.com.sg
3M™ Polarizing Light helps to reduce glare, provide suitable levels of brightness and protect our eyes.
Let's protect our children's eye sight from a young age!
Specifications of 3M™ Polarizing Wireless Task Light LED P1600 Lamp - White
What's in the box:
1 x 3M™ Polarizing Wireless Task Light LED P1600 Lamp - White
General Features:
| | |
| --- | --- |
| SKU | 3M006HLAA4PMSZSGAMZ-9152382 |
| Model | 3M Distributor-WX300949996 |
| Warranty type | No Warranty |