3M P1500 LED Polarizing Light
Product Summary
Anti glare

10 years of eye protection

3 level brightness adjustments

3 timer setting functions

Flexible angle adjustments
MODEL NUMBER:P1500
Product details of 3M™ P1500 LED Polarizing Light - White
Reduce the glare, protect your eyes!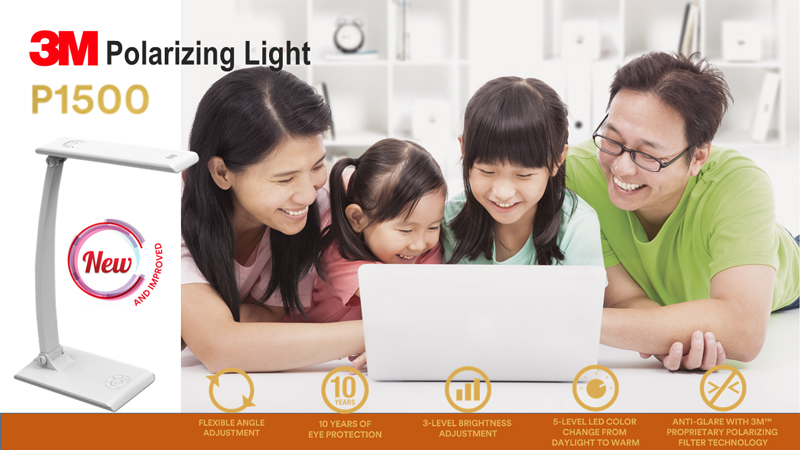 All models of our 3M™ Polarizing Light implements our very own 3M™ Polarizing Light Filter that you cannot find in other brands, the benefits are as follow: 
Ultra glare reduction which protects the eyes
Provide even spread of light on reading material/work surfaces to make reading more comfortable
Zero UV Ray, protection from harmful rays on skin and eyes
 Our LED lights are ULTRA Energy saving as it consumes less power (around 8W) but still provides efficient lighting.
Normal Room Light is NOT Bright Enough!
Brightness levels are measured in illuminance (Lux) not Watts. The more intense or detailed the work, the higher the lux required.
Protect Your Eyes From Glare
Traditional lighting causes glare that results in eye fatigue, headache and frequent tearing. Currently, all types of light tubes or ballasts do not solve this problem. In fact, the glare of some table lamps may worsen because of the inappropriate material used for the shading screen.
3M™ patented Polarizing Light Filter Technology is capable of solving this problem. The polarizing filter featured in the table lamps allows only comfortable light to pass through and converts all bad light into comfortable light, thereby reducing the amount of glare reflected on reading surface.
3M™ Polarizing Light reduces glare and provides effective illumination. In addition, with high frequency ballasts and safety features, you can be assured of optimal lighting for your reading purposes.
Buying from the official e-store gives you the assurance that our product has been tested and given the 'Safety Mark' on all our adapters. 
Reduce the Risk of Myopia in your Children

A new study shows that insufficient lighting may increase risk of myopia. Given that Singapore is commonly known to have one of the countries with the highest occurrence of myopia in children, good eye care is of utmost importance.






Source: HealthAim News


Source: healthxchange.com.sg
3M™ Polarizing Light helps to reduce glare, provide suitable levels of brightness and protect our eyes.
Let's protect our children's eye sight from a young age!
Specifications of 3M™ P1500 LED Polarizing Light - White
What's in the box:
1 x P1500 LED Polarizing Light - White
General Features:
| | |
| --- | --- |
| SKU | 3M006HLAA3S7PPSGAMZ-7155363 |
| Model | 3M Distributor-WX300948238_16021606304 |
| Warranty type | No Warranty |