Oster Mason Jar Blender BLSTMM-BRD
Product Summary
Model Number:BLSTMM-BRD
Oster Smoothie Blender BLSTMM-BRD (Red)

Oster Smoothie Blender BLSTMM (White)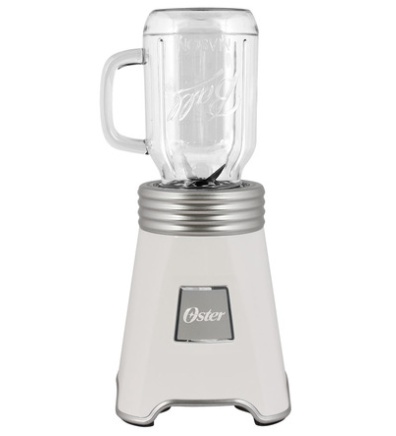 Practicality, portability, design triplex! Versatile as possible Ball Mason Jar
After a busy morning, blending can insert a straw to drink immediately, without the need to hold a separate move.

Collaboration of Oster (Oster) and ball (Ball)
100 years the US company Ball Corporation Brand Mason Jar (Mason words) score more than you loved as a sensuous design with tight storage container. Mason's face has been referred to as on-jeuwa liter capacity has been conveniently designed to quantify.
 

Features & Components

• Color: Red / White
• Convenient handle up drinking just 600ml of the Mason-party
• 250W of output power and excellent crushing stainless steel blades 4 of the
• insert a straw to drink immediately after blending or easy portability
• Use BPA-Free products with peace of mind without worrying about environmental hormones
• The effective cleaning blade is removed
• Anti-skid
• Includes: Body, 2 Mason character (courage), the blade assembly unit, drink lids, bottle caps, straws
 

How it works

• Operating moment: When the vessel was equipped to be operated moment.
Continuous operation is possible if the fixed return a container: • continuous operation.