---
NK36CB665WWH/SP 90CM WALL-MOUNT HOOD & NV7B6675CAA/SP 60CM BUILT-IN OVEN
2 years warranty by Samsung
We try our best to provide accurate product information from the manufacturer's or agent's website. However, the information on this page may change without notice, and it may not be accurate if there are specification changes. We recommend checking the manufacturer's site for the latest specs and information.

-

While all items available for online purchase can be added to your cart, we cannot guarantee their availability at the time of order processing.

In case we are unable to fulfill your order, we will get in touch with you to provide an alternative option or arrange a full refund.

-

If your product is eligible for warranty, you can find its registration link here.
FEATURES FOR NV7B6675CAA/SP 60CM BUILT-IN OVEN
Prep your culinary masterpiece with the Bespoke Oven
Highlights
Cook & Steam together
Dual Cook Steam™
Enjoy oven cooking and steaming dishes at the same time, or add steam to keep food moist. Dual Cook Steam™ lets you prepare healthy steamed dishes, while simultaneously oven cooking a variety of foods using different settings. When you are roasting or baking, simply use the Add Steam function to envelop your food in steam so it is always tender and soft inside, but still deliciously crisp outside.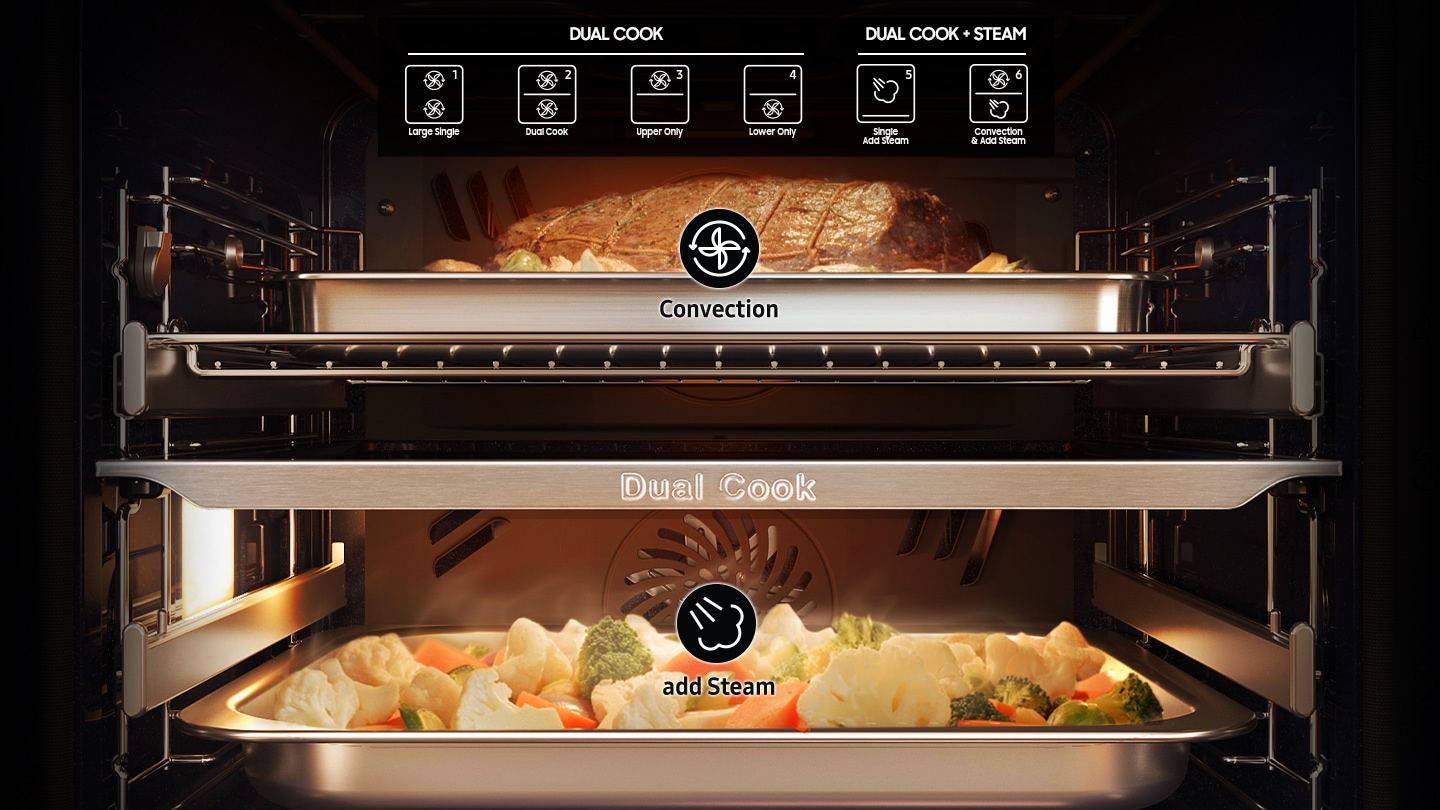 Crisp & tender food
Add Steam
Get deliciously succulent and crispy food. Add Steam fills the oven with steam to ensure that your food retains more of its natural moisture. So it is always tender and soft inside, but still deliciously crisp outside. Plus, you can easily adjust the amount of steam across 3 levels.
One oven, three ways
Dual Cook
Choose how you cook different meals to optimise results. Dual Cook has upper and lower cooking zones that work independently or together to give you more flexibility. Simply use the upper zone to cook smaller dishes or use both zones at the same time, with different temperature and time settings in each, to prepare a variety of dishes. You can also cook much larger dishes, like a holiday turkey using the whole oven.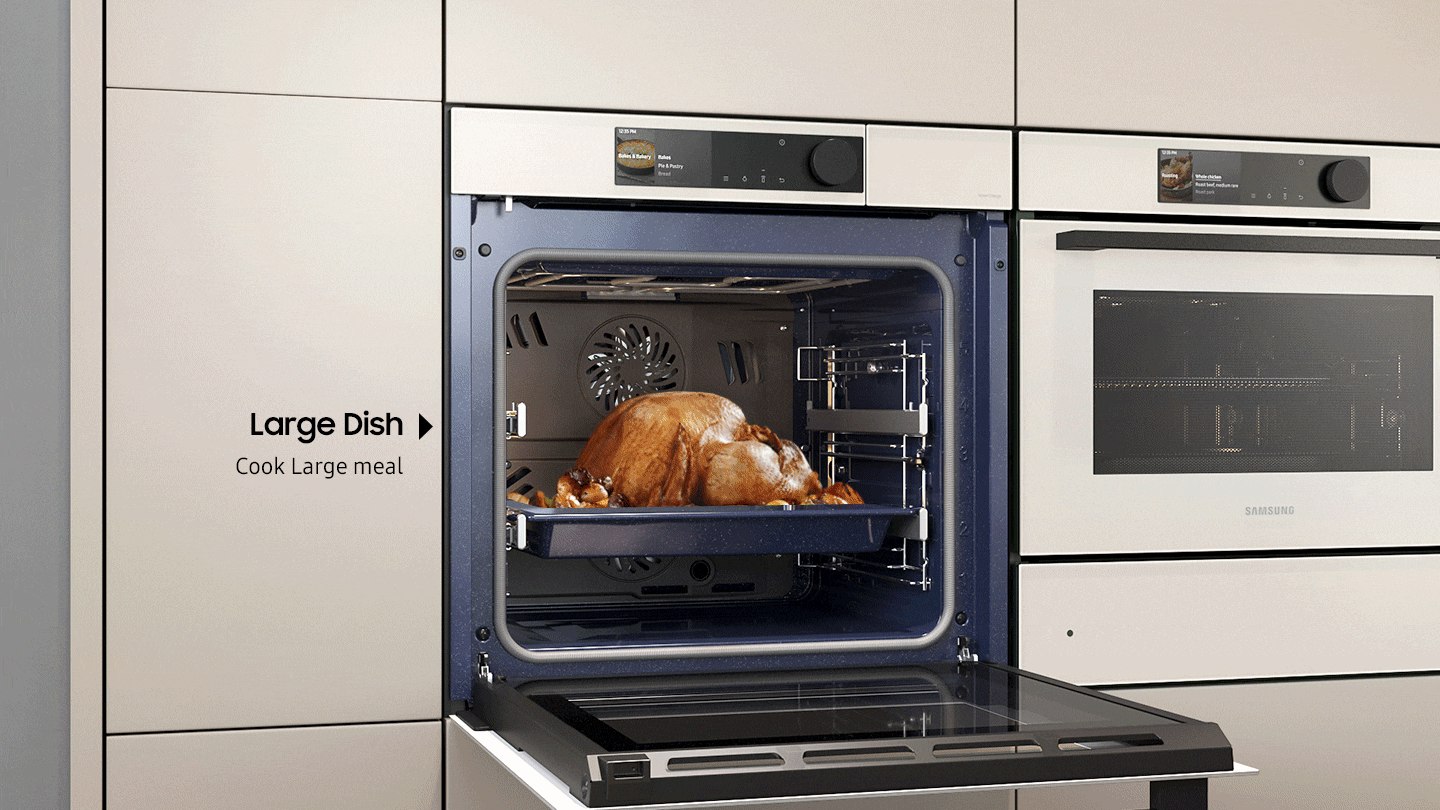 Simply more intuitive
Modernised Design
Enjoy a hassle-free cooking experience with intuitive and personalised control. The modernised design has a stylish control panel with a 4.3" LCD display, touch control and a single knob. Based on your usage patterns, it shows the most frequently used options. So you can quickly select and control a range of functions and settings, such as the cooking mode, temperature and time, with a simple touch of your finger or turn of a dial.
Stylishly unique
Bespoke Design
Designed to beautifully blend in with your cabinetry, the built-in Bespoke oven elevates your kitchen aesthetic and gives your kitchen a beautifully stylish and unique look that reflects your personal taste and matches your existing interior design. Furthermore, you can upgrade the appearance of your home by mixing and matching with other Bespoke cooking appliances to complement your aesthetic and culinary adventures.
Cooks using little oil
Air Fry
Enjoy healthier fried food without a deep fryer. Air Fry combines a special tray with hot air circulation that envelops food. Simply place food on the tray with just a touch of oil and select the Air Fry mode. It is the ideal way to cook french fries, tater tots or even vegetables as it eliminates excess fat, but everything is still crispy and brown outside and juicy inside.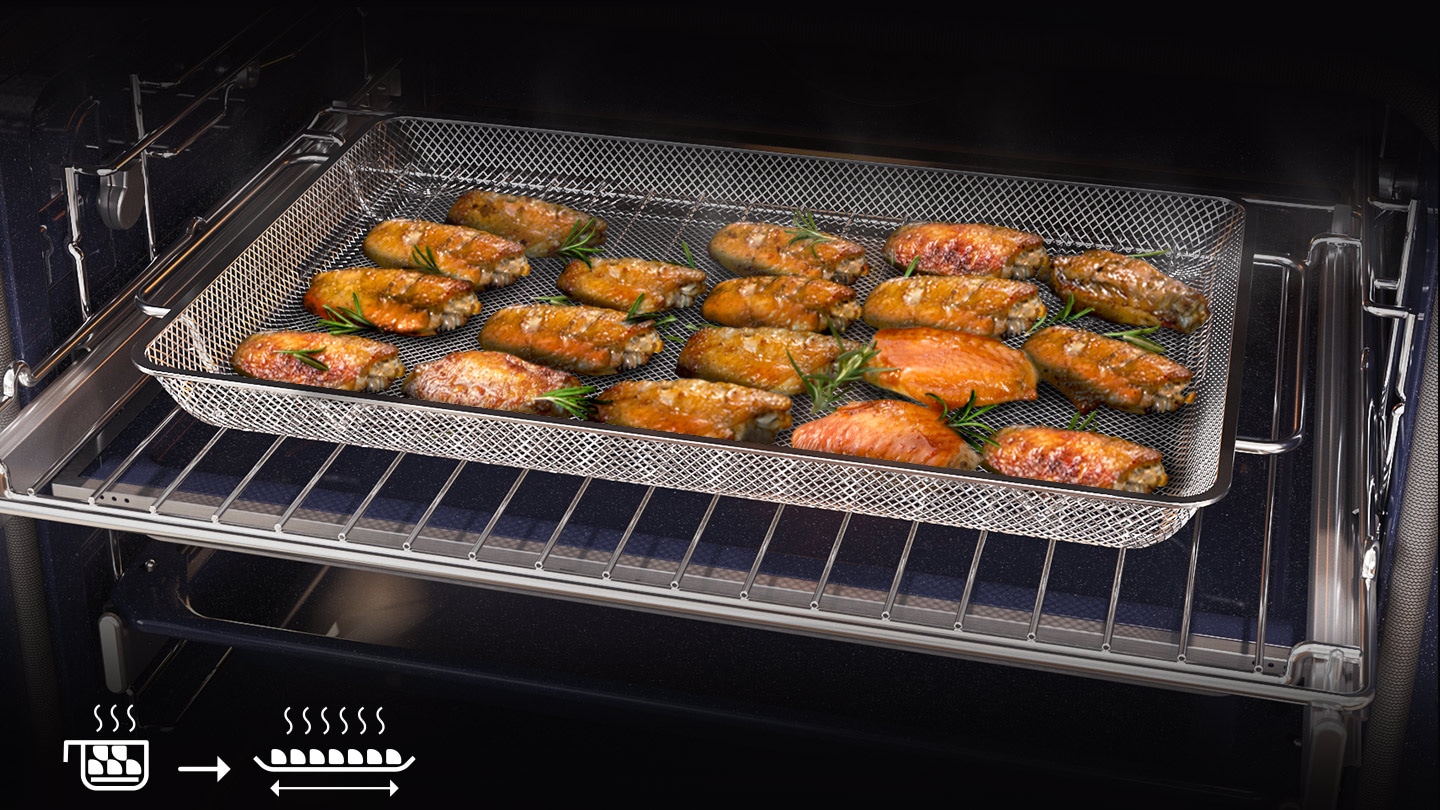 Totally even cooking
Air Sous Vide*
Cook food more evenly without it overcooking or drying out. The innovative Air Sous Vide* system accurately senses the temperatures in each cavity and maintains an even temperature for a long period of time. So everything is cooked thoroughly, wherever it is in the oven, and tastes deliciously tender and juicy.
* Requires a dedicated sous vide cooking bag, which is not included with the oven.
Always keeps the oven neat with heat
Pyrolytic Cleaning
Keep the inside of your oven neat and clean without wasting time and effort scrubbing or using costly cleaning products. A Pyrolytic Cleaning system heats the cavity to burn off any grease and residue left from cooking. Everywhere is left spotless with only a few ashes to wipe away.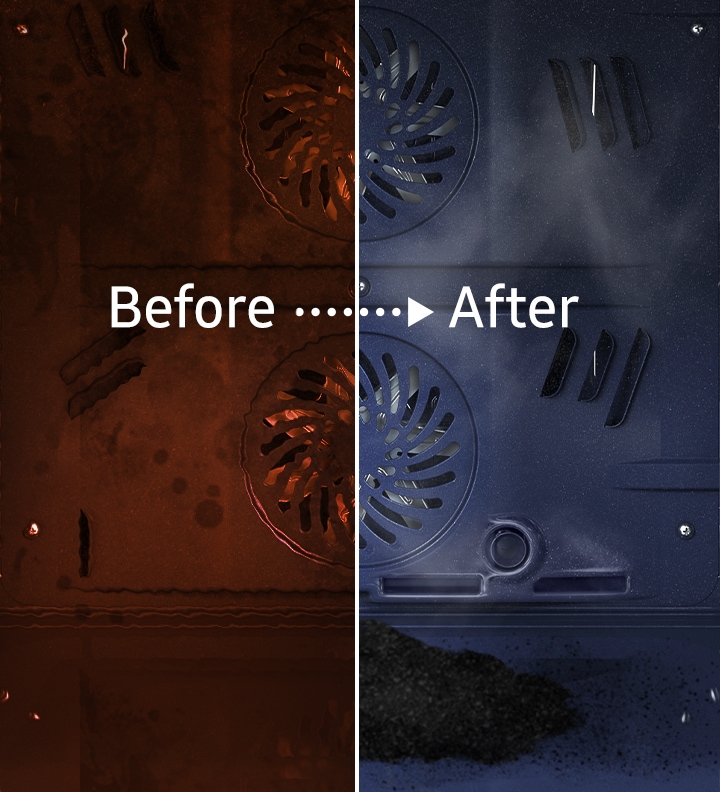 Cook food properly to suit your taste
Food Probe
Check the internal temperature of your dishes more accurately to ensure that they are perfectly cooked to your expectation. The Food Probe eliminates any guesswork by clearly indicating when large pieces of food have been cooked properly. This helps to save time and heat by reducing the need to open the oven to check if the meat has been perfectly cooked.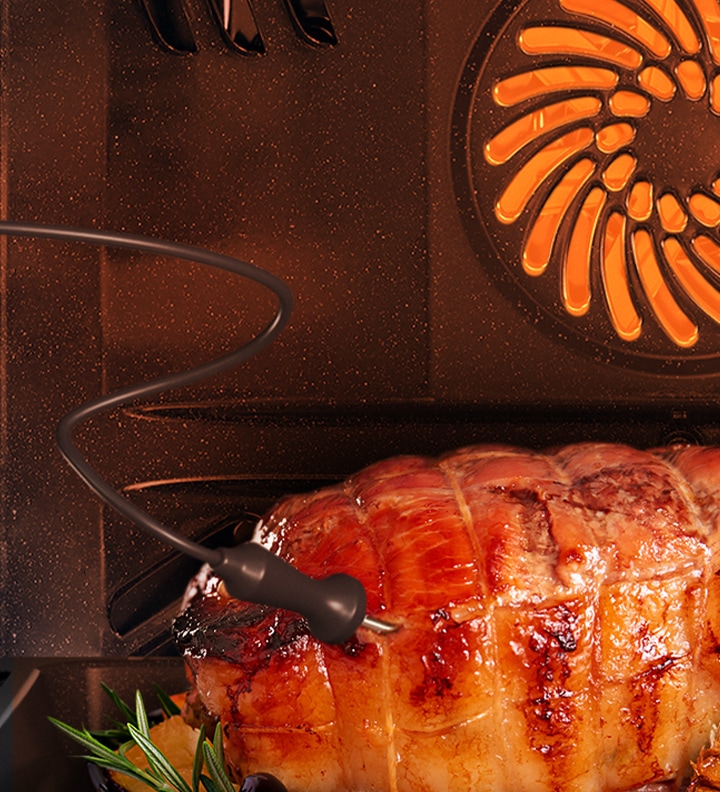 Closes smoothly, gently and silently
Soft Close Door*
Enjoy a more peaceful cooking experience with the Soft Close Door. It closes safely, gently and silently. The hinge makes the door move smoothly in the final few centimeters, so it slowly and quietly shuts, with no vibration or loud banging sounds.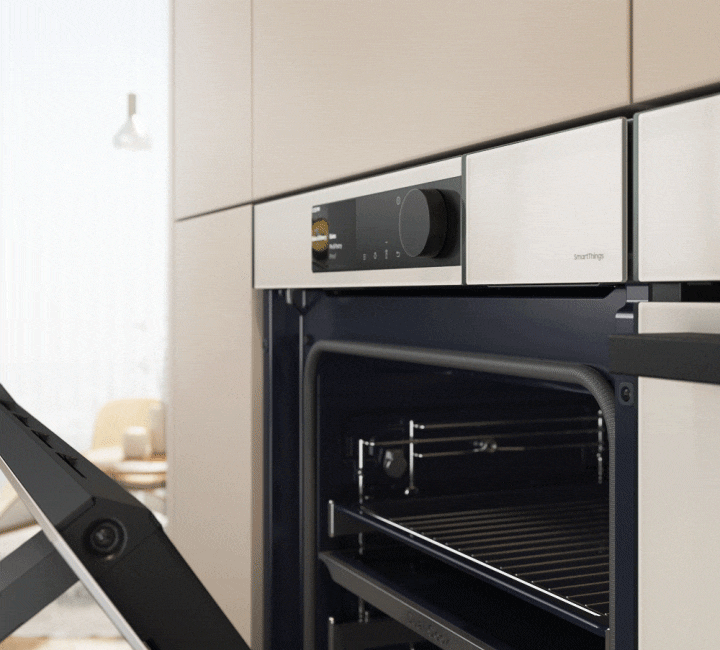 *Specifications may vary by model.
Cook much more
Big Capacity (76L)
Create more and larger dishes with a massive 76 litre capacity oven. It opens up to more possibilities in home cooking – for hosting parties, or even to accommodate a family gathering with wider food selection at home. You can prepare lots of different food together and can also easily accommodate large items, such as a king-size turkey for large gatherings.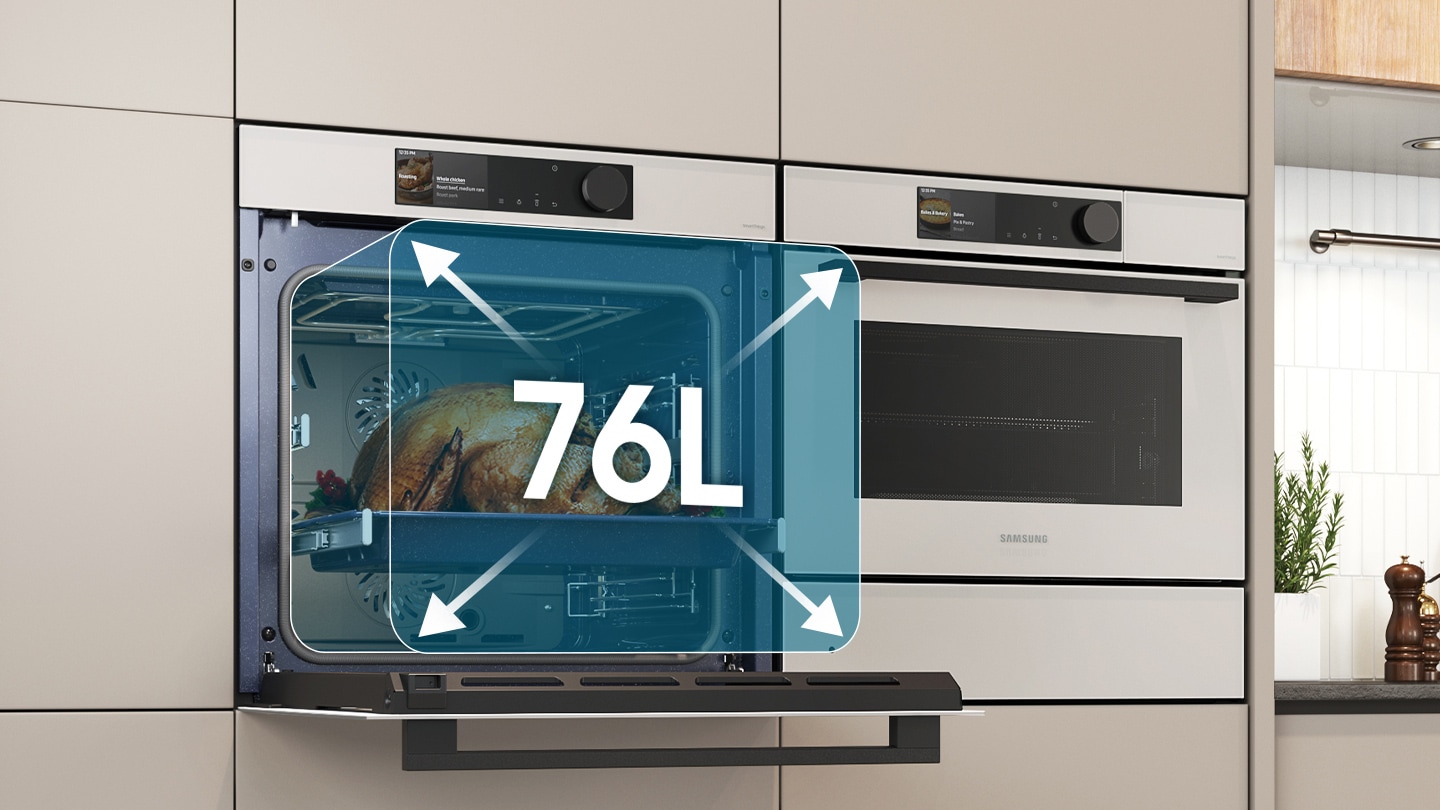 Smooth gliding shelf
Telescopic Rail
Get things in and out of the oven much more easily. The Telescopic Rail slides in and out smoothly with hardly any effort, even if you're using large or heavy pans. It creates much less friction, so it's much easier to load and unload. Plus, you can baste, turn and season food without any spills.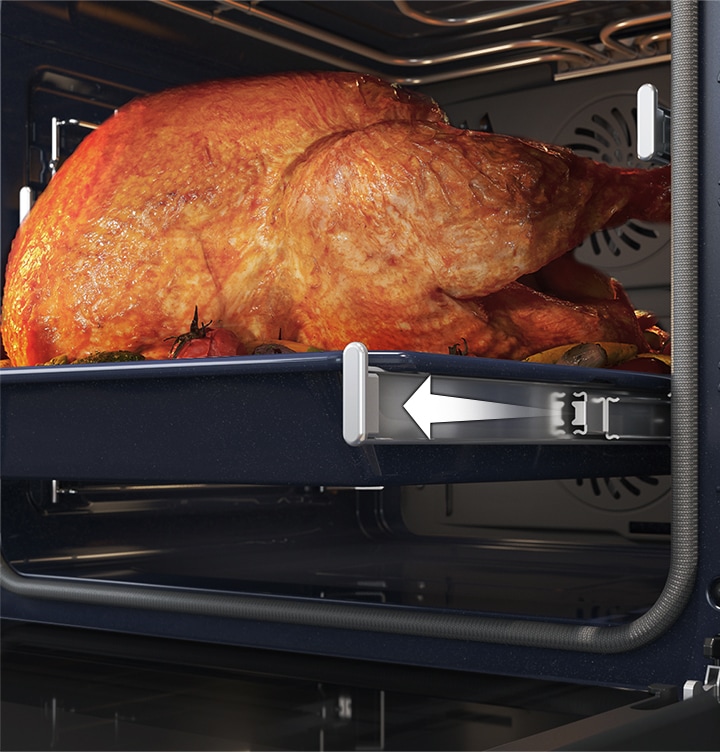 Specifications may vary by model.
SMARTTHINGS AT HOME
Wi-Fi embedded
Enjoy added convenience and peace of mind with embedded Wi-Fi. The SmartThings App* lets you monitor and control the oven anywhere using a smartphone. You can check and adjust settings and receive alerts. You can also control it with your voice using a voice assistant**, like Samsung Bixby***.
* Available on Android and iOS devices. A Wi-Fi connection and a Samsung account are required.** A Wi-Fi connection is required*** Bixby is Samsung's brand of artificial intelligence (AI) / Internet of Things (IoT) voice assistant. Bixby service availability may vary depending on country. Bixby recognizes selected languages and certain accents/dialects. The user interface may change and differ by device. The availability of Bixby features and content providers may vary depending on the country/carrier/language/device model/OS version. A Samsung account log-in and data network connection (Wi-Fi or data network) are required.
SmartThings Cooking
Smart and effortless cooking
SmartThings Cooking* saves time and makes cooking a breeze. By understanding your needs, it recommends personalised recipes** and creates a weekly meal plan. A guided cooking experience lets you control the oven settings with one-touch on a recipe and monitor the cooking process.
* Requires a wireless network, a Samsung account and the Samsung SmartThings App. The Samsung SmartThings App supports Android OS 8.0 (Oreo) or later, which is optimized for Samsung smartphones. This App also supports iOS 13 or later for iPhone models. The SmartThings App is available in the App Store and Play Store. ** Only available in Europe and Korea, Available in certain languages, including English, French, German, Italian and Spanish. *** Only monitoring is available. The cooktop cannot be turned on/off using a smartphone.
SmartThings Home Care
Smart maintenance. Easy upkeep.
Take care of your oven with ease, so it stays in the optimal condition. SmartThings Home Care* monitors and analyses your usage, so it can proactively diagnose and help troubleshoot errors. It also provides a usage guide with useful tips on using your oven, as well as a user manual.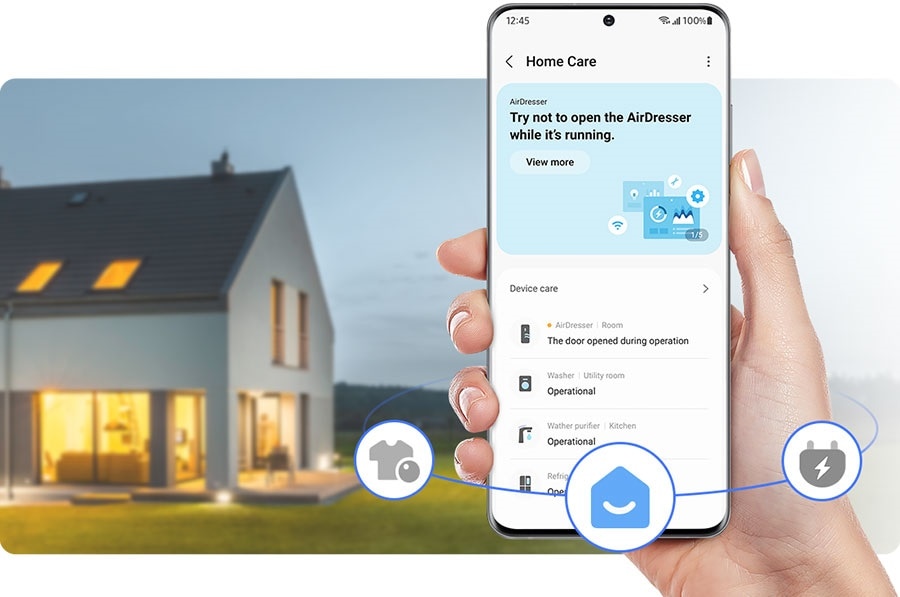 * Available on Android and iOS devices. A Wi-Fi connection and a Samsung account are required.
How to measure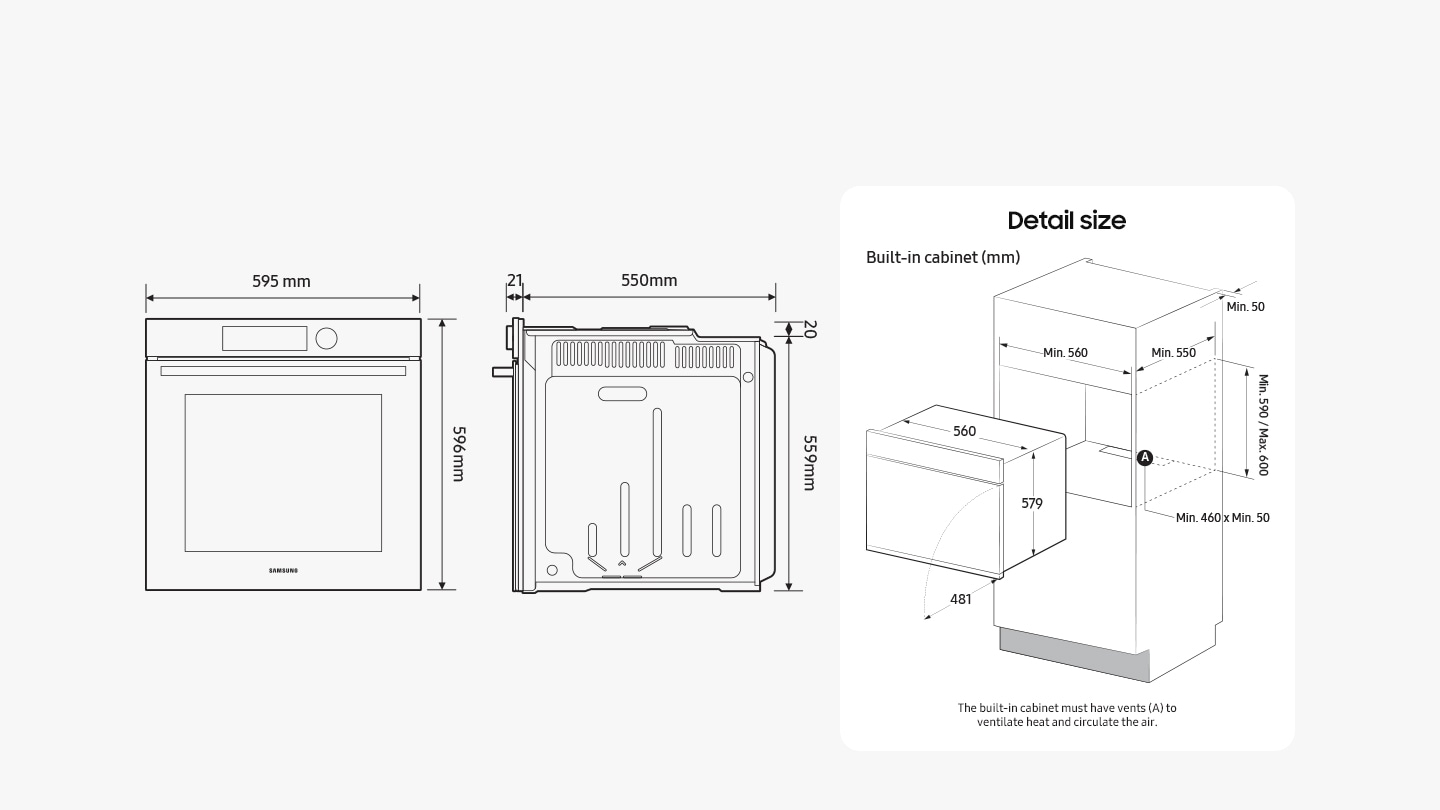 SPECIFICATIONS

Output Power
3650 W
Oven Temp. Ranges (Single)
30~275 (Grill 100~300)
Oven Temp. Ranges (Upper, Lower)
40~250 °C
Oven Temp. Ranges (Twin)

40~250 °C

Steam Type
Add Steam
Upper Grill (In/Out)
1600 / 1100 W
Lower Grill
1100 W
Single Mode (Top Heat + Convection)
Yes
Single Mode (Large Grill)
Yes
Single Mode (Eco Grill)
Yes
Single Mode (Bottom + Convection)
Yes
Convection
1200 W
Cleaning Method
Pyrolytic
Steam Clean
Yes
Wi-Fi Connection
Yes
Auto Programs
Single 50ea / Dual Cook 20ea
Air Fry
Yes
Air Sous Vide
Yes
Cook Timer
Yes
Camera
No
Child Safety Lock
Yes
End Timer
Yes
Clock
Yes
Interior Lamp
25W / 40W (Halogen)
Interior Light (Position)
Top / Side
Light (Lamp) On/Off
Yes
Language Option
Yes
Oven Color
Satin Beige
Oven Door Glass
Quadruple
Display Type
4.3" TFT-LCD
Cavity Material
Ceramic Enamel
Control Method
Dial & Touch
Soft Closing Door
Yes
Door Type
Drop down
Accessories
Square Baking Tray: 2ea
Square Wire Rack: 2ea
Telescopic Rail: 2 Level (Full)
Meat Probe
Air Fry Tray

Usable Volume (Whole)
76L
Cavity (WxHxD)
560 x 579 x 549 mm
Outside (WxHxD)
595 x 596 x 570 mm