---
MV7 PRO ADJUSTABLE ELECTRIC WINE AERATOR
We try our best to provide accurate product information from the manufacturer's or agent's website. However, the information on this page may change without notice, and it may not be accurate if there are specification changes. We recommend checking the manufacturer's site for the latest specs and information.

-

While all items available for online purchase can be added to your cart, we cannot guarantee their availability at the time of order processing.

In case we are unable to fulfill your order, we will get in touch with you to provide an alternative option or arrange a full refund.

-

If your product is eligible for warranty, you can find its registration link here.
The World's First "Adjustable" Electric Wine Aerator!
Most people don't know about aeration all the time. To have a glass of aeration wine taste and flavor are difficult. In 2013, we released Vinaera-World's First Electric Wine Aerator, using the"invention patent"air intake structure, just one tap, the wine instantly decanting. In 2018, we released Vinaera PRO – World's First "Adjustable" Electric Wine Aerator, this patented design can let the consumer decide the aeration time that best suits their taste, instantly with the turn of a dial. At present, only we have such patented technology in the global market.
It combines the traditional aeration technique with patented technology to bring about not only a revolution in aeration devices but also to support advances in red wine culture.
Vinaera PRO allows you to fine-tune the level of aeration to best suit any style of wine!
People can't effectively and correctly decant wine in this busy age. We use our exclusive patent to let people quickly and easily"ADJUST"the aeration level to get the best aroma and aerated taste. It has the equivalent effect of decanting for 0-180mins, as selected by the dial. Just one tap, you can immediately experience wine at the optimal aeration level to your taste. In addition, the new telescoping stainless steel tube with filter is designed to effectively maintain the red wine quality and the product base easy for storage.
This is the revolution of wine decanting. it can completely improve the inconvenience of traditional glass decanter, saving you decanting time. Now, People who don't understand decanting but also can easily enjoy the full bouquet of wine.
FEATURES
Adjustable Aeration Function
Stainless-Steel Telescoping Tube is Suitable for 0.75/1.5L Wine Bottle
Built-in Sediment Filter
One-Touch Dispensing
Design for Assembly, Easy to Carry
Product Base
Which Wines Should I Decant?
Most red wines need decanting. Decanting times range from about 30 minutes to more than 3 hours depending on the variety、region、different terroir、and age of the wine.
If you wish to enjoy a red wine with full-bodied aroma, a mellow taste, complex layers and a lingering after-taste, the effect of aeration will be more obvious if you select red wines from grape varieties or growing regions with "strong tannins". For example: Grape varieties such as Cabernet Sauvignon, Cabernet Franc, Syrah, Petite Sirah, Nebbiolo, Montepulciano, Malbec, Tempranillo, Sangiovese, Sagrantino ; and growing regions such as Bordeaux, Burgundy, Rhone Valley, Barolo, Barbaresco, Rioja, Jumilla, Napa and Chianti.
SUITABLE WINE
Release
Aroma
Aeration
Release Small
Amounts of
Fusel Alcohol
Reduce
Harshness
Smoother
Texture
Reduce
Astringency
Red Wine
O
O
N/A
N/A
O
N/A
White Wine
O
O
N/A
N/A
O
N/A
Whisky
O
N/A
O
O
O
N/A
Brandy
O
N/A
O
O
O
N/A
Chinese White Wine

O
N/A
N/A
O
O
N/A
Other Distilled Liquor
O
N/A
N/A
O
O
N/A
Sparkling Wine
X
X
X
X
X
Don't Use
PATENTS / TEST
How to use
Professional Sommelier's Review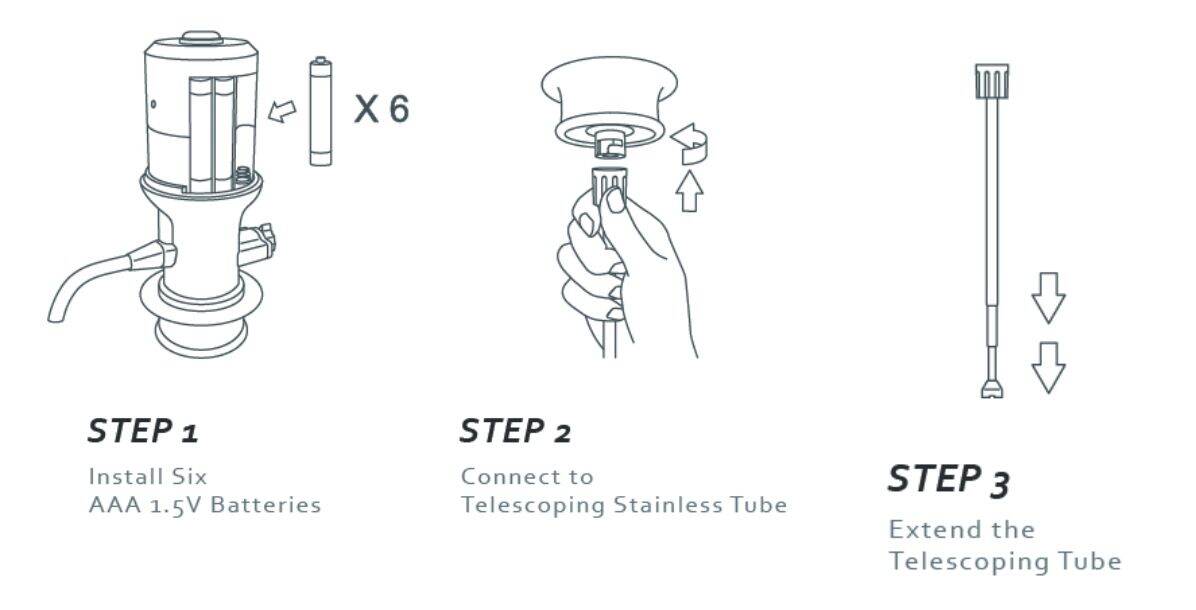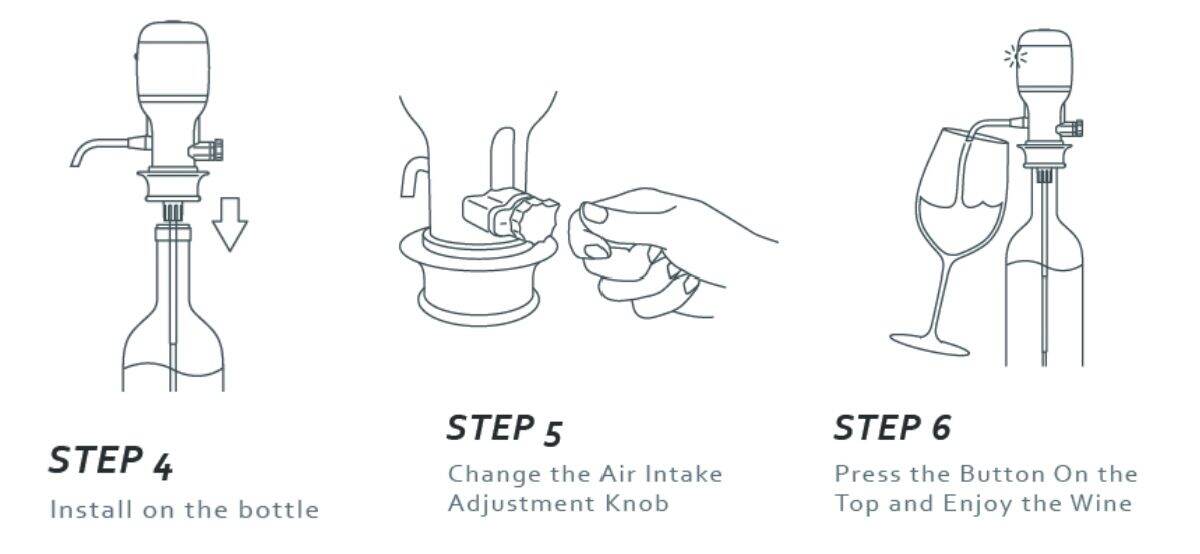 SPECIFICATIONS
Name

Vinaera Pro MV7

– Adjustable Electric Wine Aerator
Weight
220g
Main Body
L122mm x W57 mm x H148mm
Telescoping Stainless Tube

135mm ~ 335mm

Color / Finish

Gunmetal Color / Nickel Plating

Material

ABS/ Silicone/ Stainless/ Pump

Power / Voltage / Current

3.6V / 9V / 400mA

Country of origin

Design in Taiwan / Made in China

Note

Six AAA 1.5V batteries are good for more than one hundred 750ml bottles of beverage.