SAMSUNG VR10M7040W9 DARTH VADER SPECIAL EDITION POWERBOT ROBOT VACUUM
$1,199.00
Product Summary
Suction Power: 10W
Airflow: Optimized Air Flow
Charge-up Time: 240min
Warranty: 2 Years
Clean your galaxy.
Conquer your space with these special edition Star WarsTM robotic vacuums. Designed by real Star Wars™ fans, each one packs the ultimate cleaning power in the shape of your favuorite Star Wars™ characters. With pre-loaded Star Wars™ phrases and sound effect within the POWERbot, be sure to expect a Darth Vader™ roving around with the imperial march and Stormtrooper™ zooming past with the Star Wars theme song. Wait no longer! Get a robot vacuum that makes a grand entrance now.
These are the droids you're looking for.
The latest POWERbot is a tribute to the world of Star Wars™. Just like your favuorite droid, it's smart enough to steer itself, handle any terrain, avoid unexpected traps and make quick decisions. Most importantly, it answers to you.
Designed in collaboration with Star Wars™ superfans, you can choose between a special edition Darth VaderTM or StormtrooperTM POWERbot. Enlist one to help you with your next cleaning mission.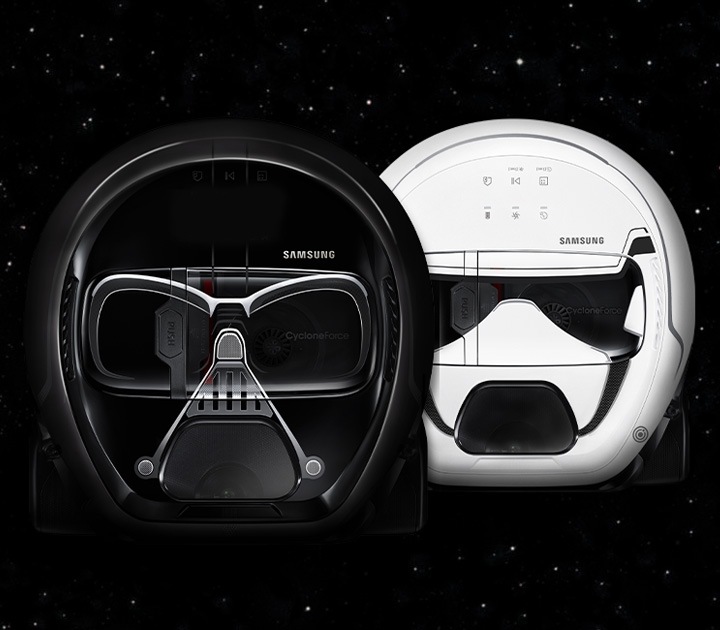 The force is strong with this one.
With 20x the suction power of the last generation1, the slim POWERbot eliminates dirt and debris from even the most hard-to-reach places. Plus, it gives every surface a deep clean — from hardwood to Hoth.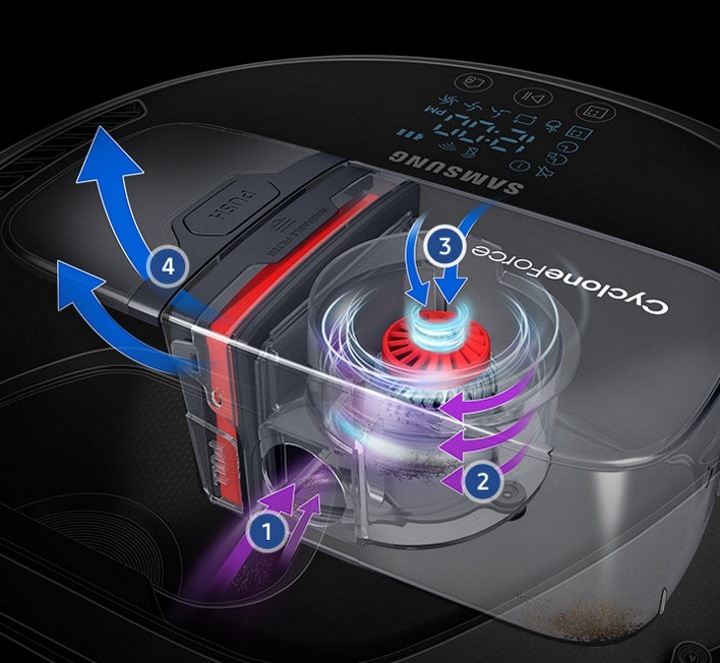 Cleans near and far, far away.
With Visionary Mapping™ Plus, the POWERbot maps and remembers the contours of every room. Its FullView Sensor™ 2.0 even detects and avoids obstacles like chair and table legs.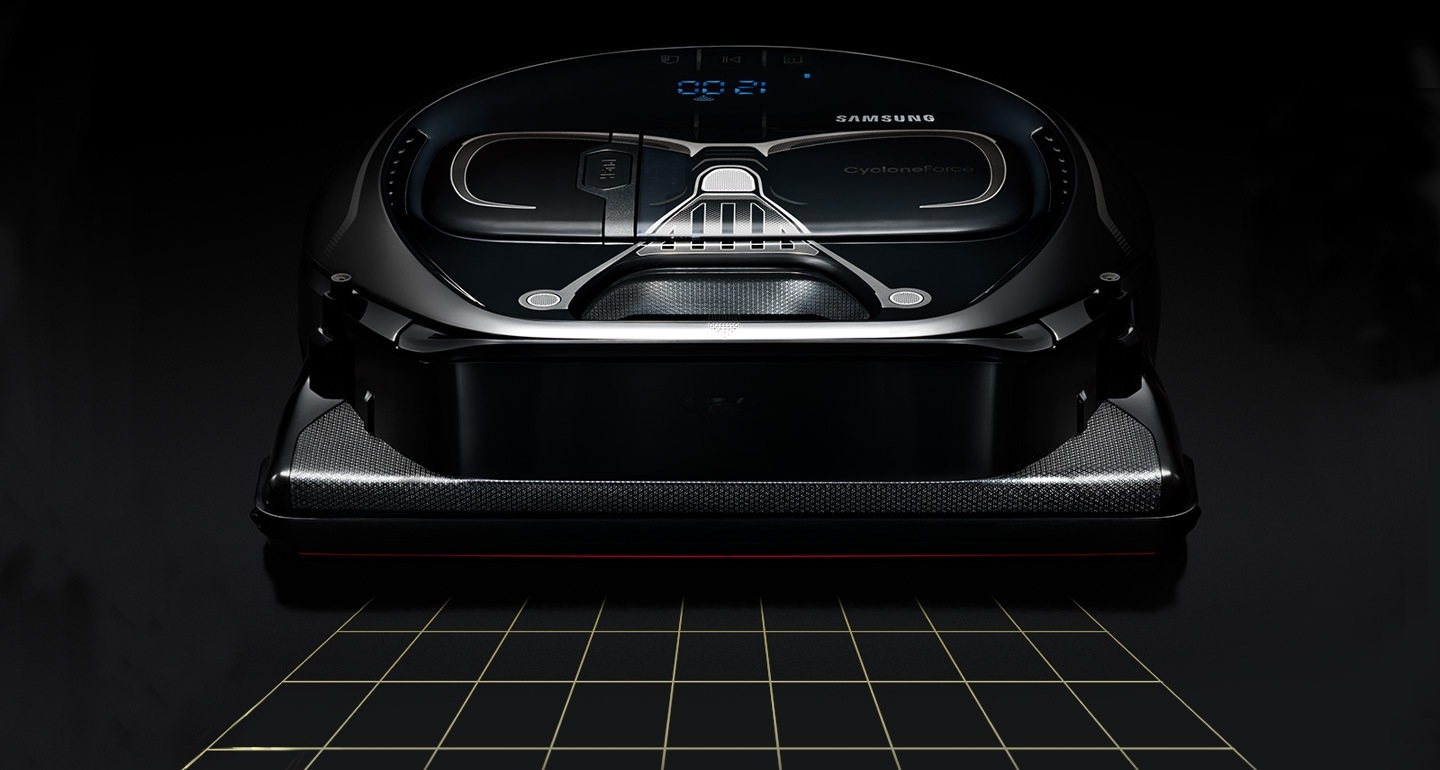 Reach the outer edges.
The POWERbot's Edge Clean Master has a bristle brush and drop-down shutter to capture dust trapped in corners and along the edges of the wall. The shutter guides dust and debris into the vacuum so that virtually nothing can escape.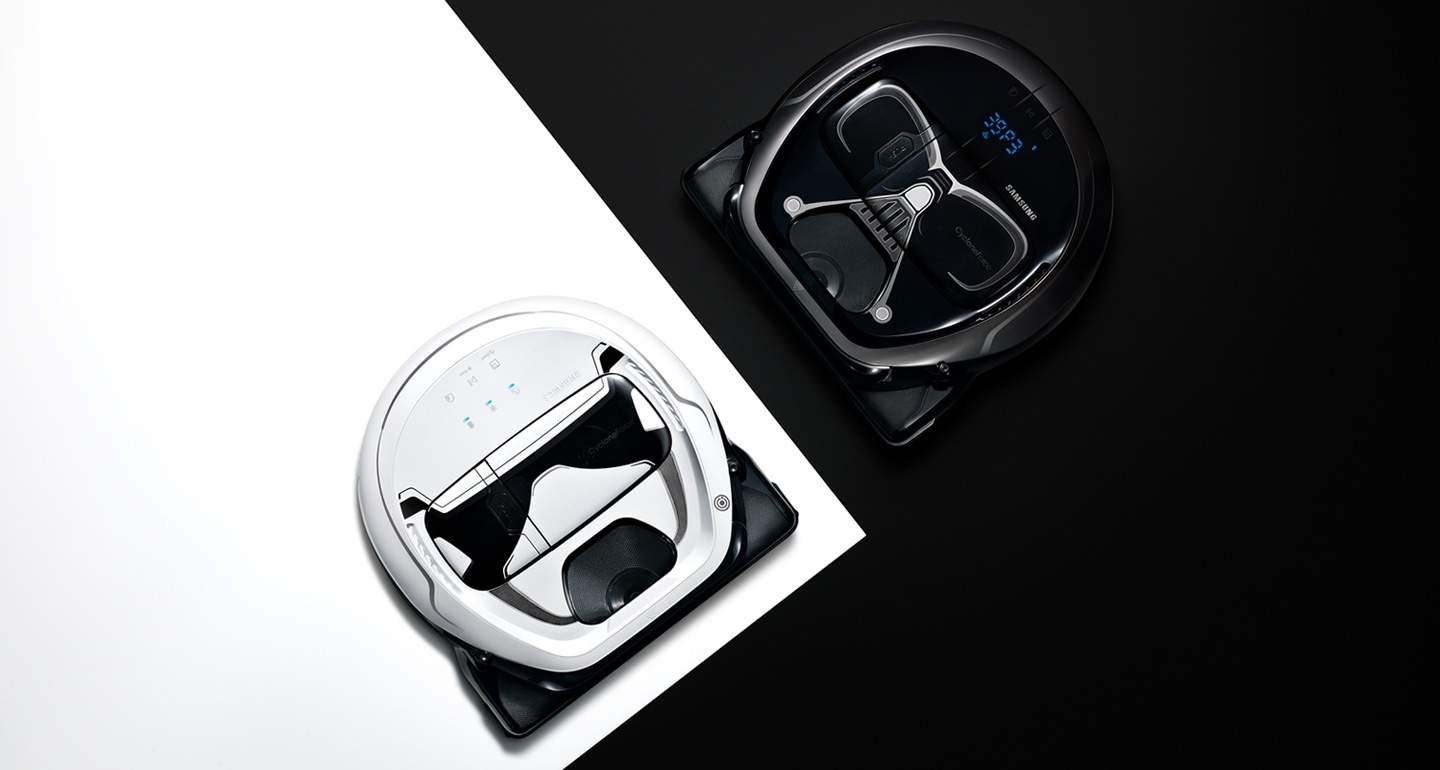 Go rogue. Or choose your copilot.
Darth Vadar™ POWERbot can be controlled using a remote or Samsung Connect app2 on your smartphone. Either way, the Dark Side does your chores for you.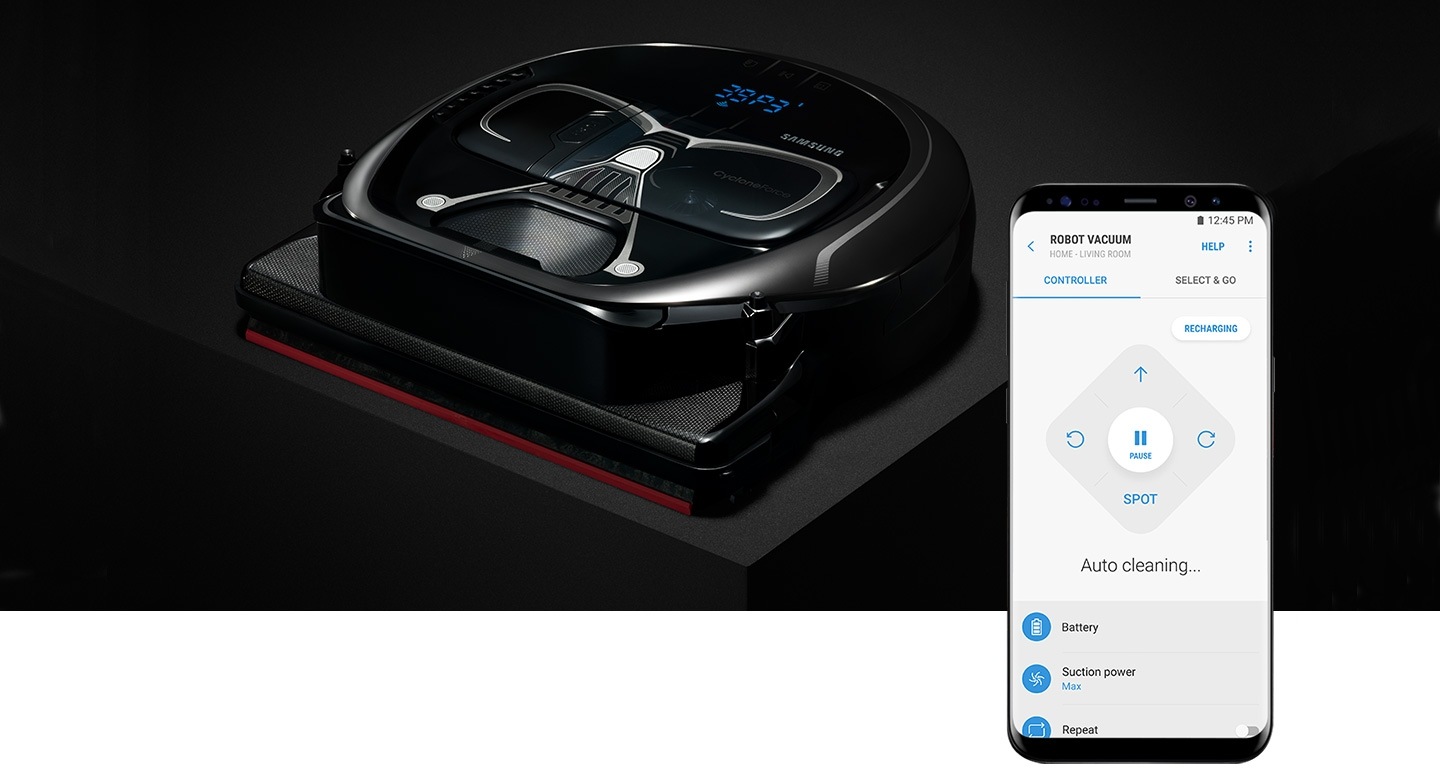 Performance

Cleaning Speed (m/sec): 

0.32 m/sec

Cleaning Time

: 

30/60 min

Recharging Time

: 

240 min

Max Consumption Power

: 

80 W

Charger Max Consumption Power

: 

50 W

Noise Level

: 

72 dBA

Battery
Robotic

Sensor

: 

FullView Sensor™ 2.0

General Information

Cleaning Width

: 

288 mm

Point Color

: 

Natural Gray(Darth Vader™)

Button Type

: 

Touch

Auto-Docking

: 

Yes

Remote Control

: 

Yes

Cleaning Mode

Auto

: 

Yes

Manual

: 

Yes

Spot

: 

Yes

Turbo Mode

: 

Yes

Other

: 

Repeat clean

Dust Collection

Type

: 

Cyclone Force

Dust Capacity

: 

0.3 ℓ

Convenience Feature

Visionnary Mapping System

: 

Yes

Scheduling

: 

Yes

Wi-fi Control

: 

Yes

Edge Clean Master

: 

Yes

Intelligent Power Control

: 

Yes

Easy Pass

: 

Yes

Filter

Exhaust

: 

Yes

Pre-Motor

: 

Yes

Special Feature
Physical specification

Net Dimension (WxHxD)

: 

340x97x3348 mm

Gross Dimension (WxHxD)

: 

479x171x497 mm

Set Weight

: 

4.0 kg

Gross Weight

: 

6.5 kg