Bosch KFN96PX91I 502L FRENCH-DOOR FRIDGE (3 TICKS)
$6,299.00
Product Summary
Multiairflow system: Minimises fluctuating temperatures by ensuring optimal and uniform air circulation in the fridge.
Capacity: Large capacity with flexible spaces for storing groceries of different sizes
LED light: illuminates the refrigerator evenly without glare, for the life of the appliance.
Superfreezing - Automatically brings down the temperature of the freezer to keep cool new items rapidly.
BigBox frozen food drawer: for stacking storage containers or for large frozen food items.
2 years warranty [Click to Register]
HIGHLIGHTS

Capacity
Large capacity with flexible spaces for storing groceries of different sizes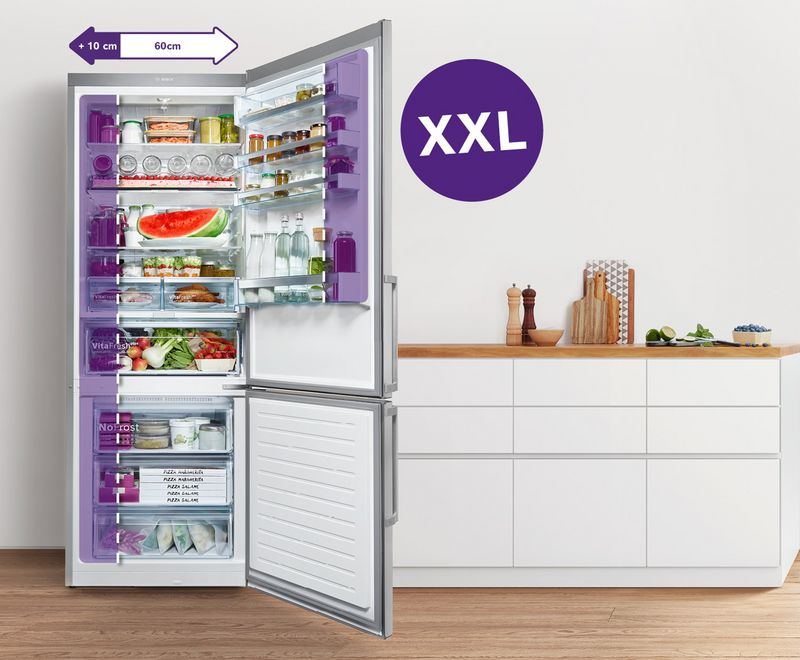 LED light: keeps the contents of your fridge in the spotlight.
LED lights bring a completely new lighting concept to fridges, guaranteeing even, glare-free interior illumination. LED lights use less electricity than conventional fridge lights and last an (appliance) lifetime.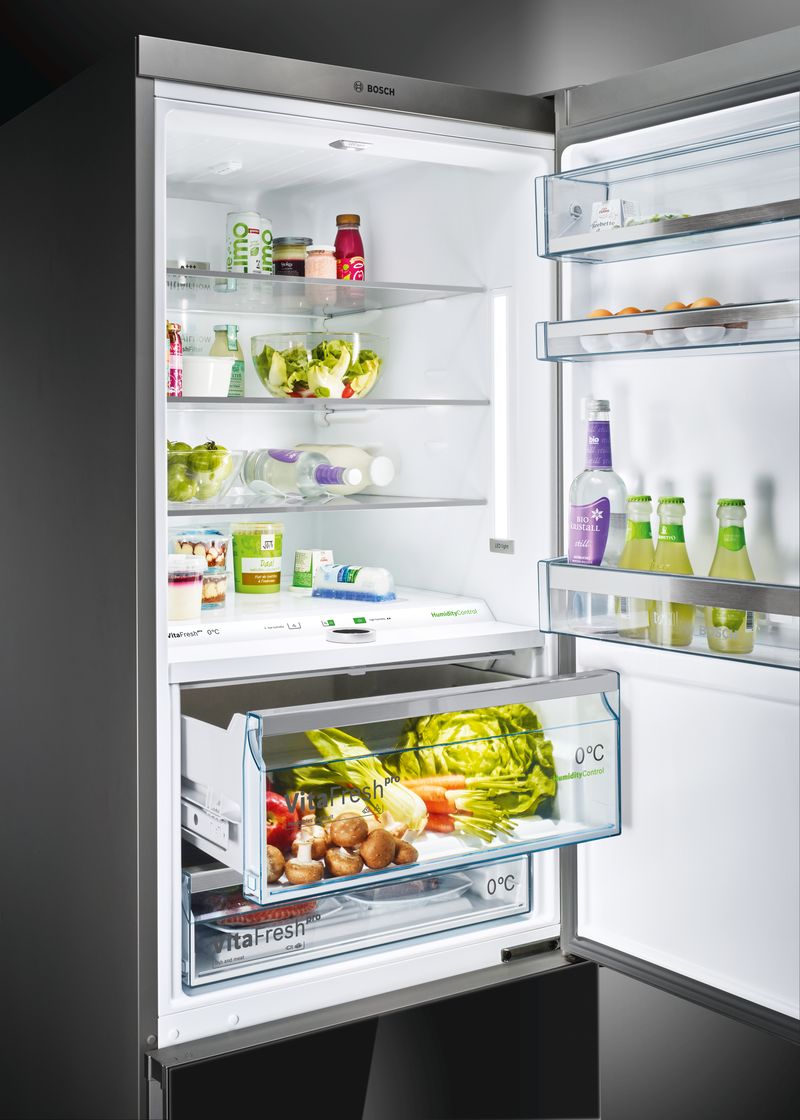 Protects frozen food from defrosting.
In order to retain vitamins, nutritional value, appearance and flavour, food should be frozen as fast as possible. With the automatic super freezing function you can freeze small food load faster whilst protecting your frozen items from defrosting. The freezer detects the temperature increase and automatically adjusts its temperature to guarantee the best storage conditions.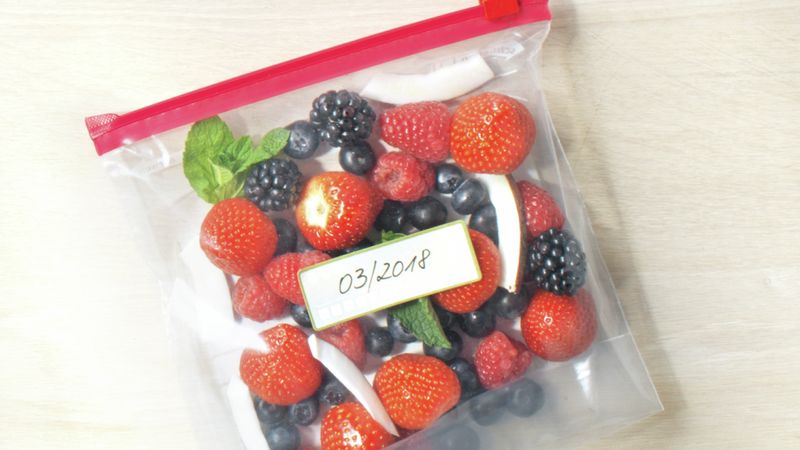 Lots of space for XXL frozen goods with the BigBox frozen food drawer
An extra-deep frozen food drawer for practical stacking of frozen foods container or large frozen items like gateaux or pizzas. No matter whether you have to cater for a child's birthday or freeze a wedding cake – in the BigBox you will find enough space for large frozen goods.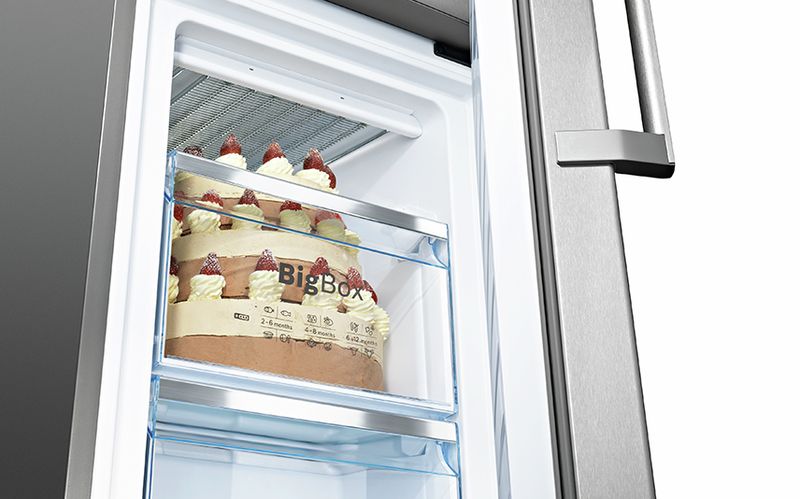 FEATURES

GENERAL
Gross Capacity Fridge: 425 l

Gross Capacity(Freezer): 187 l

Net Capacity (Total): 502L

Net capacity(freezer): 111 l
TECHNICAL
6 safety glass shelves

3 drawers

Freezing Capacity: 18 kg/ 24h
DESIGN
SPECIFICATIONS
GENERAL
Width of the product (mm)
906 mm
Height of the product (mm)
1,830 mm
Main colour of product
Ceramic gritstone
Refrigerator Net capacity (l) - NEW (2010/30/EC)
391 l
Freezer Net capacity (l) - NEW (2010/30/EC)
111 l
Energy consumption annual (kWh/annum) - NEW (2010/30/EC)
328.00 kWh/annum
Temperature display fridge
digital LED
Noise level
39 dB
Door hinge
Other
Shelves for Bottles
—
Length electrical supply cord (cm)
240 cm
CONNECTIVITY
Home Connect
✓
Home Connect Features
iService Remote, Remote Monitoring and Control
Connectivity type
Wi-Fi
DESIGN
Main colour of product
Ceramic gritstone
Number of compressors
2
Built-in / Free-standing
Free-standing
Type of control
Electronic
Number of independent cooling systems
2
Door hinge
Other
Door panel options
Not possible
Frost free system
Fridge and freezer
Door opened indicator freezer
Installation type
N/A
SIZE AND WEIGHT
Depth of the product
710 mm
Height of the product (mm)
1,830 mm
Net weight (kg)
180.400 kg
Width of the product (mm)
906 mm
COOLING
No. of shelves in fridge
6
No. cont. in refrig. comp.
2
No. of egg racks
1
Capacity in 0.75l (bordeaux bottles)
0 No.
Defrost process fridge section
Automatic
Number of Adjustable Shelves in fridge compartment
5
Number of shelves in fridge compartment
6
Temperature display fridge
digital LED
FREEZING
Defrost process freezer section
Automatic
Freezing drawers (Stck)
3
Number of freezing flaps (Stck)
0
Automatic motor-driven ice-maker

—

Temperature adjustable freezer
✓
Thaw water drainage system
✓
COMFORT
Shelves for Bottles
—
Type of control setting and signalling devices
Economy setting / Holiday mode, Super setting for freezer, Super setting fridge, Temperature display fridge, Temperature for freezer, Warning function freezer sect., Warning signal door open, Warning signal for malfunction
Lockable door

—

Fast cooling switch
✓
Fast freezing switch
✓
Humidifying equipment
—
Star Rating
4
Warning signal / malfunction
visual and audible
Warning signal door open
visual
COMFORT
Connection rating (W)
212 W
Length electrical supply cord (cm)
240 cm
Current (A)
10 A
Frequency (Hz)
50-60 Hz
Voltage (V)
220-240 V
DIMENSION DRAWING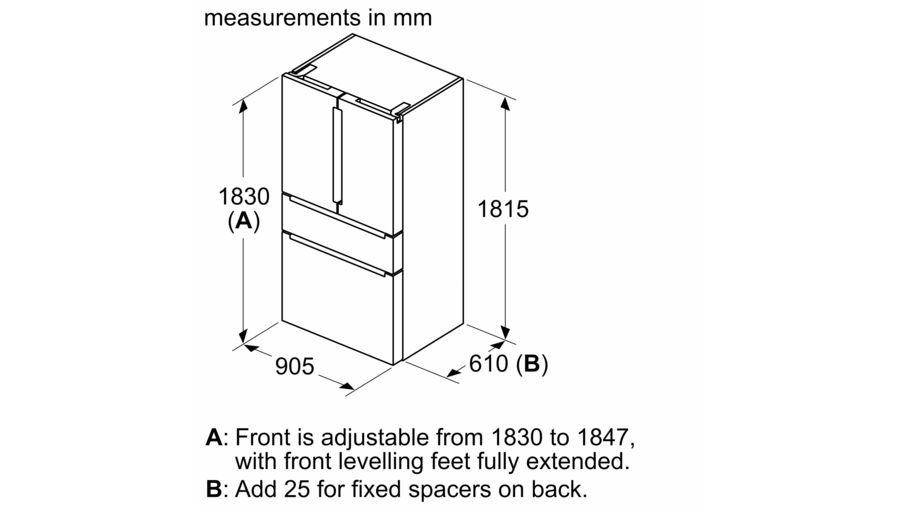 ---
CUSTOMER REVIEWS