---
GR-RT468WE-PMX 254L 2-DOOR FRIDGE
2 years warranty by Toshiba
We try our best to provide accurate product information from the manufacturer's or agent's website. However, the information on this page may change without notice, and it may not be accurate if there are specification changes. We recommend checking the manufacturer's site for the latest specs and information.

-

While all items available for online purchase can be added to your cart, we cannot guarantee their availability at the time of order processing.

In case we are unable to fulfill your order, we will get in touch with you to provide an alternative option or arrange a full refund.

-

If your product is eligible for warranty, you can find its registration link here.
FEATURES
Lock food moisture & prolongs preservation time
Two levels of adjustment make the Humidity Control range up from 60% ~ 80% , to customize storage space for food, lock food moisture, and prolong preservation time.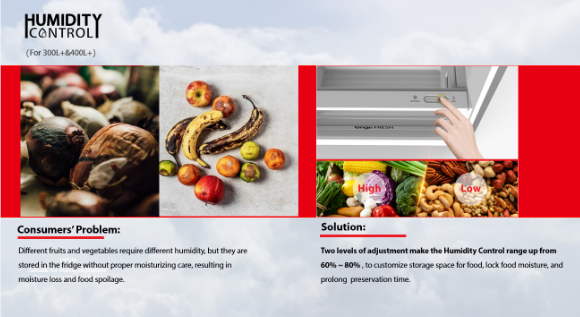 Ag+ ion sterilization
Toshiba TMF Pure BIO is made of honeycomb ceramics, which can absorb unwanted smell efficiently. At the same time, it is plated with Ag+ ion catalyst. The sterilization and deodorization rate is up to 99.9%*, which can keep the refrigerator clean. Pure BIO can be reused by shined in sun in XXh. Environmentally friendly.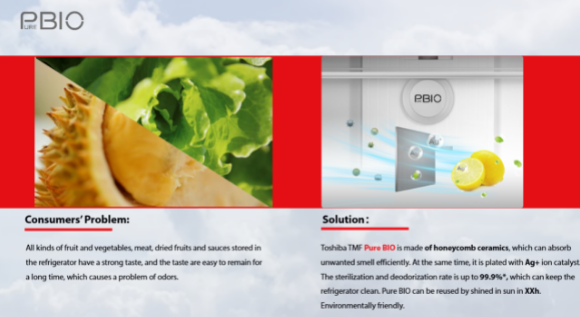 Avoid nutrition lost, easy to cut when cooking
Cooling Zone is suitable for storing seafood and meat, which can be achieved at low temperature (-1 ° ~ 1 °) to keep the meat fresh and not frozen, not only avoiding nutrition lost, but also cutting food directly when taken out from the refrigerator.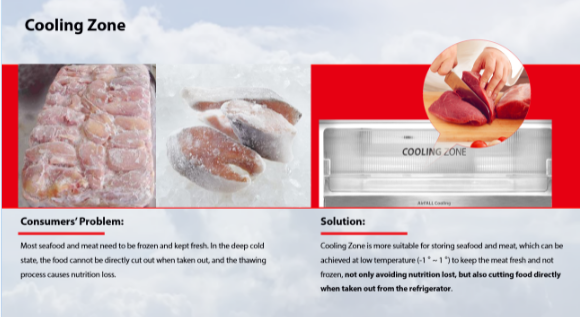 Inverter Compressor + Inverter Fan
Toshiba adopted ORIGIN INVERTER technology, which spanned the first generation of single inverter technology. Both the compressor and the fan are inverter. The fan automatically sensed the change of the cooling capacity of the compressor and changed speed in 4 levels, improving cooling efficiency and energy saving by 17%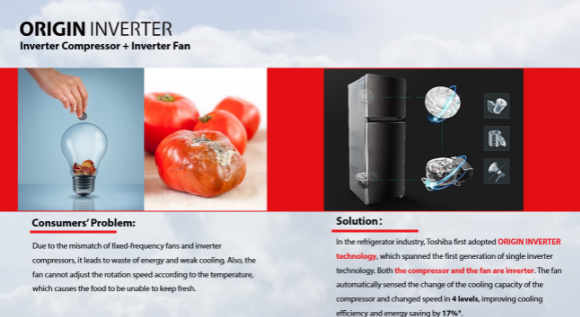 SPECIFICATIONS
Net Volume
254L
Refrigerant
R600a,43g
Rated Power
110W

Product Dimensions 
595 x 695 x 1724 mm (WDH)

Package

 Dimensions
655 x 735 x 1808 mm (WDH)
Net Weight
58.5Kg
Gross weight
65.5Kg