HITACHI BD-90XFV 9KG FRONT LOAD WASHER (4 TICKS) + FREE GIFT BY AGENT
$2,099.00
Product Summary
Spin Speed(r/min): 0,400,800,1000,1600
16 Programs
FEATURES
Dry faster with High Spin Dehydration
1,600(r/min) High Spin Speed
Original rotation control and low vibration technology improved dewatering performance
and increase the amount of dehydration by approx. 2%*1.
* The image is for illustrative purpose only.
*1 1,600(r/min) High Spin Speed tested by Hitachi. Comparison with BD-90XFV and BD-90XAV
Hygienic Washing Tub for Clothes You Care For
Auto Self Clean – The Tub Stain Fighter
Every time you do your laundry, the washing machine automatically cleans itself!  So that you can always enjoy washing in a clean tub.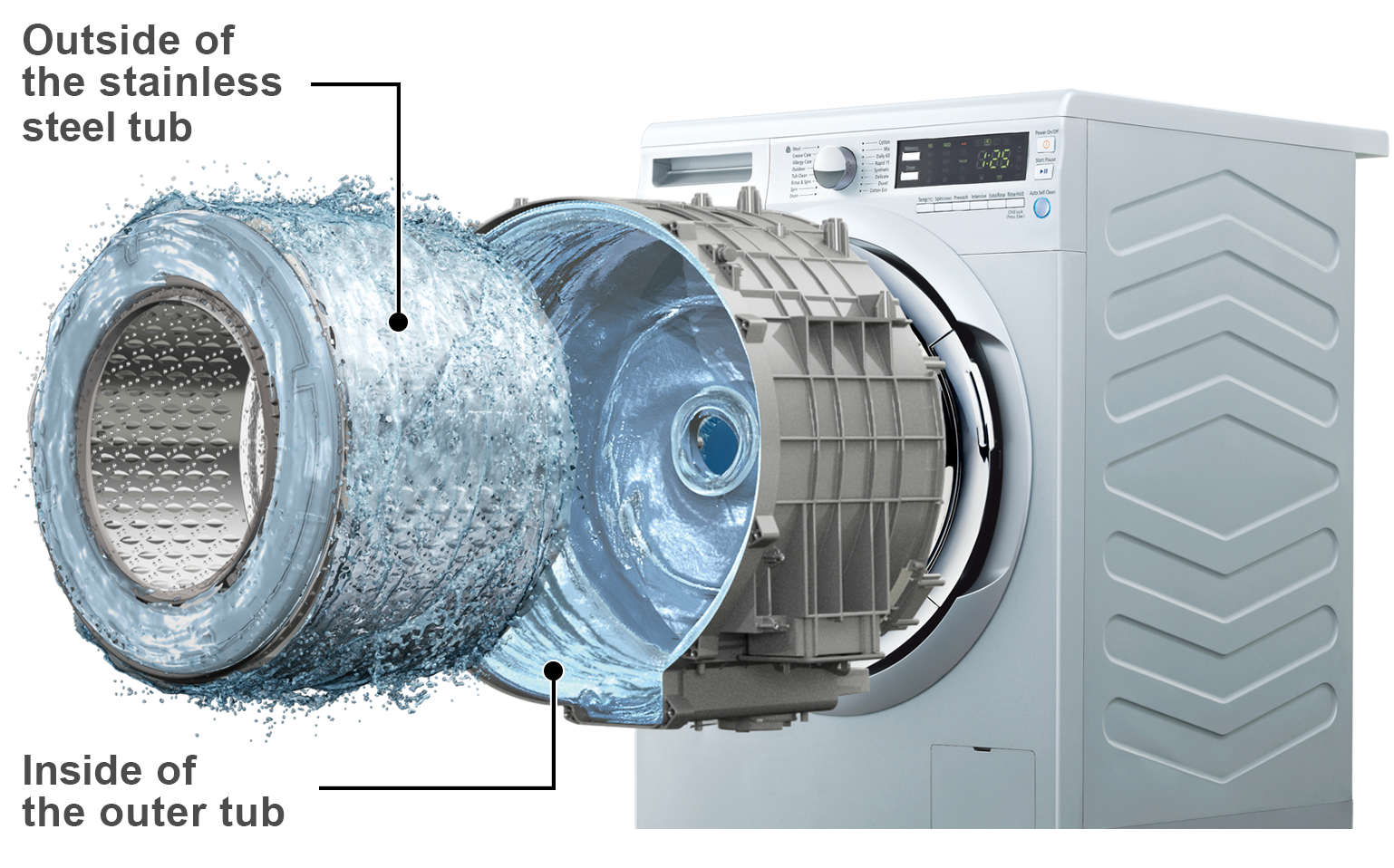 These place easily get dirty
* Hitachi washer – dryer(made in Japan). The level of dirt differs depending on conditions of use.
* The image is for illustrative purpose only.*
 The photo shows "BD-90XAV" as an example and actual design / colour differ on the selected model.
Antibacterial & Antimould* Shower Lifter and Gasket
Made with Antimicrobial materials for a cleaner wash.
* Tested by BOKEN
Less Noise Operating System from Start to Finish
Dual Vibration Control System
Technology from Japan – Hardly transmit any vibrations
Big Drum Makes More Effectively Dirt in Fibers are Removed
Big Drum 510
The bigger the diameter of a front loading washer drum, the more effectively dirt in fibers is removed. Clothes are lifted up to the top of the large 510mm diameter drum and dropped down to provide a powerful beat washing effect.
Intelligent Sensor Systems
Intelligent sensor systems detect load size and fabric type to determine both appropriate washing time and amount of water to use. The result is outstanding washing performance with no wasted energy or water.
LED Multi Function Display
Easy multiple pictographic provide option menu and program indications.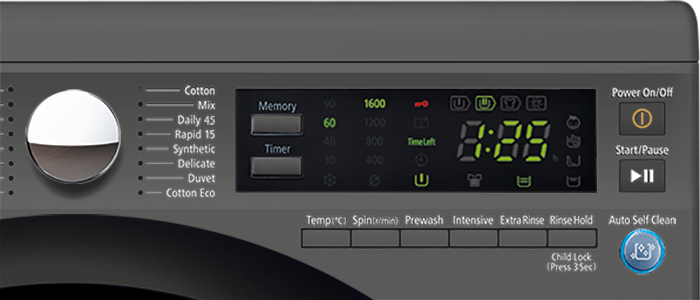 180°Open Door and
Large 330mm Diameter Opening
Enables easy loading and unloading of items for extra convenience.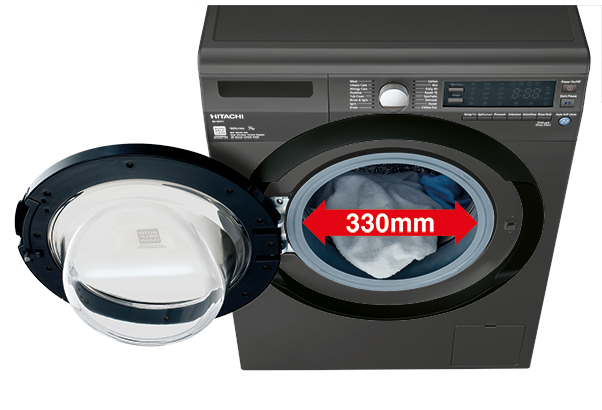 Under-Counter Installation
Neat installation under counter to suit modern kitchen interiors.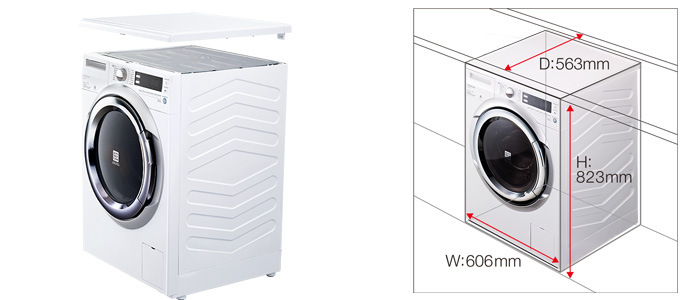 * If the height of the under counter space is between 823mm and 852mm, please remove the worktop and place a top plate (optional) for a proper installation.
* The photo shows "BD-80XAV" as an example and actual design / colour differ on the selected model.
Safety Measures that Go One Step Beyond
Adhering to the strict manufacturing and engineering practices, Hitachi is doing everything possible to protect your valued property.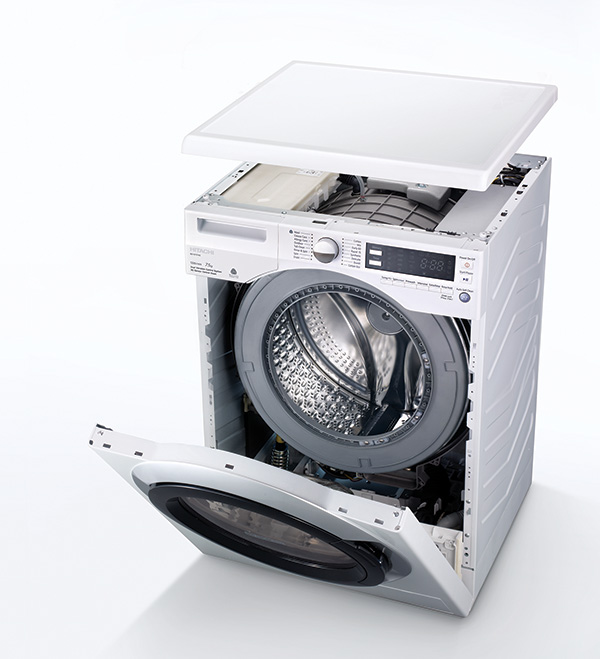 SPECIFICATOINS
Inverter Control
Yes

Washing Process
3D Sensor Control Wash
Washing Features

Intelligent Sensor System
Water Level Sensor

Water Temperature Sensor

3D Vibration Sensor

Load Sensor

Revolution Sensor

Foam Detection Sensor

Vibration Control System

4-Ply Liquid Load Balancer

Hydraulic Suspensions
Self Correction System

Spin Function

Max. Spin Speed(r/min): 1,600

Variable Spin Control

Tangle-Free Finish

Useful Function

Memory

Timer

Option Water Temperature: Cold, 30-90℃

Spin Speed(r/min): 0,400,800,1000,1600

Intensive

Prewash

Rinse Hold

Extra Rinse

Clean Function

Auto Self Clean(Allergy UK Approved)

Tub Clean

Anti bacterial material Shower Lifter Gasket

Door Clean

16 Program

Cotton

Mix

Daily 45

Rapid 15

Synthetic

Delicate

Outdoor

Duvet

Crease Care

Cotton Eco

Wool

Allergy Care

Other Program


Tub Clean

Rinse & Spin

Spin

Drain

Heat Protective Cover

Yes

Display

LED/Jog Dial

Detergent Drawer, Softener Drawer

All in One

Auto Restart

Yes

Auto Power Off

Yes

Child Lock

Yes

Safety Lock

Yes

Dimension With Countertop (WxHxD,mm)

600x850x624

Dimension Without Countertop (WxHxD,mm)

600x820x624

Body Color

Metallic Silver

Weight (Net/Gross,kg)

63 / 67
---
CUSTOMER REVIEWS