Philips 4K Ultra Slim Smart LED TV 49PUT7032/98
$1,199.00
Product Summary
123 cm (49")

4K Ultra HD LED TV

DVB-T/T2
4K Ultra Slim Smart LED TV with Pixel Plus Ultra HD
Model no.: 49PUT7032/98
4K Ultra HD is unlike any resolution you've ever seen before
Ultra HD TV has four times the resolution of a conventional Full HD TV. With over 8 million pixels and our unique Ultra Resolution Upscaling technology, you'll experience the best possible picture quality. The higher the quality of your original content, the better images and resolution you will be able to experience. Enjoy improved sharpness, increased depth perception, superior contrast, smooth natural motion, and flawless details.
Three HDMI inputs and Easylink for integrated connectivity

Avoid cable clutter with a single cable to carry both picture and audio signals from your devices to your TV. HDMI uses uncompressed signals, ensuring the highest quality from source to screen. Together with Philips Easylink, you'll need only one remote control to perform most operations on your TV, DVD, Blu-ray, set top box or home theatre system.
Ultra Slim lines for a refined profile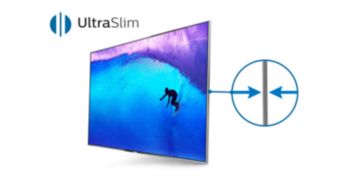 Sleek. Cutting edge. Refined. Precise. The Philips Ultra Slim silhouette. That something so slim can inspire so much interest shouldn't be surprising, given how much sophistication it will bring to your décor.
Discover Ultra HD Picture Quality with Pixel Plus Ultra HD
Experience 4K Ultra HD sharpness with the Philips Pixel Plus Ultra HD engine. It optimizes picture quality to deliver smooth, fluid images with incredible detail and depth – Enjoy sharper 4K images with brighter whites and blacker blacks every time.
Slim, refined stands communicate lightness
When setting out to create a new TV, our teams consider every aspect: from technology to design. Our new edge feet were engineered to create space beneath your TV where a traditional stand would normally sit, offering you a more immersive viewing experience. The effect? A TV that stands confidently with a nod to the future.
Specifications
Picture/ Display

 

Display:

4K Ulta HD LED

Diagonal screen size:

123 cm (49")

Panel resolution:

3480x2160

Aspect ratio:

16:9

Sound

Output power (RMS):

16W

Sound enhancement:

Virtual Surround
Clear Sound
Auto Volume Leveler
Connectivity

No. of HDMI connections:

3

No. of USBs:

2

No. of AV connections

1

Other connections:

Antenna IEC75

Ethernet-LAN RJ-45

Digital audio out (coaxical)

Audio out (3.5mm)

PC-In VGA

 

EasyLink (HDMI-CEC):

Remote control pass-through

Tuner/Reception/Transmission

Digital TV:

DVB-T/T2

MPEG Support:

MPEG2

MPEG4

Video Playback:

NTSC

PAL

SECAM

Accessories

Included accessories:

Remote Control

Power cord

Quick start guide

Table top stand

2 x AAA Batteries

Convenience

Child Protection

Child Lock

Language available:

Chinese Simplified

Screen Format Adjustments:

16:9

4:3

Unscaled

Widescreen

Sleep Timer

Yes

 

Power

 

Main power:

100~240/ 50Hz

Ambient temperature:

5°C to 40°C

Standby power consumption:

<=0.5W

Power consumption:

130W

Off-mode power consumption:

Power saving features:

Auto switch-off timer

Eco mode

 

Dimensions

 

Box (DxHxW):

150x750x1220m

Set (DxHxW):

55x649x1099mm

Set (DxHxW) with stand:

216x686x1099mm

Product weight:

12.5kg

Product weight (+stand):

13kg

Weight incl. packaging:

15.5kg

VESA wall-mount compatible:

200x200mm

*EPG and actual visibility (up to 8 days) is country and operator dependent.
*Philips TV does not gaurantee 100% interoperability with all HDMI CEC devices please be informed that your HDR function in your tv will only be fully availiable via FW update by USB.
*Netflix movie programs are only available via your content provider set top box (not available on your TV). Please approach your content provider for Netflix subscription.