Electrolux 460L ETE4602GA 2-DOOR INVERTER FRIDGE (3 Ticks)
$1,659.00
Product Summary
FreshShield crisper
360 AirCool
FreshTaste Deodorizer
FlexStor
460L Inverter 2-Door Fridge
Model Number: ETE4602GA
FEATURES
Keep odours at bay with the Electrolux FreshTaste Deodorizer that helps eliminate 99.8% of bacteria and odours. This energy-efficient top freezer Inverter fridge also helps you save energy and money with its three-tick Energy Label.
360 AIRCOOL
Even cooling ensures food at all fridge levels stays fresh and great-tasting.
NUTRIFRESH INVERTER
Keeps temperature consistent for freshness and up to 37% energy savings!
*Compared to previous models
DOOR ALARM
Alerts you when your fridge is left ajar, saving energy and retaining food freshness.
FRESHTASTE DEODORIZER
Eliminates 99.8% of bacteria and keeps odours away.
FLEXSTOR
Combination of adjustable shelves and bins for greater food storage convenience
FLEXSPACE
FlexSpace™ is designed to maximise storage, redefine space and flexibility to meet your needs.
FRESHSHIELD CRISPER
Keeps fruits and vegetables 7 days longer and more, so they taste better.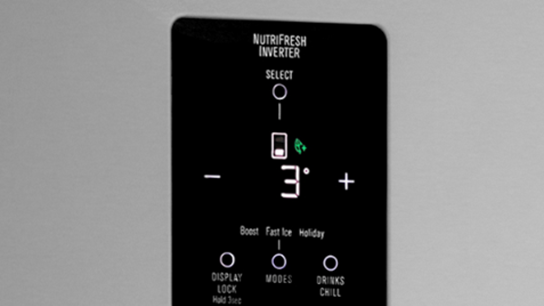 FRESH LOGIC
SPECIFICATIONS
PRODUCT PROFILE
Main colour
Champagne Gold
Net weight
71
ELECTRICAL SPECIFICATIONS
Frequency
50 Hz
Voltage
220-240 V
Current
13 A
Certificates
CONTROLS
Type of control
Electronic
Type of control setting and signalling devices
Touch button
REFRIGERATOR SYSTEM
Number of compressors
1
Total unit gross capacity
460 L
Total unit net capacity
426 L
Refrigerator gross capacity
327 L
Freezer net capacity
99 L
Freezer gross capacity
99 L
DOOR HINGE
Door hinge
Right
SHELVING
Material of the shelves
Glass
Shelves for bottles
Yes
Number of shelves in fridge compartment
3
Number of adjustable shelves in fridge compartments
3
DIMENSION WHD
699 x 1725 x 717  mm
WARRANTY
2 years
USER MANUAL
View
INSTALLATION GUIDE
View